IASbaba's Daily Current Affairs – 25th January, 2016
ECONOMICS
TOPIC:

General studies 2:

Government policies and interventions for development in various sectors and issues arising out of their design and implementation.

General studies 3:

Effects of liberalization on the economy, changes in industrial policy and their effects on industrial growth.
Science and Technology – developments and their applications and effects in everyday life Achievements of Indians in science & technology; indigenization of technology and developing new technology.
Awareness in the fields of IT, Space, Computers, robotics, nano-technology, bio-technology and issues relating to intellectual property rights.
Navigating the fourth industrial revolution
The big buzz at the World Economic Forum (WEF) in Davos this year is about the 'Fourth Industrial Revolution', described by the founder and executive chairman of WEF, Klaus Schwab, as a "technological revolution that will fundamentally alter the way we live, work and relate to one another".
The Industrial Revolutions:
The first Industrial Revolution began in Britain in the last quarter of the 18th century with the mechanisation of the textile industry, harnessing of steam power, and birth of the modern factory.
The second revolution began roughly a century after the first and peaked at the beginning of the 20th century, embodied in Henry Ford's creation of the moving assembly line that ushered in mass production.
Factories could produce countless numbers of identical products quickly and cheaply — Ford's famous line was about being able to sell customers cars of any colour they liked, so long as it was black.
The third industrial revolution, beginning c. 1970, was digital and applied electronics and information technology to processes of production.
Mass customisation and additive manufacturing the so-called '3D printing' are its key concepts, and its applications, yet to be imagined fully, are quite mind-boggling.
The fourth industrial revolution is conceptualised as an upgrade on the third revolution and is marked by a fusion of technologies straddling the physical, digital and biological worlds.
How effective and efficient can fourth industrial revolution be?
A case study:
The crane used for loading ships can be fitted with sensors that measure the weight of the containers and plug it into a software model.
Using the design of the ship, the software sends instructions on where exactly to place the container in order to optimize the weight-balance of the ship.
This process can enhance the fuel efficiency of the ship by 5-8%, according to Markus Lorenz of the Boston Consulting Group.
A key note on fourth industrial revolution:
The fourth industrial revolution combines digital and physical systems to completely transform the interaction between humans and machines.
The tools that it has at its disposal include big data, robotics, augmented reality and the Internet of Things.
The fourth industrial revolution builds upon the first three industrial revolutions (steam power and mechanical production; assembly lines and electrification; and electronics and computing) and the rapid pace of technological progress since then to achieve almost surreal results by fusing the boundaries between all of them.
How important is the fourth industrial revolution for India? 
Extremely important
In 1600, India contributed more than 22% of the world's gross domestic product, which reduced to about 4% in 1990 before economic reforms revved it up to 6.8%. This was a major reason for India failing to climb the bandwagon of the first industrial revolution.
India remained behind the curve on the next two as well. If India fails to reap the benefits of the fourth, it will not have imperial Britain to blame this time.
Challenges India may face in reaping benefits:
India's path is strewn with challenges.
Its comparative advantage of cheap labour, most of which is very poorly skilled, will be blunted by the fourth industrial revolution.
While India needs to invest heavily in up skilling initiatives, the probability of some dislocations cannot be discounted.
This will require it to make provisions for elaborate safety nets without letting it degenerate into an entitlement culture.
Building the right institutions of governance, particularly regulatory institutions, is another challenge.
Regulators have to do a lot better for India to realize the fourth industrial revolution's benefits.
Connecting the dots:
Explain the concept of fourth industrial revolution and its importance to Indian economy and people.
ECONOMICS
TOPIC:

General studies 2:

Government policies and interventions for development in various sectors and issues arising out of their design and implementation; Governance issues

General studies 3:

Indian Economy and issues relating to planning, mobilization of resources, growth, development and employment. 
Effects of liberalization on the economy Infrastructure; Investment models. 
Public investment: for a new normal
The Indian economy is today the world's fastest-growing large economy but here the twist occurs—India also has a far lower per capita income compared to other countries in the Brazil, Russia, India, China, South Africa (BRICS) grouping.
When we talk about the growth rate that has been projected by the International Monetary Fund (IMF) being 3.1 per cent, we understand that the end of 2015 has not only ended at an all-time-low but has also exhibited the crying need to be corrected as early as possible.
What does the figure say—
Advanced economies are growing at around 2 per cent
Developing economies are growing at 4 per cent
Stumbling Blocks—
Economic crisis of Greece (Europe)
Sharp decline in oil prices (Oil-exporting countries)
Countries which had gained as a consequence of a fall in crude oil prices have not been able to exhibit faster growth as well
Concerns regarding China and Yuan Devaluation (Competitive Devaluation)
Internal factors—
Poor agricultural performance since the boom of the 2003-08
Slowed pace of infrastructure growth driven by public investment eclipsing the private investment in infrastructure (due to over-leveraged balance sheets and excess capacities that will take time to get absorbed)
Groaning banking System- Under the collective weight of the overdue of private borrowers
Slowdown in demand and Income dependant private consumption
Stagnated exports
Public Investment matters—Publicly-created infrastructure needs to be a component of any high-growth plan not only as a source of aggregate demand but also as catalyst
As Adeus ex machina when the private investor is skittish on spending and thus public investment serves to accumulate assets and strengthens the government's balance sheet
Need to rely on our own resources and create an effective demand cycle for indigenous products— Offers a higher rate of return (Make in India- Start-up's)
Where private investment is based on expectations of profit, called the 'internal rate of return' for a project, there exists a lot of subjectivity attached with the anticipation of the future state of the economy. Public Investment can thus; anchor profit expectations in the atmosphere of chasing contagious pessimism of the private investors by letting 'State Government' play the role of private investors and providing guidance to the economy
Fall in the crude prices and the upcoming spectrum can provide impetus to the expansion programs planned by the government
Has the potential to boost jobs in the short run and pay enormous dividends (welfare approach-enhancing the economy's productivity)
Walk the tight rope—Need to have a flexible fiscal consolidation in place
Fiscal Deficit: Need not expand substantially to enable a programme of increased public spending on infrastructure but the reluctance to raise public revenues need to be dealt with
Funds-If public bodies are starved of funds, they cannot expand and this acts as an in-built depressor. It is possible that some of the subsidies need to be deleted they constrain expanding public investment.
Subsidy Regime: The reluctance to review the subsidy regime and divest must be shown the door and a measured approach towards rationalisation of subsides as well as sale of public assets should be considered as only then would they be able to acquire others. It can be beneficial for growth and employment, and therefore for welfare- (Maintenance of Fiscal Health)
Pension and insurance funds should be used increasingly for financing projects
Ineffective policy interventions, tax risks, regulatory risks and judicial risks- make it difficult for local enterprises to grow and must be simplified as early as possible
Success Story—
Ethiopia in Africa-its economy is growing at an average annual rate exceeding 10% since 2004 due to a massive increase in public investment, translating into:
Poverty reduction
Improved health outcomes
Bolivia, Latin America- One of the rare mineral exporters with annual GDP growth to remain above 4% has employed public investment as their engine of growth
Connecting the Dots:
Critically examine the much-emphasized role of public investment in India's economy
MUST READ
NIA: Alert, fair, transparent
Global Slowdown: Sobering reflection from Davos
India, Arab League vow to check terror, funding sources
The big military challenge- PM has a bold vision for defence reform. Can his defence minister deliver?
National problems, local solutions- Countering rising pollution, endemic across the country, is best done via solutions ground-up
How India should respond to the China slump- China's slump will hopefully reduce the Indian fascination for the Chinese model of controlled economy
Great fall of India's exports
MIND MAPS
1. Fourth Industrial Revolution
PS – The two editorial/links are clubbed into one mind map.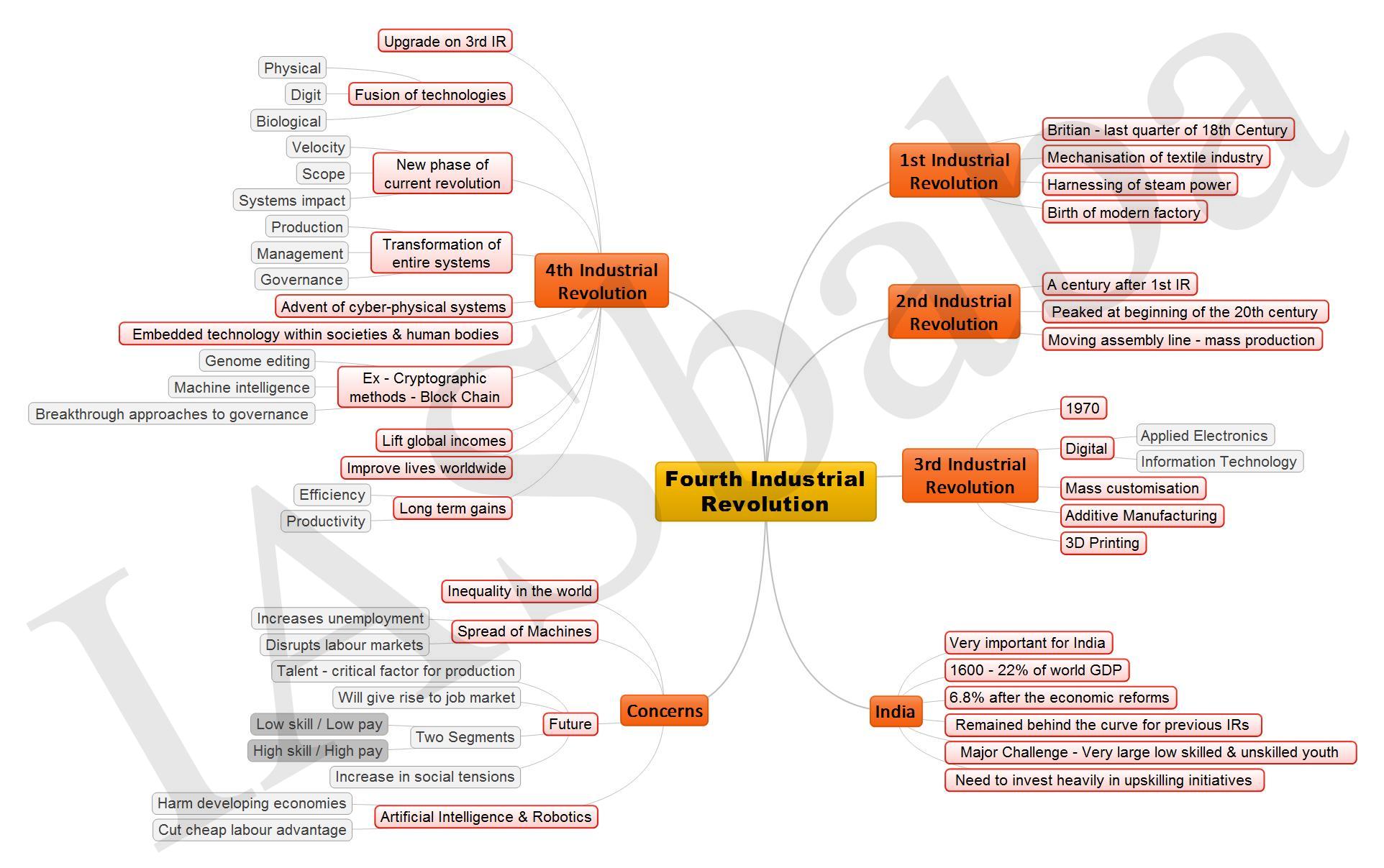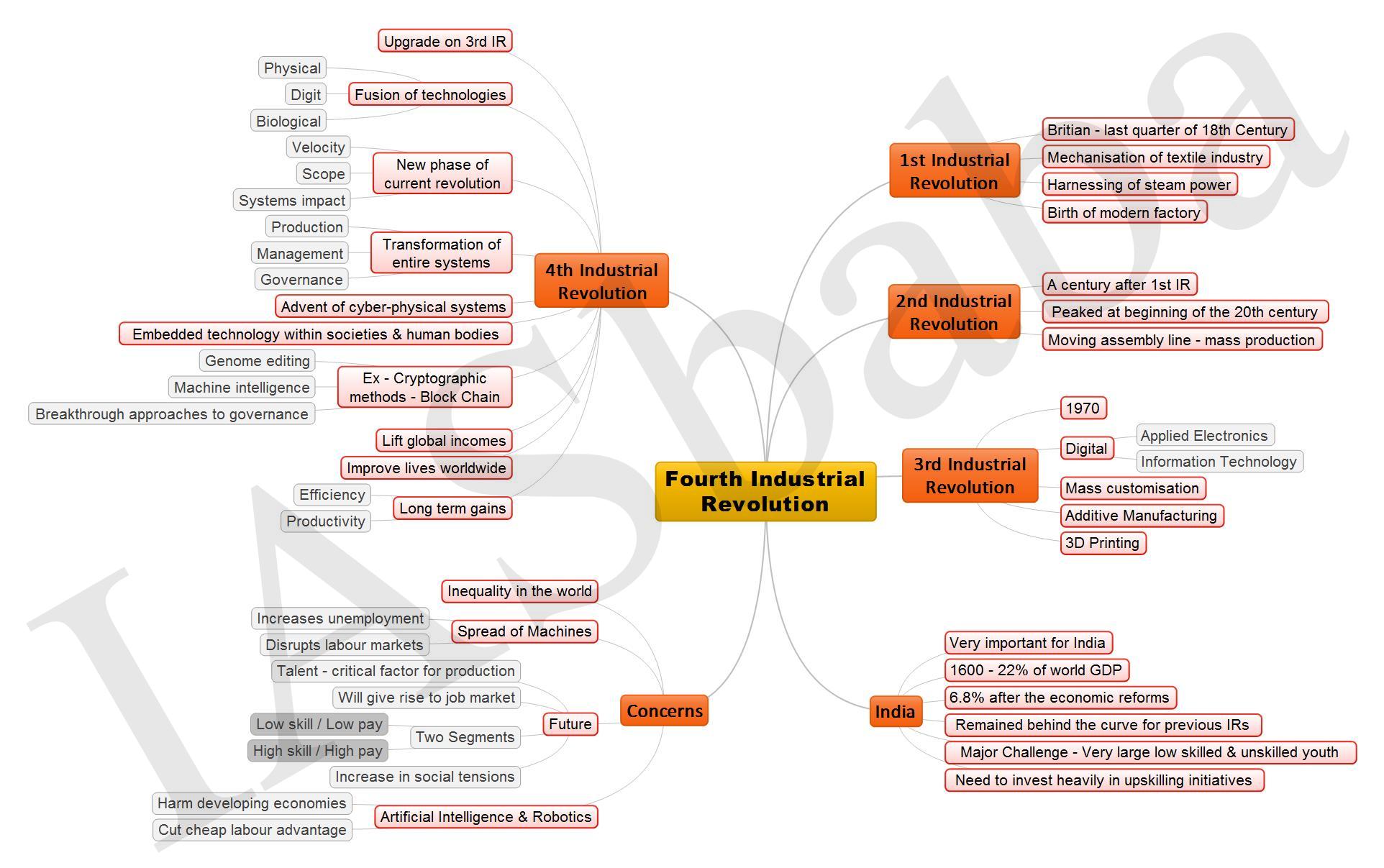 For a dedicated peer group, Motivation & Quick updates, Join our official telegram channel – https://t.me/IASbabaOfficialAccount
Subscribe to our YouTube Channel HERE to watch Explainer Videos, Strategy Sessions, Toppers Talks & many more…