IASbaba's Daily Current Affairs – 16th February, 2016
NATIONAL
TOPIC:  General Studies 2

Constitution, Polity – Fundamental Rights (FR)
Governance
Sedition: An unconstitutional tool
Section 124A of the IPC defines sedition and says:
Whoever by words either spoken or written or by signs or by visible representation or otherwise brings or attempts to bring into hatred or contempt, the government established by law; or
Whoever by the above means excites or attempts to excite disaffection towards the government established by law, has committed the offence of sedition.
What the section tries to achieve?
There should be no attempt by any individual or sections, to excite hatred or contempt or disaffection.
In other words, even if the impugned speech or article or cartoon seeks to obtain the alteration of the wrong governmental decisions, if they excite hatred, contempt or disaffection towards the government, the author of the speech and others are liable to be charged with sedition and punished.
Infringement of rights under Article 19:
Article 19(1)(a) guarantees freedom of speech and expression to all the citizens.
However, Article 19(2) talks about "reasonable restrictions" on freedom of speech and expression, in interests of "public order".
Article 19(2) has been used by the governments to suppress constructive criticisms by the public, on faulty and wrong governmental decisions.
What is Supreme Courts view on sedition?
Indian Supreme Court has developed a rich and robust jurisprudence of free speech and, with a few exceptions, has generally ruled in favour of free speech against repressive measures.
The Constitution bench of the Supreme Court explained the amplitude of sedition in 1962 in the case of Kedarnath Vs. State of Bihar (1962)—

The court adopted the view that, a person can be charged with sedition only if there is "incitement to violence" in his speech or writing or an "intention to create disorder"
Failed to establish any rational test on how to determine when speech in disaffection of the government could be construed as causing a disruption of public order

The famous Shreya Singhal Judgement that held Section 66A of the Information Technology Act to be in violation of Article 19(1)(a) bears a testimony to the above mentioned statement

Struck down the provision on grounds of it being vague and having overreach
Recognised "chilling effects" as one of the ways in which it violated Article 19(1)(a)

Recognised in the Khushboo judgment (2010), in which the court said, "If the complainants vehemently disagreed with the appellant's views, then they should have contested her views through the news media or any other public platform. The law should not be used in a manner that has chilling effects on the 'freedom of speech and expression'."
The move that led to the arrest of the President of Jawaharlal Nehru University (JNU) Students' Union, on complaints of sedition-
Presents with vivid clarity the governments pointed efforts at quelling any and every form of dissent
The invocation of Section 124-A of the Indian Penal Code (IPC), 1860, provides a stark reminder of the sheer depravity of some of our antiquated, colonial-era laws
Jurisprudence of free speech in India—Differing Opinions
Provides us with a platform to challenge unreasonable acts of the state
Strategies outlined to describe a mode of using the law for the most illegal purposes by the most lawless groups —

The Slapp suits (strategic legal action against public participation),
Kicks (criminal intimidatory coercive knockout strategies)
Question of repealing or striking down on the grounds that they violate Article 19(1)(a)—
Most of these laws have, in fact, been challenged and their constitutional validity has already been upheld
Section 295A ("deliberate and malicious acts, intended to outrage religious feelings of any class by insulting its religion or religious beliefs") was found to be constitutional in the Ramjilal Modi case (1957)
Section 124A (sedition) was held to be constitutional in the Kedarnath case (1962)
Against Section 124A of the IPC
Sedition defined under Section 124A of the IPC is a colonial law meant to suppress the voice of Indian people. However the irony is the law enforcement agencies have always used it against artists, public men, intellectuals for criticising the governments.
The Supreme Court, being the protector of the fundamental rights of the citizens may step in now and declare Section 124A unconstitutional. The draconian aspect is apparent in its wordings, and the purpose that it unequivocally seeks to achieve: a suppression of all kinds of opposition.
Historical usage of the clause—
Bal GangadharTilak
Mahatma Gandhi in 1922
Mahatma Gandhi—"Section 124-A under, which I am happily charged, is perhaps the prince among the political sections of the IPC designed to suppress the liberty of the citizen"
To protect free speech—
Need to focus on procedural reforms and safeguards (rendering the malicious use of these laws more difficult)
All speech-related offences should be made bailable offences— To lessen the harmful impact of using arrest and custody as a way of harassing anyone exercising their rights under Article 19(1)(a))
The offences should be made non-cognisable— A judicial check on the police acting on the basis of politically motivated complaints be maintained
Case of offences under Sections 153A ("promoting enmity between different groups on grounds of religion, race, place of birth, residence, language, etc, and doing acts prejudicial to maintenance of harmony") and 295A of the Indian Penal Code, it is mandatory under Section 196(1) of the Code of Criminal Procedure to obtain prior sanction of the government before taking cognisance of the offences. This needs to be extended to the offence of sedition under Section 124A
The Gujarat High Court in a 1980 decision (Shalibhadra Shah) observed that the reason that prior sanction is needed is because in many cases—

"the very filing of a prosecution after tempers have cooled down may generate class feelings which could well be avoided by the government by refusing to accord sanction"
"that the article complained of pertains to a matter falling within the area of social reform and attacks certain dogmas in a general way without intending to outrage religious feelings"

The case of hate speech— Important to raise the burden of proof on those who claim that their sentiments are hurt rather than accept them at face value
Strict Action to be taken against those who bring malicious complaints against speech acts
Connecting the dots:
Discuss section 124A of the IPC, with reference to its alleged violation of article 19 of the Indian constitution.
Critically evaluate the statement "Freedom of speech and expression is not absolute in India".
ENVIRONMENT
TOPIC:  General Studies 3

Infrastructure: Energy
Conservation, environmental pollution and degradation, environmental impact assessment.
Skill up or scale down ambitions in Renewable solar energy:
Background:
The current rate of installing new electricity capacity in the United States is about 10 gigawatts (GW) per year. When China was growing at 10 per cent, it was installing about 100 GW annually. India is somewhere in between, installing 28.6 GW in 2015, 21.7 GW in 2014 and 22.9 GW in 2013.
Building energy infrastructure quickly is a daunting proposition. It needs money, material, and men.
How fast India builds its renewable energy capacity will depend in a very big way not just on political will and policy announcements but on how quickly it can find and train thousands of skilled workers.
What does renewable energy mean?
Renewable energy is generally defined as energy that is collected from resources which are naturally replenished on a human timescale, such as sunlight, wind, rain, tides, waves, and geothermal heat.
Why solar energy is sort after to address energy security?
Solar energy is radiant light and heat from the Sun harnessed using a range of ever-evolving technologies such as solar heating, photo voltaic, solar thermal energy, solar architecture and artificial photosynthesis
It is a renewable energy source: Typical electricity is generated from fossil fuel that will run out one day. Solar energy is a good alternative to replace fossil fuel as the major energy source because solar power is renewable at absolutely no cost to supply energy infinitely.
Environment friendly: Any effort that can reduce the pollution to the environment helps to save the earth. Solar panels are able to harness the energy from the sun and convert it to electricity. Therefore, the use of solar panels is environment friendly.
Solar energy is the world's most abundant energy source: There's enough solar energy hitting Earth every hour to replace every barrel of oil, every lump of coal, and every other energy source used on earth for an entire year.
Technology used to convert the sun's power into electricity does not produce smoke (carbon dioxide and other air pollutants).
What is the mechanism of solar power production?
Solar power is the conversion of sunlight into electricity, either directly using photovoltaics (PV), or indirectly using concentrated solar power (CSP).
CSP systems use lenses or mirrors and tracking systems to focus a large area of sunlight into a small beam.
PV converts light into electric current using the photoelectric effect.
What is India's position in terms of clean energy production?
India has become a world leader in clean energy.
In 2010, when India launched the National Solar Mission with a target of 20,000 megawatts (MW) of solar power by 2022, it had less than 20 MW installed.
Today, India has crossed 5,000 MW. The government has dramatically increased the solar target to 100,000 MW by 2022.
What is the potential of solar energy market in Job creation?
India's 100,000 MW solar-target could generate more than one million jobs by 2022, primarily in two key phases of a solar project's lifecycle: construction and commissioning (806,800, accounting for 72 per cent of new solar jobs), and ongoing operations and maintenance, or O&M (263,400; 23 per cent of new solar jobs).
These projections do not include jobs created in the manufacturing sector, another significant jobs opportunity.
Way ahead:
Much attention is often given to issues such as policy certainty, cost of finance, land acquisition and power evacuation, or credibility of the power-purchase agreements signed. These are all important concerns but issue of skilled labour need to be addressed at the earliest.
India needs to create at least 10 million new jobs every year. Understanding the job potential in solar power and matching it to specific skills would be a fillip to the solar mission as well as Skill India.
How to bridge the Skill Gap in India's Clean Energy Market?
 In order to meet the rising demand for a skilled or semi-skilled workforce, three key areas need urgent attention.
Firstly, ramp up training programmes through Skill India:
Solar sector employers find the poor quality of current programmes as the biggest hurdle.
They do not meet industry needs and are often not located near solar hubs where they are most needed.
High-quality and accessible certification programmes, which reduce the need for and costs of on-site training, are a big opportunity
Under Skill India, renewable energy training clusters could be located near ongoing solar energy projects. At least one prominent solar training institute could be established in each region projected to be a hub for major solar activity (e.g., Gujarat, Rajasthan, Karnataka).
In the interim, mobile training courses, where trainers move from one location to another, would add value.
Secondly, focus on semi-skilled jobs in construction, commissioning and operations:
Our survey respondents emphasised that some of the skills most challenging to find were not the most technical skills; rather they are basic construction and commissioning skills, including electricians and PV installation technicians.
Training programmes focused on fundamental construction, commissioning and operations skills should be expanded across the country.
Thirdly, use the new International Solar Alliance (ISA) framework to accelerate capacity building:
International Solar Alliance (ISA), an initiative that India spearheaded at the Paris climate negotiations recently.
The focus is on solar power utilization. The launching of such an alliance in Paris also sends a strong signal to the global communities about the sincerity of the developing nations towards their concern about climate change and to switch to a low-carbon growth path.
India has pledged a target of installing 100GW by 2022 and reduction in emission intensity by 33-35% by 2030 to let solar energy reach to the most unconnected villages and communities and also towards creating a clean planet.
India's pledge to the Paris summit offered to bring 40% of its electricity requirements from renewable by 2030, it is based on world co operation.
The ISA can serve as an excellent platform for skill development.
The ISA could establish certified training programmes, help to build common curricula in close consultation with the private sector, and make the workforce qualified for deployment within India and outside.
Connecting the dots:
Can solar energy market play twin roles of addressing Energy security and job creation? Comment.
Filling the Skill Gap in India's Clean Energy Market is the need of the hour to explore full potential of solar power? Examine.
Related Articles:
INDIA AND INTERNATIONAL SOLAR ALLIANCE
Shifting India to Clean Energy
MUST READ
Raja-mandala: A short history of F-16s- India is not really bothered by eight F-16s but by the political consequences of US assistance to Pakistan
New Policies: Start-up initiative could jumpstart employment generation- During the initial plan periods, India pursued the trickle down strategy for mainstreaming millions of underprivileged, but didn't achieve much success.
Related Articles:
Start Up India Stand Up India Scheme
Lessons From Delhi- Shoring up municipal finances requires institutional reforms, not band-aids
Banking on less-Reducing government's ownership of public-sector banks is the right step towards improving their governance.
Tip of the iceberg-Bad loan crisis means genuine bank reforms now essential
Related Articles:
Fashioning a Banking Turn- Public Sector Banks
Capacity building in Banks and Non-Bank Institutions
The problem of debt concentration
'A solution, with its own problems'- Strategic Debt Restructuring Scheme
Forget manufacturing, just make interest payments in India- Companies in India are struggling to shore up their operational performance, but high interest rates mean they're fighting with their backs against the wall
Securing India's energy interests in West Asia-The commodity price crash means New Delhi currently holds the advantage
Related Articles:
India's ties with West Asia : An analysis  (Part I)
The sprouting of the " look west"  policy  (Part III)
Understanding the debt epidemic in Asia
MIND MAPS
1. Observer Research Foundation Potential Growth Slowdown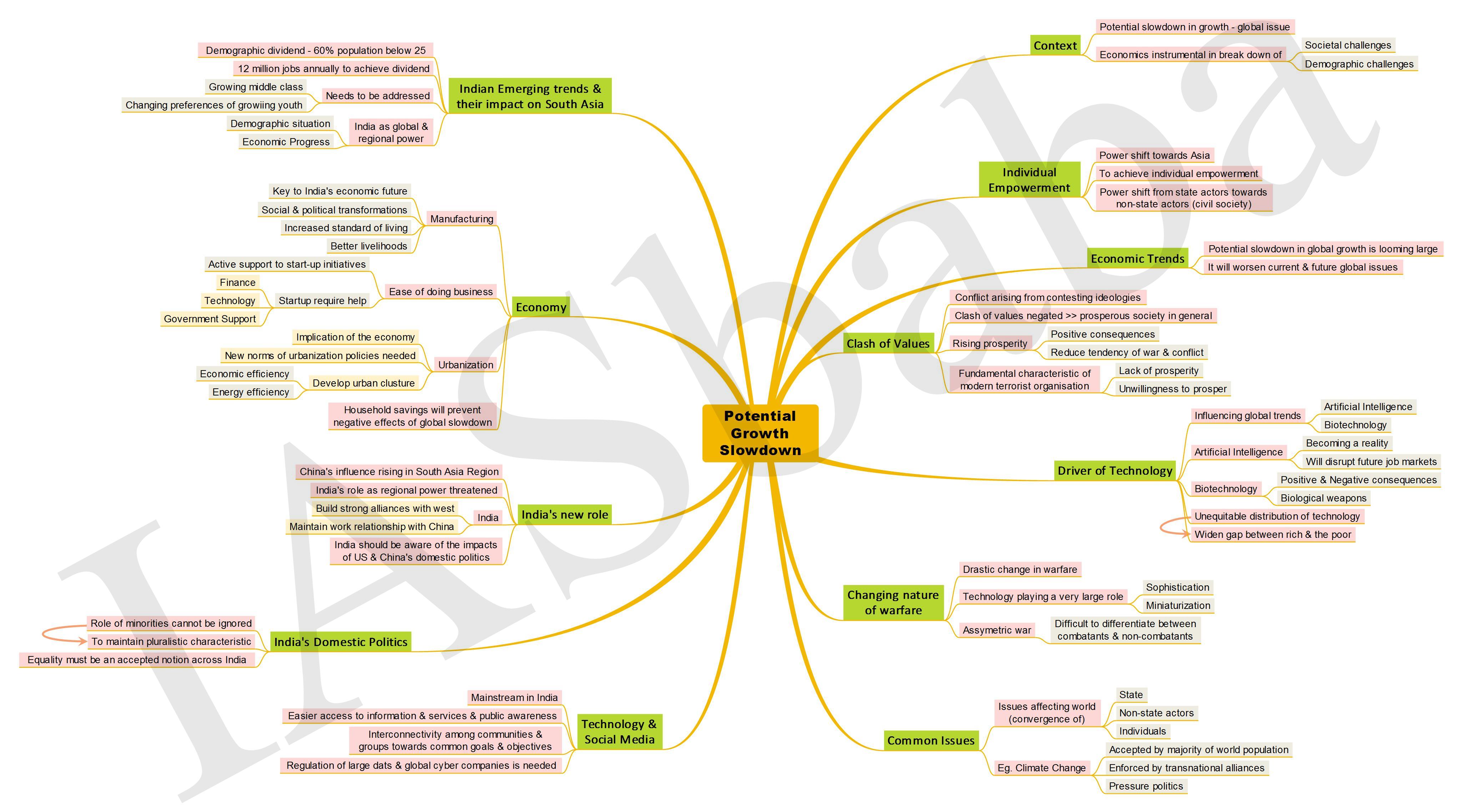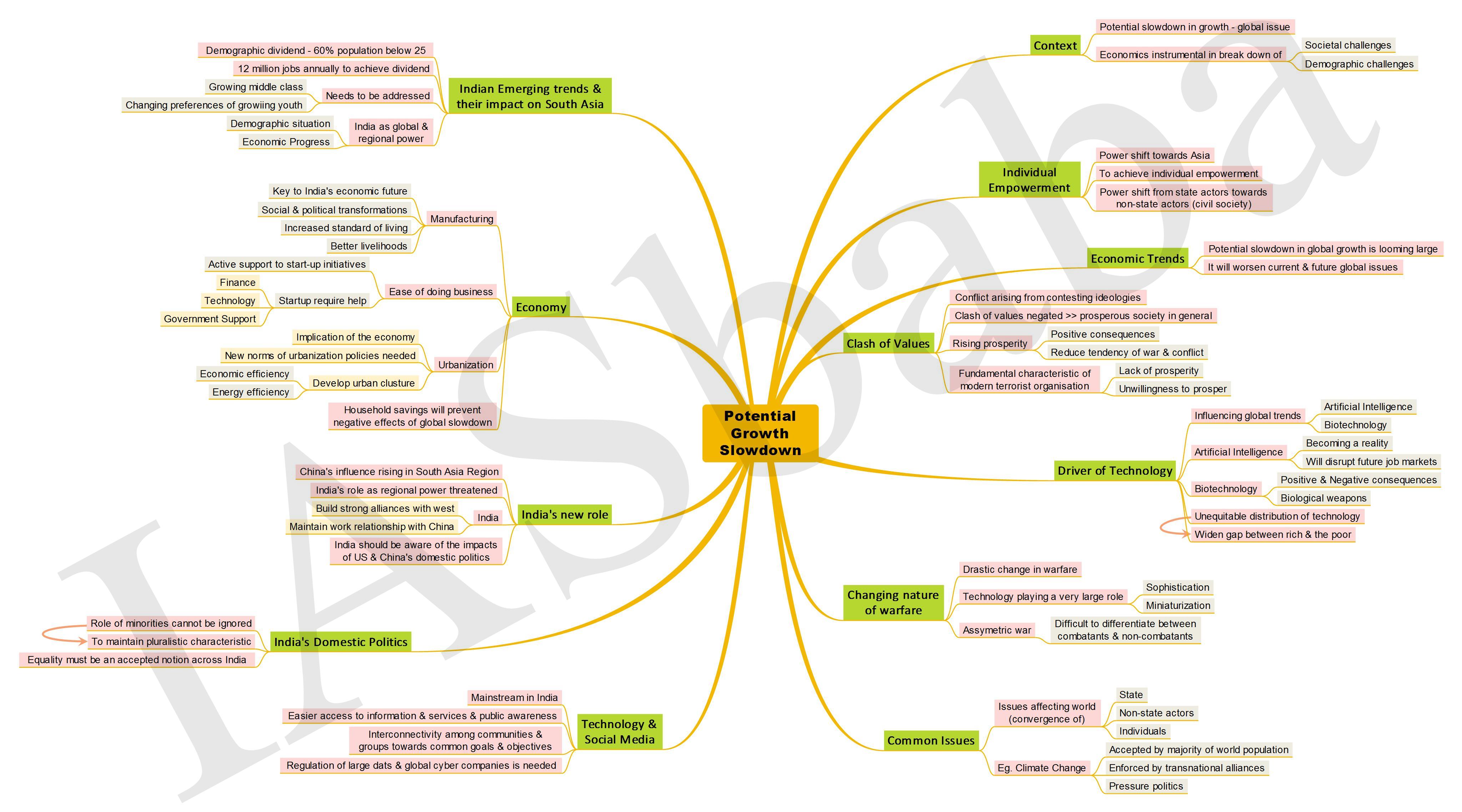 For a dedicated peer group, Motivation & Quick updates, Join our official telegram channel – https://t.me/IASbabaOfficialAccount
Subscribe to our YouTube Channel HERE to watch Explainer Videos, Strategy Sessions, Toppers Talks & many more…