IASbaba's Daily Current Affairs – 16th March, 2016
INTERNATIONAL
TOPIC:  General studies 2:

India and its neighborhood- relations. 
Bilateral, regional and global groupings and agreements involving India and/or affecting India's interests. 
Effect of policies and politics of developed and developing countries on India's interests, Indian diaspora.
India's biggest security headache—Sir Creek stand-off's
What's in the name: Got its name from the British representative who negotiated the original dispute over firewood between the local rulers
Countries: India & Pakistan
Location: 96-km estuary- between India and Pakistan, cutting through where Gujarat State and Sindh province meet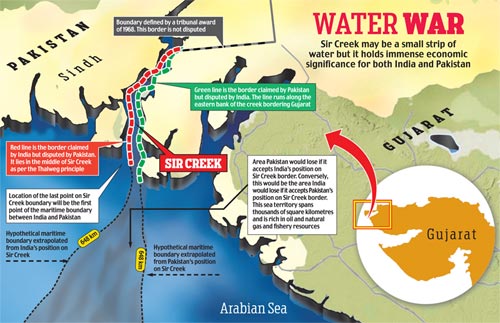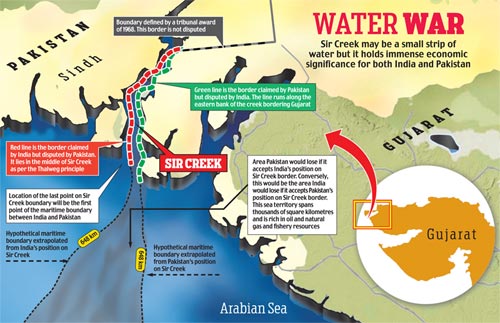 Classic example of cartographic dilemma
Inability of both the countries to agree on a definite border (fear of losing out on a vast amount of Exclusive Economic Zone (EEZ) rich with gas and mineral deposits, and subsequent breakthroughs)
Pakistan- claims the entire Sir Creek based on a 1914 agreement signed between the government of Sindh and rulers of Kutch
India- claims that the boundary lies mid-channel, as was depicted in a map in 1925 and implemented with pillars placed to mark the boundary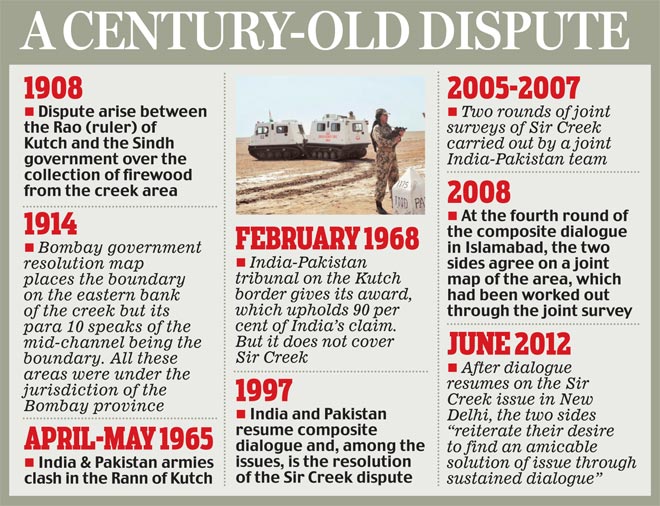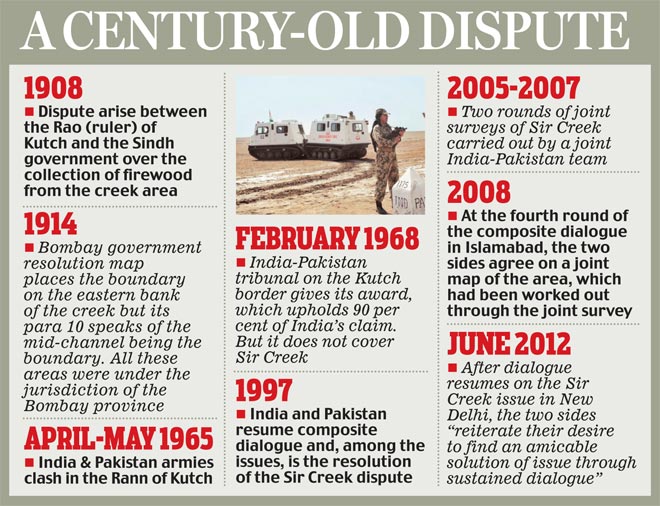 Sir Creek issue is defying solution because of the deep rooted syndrome of lack of trust in Pakistan. Unless the element of trust is restored through Pakistani actions, attitudes and utterances, any real and meaningful progress on this, as well as other issues like Siachen, looks somewhat remote.
The Indo-Pakistan international border starts from the point where coming from the Arabian Sea Sir Creek joins the land mass
This area had not been demarcated as it had not been properly surveyed due to its being somewhat desolate and inhospitable
Taking advantage of a 1914 Bombay Government Resolution that sought to demarcate Sir Creek between Sindh and Kutch divisions of the Bombay state as an internal administrative measure, Pakistan began to lay claim over the entire Creek; ignoring that both Sindh and Kutch have become parts of two sovereign states, India and Pakistan, and thus their maritime boundary now needed to be settled as per international norms, mainly the Thalweg Doctrine, which follows the meridian principle.
In fact, another resolution of the erstwhile Bombay Government adopted in 1925 did install mid-channel pillars in Sir Creek. Here, Pakistan does not agree with India since an acceptance of these provisions would lead to redrawing of the maritime boundary in the area, re-delineation of the Exclusive Economic Zone and other fishing areas in the Arabian Sea
Result: Convergence of the disputed water with fishermen's misery + terrorist designs + global drug
Absence of clear fishing laws
Fishermen cross boundaries in hope of a great catch; getting caught themselves (boats and material confiscated under the premise of illegal intrusionthough there is no cognisable territorial and maritime boundary delimitation in the area)
Deprived of their fundamental human rights + denied consular assistance; many are allegedly tortured and languish in jails while being subjected to horrible living conditions and without any meaningful access to judicial process. Some prisoners go missing and may even be presumed victims of custodial killings
1,530 Indian fishermen have been released in the past five years, while India has freed 380 Pakistanis
Also, fall prey to terrorist designs- When 10 terrorists from the Lashkar-e-Taiba left in a Pakistani boat for Mumbai; they captured an Indian fishing vessel, Kuber, off Sir Creek, and used it to attack Mumbai
Transaction business by the cartels in the disputed water
They are beyond the reach of both Indian and Pakistani agencies and thus, it becomes easier for them to trade drugs their way (in terms of quantity and frequency)
Diplomatic Hurdles:
Terrorists sneaking across through the Sir Creek area
Shooting down of the other nation's aircraft like what happened one month post the Kargil War- an Indian fighter plane shot down a surveillance aircraft of the Pakistan Navy, killing all its 16 occupants. India said the Pakistani aircraft was deep inside its boundary; Pakistan disputed the claim as it was flying over Sir Creek.
Way Ahead:
Political considerations rather than legal issues are preventing its resolution which has the potential to have resonances in larger economic and strategic matters between the countries.
Steps to resolve the dispute in the interests of greater stability in the region include:

Allocation
Delimitation
Demarcation
Administration
Connecting the Dots:
Is solving the dispute over 'Sir Creek' a "doable" act? Can it prove to be a stepping stone towards the resolutions of graver border conflicts between India and Pakistan?
ECONOMICS
TOPIC:  General studies 3

Inclusive growth and issues arising from it. 
Agriculture & related issues, Major crops cropping patterns, Irrigation
Land reforms in India.
Effects of liberalization on the economy, changes in industrial policy and their effects on industrial growth. 
Farmer needs a new deal
Agrarian distress emerged as the most disturbing problem during the 1990s.
Its severity and spread witnessed a sharp increase in the post-WTO period till 2004-05 and it is back again which can be witnessed in the last two years.
Measure of agrarian distress:
Two common indicators used to show the severity of agrarian distress are indebtedness of farm households and the number of farmers' suicides.
Some people also cite the decline in the number of cultivators in the country as a consequence of agrarian distress, which may be partly true, particularly in the disadvantaged agricultural regions.
Causes for increased farmer suicides:
Evidence shows that the incidence of farmer suicides in India involves multiple causes
Falling farm income is first among them.
When the farmer's income is chronically lower than his family expenditure, he borrows money from some source to meet the gap.
Expenditure on social ceremonies and health expenses, which are not part of regular household expenditure, also force the farmer to borrow, particularly from non-institutional sources.
The accumulated debt becomes so large that it becomes impossible to repay it from the household income.
Some farmers are forced to sell a part or whole of farm land and other family assets to repay loans and to meet social expenditure.
Some others undergo humiliation as loan defaulters.
The loss of honour pushes many to take the extreme step of ending their life.
A second cause of crisis results from a sudden income loss due to crop failure or price crash.
In the absence of crop insurance or adequate relief, crop failure can have a devastating effect on farm income.
Further, there is no mechanism to escape the effect of a price crash.
Any loss of income of a severe nature on account of crop failure or market failure becomes a source of distress and frustration.
This is more pertinent in the case of high value commercial crops.
A year or two of high prices influences many farmers to direct excessive resources towards risky commercial crops.
The sudden increase in supply is often met with a violent price crash.
Without risk coverage, price volatility can have a killing effect on farm income.
What can be done to remove agrarian distress?
The common answer is to raise farm incomes.
This can be done in three ways:
Enable farmers to get better prices for their produce and encourage crop diversification.
One acre of land under high value crops can generate more income than five acres under cereals.
However, better price realisation and the success of diversification critically depend on a healthy and competitive market.
Agricultural markets in India have not moved towards competition and efficiency after the 1970s.
Prices of farm commodities often fall in the harvest season and skyrocket in the lean season.
Unless state governments initiate market reforms and take agriculture marketing to the next stage, farmers will continue to suffer from excessive intermediaries, low scale and segmentation.
Agrarian distress can be mitigated to a large extent by an efficient and competitive agriculture market. Mechanisms like the "deficiency price payment" and price insurance for different sets of crops can protect farmers from market and price risk.
Government has come up with Pradhan MantriFasalBhimaYojana in this regard.
The second option for augmenting farmers' income is to scale-up the farms.
Average farm-size in India is very small and shrinking.
The latest available data from the agriculture census for 2010-11 shows that 47 per cent farm households operate on plots less than an acre, with an average of 2,200 sq metres of agricultural land.
Further, this small piece of land is fragmented and about half of it has no access to irrigation.
Obviously, many such farmers would like to shift to non-agricultural activities and many would like to increase their farm-size by leasing land from other farmers.
However, present land lease laws discourage formal and transparent land lease arrangements.
The landowner fears any formal lease contract will make it difficult to get the land back from the lessee while the tenant is unable to access credit and avail other benefits available to a landowner.
The liberalisation of the existing land lease laws will help both marginal and sub-marginal farmers.
Those who leave farming can have secured ownership and earn rent and those who stay in farming can increase the size of operational holdings and have better access to credit and other facilities.
The third option is to provide alternative sources of livelihood to needy farm households.
The estimates of farm income show that income from agriculture alone is not enough to keep more than 50 per cent of farm households out of poverty.
Any supply shock or price shock pushes such households deeper into poverty and the many marginally-above-poverty families into the poverty trap.
However, many such farmers who earn an income from non-farm sources are able to escape poverty.
The landholdings of a majority of our farmers are so small that these cannot generate income for decent living.
Therefore, they need to be provided alternative sources of employment and income.
Way ahead:
The most common cause for crop failure is water stress.
Irrigation is the best insurance against crop failure.
The area under public sources of irrigation has not expanded to reflect the huge investment in irrigation made after the Tenth Plan.
The thrust on irrigation envisioned under the various components of the recently launched Pradhan Mantri Krishi Sinchayee Yojana offers hope as well as the scope for reducing water stress in agriculture.
Connecting the dots
Critically examine various factors which determine agricultural productivity in India with special emphasis on irrigation.
Critically examine the reasons for farmer distress in India along with measures taken by the government to overcome the same.
MUST READ
Our national security mismanagement
A new beginning in Myanmar
Related Articles:
India Myanmar Relations: An analysis
An opportunity for peace in Syria
Related Articles:
Raja-Mandala: Realism and the Obama Doctrine- The US president sees the world as a messy place not always amenable to the use of American force.
The new energy policy makes essential changes-It could signal market-oriented reforms that have been long overdue
Related Articles:
New regime in oil and gas exploration
Correcting the road-rail skew- We must make a national goal of reversing the road-to-rail ratio to at least 50:50, if not 30:70, in the next 10 years
The budget and higher education- Increase in enrolment calls for improvement of the quality of education, which is in a dismal state
MIND MAPS
1. Marital Rape


For a dedicated peer group, Motivation & Quick updates, Join our official telegram channel – https://t.me/IASbabaOfficialAccount
Subscribe to our YouTube Channel HERE to watch Explainer Videos, Strategy Sessions, Toppers Talks & many more…