IASbaba's Daily Current Affairs – 26th March, 2016
NATIONAL
TOPIC:  
General Studies 2:
Government policies and interventions for development in various sectors and issues arising out of their design and implementation; Governance Issues
General Studies 3:
Inclusive growth; Infrastructure
On paper, electrified villages — in reality, darkness
Deendayal Upadhyaya Gram Jyoti Yojana
Background:
Rural electrification is the process of bringing electrical powerto rural and remote areas. Electricity is used not only for lighting and household purposes, but it also allows for mechanization of many farming operations, such as threshing, milking, and hoisting grain for storage. In areas facing labor shortages, this allows for greater productivity at reduced cost
The Centre claims to be fulfilling the Prime Minister's plan for full rural electrification. But a close check of its own real-time data shows that the gap between official claims and ground reality is stark.
Haldu Khata, a village in Bijnor district of Uttar Pradesh, is one of the 7,008 villages that the government claims to have "electrified" in the last year, under the Modi government's flagship scheme of rural electrification, Deendayal Upadhyaya Gram Jyoti Yojana.
Recent analysis of rural electrification data shows that the number of villages said to be electrified in the last year is exaggerated.
Note that a village is considered electrified if public places in the village and 10 per cent of its households have access to electricity.
What is Deendayal Upadhyaya Gram Jyoti Yojana all about (DUGJY)?
The flagship scheme was launched by Prime Minister Narendra Modi with an aim to provide 24×7 uninterrupted electricity supply to each rural household across the country by 2022.
It focuses on feeder separation for rural households and agricultural purpose and also seeks to strengthen the distribution and sub-transmission infrastructure, including metering at all levels in rural areas.
What are the major components of this scheme ?
Major components of the new scheme:
strengthening of sub-transmission and distribution network
feeder separation
metering at all levels including at input points
feeders and distribution transformers.
it also seeks to strengthen Micro grid and off grid distribution network of rural electrification.
Funds:
The scheme has budgetary outlay of 76,000 crore rupees for implementation of the projects of which Union Government will provide grant of 63,000 crore rupees.
It should be noted that, this scheme replaces Rajiv Gandhi Grameen Vidyutikaran Yojana (RGGVY).
What are the ways in which the process is made transparent to public?
To make the process transparent, real-time data on villages being electrified has been made available to the public through a mobile app and a Web dashboard called GARV. The platform was launched in October 2015.
Alongside, 309 Gram Vidyut Abhiyantas (GVAs) were deployed by the government to monitor the electrification process and enter the data on the GARV application.
Rural Electrification Corporation (REC), the nodal agency for rural electrification which functions under the aegis of the Ministry of Power
Discrepancies:
One major source of discrepancy is regarding those villages where the GVA has noted that the village is un-electrified, yet it is counted as electrified on the app.
This perhaps could be one of the reasons leading to the inflated number, If there is a pole and distribution line visible in an area then  it will be termed electrified but presence of electrical infrastructure doesn't automatically translate into electrification.
Hindrances not allowing for real time update:
Power lines were set up in the village but they were stolen before they could be charged.
Work not yet started in certain village located in remote location due to no road connectivity; Situated on mountains; naxalite affected area etc. but still these villages have been considered electrified
Village declared electrified by discom [power distribution company] but GVA yet to visit the village for verification. This indicates that villages have been declared as electrified without waiting for the government's own representative's verification, rendering the monitoring system redundant. And further, if the GVA marks it as un-electrified after visiting, the status is not updated from 'electrified' to 'un-electrified'.
Social and economic benefits of rural electrification:
Allow activities to occur after daylight hours, including education. In impoverished and undeveloped areas, small amounts of electricity can free large amounts of human time and labor. In the poorest areas, people carry water and fuel by hand, their food storage may be limited, and their activity is limited to daylight hours.
Reduce isolation through telecoms
Improve safety with the implementation of street lighting, lit road signs.
Improve healthcare by electrifying remote rural clinics.
Reduces the need for candles and kerosene lamps and improves indoor air quality.
Improve productivity, through the use of electricity for irrigation, crop processing, and other activities.
Way ahead:
Identify the bottle necks which are hindering real time update on to the GARV mobile app and press Gram Vidyut Abhiyantas (GVAs) in to swift action to monitor the progress and update the same.
In line with 'Smart city' project 'Smart village' project must be devised on mission mode to self suffice a village with its own electricity generation with the help of Solar power .
Connecting the dots:
Deendayal Upadhyaya Gram Jyoti Yojana is new light at the end of the tunnel to dispel darkness for rural areas. Comment
ECONOMICS
TOPIC:  
General Studies 3:
Agriculture; Major crops cropping patterns in various parts of the country, transport and marketing of agricultural produce and issues and related constraints
General Studies 2:
Government policies and interventions for development in various sectors and issues arising out of their design and implementation
A silent horticulture 'revolution'
Horticulture and the closely associated horticultural sciences are critical elements of modern society in most developed countries and in many developing countries around the world.
The contributions of horticultural crops, and their related industries, to society at large are very considerable.
Today, the production of horticulture, is now larger than that of food-grains. Horticultural output has surged by nearly 70 per cent – from around 167 million tonnes in 2004-05 to over 283 million tonnes in 2014-15
Agricultural Census 2010-11—
Over 87 per cent of the total vegetables and 90 per cent of fruits are grown by small landholders
Growth of horticultural output is estimated at around seven per cent a year in the past decade
The acreage under horticulture has grown by around two per cent a year
Horticultural production has either continued to grow or dip only marginally even during bad monsoon years, including the drought years of 2004, 2009, 2014 and 2015
The overall share of horticulture in the agriculture sector's gross domestic product (agricultural GDP) has grown to over 30 per cent even though it accounts for only 17 per cent of farm land.
Horticultural Statistics at a Glance – 2015
Covered diverse aspects such as area, production, productivity, growth trends, percentage share, value of output and so on for major horticultural crops
Launched-Coordinated Programme on Horticulture Assessment and Management using geoiNformatics(CHAMAN) in September, 2014
Scientific methodologies of Remote Sensing and Sample Survey is being used for assessment of area and production of major horticulture crops
Horticulture Area and Production Information System (HAPIS) launched in February, 2015
a web portal for online submission of district level data pertaining to area and production of horticulture crops
Contributions
Provision of safe, healthy and nutritious food
Provision of many essential vitamins and minerals (consumers achieve a balanced diet)
Contributions to economies through export-related activities
Provides employment and the sustainability of service provision
Overall wealth generation through the activities of those involved with production, processing, marketing, servicing, and related sectors
The Revolution
Diversification: Given the farmers an opportunity to diversify from food and other crops to horticulture
Labour: Cultivation of horticultural crops is highly labour-intensive and, therefore, suits small cultivators who can manage it largely with family labour
Irrigation: A sizable chunk of land has been brought under horticultural crops is irrigated (around 73 per cent of land producing the eight main vegetables- onion, potato, tomato, okra, cauliflower, cabbage, brinjal and tapioca)
Constraints
Lack of market support
Paucity of post-harvest produce management chain from farm to fork
Lack of uniform price-mechanism/credit: Does not get reasonable returns for their produce because of higher prices due to existence of multiplicity of intermediaries in horticultural marketing
Distress sales and mass destruction of the produce in a bid to contain losses
Benefits of high prices do not generally accrue to the growers
Sizable part of horticultural output is wasted due to improper post-harvest handling and want of processing facilities
Increased competition from other countries for horticultural products in the international market
Unfavourable global trade/regulatory regime and other market requirements
Way Ahead:
Modern horticulture requires investments for the construction of micro-irrigation systems, green houses and, grading and packaging of the produce
Better access to cheap institutional finance
Adequate marketing support
Expansion of the fruits and vegetable processing industry with backwards linkages with farmers can help in value-addition and waste reduction of the horticultural produce, thus, ensuring higher returns to growers
Creation of price stabilisation fund need to be used to prevent wide price fluctuations which often hurt both producers and consumers
IASbaba's Views:
Government needs to work upon basic need for research on horticultural crops and challenges, that have increased in complexity given current consumer demands for affordability, safety and continuity of supply; increasing needs to achieve sustainable practices; and the need to deal with challenges arising from a more variable climate, the loss of productive soils through urban encroachment, and the loss of low-cost labour.
Research is also urgently needed to resolve issues such as the development of drought tolerant crops, the management of crops under managed water deficits, dealing with increased salinity, and the use of low quality water.
The concepts of sustainability of horticultural crops should relate both to the use of resources, such as water and nutrients, in a manner which considers future needs, and the responsible use of compounds such as pesticides which will not compromise the quality of the environment (or the safety of the produce that is produced)
Connecting the Dots:
Discuss the various constraints plaguing the 'horticulture industry' of India along with specific solutions to plug the loopholes
Discuss the upstream and downstream requirements for the supply-chain management of the horticulture products.
MIND MAPS
1. Satluj-Yamuna Link Canal – Part 1
(Part 2 will be posted on Monday)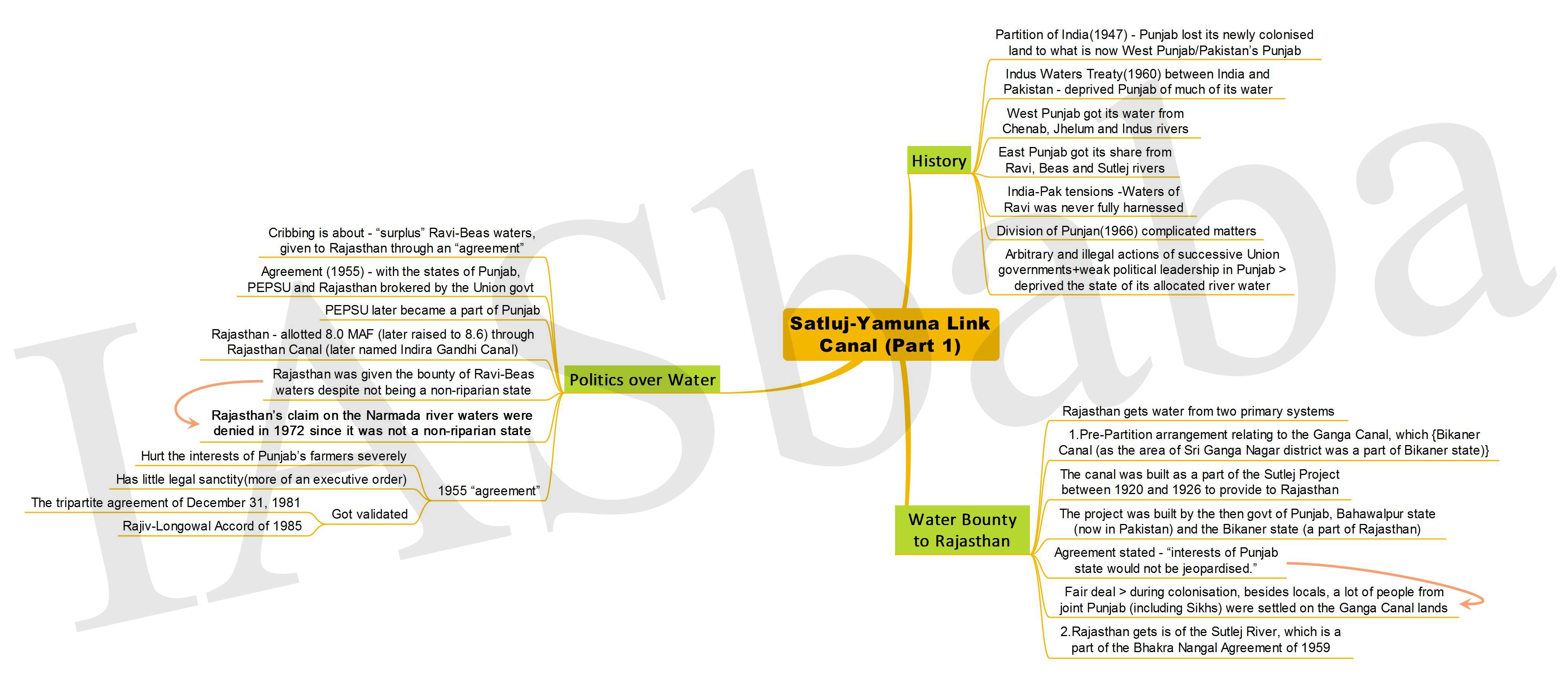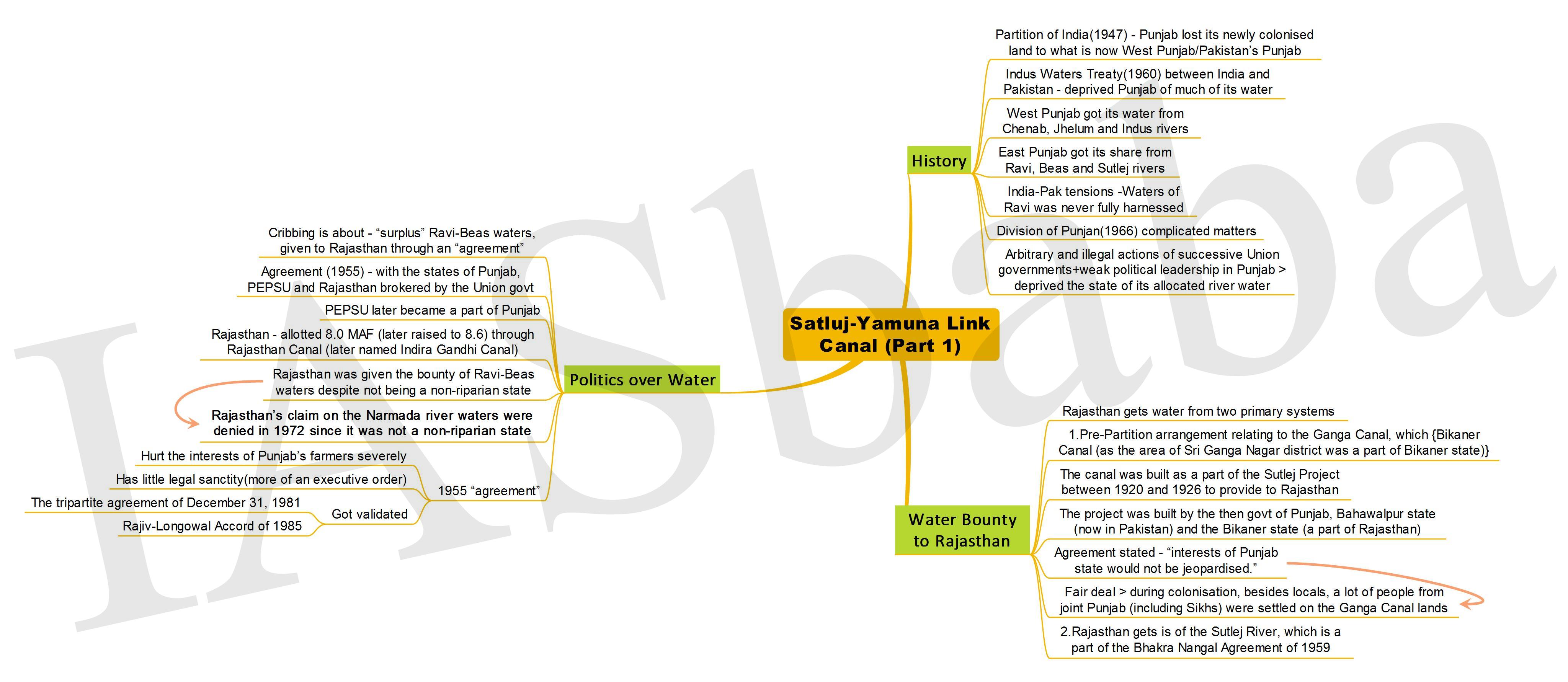 For a dedicated peer group, Motivation & Quick updates, Join our official telegram channel – https://t.me/IASbabaOfficialAccount
Subscribe to our YouTube Channel HERE to watch Explainer Videos, Strategy Sessions, Toppers Talks & many more…