IASbaba's Daily Current Affairs – 25th April, 2016
NATIONAL
TOPIC: 
General studies 1:
Important Geophysical phenomena such as earthquakes, Tsunami, Volcanic activity, cyclone etc., geographical features and their location – changes in critical geographical features (including waterbodies and ice-caps) and in flora and fauna and the effects of such changes.
General studies 3:
Conservation, environmental pollution and degradation, environmental impact assessment.
Disaster and disaster management.
Permanently fighting drought in India
This year India is facing severe drought conditions coupled with acute water shortages across many regions.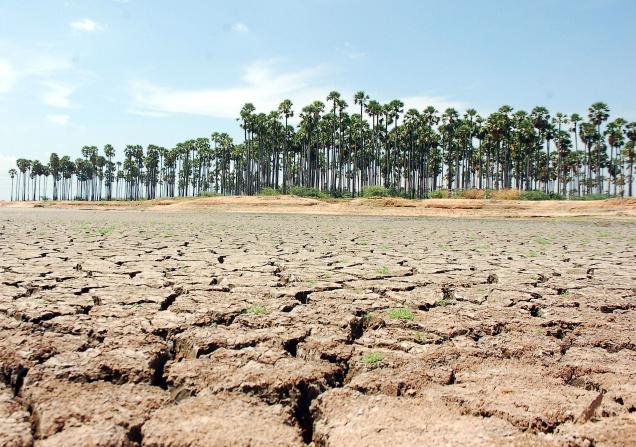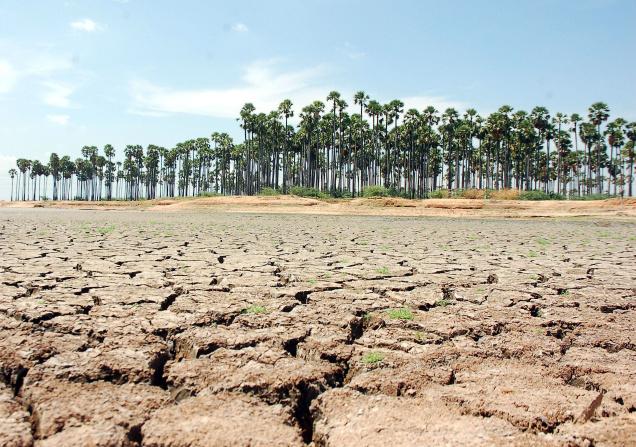 Definition of drought:
A drought is a period of below-average precipitation in a given region, resulting in prolonged shortages in its water supply, whether atmospheric, surface or ground water.
Types of droughts recognised in India:
Meteorological Drought:
It describes a situation where there is a reduction in rainfall for a specific period (days, months, seasons or year) below a specific amount (long term average for a specific time).
The Indian Meteorological Department (IMD) has defined meteorological drought as a situation occurring in any area when the mean annual rainfall is less than 75% of the normal rainfall.
IMD has further classified droughts into the broad categories viz., a severe drought when the deficiency of rainfall exceeds 50% of the normal rainfall and moderate drought when the deficiency of rainfall is between 25 and 50% of the normal rainfall.
Hydrological Drought:
Hydrological drought is associated with reduction of water. A meteorological drought often leads to hydrological drought.
There are two types of hydrological droughts viz., (i) surface water drought and (ii) ground water drought.
Agricultural Drought:
Agricultural drought is concerned with the impact of meteorological/hydrological drought on crop yield.
When soil moisture and rainfall conditions are not adequate enough to support a healthy crop growth to maturity thereby causing extreme moisture stress and wilting of major crop area, it leads to agricultural drought.
Soil Moisture Drought:
This is a situation of inadequate soil moisture particularly in rainfed areas which may not support crop growth.
This happens in the event of a meteorological drought when the water supply to soil is less and water loss by evaporation is more.
Socio-Economic Drought:
It reflects the reduction of availability of food and income loss on account of crop failures endangering food and social security of the people in the affected areas.
Famine:
A famine occurs when large scale collapse of access to food occurs which, without intervention, can lead to mass starvation.
The present drought condition in India is manmade:
In the 1990s, it was the drought of a poor India.
This 2016 drought is of richer and more water-guzzling India.
This classless drought makes for a crisis that is more severe and solutions more complex.
The fact is that the severity and intensity of drought is not about lack of rainfall, it is about the lack of planning, foresight and criminal neglect.
Drought is man-made.
Failure of MGNREGA to prevent drought:
In the decade of 2000, there were rain deficiency years and there were government programmes designed to build water structures across the country.
Under the Mahatma Gandhi National Rural Employment Scheme (MGNRES) millions of check dams, ponds and other structures were even constructed.
But as the intention was not to fight against drought, only provide employment, the impact of this labour has never shown up in the country's waterline.
The structures in most cases were holes in the ground – that quickly filled up with soil by the next season.
Modern day drought and climate change:
The modern day drought of rich India has to be combined also with another development: climate change.
The fact is that rain is becoming even more variable, unseasonal and extreme.
This will only accelerate the crisis.
It is time we understood that as drought is man-made, it does not have to stay. It can be reversed. It can be managed. But then we really need to get our act together.
What needs to be done now?
Do everything we can to augment water resources – catch every drop of water; store it; recharge groundwater.
To do this we need to build millions more structures, but this time based on planning for water and not just employment.
And also giving people the right to plan, where to locate the water body and the right to manage it for their need.
Revise and update the drought code.
It is not as if the richer parts of the world do not have droughts – Australia and California have gone through years of water scarcity.
But their governments respond by shutting off all non-essential water use from watering lawns to washing down cars and much more.
This is what is needed in India.
Obsessively work to secure water in all times.
This means insisting on water codes for everyday India (National Water policy 2012).
We need to reduce water usage in all sectors – from agriculture, urban to industry.
NDMA and Drought Management:
Source : http://www.ndma.gov.in/images/guidelines/droughtguidelines.pdf
Connecting the dots:
Delineate the chronic drought prone regions of India along with specific reasons for existence of drought in those regions over the years.
To what extent do you think availability of water influences the socio economic conditions of people and the economic growth of the country.
NATIONAL
TOPIC:  General Studies 2

Indian Constitution- historical underpinnings, evolution, features, amendments, significant provisions and basic structure. 
Government policies and interventions for development in various sectors and issues arising out of their design and implementation. 
Human-centric Laws – Maharashtra Protection of People from Social Boycott (Prevention, Prohibition and Redressal) Act of 2016
Historically—
Mid-19th century— Intra-community battles over access to public goods under the colonial state had begun
1856—the Bombay government denied admission to a Christian Mahar convert into a public school on the ground that caste Hindus did not wish to "associate" with a Mahar student. Towards the end of the 19th century, Dalit students were allowed to attend public schools, but were directed to sit separately in a verandah outside the classroom; also barred from accessing the common water supply.
Late 1920s: B.R. Ambedkar's contribution—"The issue is not entry, but equality"
Ambedkar – Exclusion occurs along multiple axes:
Through boycott,
Through stigmatisation, and
Through segregation (the case of the school verandah)
Launched famous Mahad satyagraha directed towards opening up access to community water tanks that had been barred to Dalits
Launched a movement for entry into public temples, basing his claims on the right to an equal standing within the community
Conceptualised legal solutions to the problem of community oppression, and in his submissions to the Minorities Committee of the Round Table Conference, he identified social boycott as "the most formidable weapon in the hands of the orthodox classes with which they beat down any attempt on the part of the Depressed Classes to undertake any activity if it happens to be unpalatable to them"

He quoted the Starte Committee Report of 1928, which had observed that "[the social] boycott is often planned on such an extensive scale as to include the prevention of the Depressed Classes from using the commonly used paths and the stoppage of sale of the necessaries of life by the village Bania… cases have been by no means rare where a stringent boycott has been proclaimed simply because a Depressed Class man has put on the sacred thread, has bought a piece of land, has put on good clothes or ornaments, or has carried a marriage procession with the bridegroom on the horse through the public street."
Proposed an anti-boycott law which would specifically prohibit the practice of social boycotts— few of Ambedkar's proposals found their way into the post-Independence Protection of Civil Rights Act of 1955

Proposed to bring within the definition of boycott, "refus[al] to let or use or occupy any house or land, or to deal with, work for hire, or do business with another person, or to render to him or receive from him any service". Part of this was covered by Article 15(2) of the Constitution, in its guarantee of access to shops, which was understood by the framers to include non-discriminatory access to services.
Present—Religion-driven housing discrimination, leading to segregation is emerging as a serious problem, especially in urban areas
Against the practice of excommunication
1949: State of Bombay passed a law called the Bombay Prevention of Excommunication Act, which outlawed the practice of excommunication within religious communities.
The constitutionality of this Act was challenged by the head of the Dawoodi Bohra community, who argued that by curtailing his powers of excommunication, the law interfered with his religious freedom.
In 1962, a divided Supreme Court struck down the Act— The judges in the majority held that the practice of excommunication was an essential tool for maintaining community discipline and cohesiveness, and consequently, was protected by Article 26(b) of the Constitution, which guaranteed to all religious denominations the right to manage their own affairs in matters of religion.
Correctness of the majority opinion in the Dawoodi Bohra case—
Undeniably, the Constitution guarantees religious freedom to communities, and also guarantees the freedom of association but at the same time; however, the Constitution also recognises that punitive community action can severely harm individual freedom, dignity, and access to basic public goods.
Therefore, it curtails the power of groups in various ways—prohibition of untouchability, guarantee of non-discriminatory access to "shops, public restaurants, hotels, and places of public entertainment" (Article 15(2)) – "horizontal application of rights": that is, the Constitution grants individuals rights not merely against the State, but also against other individuals (and groups)
Maharashtra Protection of People from Social Boycott (Prevention, Prohibition and Redressal) Act of 2016—
Represents another chapter (1st: first in the country to enact anti superstition law) in a long-standing battle to secure individual freedom from the suffocating grasp of ascriptive communities, whether based on caste or religion
Carries forward the judicially-aborted goals of the 1949 Excommunication Act, and the rarely-used Protection of Civil Rights Act
Purpose: To prevent and punish the continuing community-driven practice of social boycotts
Provides 15 examples of "social boycott", which include

Obstructing individuals from observing religious practices or customs,
Severing social or commercial ties,
Causing intra-community "discrimination",
Expulsion from the community, etc
Who will be penalised—Persons who

Directly engage in social boycott,
Instigate others to do so, or
Participate in the deliberations of any meeting organised with the purpose of imposing a boycott
(On the basis of "morality, social acceptance, political inclination, [or] sexuality")
7-year jail, Rs 5-lakh fine for guilty; trial within 6 months of filing charge-sheet
The victim or any member of the victim's family can file a complaint either to police or directly to the magistrate.
To ensure time-bound results, it indicated speedy trial within six months of filing charge-sheet.
Focus: Directed against caste panchayats which often function as community-based parallel forums of justice, and whose diktats are invariably directed against recalcitrant individuals who have been deemed to transgress the bounds of caste or community morality.
Criticism: Extensive focus on caste-panchayat driven community boycotts leading to a failure in addressing the issue of discrimination. Therefore, a comprehensive anti-discrimination law, on the lines of the Civil Rights enactments in the United States and the United Kingdom, can be enacted to fill the gap.
Additional Steps that can be taken— (Add-on's- For building up your perspective, should a question like this appears in 'Ethics' Section)
The provision of 'Social Boycott Prohibition Officer' to detect the commission of offences under the provisions of this Act; will also assist magistrate and police officers to discharge their duties (Proper delegation as well as a coordinated response- Effective Monitoring)
Need to also evolve the law for other states like Haryana, Rajasthan, Telengana and Andhra Pradesh, where local panchayats play a major role in governing the lives of people – to ensure their local system is not completely uprooted, and yet there is a check on ill-treatment of the disadvantaged
Connecting the Dots:
What do you mean by the term 'social boycott'? Will the decision to evolve a 'new law' on the same lines as that of the Maharashtra Law- yield positive benefits for the society or will it stay riddled with inefficient laws just to please the voters?
MUST READ
Keep it parliamentary- As the two Houses meet today, there is a significant legislative backlog and lots of questions about scrutiny of ministerial accounts
Concern over India's nuclear liability law still remains: French firm- French firm EDF also said that it will give a fresh pricing proposal for the six nuclear reactors for the Jaitapur plant
Related Articles:
Come clean on Nuclear Security
India's first small finance bank launched-Capital Small Finance Bank opens 10 branches in Punjab; to add nine more in FY17
Making skills self-healing- One solution to India's challenges of education, employment, employability lies in state govts adopting apprenticeships on a large scale
New rule applies on service tax
US-India partnership: Full speed ahead?-The partnership can help India build up its capacity to deter potential conflicts with China (and Pakistan) and become a net security provider with the US. This is vital for India and global security
Related Articles:
India- US relationship- a Strategic Imperative
Govt to increase checks on private universities- Fake degrees, irregularities in finance, threefold increase in complaints have forced the govt and UGC to take a close look at state private universities
A case to revisit India's land laws-Two-thirds of civil cases in district courts relate to land and property matters
The importance of IP rights for innovation- Protecting intellectual property of our innovators ensures future generations will enjoy art forms as rich, diverse and creative as those we enjoy today
Related Articles:
India lagging behind in Innovation
For a dedicated peer group, Motivation & Quick updates, Join our official telegram channel – https://t.me/IASbabaOfficialAccount
Subscribe to our YouTube Channel HERE to watch Explainer Videos, Strategy Sessions, Toppers Talks & many more…