SYNOPSIS- IASbaba's TLP 2016 [4th April] – UPSC Mains GS Questions [HOT]
---
1. The India of today is dotted with innovating individuals. Their inventions and out of the box solutions can transform many lives. However, innovation diffusion at the grassroots is what is needed in order to fructify the exemplar ideas of these individuals. Elucidate.
Definition: The process of translating an idea or invention into a good or service that creates value or for which customers will pay.
To be called an innovation, an idea must be replicable at an economical cost and must satisfy a specific need. Innovation involves deliberate application of information, imagination and initiative in deriving greater or different values from resources, and includes all processes by which new ideas are generated and converted into useful products. In business, innovation often results when ideas are applied by the company in order to further satisfy the needs and expectations of the customers (For the sake of better understanding only)
Body:
How have innovations transformed many lives:
Agriculture: many grassroot innovations have been made by many farmers right from sowing, weeding, irrigation, to harvest to increase the production and productivity of their farmlands.
Health care: low cost sanitary napkins, mohalla clinics concept of Delhi government and swasthya tablet for tests, portable TB-testing kits etc. have made diagnosis faster and cheaper for many urban and rural poor
Electricity: salt water based lamps solar lanterns etc. have potential of changing rural power shortage scenario.
Education: internet is being used in many innovative ways to make education accessible and affordable,
Social: it is because of innovation that the way we do shopping, booking, traveling etc have changed reducing the time and effort.
Why is innovation required at grassroot: ( only few examples have been mentioned here, students can give as many examples as they can think of)
70% of Indian population is still rural, lacking many facilities which urban people enjoy, also many urban poor do not have access to basic things, innovations can hugely benefit these marginalized groups.
Grass root innovations have the potential to change lives of vulnerable sections who are at greater risk, eg: self-help groups of urban poor women give them opportunity to become economically independent.
For making these innovations work, most important thing is incubation, to make them economically viable,. Start-Up India, Atal Innovation Mission are can be used for this purpose.
An idea to be useful must have a group of customers, for this market research is required, in order to identify potential successful ideas,
Finance is another important factor, for any idea to become viable, project ,production of which requires funds, MUDRA scheme ,National Innovation fund are good steps in this direction
Along with production, availability is another major thing, this can be done my arranging fairs, interviews, awards etc. platforms like Mannkibaat provides this opportunity.
Strong IPR regime is required to encourage innovators to continue making new products and services.
Accessibility is another concern, which can be achieved by creating economies of scale, and by providing subsidy either to producer or consumer.
Write your opinion in brief and conclude
Best answer: MANISH
India has lot of engineering, management and arts institution in which individuals are innovating in different fields like technology,science,business models etc. These can transform the lives in following ways:-
1.Innovations by various START UPS have CREATED UNSKILLED jobs that can help to reduce poverty. For example-E COMMERCE platform like FLIPKART.
2.SIMPLIFICATION OF LIVES in urban areas by designing of various algorithms for day to day use like CAB SERVICES,HOTEL SERVICES etc.
3.Innovation in biomedicine and biotechnology can be helpful for making vaccines. FOR EXAMPLE-RECENT breakthrough in ZIKA VIRUS by Indian company.
4.Innovation in environment conservation and efficient use of resources can solve the problem of resource depletion. FOR EXAMPLE-BIODEGRADABLE PLASTIC.
But nowadays in India innovations are mostly software related .These might be useful for services but are not helpful for solving SOCIO-ECONOMIC PROBLEMS of India.
The innovation potential should be utilized to solve grassroot level problems of India in the following way-
1.AGRICULTURE-urgent need for innovation due to CLIMATE CHANGE and other challenges like low productivity, wastage etc. Increase in budget for agriculture research required.
2.RENEWABLE ENERGY- for ENERGY SECURITY along with reduction of emissions .Innovation required for reducing costs.
3.TRANSPORT-improve PUBLIC TRANSPORT SYSTEM to promote their use .THIS will reduce car emmissions.FOR EXAMPLE-IIT MADRAS ALGORITHM FOR PUBLIC TRANSPORT.
4.EDUCATION-to make it more accessible and affordable.GIAN,E-BASTA etc are good move
SO innovation should mean that a system that can be actually be utilized by the country to tackle challenges .Though govt has launched schemes like AIM,SETU AND STARTUP INDIA, implementation and proper allocation of resources would .
---
2. What steel industry used to be a few decades back has now been replaced by the automobile sector. Countries across the world have facilitated the automobile sector to establish manufacturing base on their lands. Why such trend is being observed? Discuss
Introduction:
Steel industry for long, has been considered the backbone of an economy as it provides infrastructure development. However since the past century, automobile sector has been seen to overtake the steel industry as the manufacturing base of the country. Such a change has been gradual due to precedence of luxury over necessity.
Automobile boom in the world has gradually changed the landscape of industrial manufacturing base from iron & steel industry in 18th, 19th century to Automobile sector in 20th century after 3rd Industrial Revolution. Various cities like Detroit in USA, Wuhu in China, Munich (BMW) in Germany, Delhi-Haryana in India are few recently developed areas which have shown exponential growth in being called manufacturing hubs & brought enormous prosperity in the region.
Reasons:
Popularity for automobiles: It has been one of the most successful and popular consumer product and has become a status symbol in the society and the craze for it has increased multifold .This can be attributed to the successful ad campaigns ,constant technological advancement ,cheap availability ,huge variety with various segments like economy ,luxury etc.
The sector provides huge scale employment ,brings foreign investment ,promotes the manufacturing sector as well as boost the eco growth of the country.
Revenue: government getting huge share of their revenue from auto sector in form of indirect taxes (approx 17% )
Skill development: automotive industry offer one of the highest potential for providing skill to youth and up-skilling the existing labour force among all sector.
It ensures balanced regional development.
Gives impetus to linkage and dependent industries like rubber (for tyres), petroleum products industry, iron & steel industry, leather industry, electronics and hardware. These are mainly dealt by MSMEs and hence contributes for employment generation in all these sectors.
Few countries like China have become the production centre for steel for the world by exporting cheap steel due to economies of scale. So other steel production countries are losing the edge over China and looking at other avenues.
Automobile unlike steel industry has less environmental impact in the region that is has been established thus leading to faster clearances and set-up time.
Automobile industry have fair global markets with ever growing demand. So, it stabilizes country's stand in the global trade and also a major foreign exchange earner.
Reduces import dependency for automobiles and saves valuable forex reserves.
Concerns:
Greater demand for raw materials like ores, coal etc., drives the exploitation at a faster pace and degrades forests and environment.
It will also result in the breach of tribal rights and forests rights and raises conflicts. (eg. POSCO issue in Odisha).
Pollution will be rampant and inordinate in these industries. And, it is also one of the water guzzling industry.
Conclusion:
It is a situation of concern that the steel industry is facing a setback despite the industries and populations dependent on it. But it is just a matter of time that the industry revives itself. Automobile sector will help in the enhanced demand of the sector with the rising demands of the components used in the sector itself.
Government should parallelly encourage manufacturing of hybrid and environmentally safe vehicles like tesla and reva which are the future in automobile industry which also helps in maintaining the COP21 targets.
Make in India, skill India.
Best answer: MDA
http://a.disquscdn.com/uploads/mediaembed/images/3451/1900/original.jpg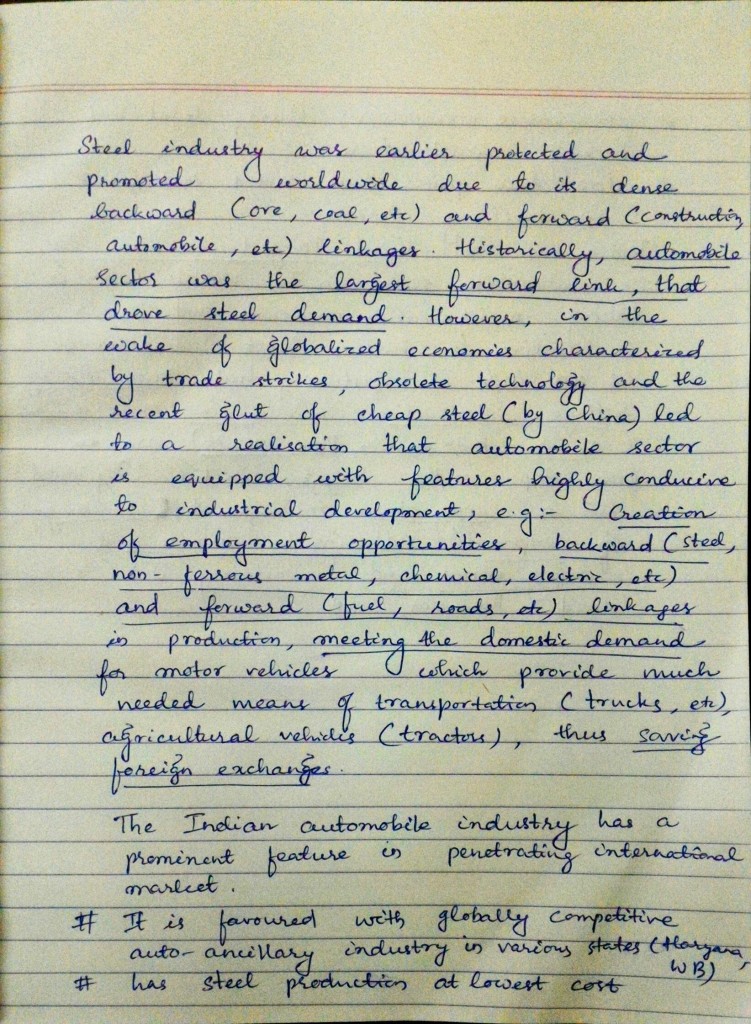 http://a.disquscdn.com/uploads/mediaembed/images/3451/1898/original.jpg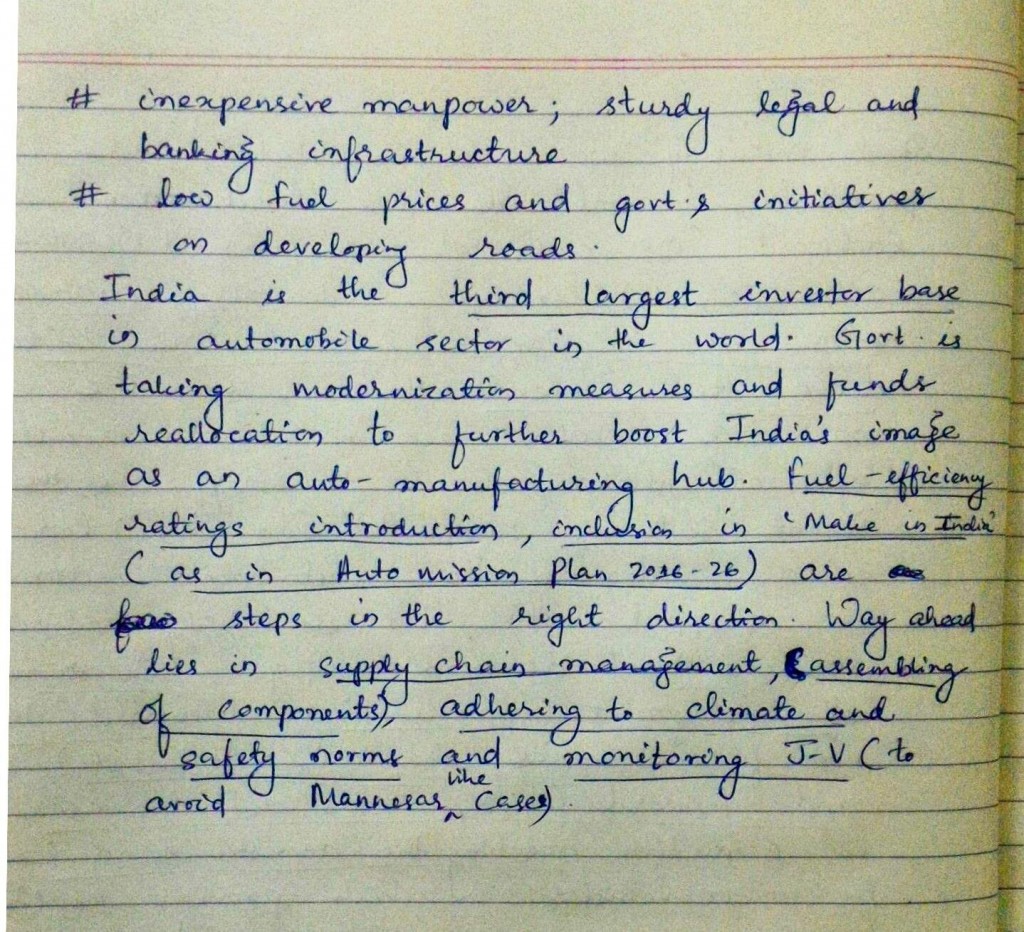 ---
3. India is an under-insured country. What do you understand by this statement? What role has financial literacy or the lack of it played in this regard? Can the latest government initiatives fill this gap? Examine.
Part I: Definition of Under-insured
Note: (Use any 1 paragraph) – Most of you committed mistake in this part
It is a term given to those who do not possess the proper level of insurance coverage against a particular form of personal loss, including auto, home or healthcare expenses or who are not able to meet coinsurance criteria. In addition, the term 'under insured' can also be applied to a policy that does not provide sufficient benefits. For example, an individual who lives in a high-risk flood area but purchases a homeowner's policy that does not reimburse for loss due to water damage would be considered under insured.
(or)
In simple, underinsured is defined as having some insurance coverage but not enough, or when one is insured yet unable to afford the out-of-pocket responsibilities not covered by his or her insurer. In the event of a claim, underinsurance may result in economic losses to the policy holder, since the claim would exceed the maximum amount that can be paid out by the insurance policy. While underinsurance may result in lower premiums paid by the policy holder, the loss arising from a claim may far exceed any marginal savings in insurance premiums.
Data reveals that our country of over 100 crore people has just about 26 crore life insurance policies. What is even more disheartening is the fact that even those who are insured are covered for sums too petty to be called an insurance cover for life.
Role of financial literacy/lack of it with this regard (choose some points)
A number of studies suggest that low awareness and financial literacy about insurance is one of the most common reasons due to which people don't buy insurances. For most of them, the number of options available in the market is confusing and they prefer not dealing with this dilemma.
The perception of most citizens (or the fancies of the distributors of insurance products) who look upon insurance as an investment avenue rather than a cost to provide financial security to one's family.
Negligent failure: Many financial literate people don't realise that they have insured an item (or items) for its market value, not its full replacement value. In this scenario the insurance policy will pay out whatever the market value of the item was set at. Due to inflation this amount will not be enough to replace the item at the current new price (the replacement value), and the policy holder will thus be left in a situation where the insurance payout is not high enough to allow for the replacement of the item.
India has very poor financial literacy track record. Many a times, even well educated persons do not have reasonable knowledge on financial matters. So, we have low insurance cover.
Low per capita incomes and financial knowledge in rural areas are detrimental to insurance schemes, unless and until, it is subsidized and promoted by the govt.
Initiatives
The insurance Laws Amendment Bill, 2015 is a major step that increases the FDI in the insurance sector upto 49%. This will increase the flow of funds for the insurance companies enabling them to reach to larger population.
Govt itself has opened accounts under its Jan Dhan Yojana to bring the un-banked population under banking system. This would act as the catalyst for insurance companies.
More powers to Insurance Regulatory and Development Authority Act (IRDA) and strengthening regulatory framework.
IRDA has formulated a draft regulation which imposes obligations on insurers towards providing insurance cover to the rural and economically weaker sections of the population.
There are still some gaps which need to be plugged, with time more reforms are bond to come. The future looks promising for the insurance industry with several changes in regulatory framework which will lead to further change in the way the industry conducts its business.
Best answer: SVSR
Compared to other developed and developing countries, India has very low insurance cover. Despite many social security initiatives, people covered under any one of the insurance schemes like life insurance, health insurance, accident insurance etc., are desperately low in number. Owing to high presence of informal sector, rampant poverty and unemployment, social security like insurance is very essential for the decent livelihood of the people.
Role of financial literacy:
> Literacy and financial literacy of an individual play a pivotal role in planning social security, savings, expenditure etc., based on the income earnings.
> India has very poor financial literacy track record. Many a times, even a well educated persons do not have reasonable knowledge on financial matters. So, we have low insurance cover.
> Some reports reveal that majority of Indians have negative opinion on having insurance cover, and feel that it is a loss particularly in the early/young years of life.
> Low per capita incomes and financial knowledge in rural areas are detrimental to insurance schemes, unless and until, it is subsidized and promoted by the govt.
Govt. is highly motivated to initiate attractive insurance and social security packages for all its citizens and laid many steps in this direction, which are determined to fill the existing gap. They are:
> PM Jan dhan yojana – to ensure access to essential banking and insurance services.
> PM Suraksha bheema yojana & PM Jeevan Jyothi Bheem yojana – aims to cover large sections of population, with Rs.12 per anum, the accidental insurance, and the life insurance.
> Rashtriya Swasthiya Bima Yojana – health insurance for BPL families including employees in the informal sector.
> PM Fasal Bhima Yojana – to provide comprehensive insurance coverage to farmers with very low premium rates – already this scheme is praised for plugging deficiencies in earlier schemes and is highly attractive to farmers.
> Allowing 49% FDI via automatic route brings in healthy competition in the sector.
> Proposals and frame work to bring Universal Health Insurance scheme are included in the Draft National Health Policy.
However there are issues that needs special attention are yet to be covered:
> Awareness generation and framing liberal rules and regulations in a customer friendly manner.
> Effective grievance redressal and curbing corruption and malpractices. (numerous evidences in health schemes like Arogya Sri of AP wherein hospitals are making money illegitimately).
> Steps for increasing financial literacy in the country.
For a dedicated peer group, Motivation & Quick updates, Join our official telegram channel – https://t.me/IASbabaOfficialAccount
Subscribe to our YouTube Channel HERE to watch Explainer Videos, Strategy Sessions, Toppers Talks & many more…