IASbaba's Daily Current Affairs – 23rd May, 2016
INTERNATIONAL
TOPIC: General studies 2

India and its neighborhood- relations, International relations
Bilateral, regional and global groupings and agreements involving India and/or affecting India's interests.
Effect of policies and politics of developed and developing countries on India's interests, Indian diaspora.
Chabahar Port: crucial gateway for India's objectives
India and Iran Ties:
PM Modi's visit to Iran has three primary objectives:
First, to diversify (and increase) India's oil and gas supplies (Recently, Iran became second-biggest oil supplier to India)
Second, to enhance connectivity and trade with Afghanistan, Central Asia and beyond via Iran and
Third, — given Iran's growing regional influence—to hedge its geopolitical bets in the region vis-à-vis other players, notably Pakistan, Saudi Arabia and the Gulf Cooperation Council members
Secondary objectives:
First, to balance China's growing influence and
Second, to engage the US in ensuring that India's interests are protected in the region
Chabahar Port: crucial gateway for India's objectives
For India's objectives, the port of Chabahar has become the crucial gateway to step up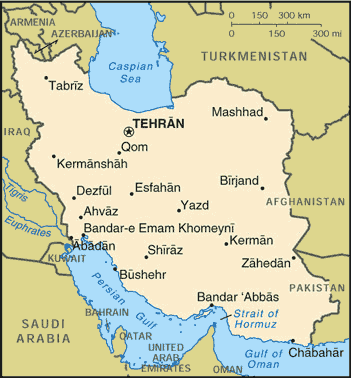 relations with Iran.
About Chabahar Port
Located on the Makran coast
South-eastern coast of Iran
It is relatively underdeveloped free trade and industrial zone (compared to the sprawling port of Bandar Abbas further west)
(See fig: http://www.factophile.com/media/content/society/nations/maps/iran.gif)
For India, Chabahar is of strategic importance for two reasons:
First, it is the nearest port to India on the Iranian coast, which provides access to the resources and markets of Afghanistan and Central Asia.
Second, it is located 76 nautical miles (less than 150km) west of the Pakistani port of Gwadar, being developed by China; this makes it ideal for keeping track of Chinese or Pakistani military activity based out of Gwadar.
(See fig: http://www.joc.com/sites/default/files/resize/field_feature_image/chabahar-400×299.JPG)
Despite the strategic importance of Chabahar for India, there has been very little progress on it for several reasons:
First, is Iran's unenthusiastic support and reluctance to allow an Indian presence at Chabahar.
The idea of developing Chabahar was first mooted in 2003
But it was only in 2012 (on the sidelines of the 16th Non-Aligned Movement Summit in Tehran), Iran conceded to set up a joint working group to operationalize the port project as part of the trilateral cooperation agreement between Afghanistan, India and Iran on investment cooperation, trade and transit.
Second, its strategic significance notwithstanding, the economic viability of the project is suspect.
India had trouble raising funds for the project. It has so far been able to invest only $85 million to build a couple of berths.
While India recently indicated that it was willing to invest up to $20 billion—one of its largest overseas ventures—to develop the port, petrochemical and fertilizer plants in the Chabahar SEZ, it remains to be seen if it can raise the funds.
Third, presence of Gwadar next door
Given the presence of Gwadar next door, where China has already invested over $1 billion and committed another $46 billion for the 3,000-km long economic corridor to link Gwadar to Kashgar in Xinjiang province and its One Belt, One Road project, it is unclear whether the Chabahar route will generate enough trade and traffic to justify the investment.
In fact, Tehran, which has been playing hardball with India and demanding greater Indian investment in Chabahar, itself plans to invest $4 billion to build a refinery in Gwadar to process 400,000 barrels of oil per day.
Why Iran was reluctant to allow an Indian presence at Chabahar?
Since, Indian navy in 2011 had detained Nafis 1, a vessel that sailed from Chabahar, on suspicion of carrying arms and ammunition for terrorist groups in Somalia – the Army of the Guardians of the Islamic Revolution (the so-called Revolutionary Guards) were annoyed of the incident
The Revolutionary Guards reportedly uses the port to ship arms to Yemen and militant groups in the region
Therefore, there was strong opposition by the Revolutionary Guards
The way ahead:
Resolving the Chabahar conundrum is vital to securing India's interests in Iran and beyond.
The successful launch of the Chabahar project allows India to circumvent the geographic limitations imposed by Partition and the enduring hostility with Pakistan.
However, given the challenges in manifesting this project, New Delhi is unlikely to succeed on its own. India might be better off building an international consortium with the likes of Japan and South Korea to invest in the project. Otherwise, the future of India's interests will remain uncertain.
Connecting the dots:
With recent opening up of sanctions, Iran is likely to emerge as a one of the most prominent player in the region. Analyse this impact on India and the world in brief.
Examine the significance of "Chabahar port as a crucial gateway for India's objectives".
Despite the strategic importance of Chabahar for India, there has been very little progress on it. Discuss the challenges faced by India in this regard and suggest some strategies for the same?
ECONOMICS
TOPIC: 
General Studies 2:
Government policies and interventions for development in various sectors and issues arising out of their design and implementation; Governance issues
Welfare schemes for vulnerable sections by the Centre and State and the Performance of these schemes; Mechanisms, laws, institutions constituted for protection and betterment of these vulnerable sections
General Studies 3:
Indian Economy and issues relating to mobilization of resources, growth, development and employment. 
Effects of liberalization on the economy, changes in industrial policy and their effects on industrial growth. 
Labour law reforms
Labour reforms is sine qua non for achieving employment growth in India and have been long been pending in India.
Almost 90 per cent of the labour community is casual and not protected by laws and regulations. On the other hand, government's thrust on Make in India and Ease of Doing Business would fail to boost economic productivity, in the wake of low priority being given to labour health, safety, and welfare, high industrial accidents, weak medical insurance and social security, and the routinely violated minimum wage guidelines.
Indian policymakers have seemed to realize the importance of manufacturing in providing jobs, but with the share of manufacturing in India's gross domestic product stagnating between 14% and 18%, it is also equally important to realize that the path leading to higher manufacturing employment needs to build up on the magic named 'labour reforms'.
Real impact of labour reforms on the employment growth, firm growth, plant productivity, etc. is important—
Do labour regulations hinder economic performance in India?
Found that that rigid labour laws lead to significant reduction in employment, productivity and growth—documentation of a strong relationship between labour laws and increased urban poverty
Therefore, the impact is higher in industries that are heavily dependent on labour and also for those, who face a lot of volatility.
Case Study
Lack of initiatives curb Indian manufacturing growth
High labour costs,
Poor infrastructure
Inefficient logistics services
To become an apparel manufacturing and exporting major as China—
Reduce tariffs and import barriers:

To ease access to manmade fibres — such as more transparency for duty drawback schemes and bonded warehouses
Removing anti-dumping duties on manmade fibres
Lower excise taxes or provide other incentives to develop a domestic manmade fibre industry

Ease labour norms:

Take advantage of economies of scale with less complex labour policies
Promote foreign investment for apparel by adopting clear and transparent policies on foreign ownership (already in place for textiles) and within Export Promotion Zones

Promote foreign investment— needs to move quickly to ease barriers to the import of manmade fibres, facilitate market access and encourage foreign investment to reach more end markets, which would also yield dividends for other light manufacturers like footwear and toys
Could shorten lead times by using industrial parks to provide better infrastructure
Look at ways to help its apparel sector connect to global value chains (where production processes are situated in different countries)
Consider joining mega free trade agreements such as the Trans-Pacific Partnership to get preferential access to huge and lucrative markets such as the U.S.
Encash the rising costs of apparel manufacturing in China— provides a window of opportunity for India to focus on apparel in productively employing its huge working-age population (could create at least 1.2 million new jobs in the Indian apparel industry)
IASbaba's Views:
Government needs to not only focus on skill enhancement and flexible labour markets but also conduct an assessment of

Proper enforcement of the laws
Situation of different categories of employers
Coverage of the social protection system

Labour-intensive industrialization carries the potential to break the cycle of distress and therefore, more efforts needs to be taken for building up on a consensus-derived decision by taking the trade unions as well as the State government into confidence.
Steps should be employed to address the issues like lack of appropriate planning, inappropriate coverage, the applicability depends on wage ceilings, number of employees in an establishment, type of establishment, etc.
Need to encourage industry-academia collaborations to understand innovation requirements better— Funds should be attracted from private sector to support research at academic and research & development (R&D) institutions
Refer:
MUST READ
Why sea ice cover around Antarctica is rising
Fishermen in troubled waters
India, US and an eastward tilt- Why does India-US military cooperation not include northern Arabian Sea and Persian Gulf — a region of great importance for India's security?
Crime and punishment– Harsh punishments are an unhealthy trend
For diabetes, insurers are becoming risk managers too- Insurers are also introducing indemnity-based outpatient department (OPD) products that enable customers to avail insurance benefits for consultation, diagnosis as well as pharmacy
A heavy financial sector reform agenda-The one reform that will go a long way in improving the working environment for investors and lenders in the long run, is introduction of the Bankruptcy Code
Maximum government, minimum governance- Has Narendra Modi been able to bring the 'efficiency' and 'decisiveness' he was known for as chief minister into running the country?
For a dedicated peer group, Motivation & Quick updates, Join our official telegram channel – https://t.me/IASbabaOfficialAccount
Subscribe to our YouTube Channel HERE to watch Explainer Videos, Strategy Sessions, Toppers Talks & many more…