IASbaba's Daily Current Affairs – 17th September, 2016
INTERNATIONAL
TOPIC: General Studies 2

Bilateral, regional and global groupings and agreements involving India and/or affecting India's interests.
Important International institutions, agencies and fora- their structure, mandate.
BRICS 2016- Challenge to sustain the significance
In news: The annual BRICS summit will be hosted by India in October 2016 with the theme "Building Responsive, Inclusive and Collective Solutions". The BRICS dynamics and the emerging situation of 'too many cooks spoil the broth' is being highlighted.
Background
BRICS has been pushing for greater economic growth among the member countries and reform of global financial institutions. Focus will be on "greater people-to-people participation" during the BRICS events like BRICS Film Festival, BRICS Wellness Forum, BRICS Youth Forum and BRICS Friendship Cities Conclave held throughout the year across the country. This is expected to give people a greater opportunity to enrich the BRICS process and BRICS leaders a stronger platform for dialogue.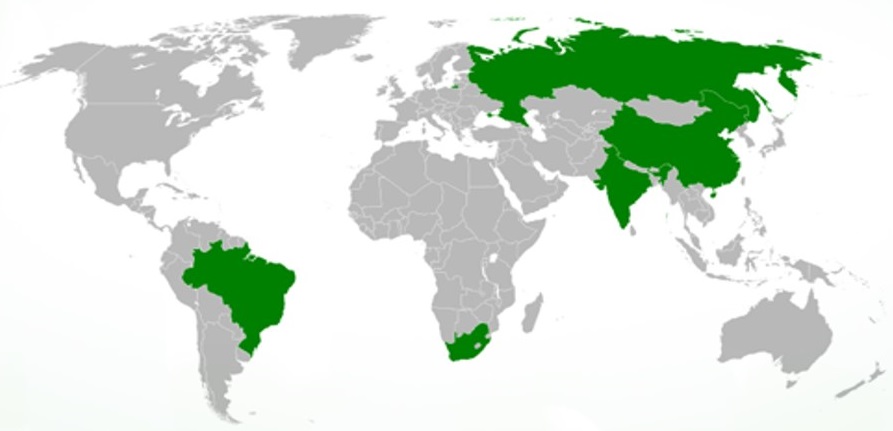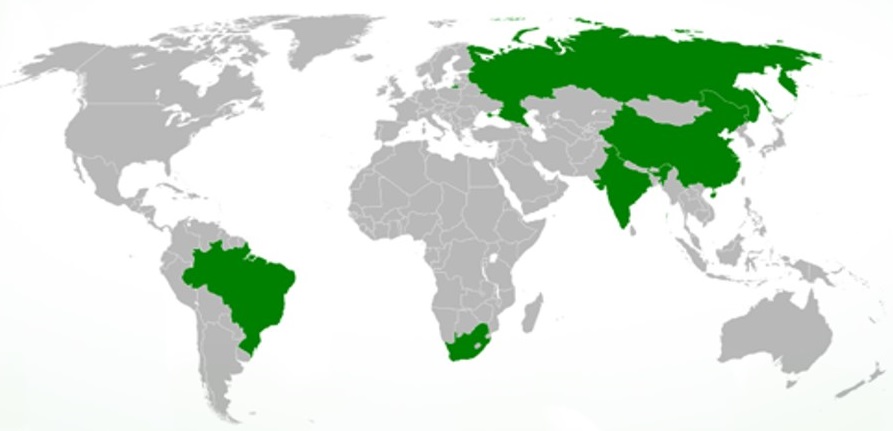 Picture Credit: http://www.brics-info.org/wp-content/uploads/2016/07/2016011304.jpg
Let us look at the BRICS dynamics expected to be visible during the 8th BRICS summit.
China-Russia growing friendship  
Russian President and Chinese President share an image of being tough leaders, of having defied the U.S. and the West. They are now edging closer to a closer security partnership.
The largest ever Sino-Russian joint naval exercises are being held in the South China Sea (SCS) off the coast of Guangdong province.
Moreover, Russia is the only country to have explicitly supported China's stand on the SCS dispute. It has rejected the international tribunal award and proposed bilateral dialogue with claimant countries, though it has not endorsed China's territorial claims.
China would like to include in the BRICS summit declaration what had been agreed upon in the India-Russia-China trilateral Foreign Ministers' meeting in Moscow in April 2016. The crux was:

India, Russia and China were committed to maintain the legal order for seas and oceans on principles of international law reflected in UNCLOS.
The disputes will be addressed through negotiations and agreements between the parties concerned.
The ministers called for respect to UNCLOS, Declaration on the Conduct of Parties in the South China Sea (DOC) and the Guidelines for implementation of the DOC.

However, this was before the Hague ruling. Now, India would probably look to resist combined China-Russia pressure to include such declaration in summit by highlighting the Chinese opposition to India's membership of NSG and its blocking at the UN of naming the Pakistani Jaish-e-Mohammed chief Masood Azhar as a terrorist.
Brazil and South Africa- lagging economies
Any notable initiative is unlikely to come up from Brazil and South Africa as both countries are suffering from political and economic turmoil.
Brazil President has taken over after a politically polarising impeachment of the former Brazilian president, Dilma Rousseff while S.A. President is facing serious charges of corruption and there has been unprecedented infighting in his political party.
Hence, the BRICS summit is likely to have more focus on India-Russia-China.
However, India has the challenge to bring Brazil and South Africa into productive talks with the remaining leaders to maintain and sustain a major bloc of developing economies.
Too many meetings eroding substance
BRICS has now started showing characteristic of several other multi-country groupingsà exponential expansion in its committees, working groups and forums. This has resulted in growing crowded calendar of meetings held across globe.
Over hundred subjects including trade, investment and finance, health, education and security are being undertaken at multi-body platforms.
India is also hosting around ten such events every year. This brings out the question if such hyperactivity is leading to substantive outcomes.
Such multilateral meetings that declare crucial goals and end on promising note often fail to expand human or financial resources to follow through.
The event become the focus and not the process. Thus leading to sparse outcomes of such events.
Sustaining the BRICS significance
The New Development Bank is one of the BRICS's practical outcome. However, where the NDB has been operationalised and India has already received loans of around USD300 million, it has been overshadowed by China led AIIB.
Another important initiative, The Contingent Reserve Arrangement (CRA), has yet to come into action.

It proposes to provide short-term liquidity support to the members through currency swaps to help mitigating BOP crisis situation, if such a situation arises.
It would also contribute to strengthening the global financial safety net and complement existing international arrangements (from IMF) as an additional line of defence.

A proposal to set up BRICS Credit Rating Agency to challenge the monopoly of the West, if adopted, will be of much value.
The BRICS free trade agreement may come up against fears of Indian and Russian markets being swamped by Chinese imports. However, even such agreement is not expected to give impetus to the member economies.
None of the member countries are part of Trans-Pacific Partnership (TPP) and the Transatlantic Trade and Investment Partnership (TTIP). However, at the moment, TPP and TTIP are stalled and a hope of mega trade bloc of the key emerging economies would be a major development. It could even bring WTO back into its significant position in global trade.
Thus, BRICS has a responsibility of bringing significant outcomes to help the member countries for positive economic advancement.
Reviving the BIMSTEC
It was expected that India might invite SAARC leaders to BRICS when Brazil invited heads of state/government from Latin America in 2014 and Russia invited leaders of the Eurasian Economic Union and SCO in 2015.
Instead, India has chosen to host the leaders of the seven-member BIMSTEC (Bay of Bengal Initiative for Multi-Sectoral Technical and Economic Cooperation) which is a potential Bay of Bengal Economic Community. Concurrently, BIMSTEC will hold its 4th summit in India.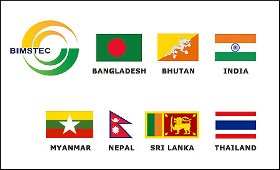 Picture Credit: http://img.tradeindia.com/cmsmedia/smetimes/media/2012/03/09/BIMSTEC.9.jpg
The BIMSTEC summit could be an important occasion for revival of the group having immense potential. The highlight is that China will not be dominating India and also, India will be able to go along with its Act Eat policy.
The parallel Mekong-Ganga Cooperation (MGC), a platform for India's exclusive engagement with Thailand, Laos, Cambodia, Vietnam and Myanmar, can also become a major component of Act Eat strategy.
Not encouragingly enough, neither BIMSTEC nor MGC have failed to live to their potential.
India has engaged with these groups on intermittent and ad hoc basis which has not led to a well-thought out and long term strategy of integrating India more closely with its eastern neighbourhood.
Connectivity is expected to rule over BIMSTEC summit. However, once again India faces the 'Chinese scare'. The connectivity will also help China to promote its One Belt, One Road initiative among the members of this grouping.
Conclusion 
India has limited resources but the record of delivering on the commitments has been abysmal. There have been occasions where same projects appear as 'fresh initiatives'. The capacities and institutions continue to lag behind the ambitions.
Hence, the forthcoming summits will reflect India's status as a key player in the region and as a globally significant player.
India has to focus on making a well-conceived event with systematic process of expanding our strategic space, leveraging its strengths and remedying the vulnerabilities.
Now is time to move from an event-oriented to a process-driven approach.
Connecting the dots:
How can BRICS help India to establish itself as a key regional and globally significant player? Critically examine
Smaller groups like BIMSTEC and MGC have greater potential for India to increase its economic and geopolitical status than larger groups like ASEAN and G20. Do you agree? Give reasons critically.
Related article:
India-China synergy to strengthen G20, BRICS
NATIONAL
TOPIC: General Studies 2

Bilateral, regional and global groupings and agreements involving India and/or affecting India's interests
Effect of policies and politics of developed and developing countries on India's interests
Important International institutions, agencies and for a-their structure, mandate
The Solar dispute- India and US
In news:  India suffered a setback in its efforts to build a robust domestic solar industry, as the appellate body (AB) of the World Trade Organization (WTO) upheld an earlier ruling against its domestic content requirements for manufacturing solar cells and modules.
Background
The solar dispute arose from a complaint lodged by the United States against India. Early this year, a dispute settlement panel issued a comprehensive ruling in favour of US' claims against India's domestic content requirements.
The national treatment obligations required India to treat imported solar cells and modules on par with domestically produced products without any discrimination under Article III:4 of the GATT 1994.
The highest adjudicating body (AB) for global trade disputes agreed with the panel that India's domestic content requirements for solar cells and modules under the Jawaharlal Nehru Solar Mission amounted to trade-related investment measures as they favour domestic products over imported products.
Significantly, the AB disagreed with India's appeal against the panel ruling that the domestic content requirement) are not covered by the derogation/exemption under the so-called "government procurement carve-out" of GATT Article III:8(a).
This provision enables WTO members to deny national treatment disciplines for the procurement by government agencies for products purchased for government purposes and not with a view to engage in commercial resale.
India-US relations
At a time when India is forging an ambitious security alliance with the US, including cooperation on solar energy and climate-change issues, the AB's ruling is a sober reminder/lesson that in global trade based on mercantile trading framework, dollar-cent interests trump over bilateral and climate change considerations.
New Delhi finally launched a major trade dispute against the US at the WTO alleging that domestic content requirements and subsidies of eight American states—Washington, California, Montana, Massachusetts, Connecticut, Michigan, Delaware and Minnesota—for renewable energy violated core provisions of global trade rules.
India's delay in raising the dispute against the US' renewable energy programs in these eight states has denied New Delhi the strategic leverage as availed by WTO members in tit-for-tat trade disputes.
India had argued that it had an "obligation to take steps to achieve energy security, mitigate climate change, and achieve sustainable development, and that this includes steps to ensure the adequate supply of clean electricity, generated from solar power, at reasonable prices."
Way forward:
There are two policy goals that India is seeking to achieve:
One is to promote the 'Make in India' initiative and to become self-sufficient in manufacturing high technology products.
The other is to generate green energy at a lower cost to meet its growing demands.
In this context it is important to remember that the government has recently launched the 'International Solar Alliance' with the objective of creating "a collaborative platform for increased deployment of solar energy technologies to enhance energy security & sustainable development; improve access to energy and opportunities for better livelihoods in rural and remote areas and to increase the standard of living."
To achieve its full potential in energy India needs to reassess its policies and incentives.
India must discontinue the DCR measures that violate international trading rules. Instead, to give fillip to the Make in India initiative, India should look to incentivise production of such products in manners which are WTO compatible like giving direct subsidies to domestic manufacturers, tax breaks, ensuring a strong line of long term credit at low rates, collaborating with global leaders to enhance domestic research and development.
To meet the increasing demand for clean energy, India must deeply engage with international partners and get the best available technology at internationally competitive rates. Collaborative research and development projects would help in reducing the cost of energy and increasing efficiency in the long run. At this stage, due to the underdeveloped Indian industry, it would be more efficient, to import the technology, while taking efforts to enhance domestic capabilities.
By relying heavily on solar energy, the dependence on oil and coal will be reduced. It is necessary to ensure that there is an adequate reserve of domestic manufacturing capacity for solar cells and modules in case there is a disruption in supply of foreign cells and modules.
A combination of these measures will lead to greater self-sufficiency and increased capacity in solar energy production.
Connecting the dots:
Evaluate India's approach towards meeting the country's growing energy demands. How far trade disputes impacts to reach its full potential? Discuss.
Related Articles:
WTO: The much talked about Solar panel Dispute
India and USA at loggerheads at WTO
MUST READ
Towards a national health policy
Technical Advisory Committee (TAC) is to be replaced by the Monetary Policy Committee
The Afghan push
Economic management key to handling refugee crisis, says World Bank
CEA panel sows the seeds of a 'pulses revolution'
Why ditch the non-aligned movement?
Related articles:
No more aligned to 'Non-Alignment'
For a dedicated peer group, Motivation & Quick updates, Join our official telegram channel – https://t.me/IASbabaOfficialAccount
Subscribe to our YouTube Channel HERE to watch Explainer Videos, Strategy Sessions, Toppers Talks & many more…