IASbaba's Daily Current Affairs – 9th September, 2016
NATIONAL
TOPIC:
General Studies 2
Government policies and interventions for development in various sectors and issues arising out of their design and implementation
Issues relating to development and management of Social Sector or Services relating to Health, Education, Human Resources
Issues relating to poverty and hunger
General Studies 3
Indian Economy and issues relating to planning, mobilization of resources, growth, development and employment
Inclusive growth and issues arising from it.
Why are so many Indian Children stunted?
Cognizant of the country's nutrition problem, especially among children, the Government has made concerted efforts to get food to children and their families through various initiatives.

ICDS – Integrated Child Development Scheme
MDMS- Mid Day Meal Scheme
PDS- Public Distribution System
India has undoubtedly made progress with regard to child undernutrition with stunting rates dropping from 48% in 2006 to 38.7% in 2015.
Yet India continues to be home to a staggering 48 million stunted children under age 5 — the highest in the world.
Stunting, where children are short for their age, results from severe and persistent undernutrition. While the lack of nutritious food significantly contributes to undernutrition, the World Health Organization estimates that half of all undernutrition is associated with diarrhoea and infections resulting from unsafe water and sanitation, and unhealthy hygiene behaviours.
Safe water, sanitation and hygiene (WASH) have been identified as playing a key role in catalyzing further reductions in undernutrition, contributing to improvements in children's growth and development.
Diarrhoea in the first two years of life directly contributes to a quarter of all cases of stunting, with WASH responsible for a majority 88 percentage of all diarrhoea cases.
WASH contributes to diarrhoea through several key routes:
When people lack access to adequate sanitation, they often defecate in the open, polluting water sources used for drinking, cooking, and washing purposes. When people don't have access to safe drinking water or resources to make water safe, they end up consuming contaminated water.
When people do not have awareness about the importance of hygiene or access to adequate hygiene facilities such as water and soap, they may not wash their hands at critical times like after defecation and before they eat, which leads to germs entering their bodies and their children's bodies when they prepare and eat food.
Unclean water contaminated by faecal matter or unable to wash their hands after defecating and before eating, vulnerable to diarrhoea, intestinal worm and other infections.
What is particularly harmful about these conditions is that they prevent a child's intestines from absorbing nutrients, preventing physical and cognitive growth. Research suggests that children can become stunted if they experience five or more cases of diarrhoea before their second birthday.
Stunting is irreversible after age two, and its effects are long-lasting in terms of educational performance, health, and future potential.
Way Ahead:
For India to continue to make significant strides to reach the Sustainable Development Goal target to end all forms of malnutrition by 2030, the Government must continue with its direct nutrition interventions such as promoting breastfeeding, iron and vitamin supplementation, and food fortification.
The Government must support efforts to improve WASH by investing in safe water, hygiene facilities and activities that engender hygienic and healthy behaviour.
A multi-sectoral approach is critical. This can be done by the nutrition sector integrating WASH components into their ongoing platforms and programmes such as ICDS, and keeping in mind nutrition outcomes affected by water, sanitation and hygiene and ensuring that these messages are incorporated.
Connecting the dots:
Identify the Sustainable Development Goals (SDGs) that are related to health. How far India is prepared in achieving same?
India continues to be home to highest number of stunted children under age-5. Discuss the various factors contributing to it.
Related Articles
India needs a nutrition mission
Dramatic drop in number of Underfed children: UNICEF
INTERNATIONAL
TOPIC: General Studies 2

Bilateral, regional, and global groupings and agreements involving India and/or affecting India's interests.
Effect of policies of developed and developing countries on India's interests, Indian diaspora.
SAARC- Towards economic integration
According to World Bank, South Asia is the fastest growing region in the world with economic growth projected to increase from 7.1% in 2016 to 7.3% in 2017. With such an encouraging regional economic development prospect, SAARC nations have to look forward towards achieving greater economic integration.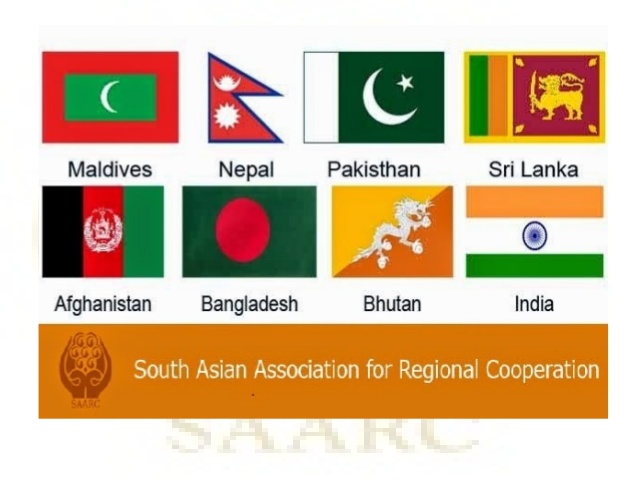 Picture Credit: http://image.slidesharecdn.com/saarc3-151003074706-lva1-app6892/95/saarc3-2-638.jpg?cb=1443859663
Background
The South Asian Association for Regional Cooperation (SAARC) is a regional inter-governmental organisation. Recently, SAARC Finance Ministers' conference 2016 highlighted key issues pertaining to regional economic integration, focus on improving trade relations among member nations and renewed commitment to establish a South Asian Economic Union (SAEU).
In 1998, SAARC Group of Eminent Persons (SGEP) had proposed establishment of SAEU on lines of European Union to facilitate a common market and remove trade barriers.
Also, as a precursor to SAEU, a South Asian Customs Union (SACU) was proposed to be established by 2015 where all South Asian countries will maintain common tariff and non-tariff barriers on imports from all non-member countries.
The South Asian Free Trade Area (SAFTA), enforced in 2006, became an important milestone on road to SAEU. Yet SAFTA could make only modest contribution in boosting intra-SAARC trade. With increasing importance to regional trade, regional economic integration have to be facilitated.
Trade and investments are important components of economic integration. Hence it is necessary to critically assess the efforts made towards achieving economic integration in South Asia.
Trade Liberalisation
A Sensitive list, which was introduced at the initiation of SAFTA, excluded products in it from tariff liberalisation. As per a study, 53% of intra-regional import trade was excluded under SAFTA in 2006.
This highlighted need for more economic cooperation between member countries
Thus, under phase 2 of tariff liberalisation under SAFTA in 2012, India trimmed the list by 95% for least developed countries (LDCs) of South Asia (Nepal, Bhutan, Bangladesh, and Afghanistan) and for non-LDCs, only by around 30%. Pakistan shortened its list by about 20% for all countries. However, these were not significant enough.
Today, Intra-SAARC trade additionally suffers from complex non-tariff barriers, poor infrastructure, lack of connectivity and bureaucratic red tape at borders. Thus, there is increase in cost in doing business in South Asia.
Also, trade in services in South Asia is very low despite signing of the SAARC Agreement on Trade in Services (SATIS) in 2010 which aimed at trade liberalisation in services.
There has been a significant initiation on part of Bhutan, Bangladesh, India and Nepal by signing Motor Vehicle agreement for an improved economic togetherness. But this will improve connectivity only on the eastern side of South Asia.
Thus, these facts support WB report which states intra-SAARC trade is even lower than 5% of total trade whereas in East Asia it is 35% and in Europe 60%.
Investment liberalisation
South Asia has yet not emerged as a prime destination for foreign investment despite the potential.
As per World Investment Report 2016 (UNCTAD), FDI inflows to South Asia increased from USD36 billion in 2013 to USD50 billion in 2015. But this is less compared to FDI inflows of USD448 billion in 2015 from USD350 billion in 2013 in East and Southeast Asia.
Share of world FDI inflows in South Asia was 2.9% whereas it was 25% in East and Southeast Asia.
East and Southeast Asia have such high FDI inflows due to their intra-regional FDI inflows. The ASEAN region alone accounts for 18% intra-ASEAN FDI out of total FDI flows in region.
Comparatively, intra SAARC FDI is very low, barring few success stories of Indian garment companies investing in Bangladesh.
What will help is the implementation of SAARC investment treaty which is based on the lines of the ASEAN investment agreement supporting intra-region investments.
However, India has currently adopted a new model bilateral investment treaty (BIT) in 2015 which offers limited protection to foreign investment and also limited means to enforce their rights.
But, a BIT model for SAARC is not conducive as there won't be any noticeable impact on boosting intra-SAARC FDI inflows. Thus, this move might dent the efforts to have SAARC investment treaty which is pending since 2007.
Conclusion
It is evident that SAARC has denied itself numerous economic benefits due to its struggle for economic integration.
Political differences hindering economic cooperation at summit level meet will not set right precedent for future negotiations and larger regional relationship.
Thus, the SAARC summit taking place in November 2016 will have to demonstrate the political will to adopt deeper economic ties. A duty free SAARC trade will open larger window for trade opportunities.
Hence, deeper economic integration is imperative to sustain the 7.3% growth rate by creating an integrated South Asian market ensuring a free flow of goods, services and capital.
Connecting the dots:
SAARC Charter mandates that decisions at all levels in SAARC are only of multilateral issues. Despite such clear mandate, bilateral relations are overpowering multilateral economic relations. Examine.
Can SAARC be next ASEAN? Discuss the initiatives to be taken by regional members for greater economic integration.
India covers 70% of SAARC's area and population. Hence, India should take leadership role to make South Asia region stronger. Do you agree? Critically evaluate
Related articles:
India-Pakistan flaring tensions at SAARC
Pakistan has crippled SAARC: time to reassess
Open Sky Agreement with SAARC countries
Know more about India's BIT problem here
MUST READ
Retaining MGNREGA's core
Taking the Paris process forward
Partners in innovation
Before amending the law
INSAT-3DR
Building US-India defence relations
Air pollution cost India 8.5% of its GDP in 2013: study
How public transit can learn from Ola and Uber
Are big conservation groups like IUCN still relevant?
For a dedicated peer group, Motivation & Quick updates, Join our official telegram channel – https://t.me/IASbabaOfficialAccount
Subscribe to our YouTube Channel HERE to watch Explainer Videos, Strategy Sessions, Toppers Talks & many more…