IASbaba's Daily Current Affairs – 24th October, 2016
INTERNATIONAL
TOPIC: General Studies 2

India and its neighborhood – relations
Bilateral, regional and global groupings and agreements involving India and/or affecting India's interests, India's interests
Effect of policies and politics of developed and developing countries on India's interests, Indian diaspora
Important international institutions, agencies and fora- their structure, mandate
Changing Dynamics in Central Asia and Afghanistan
Fast recap on current developments in Central and South Asia
In recent months, security situation in Afghanistan has deteriorated and relations between Afghanistan and Pakistan are tense. Although Afghanistan has signed a peace agreement with Gulbuddin Hekmatyar's Hezb-i-Islami, the overall peace process with the Taliban is in disarray.
Following the death of Uzbekistan president, Islam Karimov, there is a leadership change in Uzbekistan.
Radical forces are spreading their wings in the region as shown by suicide bombing at the Chinese Embassy in Kyrgyzstan.
Beijing's engagements through One Belt One Road (OBOR) have raised certain expectations in Pakistan. Kabul is somewhat disappointed as it still not part of the OBOR.
The overall OBOR project, particularly China-Pakistan Economic Corridor (CPEC) however, has raised suspicions in New Delhi.
The Afghanistan-Iran-India trilateral is moving forward with significant outcomes.
The Afghanistan-India-US trilateral dialogue has also made some progress and explored ways to coordinate and align Indian and US assistance activities in Afghanistan.
The US has also started a new dialogue with all five Central Asian republics under the C5+1 initiative.
In early October, a major international conference on Afghanistan took place in Brussels. (European Union and the government of Afghanistan co-hosted the Brussels Conference on Afghanistan.) Outcome of the conference was to ensure continued international political and financial support for Afghanistan over the next four years.
The Heart of Asia-Istanbul Process Ministerial will take place in Amritsar on 4 December.
Unrest in Kashmir and terrorist attack in Uri have resulted in a new low in relations between India and Pakistan.
The ongoing Russia-Pakistan military exercise is noted with some unease by few analysts in India.
In the midst of these activities, the Afghan President Dr Mohammad Ashraf Ghani visited New Delhi in mid-September.
The 17th India-Russia summit in Goa provided another opportunity to discuss Afghanistan and Eurasian integration projects.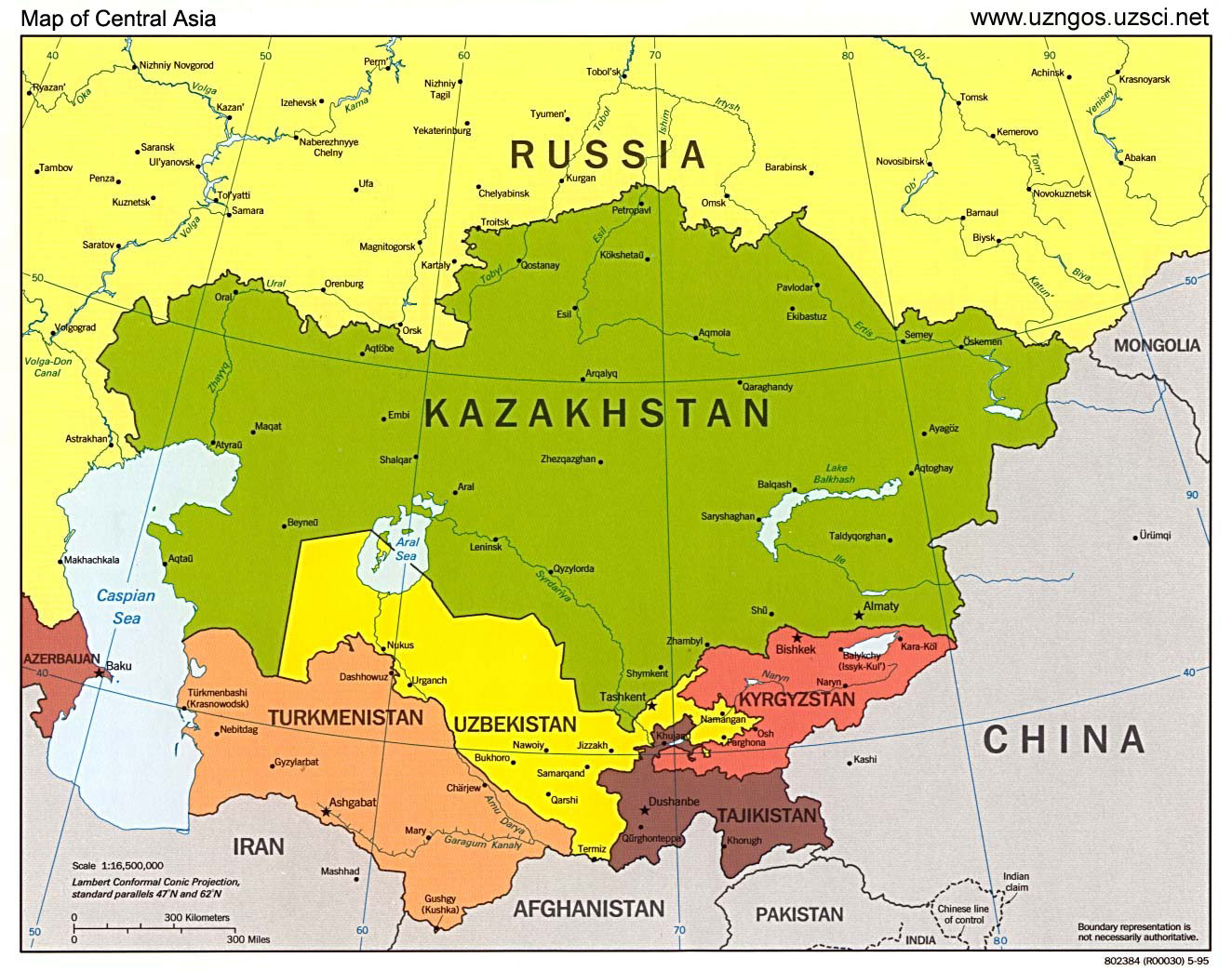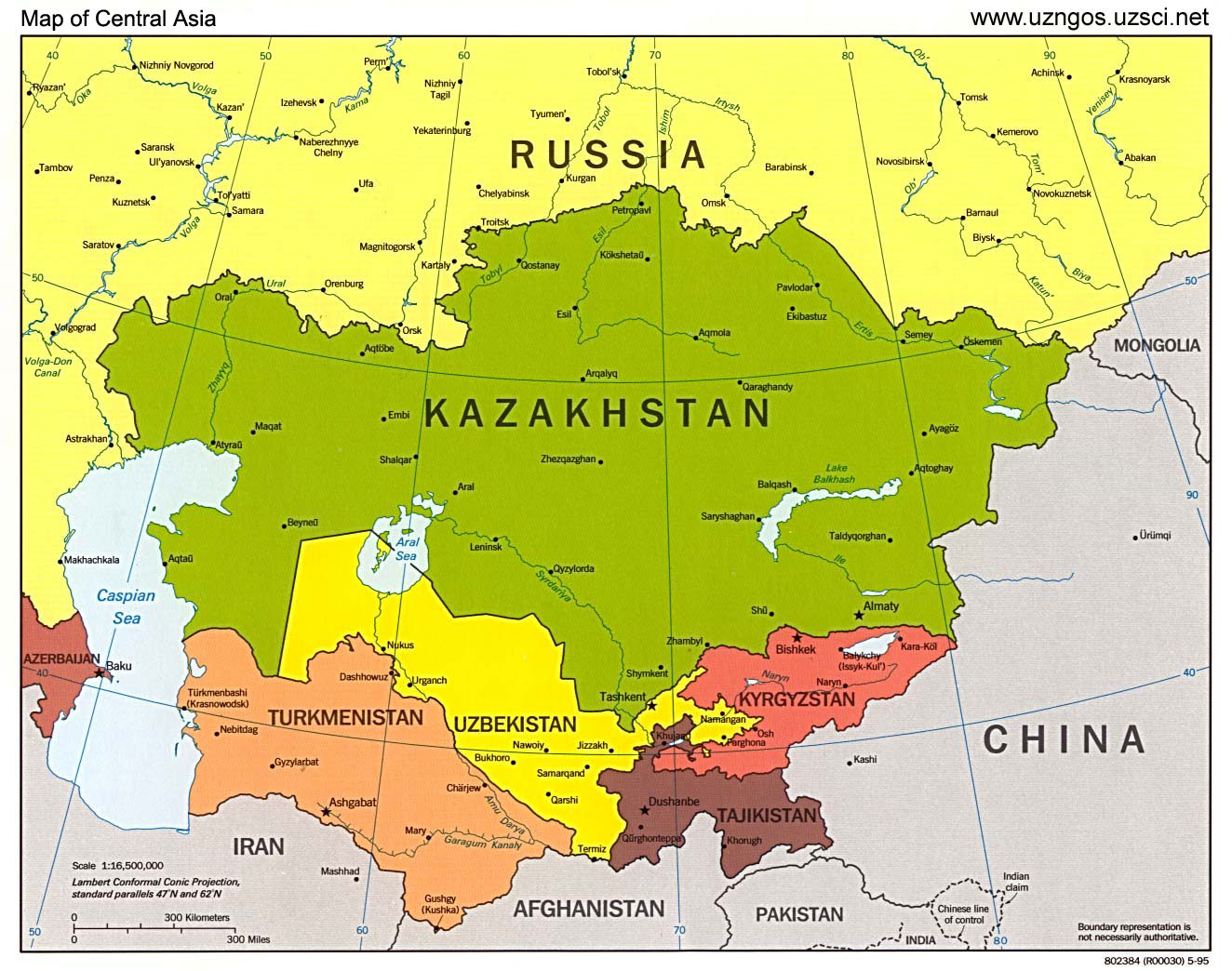 Fig: http://www.orexca.com/img/map_central_asia.jpg
Changing Central Asian dynamics
Since the collapse of the Soviet system, the five Central Asian countries Kazakhstan, Kyrgyz Republic, Tajikistan, Turkmenistan and Uzbekistan have witnessed limited changes in their economic and political systems.
Despite having a very complex legacy (of central planning, dissolution of the USSR, distorted economic structures, ethnic problems), countries in the region have made progress in market reforms with varying degrees.
Due to certain specific features (natural resources, strategic location and background of political elite) the region used both standard as well as non-conventional strategies of economic transformation.
Although the region has been relatively stable in the last few years, there is some uncertainty in Uzbekistan after the death of its President, Islam Karimov. There is a strong concern whether Uzbekistan may continue with Karimov's legacy of strong secular State with limited political and economic openings.
In a separate development, the Chinese embassy in Bishkek (Kyrgyzstan) was attacked by a suicide bomber. According to various reports, a significant number of militants from Central Asia and Caucasus are already working with the ISIS. Depending on the report, these numbers vary between few hundred and few thousand.
In these circumstances, any instability in Uzbekistan can easily spread into the core of Central Asia- the volatile and most densely populated Fergana Valley, consisting eastern Uzbekistan, southern Kyrgyzstan and northern Tajikistan.
Uzbekistan after Karimov
Islam Karimov who ruled Uzbekistan since 1989, first as a communist leader of Uzbek Soviet Socialist Republic and then as a president of independent republic was criticized by the West for his authoritarian rule and human rights violations.
Still, he provided relative stability and economic development to its citizens. He also fought the forces of Islamic fundamentalism decisively.
This is not a small achievement for the largest country of more than 30 million in Central Asia with ethnic linkages with neighbouring Afghanistan. Despite international pressure, he went on establishing his own "Uzbek model" of development. This was a combination of strong political authority with limited economic opening.
Initially, his policies were ridiculed by western advisers. However, the Uzbek economy has grown more than 8 per cent every year in the last nine years. For some time the model has been under stress due to declining remittances from Russia and reduction in gas and cotton exports. Despite weak external outlook, the economy is still growing at about 7 per cent a year.
The interim Uzbek president Mr Shavkat Mirziyoyev, who is likely to win presidential election in December will have relatively easier time to continue Karimov's legacy. Although Russia, US and China will continue to assert their influence on strategically important Uzbekistan, none will like to disturb stability in an already highly unstable neigbourhood.
With a deteriorating security situation in Afghanistan and rise of ISIS in West Asia, a weak Uzbekistan will become another opportunity for radical Islamic forces to spread their influence. The Islamic Movement of Uzbekistan (IMU), which was pushed by Karimov to Afghanistan-Pakistan region has developed links with the Taliban and the ISIS. Islam Karimov never allowed political Islam to prosper and all religious groups were systematically regulated.
In his first speech before the Parliament, interim president Mirziyoyev stated that he would continue with the policies of Islam Karimov. He asserted that his country will neither join any military-political alliance nor it allow any military base in its territory. In foreign policy, he prioritized Central Asia, Russia, United States, China, Asia pacific (Japan, South Korea), Europe, India, Pakistan and the Middle East. Although he may continue with these policies, some priorities may change after his formal election in December.
India and the Central Asian region
The geopolitical salience of Central Asia for India was never in doubt. Most Indian policy makers and analysts believe that the region is important because of its strategic location, old cultural and civilizational linkages, energy resources as well as trade and other economic opportunities, oil and gas reserves and competition for pipeline routes.
Some scholars accuse India of indulging in wishful thinking toward the region, rather than develop a coherent strategy. With no direct road transportation access, plus difficult market conditions, the region did not become attractive to Indian private companies.
In the 1990s, economic relationships with the region also declined considerably. Politically, Indian officials were more or less comfortable dealing with authoritarian leaders in the region. These leaders were part of the former Soviet elite, with whom India had dealt for decades. They moreover appeared to provide stability and were committed to fight Islamist extremism and terrorism.
Unlike the U.S., Europe and many multilateral organizations seeking to spread democracy and market economics in the region, India has been focused primarily on ensuring political stability, since an unstable Central Asia is a serious threat for New Delhi.
India obviously would have welcomed a more democratic Central Asia, but it favored allowing democratization to happen at its own pace.
New Delhi also remained convinced that Russia would retain a predominant political and economic influence in the region, and generally pursued cooperation with Moscow in Central Asia.
Although many in India still believe in the continuation of Russia's overwhelming influence in the region, many scholars have also started considering another possibility in which, over time, China would become a dominant player in the region while becoming increasingly friendly to Russia.
As China increases its engagement in the region and creates a larger profile through trade, energy deals, military agreements, the Shanghai Cooperation Organization (SCO), and now the One Belt One Road (OBOR) project, India is watching carefully.
Persistent uncertainty in Afghanistan, particularly in the context of difficult India-Pakistan relations, have also added new dimension to India's approach to Central Asia. While the failure of the international project to stabilize Afghanistan poses common security challenges, any positive outcome will open tremendous economic opportunities to both India and Central Asia. So Chinese and Afghanistan factors have increased strategic significance of Central Asia for India. The US drawdown from Afghanistan has further pushed Indian policy makers to vigorously look for new options.
Developing political, economic, and energy partnerships dominated India's "extended neighborhood" policy in the post-Soviet period. Today New Delhi's approach to the region is laid out in the 12 point 'Connect Central Asia' initiative, first announced in 2012. This initiative seeks to strengthen India's political, security, economic, and cultural connections with Central Asia.
The aims of this policy are:
dealing with the region collectively in a much more pro-active manner;
strengthening security and defense dialogues with the region, particularly in the context of U.S. drawdown from Afghanistan and declining interest in Central Asia
exploring possibilities for cooperative engagements with Russia, China, and Iran (both bilaterally and collectively) to safeguard and promote Indian interests; and
enlarging India's development cooperation footprint in the region. In the meanwhile, India has signed strategic partnerships with Kazakhstan (2009), Uzbekistan (2011), Afghanistan (2011) and Tajikistan (2012).
Apart from long standing 'special and privileged' partnership with Russia, New Delhi has also elevated its relations with Mongolia to a 'comprehensive partnership (2015).
The perception of Central Asia's growing strategic significance for India is reflected in Prime Minister Narendra Modi's eight day visit to all five Central Asian States in July 2015. This was the first visit of any Indian prime minister to all the Central Asian countries simultaneously since they became independent in 1991. The visit also provided a new strategic direction to the 'Connect Central Asia' policy.
Conclusion
New Delhi has long considered Central Asia as part of its extended strategic neighborhood. Building on past linkages and goodwill, India has more recently developed strong political and developmental relations in the region. Expanding Chinese influence and drawdown of US forces from Afghanistan have increased strategic significance of Central Asia for India.
Although the region has remained relatively calm in the last ten years, its stability cannot be taken for granted. Due to difficult India-Pakistan relations, Iran will continue to be an important factor in India's Central Asia/Afghanistan policy. Removal of sanctions against Tehran is helping India to expand its options in the region.
In a fast changing geopolitical landscape, India should explore possibilities for cooperative engagements with Russia, Iran and even China.
Apart from bilateral engagements, India should also try to engage in the region through INSTC, SCO and EAEU. Afghanistan provides an important connection for India to Central Asia. Due to its developmental engagement, India's political, strategic and economic links to Afghanistan has improved significantly in the last fifteen years.
Enhanced Indian engagement at this point will be a big boost to policy makers in Kabul. In the prevailing negative western discourse on Afghanistan, Indian experts and think tanks can also help in changing the narrative towards a positive outcome.
Connecting the dots:
List the Central Asian Republics and identify those of particular strategic and economic importance to India. Examine the opportunities and bottlenecks in enhancing relations with these countries.
NATIONAL/FOREIGN POLICY
TOPIC:
General Studies 2
Government policies and interventions for development in various sectors and issues arising out of their design and implementation.
General Studies 3
Role of external state and non-state actors in creating challenges to internal security.
Looking beyond terrorism
For past few months, India at every platform and every event has mentioned 'terrorism'. If such obsession for one topic is overshadowing other crucial segments of India's foreign policy has to be analysed.
Terrorism has become the focus
India has participated and worked for 70 years in various multilateral fora on various global agenda in pursuit of global good.
However, the recent tendency has shown its more than normal focus on terrorism, which does not seem appropriate beyond a point.
In the past, Pakistan was ridiculed for it was glued on Kashmir and could not talk beyond it on whatever the forum and the topic for discussion.
India is today on its way to opening itself to similar criticism — that it is stuck in the terrorism groove.
Such an approach endorses that India is using terrorism as a convenient weapon to battle Pakistan diplomatically.
India and terrorism
For more than 20 years, India's warnings about terrorism in and around South Asia went unheard.
But the 9/11 attacks made the world understand what India had been suffering and what it was talking about.
Today, everyone knows that 'mothership of terrorism' is Pakistan and there is no dispute why such adjective has been given to Pakistan.
But, when PM Modi includes cross border terrorism in his speeches, regardless of the venue or topic of discussion, it doesn't serve the desired purpose of stopping Pakistan in spreading terrorism.
India's all-out diplomatic efforts to isolate Pakistan on this account on every forum and to make it a litmus test of every country's friendship to India does more harm than good.
8th BRICS summit and terrorism
The BRICS summit could have been called a diplomatic win for India if the expectations were not set so high in condemning terrorism.
The Goa BRICS summit looked like a battle between the member countries as to how far the group could go in identifying itself with India in isolating Pakistan.
India evidently revealed that for a good relation with India, the member countries have to target Pakistan.
It is known that no county would create enemies in such diplomatic conclaves, hence many presented their views on terrorism. However, China eventually acted as Pakistan's proxy in the discussions in Goa. This shows that China cannot be forced to change its position for its all-weather friend.
Thus, it is more appropriate that India should present a single, dignified and forceful presentation to multilateral fora and leave it to the member countries to tackle the issue effectively.
A broader outlook is needed
Today, the global concern over Islamic State is more than the situation in South Asia. The IS has shown its presence in over 30 countries and others dread its expansion.
Even after 9/11, the definition of terrorism has eluded the international community. But India is condemning terrorism in all its manifestations and there is a consensus position of UN on this issue too.
Hence, India has to take this opportunity to speak strongly against the IS and project cross-border terrorism as another exhibition of the same problem.
India's expectations from the international community to declare Pakistan as a terrorist state is hardly beneficial in stopping cross border terrorism. Hence, building a broader constituency against terrorism is more beneficial than focussing on one specific situation.
Also, persuading China to lift its veto over including Masood Azhar on the UN list of terrorists is not helpful as China knows its geopolitical games very well and it will never antagonise Pakistan. Even if JEM is banned, it will change its name and carry out the activities. Hence, mere banning of terrorists or terrorist groups is practically not so beneficial.
Similarly, it is seen that India is approaching too many countries for NSG membership and permanent membership of UNSC. In context of it, recently India modified its position of "eligibility" for permanent membership to its "right". Such assertions will have no impact on others unless its demand is projected as part of the need to correct the imbalance in such crucial body. India has to rise up for a global solution to global problems.
Conclusion- Having a new course of action
The old pattern of Pakistan attacking India, India angrily reacting verbally to it and resumption of dialogue after some time does not make sense any more.
India has already altered the dynamics of its relations with Pakistan by carrying out surgical strikes. So now it should not confine itself to bringing up and condemning terrorism at every international meet.
Now is the need of having a predetermined course of action. This can potentially consist of

Informing the international community of the state of play
Combatting terrorism on the ground with measured use of force
Dealing with the internal situation in Jammu and Kashmir by eliminating internal support to cross-border terrorism
Amendment of the Indus waters treaty
Trade sanctions etc.

India has to accept that world at large does not see terrorism in Jammu and Kashmir as part of the global terrorism which threatens international peace and security.
UN recognises Kashmir as a disputed territory and it influences the policy of most nations, including those who are friendly with India. Thus, a broader framework on terrorism debate has to be adopted which shows a way out for those who support India without wanting to get involved in a dispute.
India had tabled Comprehensive Convention on International Terrorism in UNGA in 1966. It was seen as anti-Pakistan. Though after 9/11, the convention received some attention by the legal committee of the UN but it got stuck in the old argument that one man's terrorist is another's freedom fighter. Thus, India has to look beyond conventional India-Pakistan fight and bring new measures to tackle global terrorism which will eventually include Pakistan's non-state actors.
For example, India has to work towards subsuming its interest in the desire for global peace like it did while advocating nuclear disarmament for a nuclear weapon-free world. However, it was only when NPT regime became discriminatory that India stepped out of it and took a firm decision not to sign the treaty. India knows how to look after its interest and should voice its opinion time and again but not get stuck onto it and ignore others like trade relations, strategic cooperation, cultural exchanges etc.
Another example of India's involvement in world arena is with regards to environmental negotiations. Here, India showed the way for developing countries to look after their interests and finally succeeded in participating in formation the present Kyoto protocol.
Thus, India has to use its image and its UN membership in promoting common good rather than solely focusing on one issue for a long time. Multilateralism accepts constant reiterations of national positions, but to forge a consensus, the positions should be integrated with common concerns to the extent possible.
Connecting the dots:
Terrorism is pressing issue for India. But it becoming the centre point of India's foreign policy will do no great benefits. Do you agree? Critically analyse.
'One man's terrorist is another's freedom fighter'- What does it mean? Does this mean that there are no terrorists? Examine.
Terrorism has no religion. How true is the sentence? Substantiate.
MUST READ
A dark turn in the city of dreams
Making cities inclusive
Finding the right waves to cut breast cancer
India needs to talk about mental illness
Have a good party
The Right To Self-Defence
With ill intent
Out of my mind: Futile campaigns
IAS officers gather to discuss the 'changing environment' at work
India is moving towards a flawed GST
Turning India's power surplus into a boon
Brics: falling apart
To secure our borders, we must bridge economic inequality
Pulses policy must break new ground
Neighbourly considerations
For a dedicated peer group, Motivation & Quick updates, Join our official telegram channel – https://t.me/IASbabaOfficialAccount
Subscribe to our YouTube Channel HERE to watch Explainer Videos, Strategy Sessions, Toppers Talks & many more…