IASbaba's Daily Current Affairs – 26th October, 2016
INTERNATIONAL
TOPIC: General Studies 2

Bilateral, regional and global groupings and agreements involving India and/or affecting India's interests
Effect of policies and politics of developed and developing countries on India's interests, Indian Diaspora.
India and it's Foreign Policy
Need for changes in foreign policy
The present day geopolitical world is continuously evolving and relationships, multilateral or bilateral, and alignments are neither permanent nor consistent. Although India has been making necessary changes in it's foreign policy by pursuing a robust and an aggressive approach, it needs to evolve its strategy in tune with the changes taking place across the world. Hence, a few key aspects those have to be kept in mind while making these changes are as follows
Comprehensive consideration of 'all' relevant aspects,
Systemic, national and international decision making factors and
Coherent and balanced policy approach
Role of Multilateral Groupings
The relevance of multilateral groupings, both old and new, continues to be very high. These multilateral groupings such as NAM(Non Aligned Movement), SAARC (South Asian Association for Regional Cooperation), BRICS (Brazil, Russia, Indi, China, South Africa) and BIMSTEC (Bay of Bengal Initiative for Multi-Sectoral Technical and Economic Cooperation) are indispensable and how a nation deals with these and the importance that it gives to them is very critical. Even if some of these institutions are not as significant as they used to be, still how they are dealt with is important.
India's Approach towards Multilateral Groupings
Since the world is gradually moving towards exchange politics and certain groupings are losing their relevance, India is seeking membership of various new institutions such as the NSG (Nuclear Supplier Group), Wassenaar Agreement (on Export Control for Conventional Arms and Dual-use Goods and Technologies) and full membership of organisations such as SCO (Shanghai Cooperation Organisation).
However, India needs to assess the utility of older groupings, of many of which India has been a founder member, in a very careful manner before discarding them completely and India should attempt to have its presence at as many groupings as possible.
Relevance of NAM and SAARC
Even though the world is shifting towards strategic alignment from non alignment, NAM should not be written off completely. It's contemporary relevance is as follows:
Continued relevance for the Third World Nations
Acts as an alternative stage for presenting different opinions
For India, it is important for countering the aggressive growth of China
SAARC
Unlike NAM, SAARC holds greater significance for India and it is like an anchor of the SAARC. Undermining SAARC solely due to the Indo- Pak crisis is not advisable and will lead to letting go off benefits of a bigger picture.
BRICS and BIMSTEC cannot be an alternative to SAARC because of the following reasons
Growing influence of China in the region
The increasing proximity between Russia and China and weakening of the Russia India China trilateral
Deteriorating economic conditions in Russia, Brazil and South Africa
Changing Equations Changing Foreign Policy
India needs to ensure that various changes in it's foreign policy are not just isolated steps which bear only short term fruits of marginal importance.
Signs of such instances can be seen in India USA relationship which was not at a similar high as it is now and India Russia relationships are probably at their lowest today. As a result of such an approach India is also witnessing increasing ambiguities in its neighbourhood and losing out on benefits it could have gained from the Russia India China trilateral.
Way Forward
India needs to ensure that it does not see the world through a very narrow lens of terrorism only. It needs to focus on numerous other matters of global concern. India needs to focus on accelerating its economic growth and human resource development.
Connecting the dots
As the world moves from non alignment to strategic alignment, discuss the contemporary relevance of Non-Aligned Movement (NAM) and South Asian Association of Regional Cooperation (SAARC)
Along with coherence and balance in policy, it is essential that foreign policy has to evolve in line with the changes taking place across the globe. Highlight how India's foreign policy has been in line with the above criteria and suggest necessary changes which India still needs to incorporate in it's foreign policy.
Related articles:
No more aligned to 'Non-Alignment'
SECURITY/NATIONAL
TOPIC:
General Studies 3
Linkages between development and spread of extremism.
General Studies 2
Government policies and interventions for development in various sectors and issues arising out of their design and implementation.
Malkangiri killings: What is happening in Maoist affected areas?
In news: In a joint operation led by anti-Naxalite units of the Andhra Pradesh and Odisha police on the Odisha-Andhra Pradesh border, 28 members of Communist Party of India (Maoist) were killed. It is said that villagers were the informers which led to the success of the operation. Are Maoists losing their ground?
Malkangiri:
It is a rugged, forested terrain known as the 'cut off' area where a cluster of some 150 villages are separated from the mainland by two reservoirs — that the Maoists had made their home for over a decade now.
It is situated in the tri-junction of three states – Andhra Pradesh, Odisha and Chhattisgarh. Here the state was practically absent and the Maoists did as they pleased.
The densely forested area made it possible for the Maoists to roam freely from one state to the other even as it made it difficult for security forces to enter the area.
It was in 2008, when 38 personnel of 'Greyhounds', the elite, anti-Maoist unit of Andhra police were killed.
Following closely, the Red ultras blew up an anti-landmine vehicle, killing 17 paramilitary personnel on the spot.
But today, there is a dwindling support to these Maoists which is evident from a progressing 918 metre bridge over river Gurupriya, which was opposed by Maoists.
Once this bridge is completed, it would connect the 'cut off' area to mainland Malkangiri by road, making it easier for security forces to reach there – the main reason the Maoists have opposed it all these years.
This turn around in weakened support to Maoists is witnessed because of steadily shrinking support of the local tribals.
Disillusionment with the Maoists, coupled with the mass outreach programme launched by Malkangiri police has seen scores of Maoists surrender and hundreds of their supporters and sympathisers joining the social mainstream in recent months.
The recent encounter is also said to be because of inputs from these villagers that security forces were able to plan an operation.
Not long ago, Maoists were active in as many as 18 of the 30 districts in Odisha. But with their footprints steadily vanishing from most of these areas, including the Narayanpatna and Bandhugaon areas in neighbouring Koraput district, the cut off area in Malkangiri remained their sole stronghold. Once this area is freed from their clutches, Maoists would have a tough time finding a foothold in Odisha.
The status of Maoists
Apart from the military setbacks, the Maoists are today diminished politically as well. One of their top tribal leaders, Sabyasachi Panda, deserted them in 2012.
The surrender of Maoists tribal cadres in Narayanpatna in Koraput district have set the Maoists on the back foot in southern Odisha.
For a while it seems that Maoists are losing ground in terms of popularising their left-wing extremism. The reasons could be

Leadership crisis: The government policy of targeting top Maoist leaders which has disturbed the political hierarchy of the outfit. Many leaders have been arrested or surrendered or killed.
Differences within cadres: differences within the central committee (CC) and the leaders in the state committees, regionalism in the party, ideological differences etc.
Implementation of two-pronged strategy– development programmes and police action in Maoist-affected areas) by the Centre.
Choking the supply– the government's tactic of choking materials supply, funding and source of weapons has affected the organisational expansion and capability of the outfit.
Anti-maoist movement– the degradation and criminalisation of the Maoist movement gave rise to an anti-Maoist movement in some pockets, especially in Chhattisgarh, Jharkhand and Odisha.
Less development– though they claim to protect the tribal areas (jal, jungle, jameen) but have failed to develop them.
Other factors– attractive terms for surrender, recruitment of tribal and rural youth in the Indian army and paramilitary forces, job opportunities in private companies, etc. adversely affected the cadre inflow to the outfit.

When the recent killings occurred, a 'plenary' was believed to be organised by Maoists to examine ways of getting out of the current organisational and political chaos. This information is said to be shared by the villagers with the security forces which is a big blow to their presence in the region.
The Maoists have not been able to expand themselves in plains as they are essentially a guerrilla force and thus have been limited to the remote and hilly tribal belt of central India.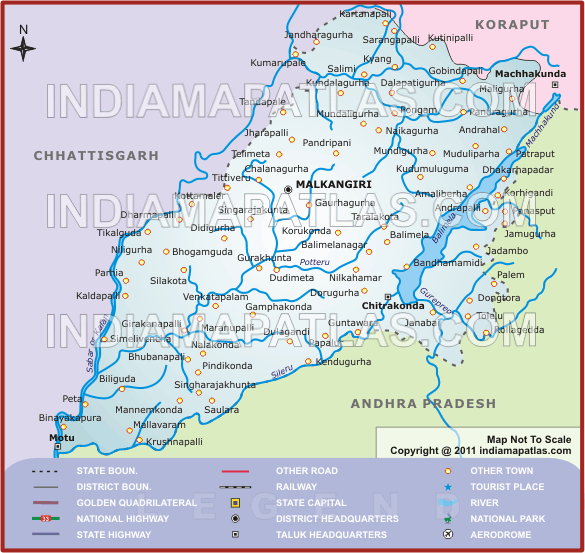 Picture Credit: http://www.malkangirizp.odishapr.gov.in/documents/1089945/0/malkangiri-river-map.gif?t=1373364954298
Internal security threat
In 2006, former PM Manmohan Singh had identified the Maoist movement as 'the biggest internal security threat'. He clearly said that the "deprived and alienated sections of the population" forms the backbone of the Maoist movement in India.
This statement came after unification of various Naxalite outfits into one party which is called Communist Party of India (Maoist) in 2004. These parties had consolidated themselves in some districts by taking advantage of the weak presence of the welfare and administrative agencies.
But, even they failed to administer their areas well as they resorted to militarism by subordinating political activism. Because of this, they did little for tribal empowerment. Instead, they settled for a war of attrition against the state. Today, CPI (M) is designated as terrorist organisation in India under Unlawful Activities (Prevention) Act.
Even the state has faltered on its part over a decade as it pursued dual strategy of — containing the military threat of the Maoists and expanding its developmental footprint in these districts.
Though the Maoists have been driven away from undivided Andhra Pradesh into parts of Chhattisgarh, Maharashtra and Odisha, the dual strategy of state has been unevenly implemented and generated mixed results.
Conclusion
It is not certain that after such attacks by the states, if the Maoists will give up their insurgent goals and instead join the political mainstream to pursue their avowed ambition of guarding the interests of the tribal poor.
Hence, the government has to become more active and increase the intensity, quality and quantity of development and welfare programmes to slowly bring more Maoist affected areas into mainstream development. However, greater political will is required to address the developmental shortcomings.
But, the government has to take care that the tribal culture, values and their tradition is protected while aiming to develop them. They opposed the state earlier for its interference with its culture and they felt threatened. Now, the state has to cautiously tread on this path.
Also, it has to be assured that private companies in these mineral rich areas don't exploit the locals else they will rebuke further and may not cooperate with the government or the private companies.
Connecting the dots:
Why Maoists are considered 'biggest internal security threat' to India? Examine.
Do you agree that getting tribal in mainstream will lead to loss of their identity and it will be a regressive step in keeping India a heterogeneous country? Analyse.
MUST READ
More than a hundred days later
Review 'No Detention', give States discretion to hold exams : CABE
Reduced role for Centre in CBI appointment
Neighbour Power
Cities at Crossroads: Heaps of hazards
The cost of internet shutdowns
The Brics push for a more equitable world
Tell Beijing where to get off
Financing higher education
We need to design in India, too
Roadblocks to India's competitiveness
Who said slum voters can be bought?
For a dedicated peer group, Motivation & Quick updates, Join our official telegram channel – https://t.me/IASbabaOfficialAccount
Subscribe to our YouTube Channel HERE to watch Explainer Videos, Strategy Sessions, Toppers Talks & many more…