IASbaba's Daily Current Affairs – 5th October, 2016
ENVIRONMENT/ S & T
TOPIC: General Studies 3

Environment and Ecology, Bio diversity – Conservation, environmental degradation, environmental impact assessment, Environment versus Development
Major crops cropping patterns in various parts of the country, different types of irrigation and irrigation systems storage, transport and marketing of agricultural produce and issues and related constraints; e-technology in the aid of farmers
Science and Technology- developments and their applications and effects in everyday life
Achievements of Indians in science & technology; indigenization of technology and developing new technology.
Note: (In previous DNA article, we had posted that we shall discuss the controversy surrounding Monsanto and patent protection. However we found that the article had very less content relevant to UPSC and hence we have skipped the same. So, no Part II edition of it.)
The organic farming conundrum
What is organic farming?
Organic farming system in India is not new and is being followed from ancient time. It is a method of farming system which primarily aimed at cultivating the land and raising crops in such a way, as to keep the soil alive and in good health by use of organic wastes (crop, animal and farm wastes, aquatic wastes) and other biological materials along with beneficial microbes (biofertilizers) to release nutrients to crops for increased sustainable production in an eco friendly pollution free environment.
As per the definition of the United States Department of Agriculture (USDA) study team on organic farming "organic farming is a system which avoids or largely excludes the use of synthetic inputs (such as fertilizers, pesticides, hormones, feed additives etc) and to the maximum extent feasible rely upon crop rotations, crop residues, animal manures, off-farm organic waste, mineral grade rock additives and biological system of nutrient mobilization and plant protection".
FAO suggested that "Organic agriculture is a unique production management system which promotes and enhances agro-ecosystem health, including biodiversity, biological cycles and soil biological activity, and this is accomplished by using on-farm agronomic, biological and mechanical methods in exclusion of all synthetic off-farm inputs".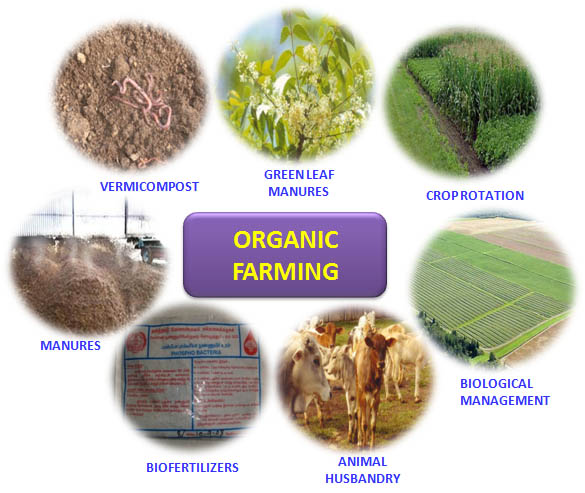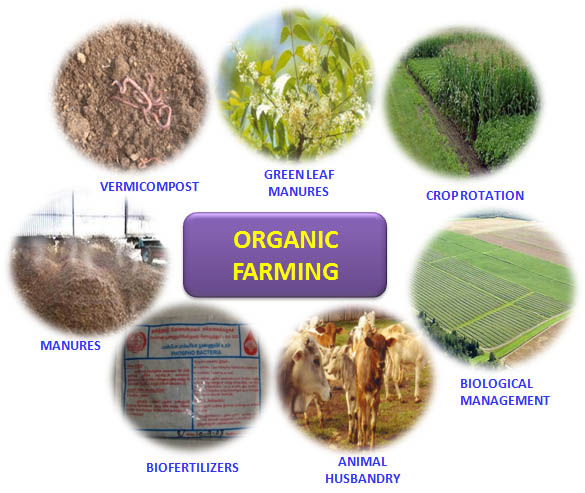 Picture credit: http://agritech.tnau.ac.in/org_farm/INTRODUCTION.jpg
Need of organic farming
With the increase in population our compulsion would be not only to stabilize agricultural production but to increase it further in sustainable manner.
The scientists have realized that the 'Green Revolution' with high input use has reached a plateau and is now sustained with diminishing return of falling dividends. Thus, a natural balance needs to be maintained at all cost for existence of life and property.
The obvious choice for that would be more relevant in the present era, when these agrochemicals which are produced from fossil fuel and are not renewable and are diminishing in availability. It may also cost heavily on our foreign exchange in future.
The key characteristics of organic farming include
Protecting the long term fertility of soils by maintaining organic matter levels, encouraging soil biological activity, and careful mechanical intervention
Providing crop nutrients indirectly using relatively insoluble nutrient sources which are made available to the plant by the action of soil micro-organisms
Nitrogen self-sufficiency through the use of legumes and biological nitrogen fixation, as well as effective recycling of organic materials including crop residues and livestock manures
Weed, disease and pest control relying primarily on crop rotations, natural predators, diversity, organic manuring, resistant varieties and limited (preferably minimal) thermal, biological and chemical intervention
The extensive management of livestock, paying full regard to their evolutionary adaptations, behavioural needs and animal welfare issues with respect to nutrition, housing, health, breeding and rearing
Careful attention to the impact of the farming system on the wider environment and the conservation of wildlife and natural habitats
Organic farming promises a lot:
It can reduce the detrimental effects of conventional farming while cutting input costs,
Fetch a premium price on produce,
Improve soil fertility,
Promote efficient use of water resources, and
Provide safe food for consumers
However, some studies show that the realities on the ground present a stark contrast to this Utopian picture.
Case study:       
Many poor farmers in India have recently taken the leap from conventional to organic farming — as inputs for organic farming are cheaper and with the anticipation of premium returns and healthy farms.
In this transition, synthetic chemical fertilizers are replaced with natural and bio-materials, such as neem cake and cow dung, and chemical pesticides are replaced with neem oil and bio- pesticides. All this is done to compete in the global organic market, which is worth $64 billion.
However, most of the farmers alleged that their yields dropped to half and also net income reduced from what they made before making the switch.
Many farmers are yet to claim the premium promised on their products as they do not fall in the "organic" category yet.
Disillusioned farmers today ask a pertinent question: "Of what use is organic farming and its claim of long-term sustainability to them, when they are unable to bring home two square meals a day today?"
Concerns:
Studies have shown that –
Organic farming is not an economically viable option for the smallholder farmers who make up 80 per cent of the total number of farmers today in India. Pushing these methods on such farmers can actually do much more harm than good.
Farmers find the organic farming activity far less profitable due to decreased yields, and the lost income that cancels out the savings from cheaper inputs.
In addition, after detoxing the soil, which takes up to three years, farmers have to shell out the equivalent of around $450-600 a year to obtain organic certification.
This is a sizeable investment for poor farmers in India who aspire to take home something like $100-120 a month. In this transition period, farmers are unable to sell produce at a premium because it is not yet completely "organic" by global standards.
Even if farmers were able to regain their initial investments, organic farmers are dependent on niche urban markets and export markets. This comes with additional complications, since accessing such markets typically requires contracts with large companies. This means the small organic farmer is not reaching those who pay more for organic products.
Organics industry is still young and not well-regulated in India. Organic fertilizers are difficult to obtain on a large scale in India, and farmers often use farmyard manure, which may contain toxic chemicals and heavy metals, thus does not promises the safe and healthy food.
The way ahead:
If small organic farmers has to reach those who pay more for organic products, our country needs collective farming to bring economies of scale, needs financial support for small farmers in the initial years, and a better market for the produce.
The government recently started offering support for the organic certification process when farmers group together, which is a good start. However, we also need to ensure farmers organise in a way they can enter into contracts and demand a fair price from global companies.
There is a need to educate farmers about "eco-friendly food" that will allow the use of limited and specified agrochemicals within the safe levels specified by public health organisations.
In addition, the encouragement that the government gives for organic farming should be supported by financial incentives during the first three years and market connections for small farmers.
Instead of pushing poor farmers to risk it all by taking up organic farming, it is imperative that we strike a middle path to ease this transition period for farmers. We all want a world in which our farmers thrive while taking care of our environment and health. But we must also consider the timing and how we introduce new solutions. Only then can we secure a future devoid of poverty, hunger and malnutrition.
Connecting the dots:
What do you mean by Organic Farming? Discuss the key characteristics and future of Organic farming in India.
What is Organic Farming? List some of its benefits as compared to the conventional farming method.
Discuss the various benefits and limitations of organic farming. Do you think that Organic Farming can totally replace the conventional method of agriculture? Critically analyze.
NATIONAL
TOPIC:
General Studies 1
Urbanization, their problems and their remedies.
General Studies 2
General Studies 3
Conservation, environmental pollution and degradation
Disease free cities- Is it possible?
In news: With outbreak of Dengue and Chikungunya in National Capital Delhi, it poses a critical question if Indian cities that are plagued by a plethora of communicable diseases of late like dengue, bird flu, typhoid, chikungunya and swine flu will be able to become disease free?
Disease free city- Surat shows the way
In 1994, parts of Surat (Gujarat) were affected by pneumonic plague. Between September 20 to 25 1994, suspected cases totalled 1,061 and thus created mass panic. This led to hospitals being overcrowded with patients.
Surat's diamond processing localities, a high-risk hotspot, were soon uninhabited. Around 25% of the population was said to have fled the city, carrying the disease with them to Delhi, Mumbai, Nashik, and Kolkata.
Due to open sewers, slums and soaking garbage and littered dead animals due to the floods, Surat was described as a "medieval horror show".
Plague as a blessing
But, this plague can be called a blessing for Surat as it is today one of the cleanest cities in India. It has now turned into a public health leader by overhauling its trash collection and street cleaning processes and enforcing proper hygiene in restaurants.
It has overhauled its slums, offering their residents paved streets and toilets.
It regularly conducts disease surveillance through 489 surveillance workers, testing more than 2.3 million malaria breeding spots in 2014 while offering active diagnosis.
The municipal corporation has built up a large network of 41 urban health centres, supplemented by mobile health clinics, over 500 private hospitals, and 1,300 teaching units.
Garbage collection has been given a strict timetable, with each sweeper allocated a specific area. Dustbins have been installed and litterers are heavily penalised.
Surat now retains pride over its cleanliness as the cases of vector-borne diseases are rapidly declining.
Unearthing the causes and managing the waste
When plague led to death of 1.3 million people in 1907, the colonial government remained focussed on preventing cholera epidemics, ensuring military sanitation and preventing the outbreak from infecting the bureaucracy.
However, instead of funding municipality-based sanitation through sewers, the government chose to intensify manual scavenging.
Thus, any collection inefficiency was blamed on poverty-ridden scavengers and the same is continued even today in our municipal institutions.
Post Independence, the Indian cities grew haphazardly mostly in unsanitary conditions, with outbreaks mitigated by the widespread use of antibiotics and insecticides.
Sadly, mutual collaboration between the urban middle class and the hinterland has been disincentivised by institutional apathy and unequal economic progress. During epidemic outbreaks, the sick and the underprivileged have no recourse to satisfactory health-care systems.
Recently in May 2016, there were reports of bird flu in a poultry farm in Bidar district (Karnataka). The State's animal husbandry department swung into action and asked for culling of nearly 1.5 lakh birds in the farm.
Though the outbreaks have now lessened, such incidents are worrying as disease outbreak can create debilitating consequences.
Managing the waste
Today 90% of the solid waste is directly dumped into landfills. But there remains little monitoring of heavy metal concentration in municipal solid waste.
Right from the source (household), waste should be segregated as most of it is biodegradable. Thus, composting should be encouraged which would reduce landfill burden while increasing collection efficiency.
Also, biomethanation plants should be encouraged in all Tier 2 and 3 cities to process vegetable and mixed waste.
Starting on wrong foot- Inefficient waste collection
Most of solid waste collection is done in ad hoc manner as routes are decided mostly by local sweepers and drivers.
Also, there is inadequate scheduling of collection of waste from different sectors across urban areas.
Later, waste is mostly dumped in an unsanitary and uncontrolled manner which is then covered with soil and buried by machinery.
Thus, waste management is not carried out properly because there lacks proper funding, human resource and technology.
Consider this— Chandigarh, a well-planned city, generates an average of 370 tonnes of solid waste on a daily basis. But, only 7-8% of its solid waste management budget is allocated for garbage collection. Hence, the collection efficiency varies from 20% in slums and surrounding villages compared to 70% from registered households.
Many sweepers and garbage collectors suffer from parasitic diseases like diarrhoea, jaundice and trachoma. These workers are unaware of their occupational health hazards as there are limited mechanical equipment to help minimise their direct contact with solid waste.
Conclusion
Now, Chandigarh is focussing on developing an integrated municipal solid waste management process. For this, it will conduct segregation and storage of waste at source while promoting recycling, composting, and generation of electricity from municipal waste.
Surat has already established itself has public health leader post the plague.
Thus, Indian cities have to now build an effective waste management system which is not difficult.
Systematic thinking is needed which involves optimally available collection manpower, well designed community bins placed throughout the city, well maintained collection vehicles and increasing waste treatment and disposal facilities will lead to better waste management.
Public participation, institutional funding, sturdy policy and legal framework, political will combined with active surveillance and institutional support will make the cities disease free.
Smart cities is not only about incorporating technology but also sustainable city management having robust solid waste management as cleanliness of the city will make it attractive and in real sense 'smart'.
You may refer to Revised Solid Waste Management Rules here.
Connecting the dots:
What is solid waste management? Examine its importance in making cities disease free.
Smart cities is not only about wifi, roads and infrastructure but also cleanliness. In the light of the above sentence, analyse how 'smart city' status can be truly achieved?
Related articles:
Solid Waste Management: Waste not, want not
Smart cities in India: An analysis
Urbanization: Cities at crossroads- Why cities matter?
MUST READ
To be truly transparent
Clinching the N-deal with Japan
Not simply a vision thing
Related article:
Not NHRC's finest hour
Nearly 69% of jobs in India threatened by automation: World Bank
Paris climate agreement: N-power push to meet green commitment
The climate after Paris
Why do our constitutional debates matter?
Spectrum sale a vindication of auction process
India's disenchantment with multilateralism
The monetary policy committee begins its job on a good note
Striking a chord with workers
For a dedicated peer group, Motivation & Quick updates, Join our official telegram channel – https://t.me/IASbabaOfficialAccount
Subscribe to our YouTube Channel HERE to watch Explainer Videos, Strategy Sessions, Toppers Talks & many more…