IASbaba's Daily Current Affairs – 13th December, 2016
INTERNATIONAL
TOPIC: General Studies 2

Bilateral, regional and global groupings and agreements involving India and/or affecting India's interests
Potential at Pacific: India and Indonesia
India and Indonesia engaged in a bilateral talk at the sidelines of 9th East Asia Summit in Myanmar in 2014. After the wait of two years, visit of new Indonesian President Joko Widodo to India reflects the lack of priority attached to the India-Indonesia relationship so far.
Realising the potential
The India-Indonesia relationship has been one of potential rather than realisation.
Though the leaders of the previous governments of both the nations made efforts to increase partnership, it did not gain any grip.
Hence, now is the time to ensure that the bilateral visits are not limited to diplomatic formalities but becomes a defining relationship in Asia.
Importance of Indonesia
It is the world's largest archipelago, straddling the Indian and Pacific Oceans.
It can potentially control virtually all the straits linking the southern Indian Ocean to the South China Sea. Hence it can be called as a latent Asian power.
Though Indonesia is such strategically placed, it has not yet been able to articulate a vision to put into use its extraordinary geographical location advantage.
Though now the new President seems to have slowly begun to understand the geographical location of Indonesia where he sees the country as a "maritime axis" requiring a strong naval force to protect its territorial integrity, fishing waters and energy interests, supported and funded by strong economic growth.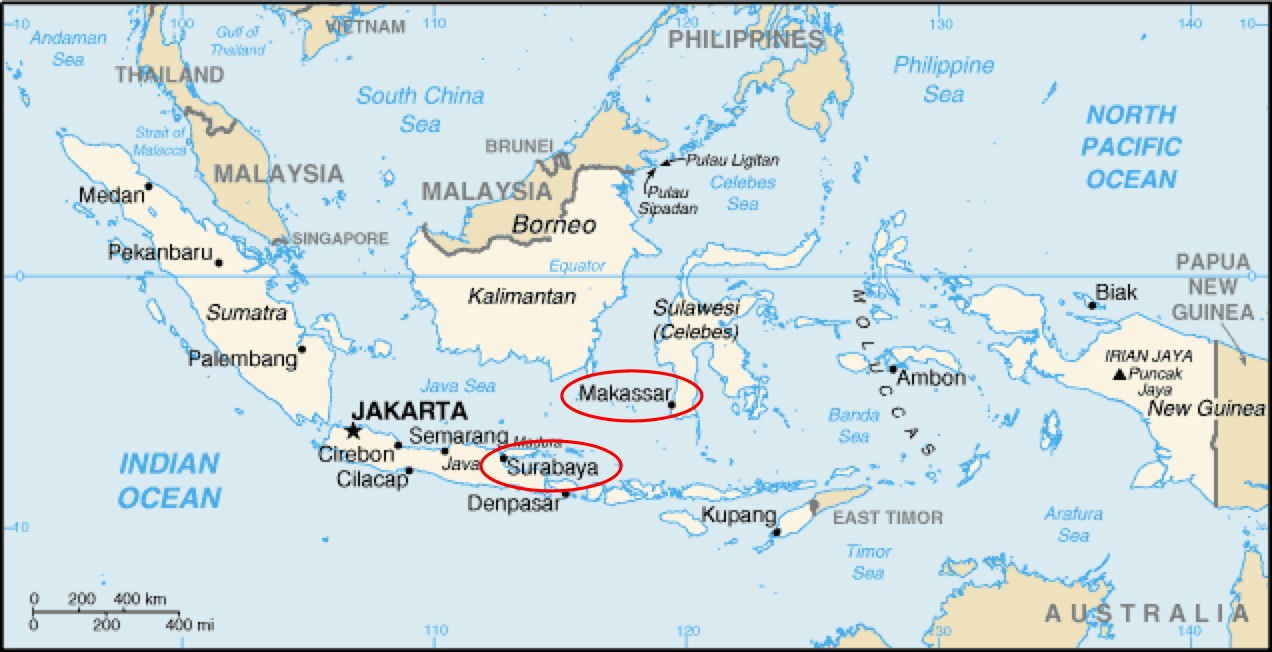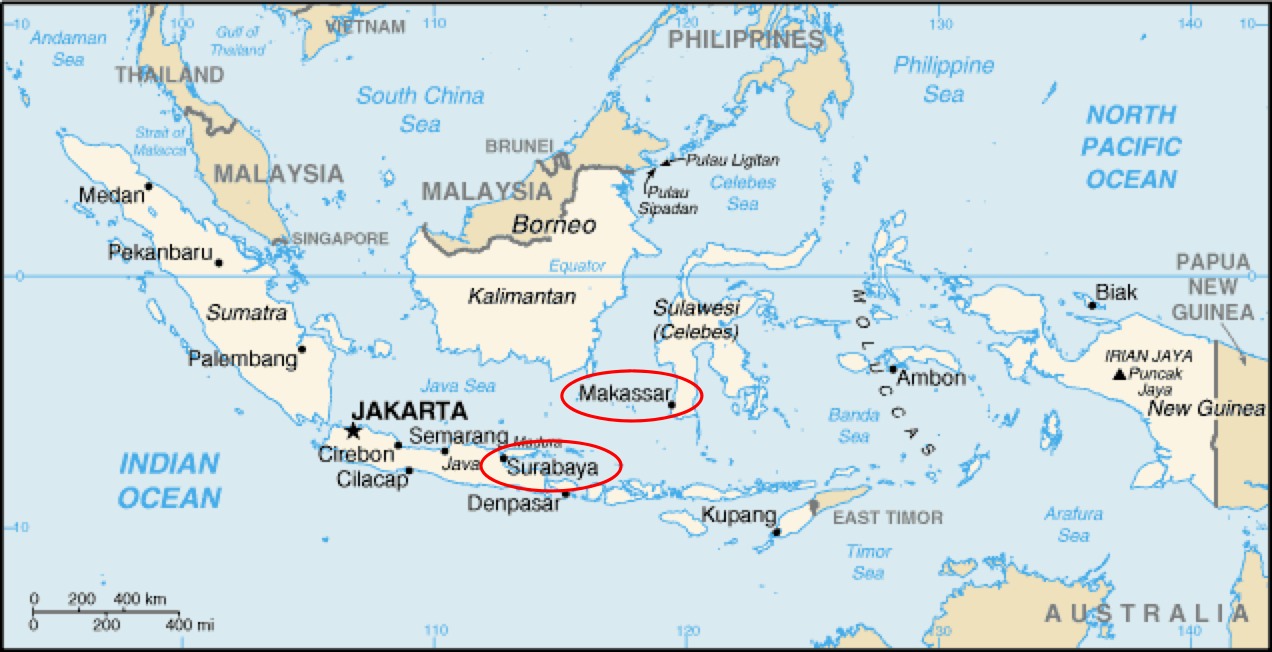 Picture Credit: http://city4.xn--e1akkdfpb6a.xn--p1ai/images1/surabaya-indonesia-1.jpg
Geopolitics at the Pacific
India and Indonesia officially brought up South China Sea disputes and asked China to respect UNCLOS which establishes the international legal order of the seas and oceans.
This is significant in the light of China's refusal to acknowledge the ruling by an international tribunal formed under UNCLOS which dismissed Beijing's claimed historical rights over 90% of South China Sea's waters in response to a lawsuit filed by the Philippines.
In the past, India has been vary of strategic 'spillovers' from the Pacific to the Indian Ocean. Hence it needs to look for partners who can play a stabilising role in the Indo-Pacific region as China is showing its naval muscle in the South China Sea and expanding its strategic and commercial reach through the One Belt One Road initiative.
At the same time, there are uncertainties surrounding U.S. President Barack Obama's 'Asian pivot' and President-elect Donald Trump's foreign policy
Also, there have been known emerging divergences amongst ASEAN countries about where its future interests lie- On one side there is a looming China and on other side an unsteady U.S. Here, Indonesia would be the best placed to play such a role.
Thus, India should recognise Indonesia's centrality in the Indo-Pacific region and help work towards a future where both countries can be partners for security in the region.
India and Indonesia
Political relation
The political basis of relationship between both countries exists in the Strategic Partnership that was agreed to in 2005. This could be used to initiate a high-level strategic dialogue which aims at

identifying common strategic interests
Develop a partnership with Indonesia as a maritime power
Increase in India's defence cooperation to cover all threats to security in the region.

Such a partnership would also be a hedge against dependence on big powers outside the region whose commitment to regional security is subject to their own shifting perceptions.
Apart from this, the leaders of the both the nations focused on upgrading ties in the domain of maritime security and defence cooperation.
The leaders of both nations condemned terrorism in all its forms and manifestations in the strongest terms, emphasizing "zero tolerance" for acts of terror.
They resolved to significantly enhance bilateral cooperation in combating terrorism and terrorists' financing.
Cultural relation
At present, Indonesia is battling with tensions over the role of religion, ethnicity and language. This in some ways mirrors India's own concerns.
Indonesia's pluralist, tolerant social-religious philosophy has come under serious pressure due to overpowering of Arabised version of Islam in India.
This version looks at ethnic and religious identities in terms of binaries and views Indonesia as a Sunni Islamic state where non-Muslims have to live by the rules of the majority Muslims.
Here, India has a stake in the diversity of Islam found in Indonesia against exclusive and homogenising influences. This can happen without participating into a domestic debate on religion by advocating its admission in a revived India-Brazil-South Africa forum as a pluralist democracy that is an alternative to what appears to be a rise of intolerance in many democracies.
Thus, India and Indonesia can provide complementary models for the coexistence of religious minorities with majoritarian communities in Asia based on their own traditions of coexistence.
Also, in the areas of education, culture, and people-to-people relations, a thrust could be given to Indian Council for Cultural Relations scholarships in Indian universities, increased slots for training under the Indian Technical and Economic Corporation programme, closer academic exchanges and vocational training by Indian companies in Indonesia.
India could also learn lessons on tourism promotion from Indonesia — from Bali, for instance, where Indians rank high in the list of nationalities visiting that island.
From Bali, it can learn about a more 'simple' Hinduism that is relatively free from caste and sectarian divisions.
Economic relation
India and Indonesia can make a conscious attempt to enhance their economic and cultural relationship.
All major powers today look at foreign investment in economic and strategic terms as a stronger tool for influence than trade.
Economic growth is President Jokowi's top priority. He has brought forward his interests in foreign investment, particularly in the energy, infrastructure, manufacturing and tourism sectors.
India can develop its investment profile in Indonesia as it has huge infrastructural needs such as toll roads, power plants, ports and airports apart from already substantial Indian investment in areas like coal, textiles, steel, auto and banking sectors.
A number of industrial estates have already come up in many places in Jakarta, Bandung, Surabaya, Medan and Batam. Medan industrial zone in northern Sumatra should be of particular interest to India from a connectivity point of view.
A shipping service from Chennai or Krishnapatnam to Medan via the Andaman Islands could be used to export Indian goods to offset, at least partly, the large imbalance in India's trade with Indonesia.
Indian investment in strategically important countries should thus be seen as an arm of its foreign policy which has not been a case yet.
The PM reiterated that Indonesia was one of the valued partners of India's Act East Policy where they shared economic and strategic interest.
Indonesia has emerged to become the second largest trading partner of India in the ASEAN region. Bilateral trade has increased from USD 6.9 billion in 2007-08 to USD 19.03 billion in 2014-15.
Indonesia enjoys trade surplus with India, though the volume has been small and declining, according to data from the Ministry of Foreign Affairs.
Conclusion
Both the leaders have to look forward to provide the much needed thrust into the bilateral relations so that a truly strategic relationship between both the countries is realised and developed.
Connecting the dots:
Indonesia was considered the weakest link in India's Act East policy. Do you agree? Critically analyse.
Comment upon India and Indonesia bilateral relations.
SECURITY ISSUE
TOPIC: General Studies 3

Science and Technology – developments and their applications and effects in everyday life Achievements of Indians in science & technology; indigenization of technology and developing new technology.
Challenges to internal security through communication networks, role of media and social networking sites in internal security challenges, basics of cyber security; money-laundering and its prevention.
Secure digital infrastructure
On October 21, US and Europe witnessed attacks from hackers when large chunks of the internet were made inoperable. Computers and servers were flooded with artificially created traffic which resulted in "Denial of Service" of many applications.
The attackers hacked and took control of an estimated 100,000 low-end devices that can autonomously access the internet and consequentially paralyse the internet.
This event was a chilling demonstration of the new vulnerabilities that attend the astounding growth of the Internet of Things (IoT). Technology, and the exploding range of services it enables, has consistently outpaced our understanding of the internet's evolution and the systems designed to protect it.
India's case:
Last month, people in India woke up to the news about the largest data breach in the country. It involved data stolen from 3.2 million debit cards between 25 May and 10 July from a network of bank ATMs, managed by a Japanese payment services company.
After demonetisation, the Government of India is pushing for digital transactions. As India goes digital, experts must recognise the huge threat to the internet from hackers using armies of 'bots'.
The country's digital infrastructure will remain vulnerable until we have indigenously developed security hardware and software.
Software and application developers have a first-to-market mindset, and tend to ignore security and privacy issues.
Given the manner with which Indian companies and the Government treats customer data, BPOs seem to be the biggest threat to data security breaches. The legal system to handle cyber fraud needs further strengthening.
Banks need to dedicate far greater resources and should have a designated senior officer such as a CISO for overseeing security issues.
Though the Ministry of Electronics and Information Technology (MEITY) has issued guidelines and policies, the implementation has been poor. Incident reporting and handling, having a complete information security management system in place, developing business continuity plans, and threat modeling are a few important steps that banks need to take immediately.
How have cyber threats evolved over the years?
Cyber security threats are constantly evolving.
Viruses infecting personal desktops were the first generation.
The second generation can be traced back to 2001, when hackers took down the Microsoft and EBay websites by targeting their domain name server with a denial of service (DOS) attack, giving rise to "botnets."
The third generation began in 2007, with the release of Red October, a state-sponsored cyber-espionage campaign that stole data from classified computers, mobile devices, and network equipment. Perhaps the most famous of these attacks is Stuxnet.
Malware is also evolving to become more platform-focused. Now, with the advent of smart devices, malware is penetrating pervasively and focusing on all security dimensions, that is, access, data theft, and destruction. The trend is global and does not affect India alone.
What measures need to be taken to strengthen the existing security system?
Some of the positive initiatives which RBI is already taking with regard to digital payment systems, are two-factor authentication in net banking/online transactions by using one-time password's (OTPs), SSL/128 bit encryption used as minimum level of security, etc.
However, they should consider other ATM security solutions, including advanced anti-skimming technology, silent alarm notifications and video surveillance, ATM lighting and remote video monitoring at all places, 24/7 surveillance and security systems strictly controlling access to all banking facilities, and so on.
How far the existing infrastructure to prevent cyberattacks in India as compared to developed countries? Where are we lacking?
In terms of regulations, our banking systems and companies providing digital platforms for digital transactions are at par with international standards. However, we certainly lack in adherence to, and implementation and review of the regulations.
We still do not have data privacy regulation in India. Among other things, banks should take necessary preventive and corrective measures in addressing various types of cyber threats including, denial of service, distributed denial of services (DDoS), destructive malware, etc.
The way ahead:
The challenge is what can be done about this. Long-term solutions will require immediate operational actions and practices with longer-range initiatives, some policy driven. These will require shared responsibilities across a spectrum of players, from individuals to institutional and corporate entities and various agencies of the government.
The root cause is the vulnerability of devices where security has not been addressed as part of the original design, or indeed, provisions do exist but these processes have not been followed at the time of activation. It is critical that standards for device security must exist and compliance must be required for sale and operation.
The most effective move would be to embrace the standards and protocols being adopted by technologically advanced economies of the West that have dramatically higher stakes and are developing safeguards. That will position India well for the future as its own reliance on the internet rises steeply.
But even that would be a partial solution since hundreds of millions of vulnerable devices are already out there globally — the IoT is not waiting to happen. An important step should be to assess the risk from all exposed devices and take actions to contain this. In some cases, the fix might be simple; replace default passwords by strong, unique passwords. But when security considerations are not well addressed, the only sensible action would be to either disable autonomous access or remove the devices altogether.
Urgent action is an imperative — otherwise, we risk becoming collective victims of cyber-attacks or unwitting accomplices to these incidents, potentially with large-scale and serious consequences. At a national level, more is needed.
The imperatives are, first, to set policy, strategies and priorities to address this and other aspects of cyber security, including appropriate frameworks of laws and statutes.
Second, it is vital to develop and set specific standards and provide guidance for compliance.
Third, we must identify vulnerabilities and prioritise actions to protect critical infrastructure and operational capabilities.
Fourth, developing and maintaining specific real-time interventional capability to address a cyber attack of this nature by pinpointing and containing it, and ensuring resilience for protection and restoration of capabilities, is important.
Fifth, we must carefully think through protocols that will be necessary to manage such complex issues that cross organisational boundaries in real time — the ability to respond must not be hampered by internal boundaries and conflicting authorities.
Cyber security is a complex topic that requires a range of coordinated, dynamically adaptive actions where responsibilities span from individuals and organisations to national governments. The stakes are enormous. Cyber security is already a rapidly evolving frontier of vulnerability and threat. The option to do nothing does not exist.
Connecting the dots:
Critically examine the need of a robust cyber security architecture for India to tackle the growing digital intrusions.
As Digital India gains more traction, and the consumer and Industrial Internet of Things trends become more mature, security is bound to pose more challenges. Elucidate.
MUST READ
Not a tragedy, but the remedy
The essence of education
Open House
The challenge of automata
Leveraging the sun to power India's future
Koushal judgement and three years later
A looming demographic disaster
Let's deepen the climate bonds market
Cashless concerns
For a dedicated peer group, Motivation & Quick updates, Join our official telegram channel – https://t.me/IASbabaOfficialAccount
Subscribe to our YouTube Channel HERE to watch Explainer Videos, Strategy Sessions, Toppers Talks & many more…