Heart of Asia Conference
Search 4th December 2016 here http://www.newsonair.com/Main_Audio_Bulletins_Search.aspx
TOPIC: General Studies 2

India and its neighbourhood- relations.
Bilateral, regional and global groupings and agreements involving India and/or affecting India's interests
Heart of Asia Conference
Heart of Asia Ministerial conference promotes regional stability, security in central Asia and South Asia. The conference also brings greater regional representatives from both public and private sector where the discussion of development in war-torn Afghanistan takes place.
It was established in 2011 to promote a platform to discuss regional issues, particularly political, economic and security cooperation of Afghanistan and its neighbours.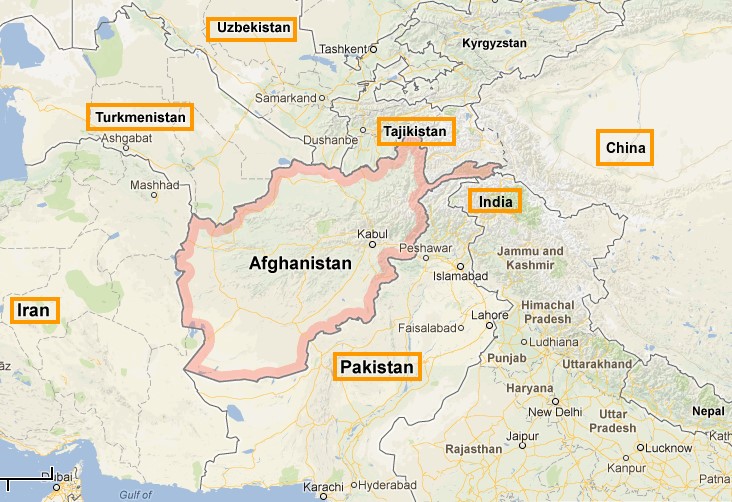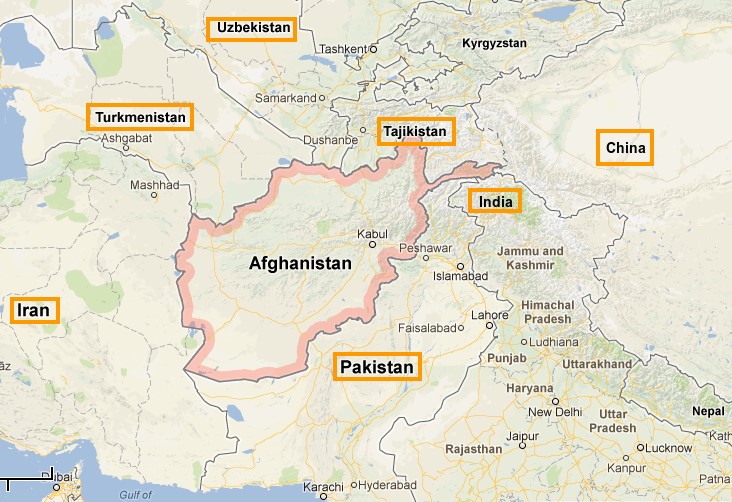 Picture credit: http://4.bp.blogspot.com/-w2We7rsjOvo/UXyiJHPYC2I/AAAAAAAAAFI/Re9E67GDrLE/s1600/afghanistan+++Google+Maps.png
Importance
It is known as Heart of Asia Istanbul process because the initiative was taken by Turkey. The thought was that since US armed forces, NATO forces from western countries were soon going to leave Afghanistan, there was a need to provide stability, security, prosperity in Afghanistan. Hence it is the region's responsibility to get engaged and to ensure that there is no terrorism in Afghanistan in form of Taliban or other terror groups. Thus it is an important platform where regional countries get together.
There are 14 member countries which fulfil important purpose in promoting development, stability and security in Afghanistan. The special emphasis of this conference is education, disaster management, drug trafficking, terrorism and counter-terrorism, connectivity through Afghanistan- connecting South Asia to central Asia. These are significant aspects of what needs to be done.
Once the forces have left, the first challenge that confronts regional countries and international community is to provide security and safety in the region. The biggest challenge in fulfilling it is confronting terrorism. Thus, all the countries have to get together and take concrete and concerted action against terrorism.
Focus on Afghanistan
To promote peace, economic development is sine qua non. Focus on economic development will be significant when the target is to develop education and skill development.
Afghanistan had been confronting drug issue for a long time. It is also dealing with menace of drug cultivation of poppy and its processing which is another area which needs utter consideration.
The connectivity within the region is critical. The choice of Amritsar as place of conference is powerful and democratic because Pakistan does not provide connectivity either by rail or road from Afghanistan to India or vice versa. So rather than hosting conference in Delhi, hosting it on border city gives strong message that to promote security and stability in Afghanistan, connectivity is very essential.
It aims for greater inter regional cooperation like economic cooperation programme which is working on cross border transport agreement between Kyrgyzstan, Tajikistan and Afghanistan, Afghanistan-Pakistan transit trade agreement, Black Sea corridor initiative, Turkmenistan-Afghanistan-Pakistan-India pipeline project etc.
The Amritsar conference theme is – 'Addressing challenges, achieving prosperity'. It will discuss peace cooperation and development. PM of India called for resolute action on not only terrorists but also those who support, shelter, train and finance terrorists in these countries. The India-Pakistan angle was not brought in as it would have let to unrequired ramifications, instead complete focus was on Afghanistan, thereby sticking to the purpose of the establishment of platform. PM also added that merely voices of support for Afghanistan against the forces of terror are not enough but action is required.
Hence, there is a need to demonstrate strong collective will to defeat the terror networks that cause bloodshed and spread fear. Afghan President categorically stated that terrorism came from Pakistan. Even Bangladesh PM accused Pakistan for harbouring militants and sending them across in Bangladesh. This was the reason why other countries also boycotted SAARC conference which India refused to attend post Uri attacks.
India's role in development of Afghanistan
Chabahar port is most important connectivity route from India to Afghanistan, bypassing Pakistan. In later time period, India also wants rail connectivity from Chabahar to Afghanistan and from there to central Asian countries upto Russia and Eastern Europe.
It is extremely significant as Afghanistan is landlocked state in a manner that its major neighbour Pakistan refuses to allow access to India. India has a growing economy, a wide market and because of lack of connectivity between Afghanistan and India, the economic relationship between both countries is not significant enough.
Chabahar is not only economic project but also a geo-strategic project because it will help India to link through Iran with Afghanistan and then central Asia. This will enable India to connect itself with nations that were earlier limitedly and remotely connected. Also, Pakistan's interference can be avoided and India can increase its influence in the region too.
India on its part has been supportive of Afghanistan. To fight terrorism, India has given four military attack helicopters Mi25 which helped them when Taliban had captured kundus for some time.
India has given more than two billion dollars of aid whether in social sector or in military, defence or official training or infrastructure. This conference has urged the international community to stand together to support Afghanistan in its fight against terror and in its quest for development and prosperity of its people.
Connecting the dots:
What is heart of Asia conference? How does it affect India's policy towards Afghanistan and against terrorism? Examine.
Related article:
Heart of Asia Summit- Stabilising the heart
For a dedicated peer group, Motivation & Quick updates, Join our official telegram channel – https://t.me/IASbabaOfficialAccount
Subscribe to our YouTube Channel HERE to watch Explainer Videos, Strategy Sessions, Toppers Talks & many more…