IASbaba's Daily Current Affairs – 13th March 2017
AGRICULTURE AND SOIL HEALTH  
TOPIC: General Studies 3

Major crops cropping patterns in various parts of the country, different types of irrigation and irrigation systems storage, transport and marketing of agricultural produce and issues and related constraints; e?technology in the aid of farmers
Technology missions; economics of animal?rearing. Food processing and related industries in India? scope and significance, location, upstream and downstream requirements, supply chain management.
Soil Health Crisis
Introduction
Indian population is still largely dependent on agriculture. Soil health is a crucial component and due regulation is critical for increasing yield and productivity. Soil health is dependent on multiple factors.
Issue:
The Prime Minister launched a nation-wide "Soil Health Card" (SHC) scheme in early 2015 to rejuvenate India's exhausted soil.
Using a grid-wise approach, representative soil samples from the fields are tested for nutrient content in designated chemical laboratories.
The government seems determined to promote more judicious use of fertilisers.
The Green Revolution, probably the greatest achievement of post-independence India, heralded an era of food sufficiency riding on the use of chemical fertilisers.
Now, 50 years on, soil health is rapidly declining.
There is ample evidence to show that indiscriminate use of fertilisers is the major cause of deteriorating soil health.
Indian farmers apply around 66 million tonnes of fertilisers every year, which accounts for a significant share of India's imports and subsidies.
How SHC works
Accordingly, macro and micro nutrients needed by the soil are identified and translated into specific, measured quantities of fertilisers required.

This information, printed on the SHC, is made available to the farmers in that grid through the state agricultural departments.
Thirty million SHCs were issued in 2015-16 and the Ministry of Agriculture aims to cover the entire farming population by 2018-19.
In addition, on a pilot basis, the soil health information is made available at fertiliser purchase points —Primary Agricultural Credit Societies (PACS) and POS devices-enabled fertiliser retail shops.

However, farmers still buy large amount of fertiliser, disregarding SHC recommendations.
MicroSave recently conducted a study into farming practices in two paddy-producing districts of Andhra Pradesh (West Godavari and Krishna) and elicited farmers' views on fertilisers, soil health and SHCs.
Though our findings relate to a select sample in a specific region, they are indicative of attitudes and practices of kharif paddy farmers across the country.
Farmers appear convinced that there is a perfect causal correlation between high fertiliser usage and more output.
As a corollary, they believe their farmlands have 'good soil health' if they yield the desired output.
Farmers are not concerned that they need not use increasing amount of fertiliser to ensure this 'good soil health'!
In fact, they are not sure that the advice based on the SHC can be relied upon; especially when they perceive that the yield might improve by using 'just a little more' fertiliser.
Problems associated:
SHCs are not easy to use—
They give general recommendations regarding the quantity of fertilisers required over the entire crop season whereas, in reality, fertilisers should be used in varying amounts over the different stages of the crop growth.
So, even those farmers who start with the intention to use less fertiliser as a result of the SHCs ultimately have to fall back on their own judgement to decide on the amount of fertiliser to be used at each stage of the cropping cycle.
Short term concerns:
If crop growth appears to be below normal at the middle of the season, the farmer will usually apply large amounts of fertiliser.
For farmers who have already bought bags of fertilisers, it is a sunk cost and so the prudent course of action is to apply more – even if the government's SHC suggests otherwise.
Maximising yield and fear of loss are the salient concerns.
The government has started to provide recommendations on the SHC as per the crops sown.
More needs to be done
The farmers need SHC recommendations tailored according to crop growth stages.
Promotional campaigns must deconstruct the myth of "more fertilisers" as a panacea for better yields.
Soil health must be positioned as crucial to the long-term productivity of land, which will be irredeemably lost if the focus is only on present income flows.
Conclusion:
India's long term food security is in serious interest for the nation. It is important that all factors determining the same are relevant in establishing the same. Soil health is one of the most important determinant of the same and it is important the SHC scheme is used in right direction with required awareness.
Connecting the dots
Soil health card scheme is a major flagship initiative of the country. Critically analyse the need of the same in view of the subsidy burden and food security concerns of the nation.
INTERNATIONAL
TOPIC: General Studies 2

Bilateral, regional and global groupings and agreements involving India and/or affecting India's interests
India and its neighbourhood- relations.
India and Middle East: Towards a pragmatic foreign policy
Background
Liberalising Indian economy in 1991 was not an easy decision to make. The national pride was expected to be put aside when a bankrupt economy with collapsing exchange reserves forced India to mortgage its gold in 1991.
But these measures radically changed India's domestic economic policies and also led to closer economic integration with its economically vibrant eastern neighbours.
Unsurprisingly and logically, the new dimension in India's foreign policy was called 'Look East'. The relationship with western world was 'business as usual'.
What was seen as a significant change was India's long overdue establishment of diplomatic relations with Israel.
Relations with Middle East
Till five years ago, the OPEC cartel of oil-producing countries virtually held India hostage to their whims and fancies because of their ability to raise oil prices at will.
But this was dramatically changed with discovery of huge resources of shale oil and gas, particularly in North and South America, Australia and even in parts of West Asia.
These discoveries as replacement of oil brought down the global oil prices. Now India started seizing the opportunities provided by the geopolitical changes because of the discoveries.
New leverage has been made possible to get the oil-producing countries to deal on more mutually beneficial terms, with large neighbouring oil and gas-consuming countries like Japan, China and India.
However, politics and trade have been dealt with separately by India. India has always avoided getting into sectarian Shia-Sunni, Arab-Persian and other rivalries in the region, as it is well known that there are going to be no real winners.
Instead, India focused on engaging oil-rich neighbours in west with its labour. Today, there are over six million Indians residing and remitting over USD 50 billion annually.
PM has skilfully established an Indian strategic profile with key players in the region by his visits to Saudi Arabia, the UAE and Qatar. Simultaneously it forged an energy and connectivity partnership with Iran, based on shared interests in Afghanistan and Central Asia.
No interference
India has chosen its path of dealing in Middle East by following an independent foreign policy as well as taking into consideration the recent developments in the region.
This is the region where national borders drawn at the end of World War 1 are susceptible to being redrawn with constant military conflicts.
US and Russia have been militarily involved along with regional powers such as Turkey, Saudi Arabia, Qatar and Iran in Syria which has led to millions of Syrians fleeing their homes.
Even Pakistan has undermined relations with traditional friends Saudi Arabia and the UAE by making promises of military assistance and then backing off in Yemen.
China has followed a similar positon as India and kept out of sectarian rivalries, while securing investment opportunities.
Increasing ties
In 2017, India invited the ruler of the UAE, Sheikh Khalifa bin Zayed as Republic Day Chief Guest. PM had also made a visit there earlier.
Collectively, the Gulf Arab countries constitute India's largest trading partner, accounting for 15% of India's global trade.
The UAE and Saudi Arabia are individually third and fourth largest global trading partners of India. UAE is India's tenth biggest foreign investor and FDI from UAE has been consistently on rise.
Along with trade, Naval cooperation is also increasing with the Gulf Arab countries, where proximity gives some advantages to India over China.
Now what India needs is to cultivate closer ties is Iraq, whose oil exports to India are rapidly expanding, like the Iranian exports after the end of UN sanctions.
Iraq, with its immense oil production potential, can also become a good investment partner in the energy sector.
Partnership with Iran is a difficult one. While India uses western Iranian port of Bandar Abbas for the transit of goods to Afghanistan, Central Asia and Russia, India appears to be facing delays in finalising the terms of participation in the construction of the Chabahar port.
This infrastructure development project is a crucial and critical one for India and Afghanistan to come closer given the fact that Pakistan has been highly unhelpful in increasing India-Afghanistan ties.
Thus, there needs to be careful monitoring and follow-up at the ministerial level to remove bottlenecks in the finalisation of project.
Hence, India should make efforts to make quick decisions to garner benefits arising out of changing geopolitical conditions. It is because India is still perceived as a country that takes incessantly long to finalise investment decisions.
Israel- a reliable partner
From Saudi Arabia's threat in 1970s to cut off oil supplies to India if it did not close Israeli consulate in Mumbai, India has come a long way since then by maintaining its relations without coming under any external pressure.
A standalone visit to Israel by PM to mark 25 years of diplomatic relations shows the strong bond between two nations. Israel has been a reliable friend and has stood by India in times of conflict, including during the Kargil war.
Hence, there is no need to be apologetic of its growing relations with Israel especially at a time when many of India's Arab partners are finding Israel a useful ally, amidst the sectarian and civilisational rivalries and tensions prevalent in the Islamic world.
With the proposed visit of Jordan's king to India, the tie-up with the Arab monarchies will be reinforced.
India has made a wise decision of delinking relations with Israel and the Palestinians and this could help India to make Jordan a good connecting point for its visits to meet leaders of the Palestinian Authority.
Along with good relations of state leaders with each other, it is India's moral obligation to stand by its principled position of supporting a two-state solution to the Israel-Palestinian issue which, while guaranteeing Israel's security, also leads to the establishment of a viable Palestinian state.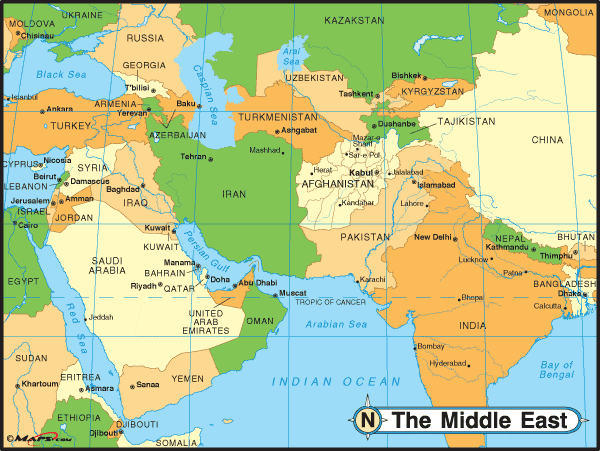 Picture credit: http://www.icsana.com/images/Research/nc-11-me2030-part2/middle-east-2030-trends-opportunities-interventions.gif
Connecting the dots:
India's relationship with its extended western neighbourhood is more than trade? Do you agree? Give reasons.
'India has made it possible to maintain equal relations with middle east countries despite their internal rivalries'. Critically analyse.
MUST READ
The limits of identity politics
Message in the verdict
The rise of the floating voter
Victor and the vanquished
Turning innovations into enterprises
A more perfect union
A vote for reforms
Plenty wrong with the new maternity Bill
Banks, and the elephant in the room
For a dedicated peer group, Motivation & Quick updates, Join our official telegram channel – https://t.me/IASbabaOfficialAccount
Subscribe to our YouTube Channel HERE to watch Explainer Videos, Strategy Sessions, Toppers Talks & many more…