IASbaba Press Information Bureau (PIB) – 4th Feb to 1oth Feb 2017
GS-2
Single vaccine for dual protection against measles and rubella as part of Universal Immunization Programme
(Topic: Issues related to health)
About: The Ministry of Health and Family Welfare launched Measles Rubella (MR) vaccination campaign in the country. The campaign against these two diseases will start from five States/UTs (Karnataka, Tamil Nadu, Puducherry, Goa and Lakshadweep) covering nearly 3.6 crore target children.
Target: Following the campaign, Measles-Rubella vaccine will be introduced in routine immunization, replacing the currently given two doses of measles vaccine, at 9-12 months and 16-24 months of age.
MR Vaccine
The MR campaign targets around 41 crore children across the country, the largest ever in any campaign.
All children aged between 9 months and less than 15 years will be given a single shot of Measles-Rubella (MR) vaccination irrespective of their previous measles/rubella vaccination status or measles/rubella disease status.
MR vaccine will be provided free- of- cost across the states from session sites at schools as well as health facilities and outreach session sites.
Measles vaccine is currently provided under Universal Immunization Programme (UIP). However, rubella vaccine will be a new addition.
After the completion of the campaign, MR vaccine will be introduced in routine immunization and will replace measles vaccine, given at 9-12 months and 16-24 months of age of child.
Measles
Measles is a deadly disease and one of the important causes of death in children.
It is highly contagious and spreads through coughing and sneezing of an infected person.
Measles can make a child vulnerable to life threatening complications such as pneumonia, diarrhoea and brain infection.
Globally, in 2015, measles killed an estimated 1, 34,200 children—mostly under-5 years. In India, it killed an estimated 49,200 children.
BIMSTEC Meet
(Topic: International Relations)
About— The Bay of Bengal Initiative for Multi-Sectoral Technical and Economic Cooperation (BIMSTEC) is a regional organization comprising seven Member States namely Bangladesh, Bhutan, India, Nepal, Sri Lanka, Myanmar and Thailand. The regional group acts as a bridge between South and South East Asia and represents a reinforcement of relations among these countries.
Objective: To harness shared and accelerated growth through mutual cooperation in different areas of common interests by utilizing regional resources and geographical advantages.
BIMSTEC
Unlike many other regional groupings, BIMSTEC is a sector-driven cooperative organization.
Starting with six sectors—including trade, technology, energy, transport, tourism and fisheries—for sectoral cooperation in the late 1997, it expanded to embrace nine more sectors—including agriculture, public health, poverty alleviation, counter-terrorism, environment, culture, people to people contact and climate change—in 2008.
BIMSTEC was created with objectives to create an enabling environment for rapid economic development through identification and implementation of specific cooperation projects in the sectors of trade, investment and industry, technology, human recourse development, tourism, agriculture, energy, and infrastructure and transportation ; through joint endeavours and active collaboration, provide mutual assistance in the form of training and research facilities, on matters of common interest in the economic, social, technical and scientific fields.
Quality of Higher Education
(Topic: HRD)
About— The Central Government and the University Grants Commission (UGC) are constantly endeavouring to improve quality of higher education in the country.
Initiatives by Central Government
National Institutional Ranking Framework (NIRF),
Impacting Research Innovation & Technology (IMPRINT),
Uchchtar Avishkar Yojna (UAY) and
Global Initiative of Academic Networks (GIAN)
UGC
The UGC undertakes maintenance of standards in teaching, research and quality assurance in Universities, Deemed to be Universities and Colleges through framing and notifying regulations, schemes and disbursing grants to the eligible institutions. The UGC has notified several regulations with a view to sustain and improve the quality of higher education and to undertake academic reforms.
Some of the initiatives taken by UGC for improving quality of Higher Education are
Choice-based Credit System (CBCS)
Universities with Potential for Excellence
Centre with potential for excellence in particular area
Special Assistance Programme (SAP)
Basic Science Research
Major Research project
Voc. Degree Programme
DDU KAUSHAL KENDRAS
Scholarship Scheme (ISHAN UDAY) for North Eastern Region
New Methodology of Grading by NAAC
UGC (Minimum Standards and Procedure for Award of M.Phil / Ph.D. Degrees) Regulations, 2016
UGC (Credit Framework for Online Learning Courses through SWAYAM) Regulation, 2016.
The Universities are established either under Central Act, Provincial Act or State Act and are free to grant affiliation to colleges as per the provisions made under the respective Acts.
Schemes for Minority Women
(Topic: Social justice)
About: Ministry of Minority Affairs implements three specific schemes for women as below.
Nai – Roshni
Objective: Leadership quality development in Minority Women. And aim to empower and instill confidence in women by providing knowledge, tool and techniques for interacting with Government system and others at all levels.
The scheme is implemented through selected Non-Governmental Organizations (NGOs) all over the country.
Begum Hazrat Mahal National Scholarship
Scholarship for meritorious girls belonging to minorities implemented through Maulana Azad Education Foundation.
Mahila Samridhi Yojana
This scheme is implemented through National Minorities Development & Finance Corporation (NMDFC) wherein skill development training is imparted to group of women in women friendly trades.
Training period is of maximum six months and raw material cost of upto Rs.1,500/- per trainee and stipend @ Rs.1000/- per trainee is provided.
During the period of training, the women formed into Self Help Group, followed by infusion of micro-credit maximum upto Rs.1.00 lacs per member for the purpose of using the skill developed during the training, for income generation activities.
TAMRA portal
(Topic: Government Acts and Policies)
About— To enhance transparency and accountability as a part of the Ease of Doing Business, TAMRA (Transparency, Auction Monitoring and Resource Augmentation) portal and Mobile Application will be launched.
Uses of TAMRA
It will facilitate all the stakeholders to track the status of the statutory clearances associated with mining blocks for getting mines to reach till operationalisation for the same.
TAMRA covers block-wise, state-wise and mineral-wise information of the blocks to be auctioned, monitors various statutory clearances, and also highlights the additional resources generated through e-Auction.
Flow chart of TAMRA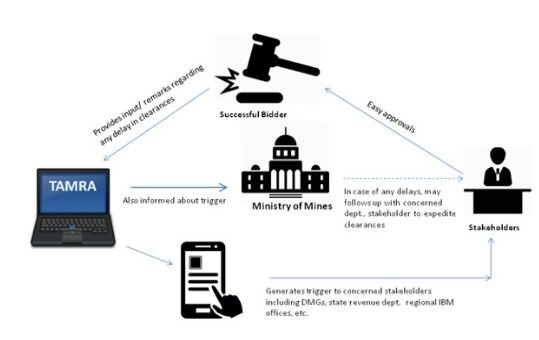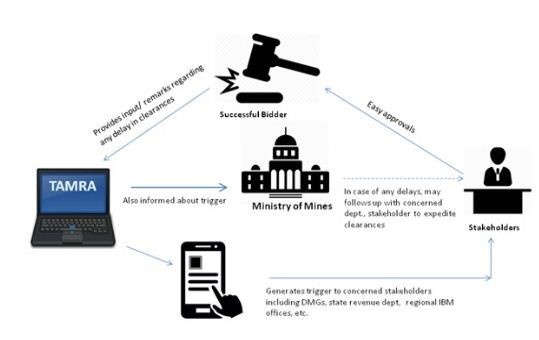 Pradhan Mantri Gramin Digital Saksharta Abhiyan
(Topic: Infrastructure Development)
About: Pradhan Mantri Gramin Digital Saksharta Abhiyan' (PMGDISHA) to make 6 crore rural households digitally literate. This is in line with the announcement made by Finance Minister in the Union Budget 2016-17.
Target: To usher in digital literacy in rural India by March,.2019
Digitally literate persons
Digitally literate persons would be able to operate computers/digital access devices (like tablets, smart phones, etc.), send and receive emails, browse internet, access Government Services, search for information, undertaking cashless transactions, etc. and hence use IT to actively participate in the process of nation building.
PMGDISHA
PMGDISHA is expected to be one of the largest digital literacy programmes in the world.
Under the scheme, 25 lakh candidates will be trained in the FY 2016-17; 275 lakh in the FY 2017-18; and 300 lakh in the FY 2018-19. To ensure equitable geographical reach, each of the 250,000 Gram Panchayats would be expected to register an average of 200-300 candidates.
Background:
As per the 71st NSSO Survey on Education 2014, only 6% of rural households have a computer. This highlights that more than 15 crore rural households do not have computers and a significant number of these households are likely to be digitally illiterate.
The PMGDISHA being initiated under Digital India Programme would cover 6 crore households in rural areas to make them digitally literate.
This would empower the citizens by providing them access to information, knowledge and skills for operating computers / digital access devices.
GS-3
Direct Benefit Transfer in Fertilizer Sector
(Topic: Issues related to direct and indirect farm subsidies and minimum support prices)
About: Direct Benefit Transfer (DBT) being implemented in fertilizer subsidy payment is slightly different from the normal DBT being implemented in LPG subsidy. Under the DBT in fertilizer sector, the subsidy will be released to the fertilizer companies instead of the beneficiaries, after the sale is made by the retailers to the beneficiaries.
Subsidy
At present direct transfer of subsidy to beneficiaries like in LPG cannot be introduced in fertilizer sector as the beneficiaries and their entitlement is not clearly defined.
Multiple subsidized products, urea and 21 grades of Phosphatic & Potassic fertilizers have different subsidy rates.
The subsidy rate in respect of urea varies from company to company due to different production processes, energy efficiencies of plants, vintage etc.
As the amount of subsidy in some fertilizers, particularly urea is more than double the MRP, it will be a huge financial burden on the farmers to pay the MRP and subsidy upfront and receive the subsidy amount subsequently.
Indigenous Technologies Developed by DRDO
(Topic: Science and Technology)
About: Based on technologies developed by DRDO, major systems/ products inducted or approved by the Defence Acquisition Council (DAC) during 2016 for induction into Services are given below
Light Combat Aircraft (LCA) Tejas
Long Range Surface to Air Missile (LR-SAM)
Surface to Surface Missile System
Electronic Warfare System Shakti
Hull Mounted Sonar- New Generation
Varunastra Torpedo
Commander's Thermal Imaging Sight for T-90
NBC Protection System for BMP 2/2K
Low Level Light Weight Radar Mk-II
Multi Mission Maritime Aircraft
Akash Weapon System
7 Ton Heavy Drop System
Electro-Optical Fire Control System for Naval Ships
Mareech- Anti Torpedo Decoy System
Abhay Sonar
Near Field Acoustic Characterization System (NACS)
Advanced Indigenous Distress Sonar System (AIDSS) for Submarines.
BARAK Missile System
(Topic: Science and Technology)
About— Long Range Surface-to-Air Missile (LR-SAM) and Medium Range Surface-to-Air Missile (MR-SAM) are jointly developed by Defence Research and Development Organisation (DRDO), India and Israel Aerospace Industry (IAI)
LR-SAM and MR-SAM
LR-SAM is the Ship Launch Version and Project MR-SAM is the Land Launch Version of Barak-08 Missile system.
MR-SAM detects incoming enemy aircraft while they are well over 100 km away and destroys them at range upto 70 km.
LR-SAM has got long range engagement capability to penetrate in deep water/land to intercept all types of aerial targets (like Subsonic & Supersonic Missiles, Fighter Aircraft, Maritime Patrolling Aircraft (MPA), Helicopter and Sea Skimming Missiles.
Medicines Developed by DRDO
(Topic: Science and Technology)
About— Defence Research and Development Establishment (DRDE), a Gwalior based laboratory of Defence Research and Development Organisation (DRDO) has developed the following medicines and medical equipments.
These Medicines and Medical Kits/ Equipment are very specific for Services for use during Nuclear, Biological & Chemical (NBC) warfare scenario. Therefore, these have not been brought out in the open market.  However, DRDO developed herbal medicine "Lucoskin ointment and syrup" for treatment of Lucoderma has already been in the market since 2011.
Medicines
Monoisoamyl dimcracaptosuccinic acid (miDMSA) as a treatment for chronic arsenic poisoning.
Alpha-ketoglutarate (A-KG) as an antidote for cyanide poisoning.
2-deoxiglucose (2-DG) as radio-modifier and cancer therapy.
Medical kits/Equipment:
First Aid Kit Chemical Warfare (CW) Type A (for 03 persons).
First Aid Kit CW Type B (for 30 persons) specially for field hospitals.
Auto injector for on-field application of medicaments for treating Nerve Agent poisoning.
Steps taken to Prevent Coal Mine Accidents
(Topic: Disaster Management)
About— To check the recurrence of coal mine accidents, following steps had taken by the Government.
Safety audit of all the coalmines has been taken up.
Coal India Limited (CIL) has taken up a training programme with "Safety in Mines Testing and Research Station (SIMTARS)", Govt of Queensland, Australia for training of trainers.
A special safety awareness campaign has been launched to increase awareness of mine workers with the motto: 'Safety is My Responsibility'.
From time to time, DGMS issues guidelines for safer operations in identified thrust areas.
Risk based inspection system through Shram Suvidha Portal has been implemented for coal mines.
Adoption of online safety monitoring systems, establishment of geo-technical cells, installation of gas chromatographs for monitoring and analysing underground mine gases, installation of proximity warning devices to avoid collision of heavy earth moving machinery, environmental tele-monitoring systems in all degree-III gassy mines, slope monitoring systems for overburden benches and over burden (OB) dumps etc. are some of the other important steps taken by coal companies for improving safety of miners and mining operations in the coal mines.
Cases of Nuclear Exposure
(Topic: Science and Technology)
About— In the last two decades, there has been a continuous increase in availability of Radiation Oncology facilities for cancer care in India. The newer Radiation facilities, though lesser than the actual requirement in the country, do have advanced facilities for catering to radiotherapy cancer treatment.
The radioisotopes produced by use of nuclear energy are being effectively utilized in the fields of medicine (both diagnostic and therapeutic), agriculture and industry.
Since radioisotopes are produced in reactors, increase in the numbers of reactors will increase the availability of indigenously made radioisotopes in medical treatment and agriculture.
DAE also has developed technology in recovering Cs137 radioisotope from the radioactive waste generated from the fission products of the reactor, which has got application in medical field.
BARC and agriculture
BARC has a major agricultural research programme on improvement of oilseeds, pulses, wheat and rice using radiation-based mutation breeding methods for the past several decades.
Already 42 varieties of different crops have been developed by BARC that include groundnut (15 varieties), mustard (3 varieties), soybean (2 varieties), sunflower (1 variety), mungbean (8 varieties), uridbean (5 varieties), pigeonpea (5 varieties), cowpea (1 variety) and 1 variety each of rice and jute.
It is well received by the farmers
Atomic Energy Act, 1962
It empowers the Government to produce, develop, use and dispose of atomic energy either by itself or through any authority or Corporation established by it or a Government company.
In this regard, an indigenous sequential three-stage nuclear power programme based on optimum utilization of the country's nuclear resources of modest uranium and abundant thorium is being pursued.
Large capacity nuclear power reactors based on foreign cooperation are also being implemented as additionalities.
Measures to facilitate nuclear power capacity addition
In principle approval of sites to locate nuclear power plants in future.
Creation of India Nuclear Insurance Pool to cover the Operator's Liability under provisions of the Civil Liability for Nuclear Damage (CLND) Act, 2010.
Amendment to the Atomic Energy Act, 1962 to facilitate establishment of Joint Venture Companies (JVC) by Nuclear Power Corporation of India Limited (NPCIL) with other Central Public Sector Undertakings.
For a dedicated peer group, Motivation & Quick updates, Join our official telegram channel – https://t.me/IASbabaOfficialAccount
Subscribe to our YouTube Channel HERE to watch Explainer Videos, Strategy Sessions, Toppers Talks & many more…