IASbaba Press Information Bureau (PIB) – 4th June to 10th June , 2017

IASbaba Press Information Bureau (PIB) – 4th June to 10th June 2017
GS-2
'Skill for Life, Save a Life' initiative to promote skill development in the health sector
(Topic: Health and Family Welfare)
About: 'Skills for Life, Save a Life' Initiative' aims to upscale the quantity and quality of trained professionals in the healthcare system. Under this initiative various courses are planned to be initiated targeting specific competencies for healthcare professionals as well as for general public.
'Skill a Life, Save a Life' program by launching First Responder course for professionals as well as general public, to be conducted in Central and State government training institutes from the next month across the country in each district, to empower every single citizen of the country to be the first person to provide first aid and initial care in case of an emergency.
Importance of the initiative
India is working towards the attainment of the global mandate of Universal Health Coverage (UHC) for providing affordable, accountable and appropriate health care of assured quality to the fellow citizens, which is possible through substantive and strategic investment in the health workforce.
This is part of a larger plan and program for ensuring Universal Health Coverage.
This program will provide trained and skilled people by broadening the base to include the community.
As per the Census figures of 2011, the population of senior citizens in India is 10.38 crore. More than 70% of the population of senior citizens live in rural areas of the country.
A sizeable percentage (5.2%) of the senior citizens suffers from some sort of disabilities related to old age. Projections indicate that the number of elderly population will increase to around 173 million by 2026.
The proposal for formulation of a Scheme for providing Physical Aids and Assisted-Living Devices for Senior Citizens belonging to BPL Category was announced in the Budget 2015-16. Pursuant to this, the "Rashtriya Vayoshri Yojana" has been formulated.
The Scheme aims at providing Senior Citizens, belonging to BPL category and suffering from any of the age related disability/infirmity viz. Low vision, Hearing impairment, Loss of teeth and Locomotor disability, with such assisted-living devices which can restore near normalcy in their bodily functions, overcoming the disability/infirmity manifested. The assistive devices shall be of high quality and conforming to the standards laid down by the Bureau of Indian Standards, wherever applicable.
Under the Scheme, the following Aids and Assisted-Living Devices will be provided to eligible elderly beneficiary senior citizens, depending upon their physical impairment

Walking sticks
Elbow crutches
Walkers / Crutches
Tripods / Quadpods
Hearing Aids
Wheelchair
Artificial Dentures
Spectacles
Mission Innovation
(Topic: International Relations)
About: World's Energy Leaders Gather in Beijing for 2nd Mission Innovation Ministerial and 8th Clean Energy Ministerial.
Details
India was also one of the three countries, which took initiative in sowing the seed of 'Mission Innovation'. These initial efforts culminated into 20 countries joining in November 2015 to launch Mission Innovation. All the MI countries bring significant research prowess and resources in this global endeavour. Community of Mission Innovation has now enlarged to 23 countries and includes European Union.
India's plan of setting up 175 GW renewable power capacity by the end of 2022 is fully matched with tremendous progress on the ground. During the last year alone, the capacity addition of solar energy was more than the cumulative capacities set up till 2015 and our renewable energy capacity has leapfrogged to more than 52 GW. By 2030, non fossil energy sources will make up 40 percent of installed capacity.
India has vibrant national R&D infrastructure with R&D institutions, several universities, technical institutions, public sector undertakings and industries conducting research funded by Ministry of Power, Renewable Energy and Science & Technology.
India has funded around US $ 50 million towards national as well as bilateral programmes with Netherlands, UK and US. India has also launched initiatives for renewable forecasting and scheduling, storage technologies, wide area grid measurement, demand response pilots etc. Monitoring, protection and control of grids, forecasting of generation and loads, seamless two way grid operations, systems for large data management, robust and secure communication technologies, devices and components for better functionality ,demand side management and storage, etc are important issues for larger as well as micro grids.
Augmenting Cancer treatment facilities in the North East
(Topic: Health and family welfare)
About: Recent Cabinet decision
(1)Taking over Dr. B. Borooah Cancer Institute, Guwahati by Department of Atomic Energy (DAE) and bringing it under the administrative control of Tata Memorial Centre, an Aided institution of DAE;
(2)Augmentation of additional manpower of 166 posts in medical, paramedical and support positions.
The decision comes in the wake of the increasing instances of cancer, limited cancer treatment facilities and the need for a hospital support to carry out further research in North Eastern Region. The approximate non-recurring expenditure for strengthening of institute is estimated at Rs. 150 crore and annual recurring expenditure is estimated at Rs. 45- 50 crore.
Cabinet approves MoU between India and Mali for standardization and conformity assessment
(Topic: Govt policies)
About: The MoU aims to facilitate closer cooperation and provide a mechanism by which India and Mali can work together towards the common aim of strengthening standardization and conformity assessment activities in order to facilitate sharing of expertise and mutual trade.
India signs the Multilateral Convention to implement Tax Treaty Related Measures to Prevent Base Erosion and Profit Shifting (BEPS) in Paris
(Topic: International Relations)
About: The event marks a milestone in the global efforts to check tax evasion and tax planning strategies that exploit gaps and mismatches in tax rules to artificially shift profits to low or no-tax jurisdictions where there is no or little economic activity resulting in no or little overall corporate tax being paid.
Uses:
The Multilateral Convention aims at swift and consistent implementation of the treaty related BEPS measures.
India has been a very active player in this global initiative and has significantly contributed to the development of the new international standards under the BEPS package.
India would welcome more and more jurisdictions to become signatories the Multilateral Convention and also include more of their bilateral treaties as Covered Tax Agreements.
The Convention will ensure that the minimum standards regarding prevention of treaty abuse and amelioration of the international tax dispute resolution process are implemented in all Covered Tax Agreements quickly.
Other BEPS outcomes such as amendment of the definition of the term 'Permanent Establishment' to plug unintended interpretation leading to fiscal evasion, prevention of double non-taxation of hybrid entities, time threshold for treaty benefits to dividend and capital gains transactions will be incorporated in the Covered Tax Agreements where all Contracting Parties agree.
'Vatsalya – Maatri Amrit Kosh', a National Human Milk Bank and Lactation Counselling Centre
(Topic: Health and Family Welfare)
About: 'Vatsalya – Maatri Amrit Kosh', a National Human Milk Bank and Lactation Counselling Centre at the Lady Hardinge Medical College (LHMC), New Delhi. This would be the largest human milk bank and lactation counselling centre available under the public sector in North India. It is established in collaboration with the Norwegian government, Oslo University and Norway India Partnership Initiative (NIPI).
Benefits:
It is envisaged that with this donor human milk bank, all newborns in and around Delhi will have access to life saving human milk regardless of the circumstances of their birth.
National human milk bank and lactation counseling centre that will collect, pasteurize, test and safely store milk that has been donated by lactating mothers and make it available for infants in need.
In addition, this facility will protect, promote and support breastfeeding of their own healthy mothers by providing lactation support to mothers through dedicated lactation counsellors.
This project will not only act as a dedicated centre to support breastfeeding and improve infant survival but also act as the teaching, training and demonstration site for other milk banks to be established under the Ministry Of Health and Family Welfare, Government of India.
Mothers Absolute Affection (MAA) programme was launched to create awareness regarding breastfeeding as being the most cost-effective way of enhancing the child's immunity.
SATH program launched by NITI Aayog
(Topic: Govt policies)
About: Furthering the agenda for cooperative federalism, NITI Aayog has launched SATH, a program providing 'Sustainable Action for Transforming Human capital' with the State Governments. The vision of the program is to initiate transformation in the education and health sectors. The program addresses the need expressed by many states for technical support from NITI .
Purpose:
SATH aims to identify and build three future 'role model' states for health systems.
NITI will work in close collaboration with their state machinery to design a robust roadmap of intervention, develop a program governance structure, set up monitoring and tracking mechanisms, hand-hold state institutions through the execution stage and provide support on a range of institutional measures to achieve the end objectives.
The program will be implemented by NITI along with McKinsey & Company and IPE Global consortium, who were selected through a competitive bidding process.
Working:
To select the three model states, NITI defined a three-stage process –

expression of interest,
presentations by the states and
assessment of commitment to health sector reforms.

Metrics such as MMR, IMR, incidence of malaria and others have been considered for determining potential impact while density of doctors and nurses, compliance to IPHS norms are some of the metrics used to determine likelihood of success. The program will be launched in the three selected states after the signing of MoUs.
GS-3
Successful launch of GSLV-MK III
(Topic: Science and Technology)
About: The GSLV-Mk III is the heaviest rocket ever made by India and is capable of carrying the heaviest satellites made till date. It is intended to launch satellites into geostationary orbit and as a launcher for an Indian crew vehicle. The GSLV-III features an Indian cryogenic third stage and a higher payload capacity than the current GSLV.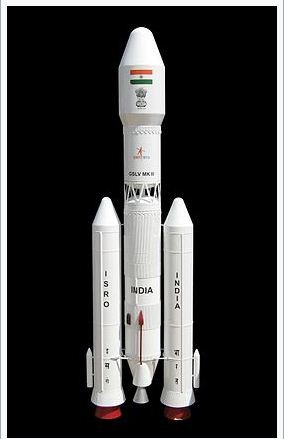 https://en.wikipedia.org/wiki/Geosynchronous_Satellite_Launch_Vehicle_Mark_III
The first developmental flight (GSLV MkIII-D1) of India's heavy lift launch vehicle GSLV Mk-III was successfully conducted today (June 05, 2017) evening from Satish Dhawan Space Centre SHAR, Sriharikota with the launch of GSAT-19 satellite. This was the first orbital mission of GSLV MkIII which was mainly intended to evaluate the vehicle performance including that of its fully indigenous cryogenic upper stage during the flight. Weighing 3136 kg at lift-off, GSAT-19 is the heaviest satellite launched from the Indian soil.
The Geosynchronous Satellite Launch Vehicle Mark III is the next generation launch vehicle of ISRO which will be capable of launching four-tonne class satellites into Geosynchronous Transfer Orbit (GTO).
It has an indigenous cryogenic third stage, designated as C25. The C25 stage is considered as the most powerful upper stage developed by ISRO which uses Liquid Oxygen (LOX) and Liquid Hydrogen (LH2) propellant combination.
Assam Citizen Centric Service Delivery.
(Topic: Finance)
About: An agreement for IBRD Credit of USD 39.2 Million from World Bank for the project "Assam Citizen Centric Service Delivery" was signed.
The programme size is USD 49 million, of which USD 39.2 million will be financed by the Bank, and the remaining amount will be funded-out of State Budget. The programme duration is 5 years.
The objective of the project is to improve access in the delivery of selected public services in Assam. The Project seeks to enable citizens to access services under the RTPS Act in a timely, efficient, and accountable manner. The Project adopts an integrated approach to improve access and accountability.
MoU signed between Central Industrial Security Force & National Skill Development Corporation.
(Topic: Skill development and Entrepreneurship)
Importance of skill development in India
Skill development has increased the employability among the youth. He said that the system in the country needs to be such that it gives enough importance to the skills possessed by any individual and the policies are framed accordingly.
Many skills are in huge demand world over and our youth can tap this opportunity, if groomed properly.
India can become a world power if youth of the country develop the attitude towards skill development. He expressed happiness that in the last two and half years, skill development has led to employment of large number of youth in different areas, thereby strengthening India by skill development.
dignity of labour and value of hard work is losing importance in the country, which needs to be addressed and the attitude towards labour needs to be changed. He said that hard work and dedication are the most important factors in skill development. He also expressed his faith in the success of outcome of this agreement.
The MoU aims at assisting retiring/retired, serving low medical category (LMC) CISF personnel to acquire additional skills and facilitate their resettlement through a second career. It will also provide welfare to wards, family members of serving CISF personnel, retired personnel and personnel killed in action.
Skill Development would go a long way towards supporting gainful employment and at the same time would contribute towards nation building.
The MoU shall remain in effect for a period of 5 years (starting from 5th June, 2017 till 5th June, 2022), subject to a mid-term review after 3 years.
India's first Rural LED Street Lighting Project in Andhra Pradesh
(Topic: Infrastructure Development-Power)
About: Government of India, through the Energy Efficiency Services Limited (EESL) under the Ministry of Power, would be retrofitting 10 lakh conventional street lights with LED lights in Gram Panchayats of 7 districts in Andhra Pradesh.
This is the first project for rural LED street lighting in the country under the Government of India's Street Lighting National Project (SLNP). In the first phase, the replacement will be undertaken in gram panchayats of the districts of Guntur, Prakasham, Nellore, Kurnool, Kadapa, Ananthapur and Chittoor.
This replacement drive in rural areas will help the gram panchayats to cumulatively save approximately 147 million units of electricity annually and lead to reduction of 12 crore tonnes of CO2.
Andhra Pradesh was the first state to seek assistance from EESL to replace conventional street lighting with LED lighting in Visakhapatnam, after the cyclone Hudhud caused extensive damage to the then existing street lighting infrastructure.
Ever since then, EESL has installed over 5,90,000 LED street lights in the State. These installations have led to an annual savings of over 7.8 crore kWh, translating into an annual reduction of over 65,000 tonnes of CO2.
INSV TARINI Maiden Visit to Mauritius
(Topic: Defence)
About: Indian Naval Sailing Vessel Tarini entered Port Louis harbour, Mauritius on her maiden visit to the island nation since induction in the Indian Navy. Tarini is the sister Vessel of Indian Navy's first sailing Vessel INSV Mhadei, that has numerous accomplishments to her name.  INSV Tarini is 55 feet in length and built in India in line with the 'Make in India' initiative of the Indian Navy, fructified by M/s Aquarius Shipyard, Goa.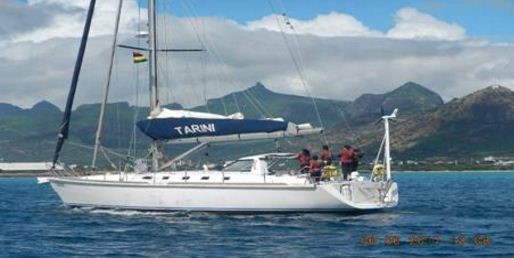 http://pib.nic.in/newsite/PrintRelease.aspx?relid=164449
Committee of Secretaries to be set up soon to tackle The issue of Groundwater Depletion
(Topic: Water resource)
About: A committee would be formed soon comprising Rural Development Secretary, Water Resource Secretary and Environment Secretary to tackle the issue of groundwater depletion. The use of plastic material is a major cause of pollution to river Ganga and should be stopped.
Groundwater Depletion in India
Total replenishable groundwater resource in the Ganga basin is 170.99 billion cubic metres (BCM).
Ganga basin alone accounts for nearly 40 % of the country's total replenishable groundwater resource of the country which is 433 BCM.
Net ground water availability is 398 BCM.
The annual groundwater draft (a reasonable release of discharge) is 245 BCM (as on 31st March 2017) and out of total 6607 assessed units (blocks, mandals, districts) as many as 1071 units are 'over-exploited', 217 units are 'critical', 697 units are 'semi-critical' and 4530 are 'safe'.
Apart from these, there are 92 assessment units which were found to be completely saline.
India's Seafood Export at all-time High in 2016-17 :MPEDA
(Topic: Commerce and Industry)
About: Riding on a robust demand for its frozen shrimp and frozen fish in international markets, India exported 11,34,948 MT of seafood worth an all time high of US$ 5.78 billion (Rs 37, 870.90 crore) in 2016-17 as against 9,45,892 tons and 4.69 billion dollars a year earlier. With USA and South East Asia continuing to be the major importers while the demand from the European Union (EU) grew substantially during the period.
Vietnam, with a share of 76.57 per cent in value (US dollar), was the major South East Asian market for Indian marine products, followed by

Thailand (12.93 per cent),
Taiwan (3.88 per cent),
Malaysia (2.60 per cent),
Singapore (2.21 per cent),
South Korea (1.50 per cent) and other countries (0.30 per cent).

The EU continued to be the third largest destination for Indian marine products with a share of 16.73 per cent in quantity.
Frozen shrimp was the major item of exports, accounting for 40.66 per cent in quantity and 55.15 per cent in dollar earnings out of the total exports to the EU.
'DigiYatra'- A New Digital Experience for Air Travellers
(Topic: Infrastructure: Aviation)
About: 'DigiYatra' is an industry-led initiative co-ordinated by the Ministry of Civil Aviation in line with Digital India's vision to transform the nation into a digitally empowered society. This follows Air Sewa which brings together all the stakeholders on a common platform for handling customer grievances and disseminating real-time data.
'DigiYatra' initiative aims to bring together entire industry to develop a digital ecosystem that will deliver Indian customers a seamless, consistent and paperless service experience at every touch point of their journey.
DigiYatra initiative envisages providing airline travellers in India, a pioneering 'digitally unified flying experience' across all stages of their journey. All aviation stakeholders – airlines, airport operators, security and immigration agencies, cab operators, retail establishment and others are working to devise digital standards which can enable seamless exchange of data and information.
Platform will be built on 4 key pillars, like Connected Passengers, Connected Airports, Connected Flying and Connected Systems which can make it possible over a period of time for passengers to:
Plan their trips efficiently by identifying price trends and estimate future airfares at the time of ticket booking,
Optionally link their Aadhaar to airlines and other ecosystem players at the time of booking for faster airport entry and automated check-ins without requiring any paper-based interventions,
Walk-through security scanners swiftly owing to advanced biometric security solutions,
Receive relevant information pertaining to various facilities, protocols, airline timings, queue lengths at airports etc.,
Engage in customised digital offerings at experience zones,
Get real time notifications about congestion and delays to have greater visibility on the next step of journey,
Conveniently navigate through the airport using digital guidance systems, interactive kiosks and augmented reality apps,
Stay connected during flights and indulges in immersive experiences. Also book in-flight services and destination based offerings digitally,
Get a prompt when their luggage reaches the baggage claim belt , and
Submit grievances, share experiences and provide feedback.
Subscribe to IASbaba