Hello Friends,
So, we are done with both the MOCK tests.
Coming direct to the conclusion- You experienced both types of papers, one focused on Static and the other on Current Affairs. Your performance in these two mocks is by no means a guarantee to reserve a seat in Prelims. Rather it is to introspect about your shortcomings irrespective of scores.
One who scored exceptionally well in Mock 1 due to strong command in Current Affairs, failed to repeat the same in Mock 2 which was tilted towards static portions. The message is clear. We wanted you to realize that UPSC can throw anything and you have to accept it.
Most of you expressed how you missed to mark right option despite knowing the correct answer. It is reflected in number of wrong choices you made. Below, we have given a proper analysis of the same. Kindly go through it.
Mock 1- Click Here
Mock 2- Click Here
---
Based on the standard of the paper, scores and number of entries
Cut Off
Rank List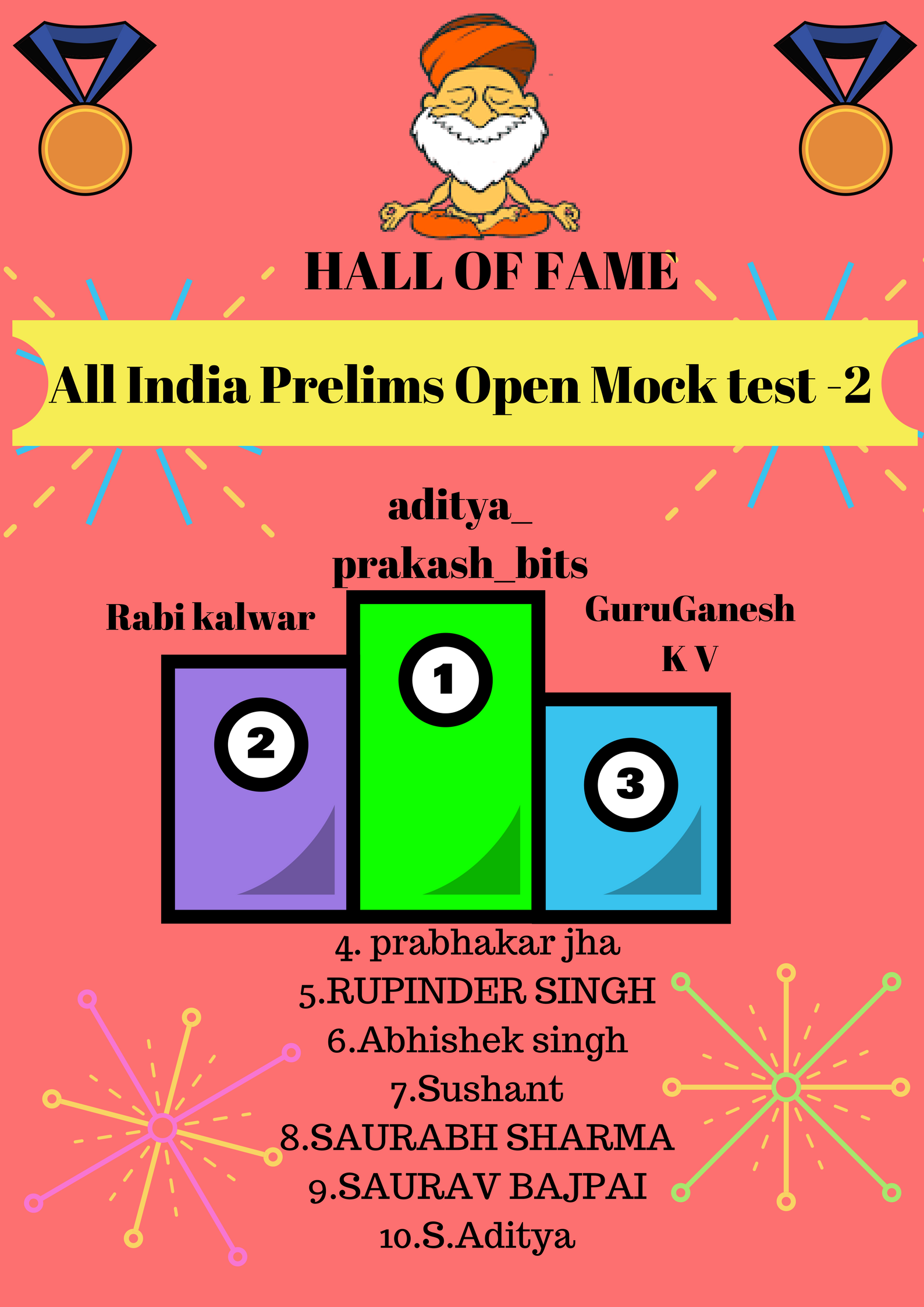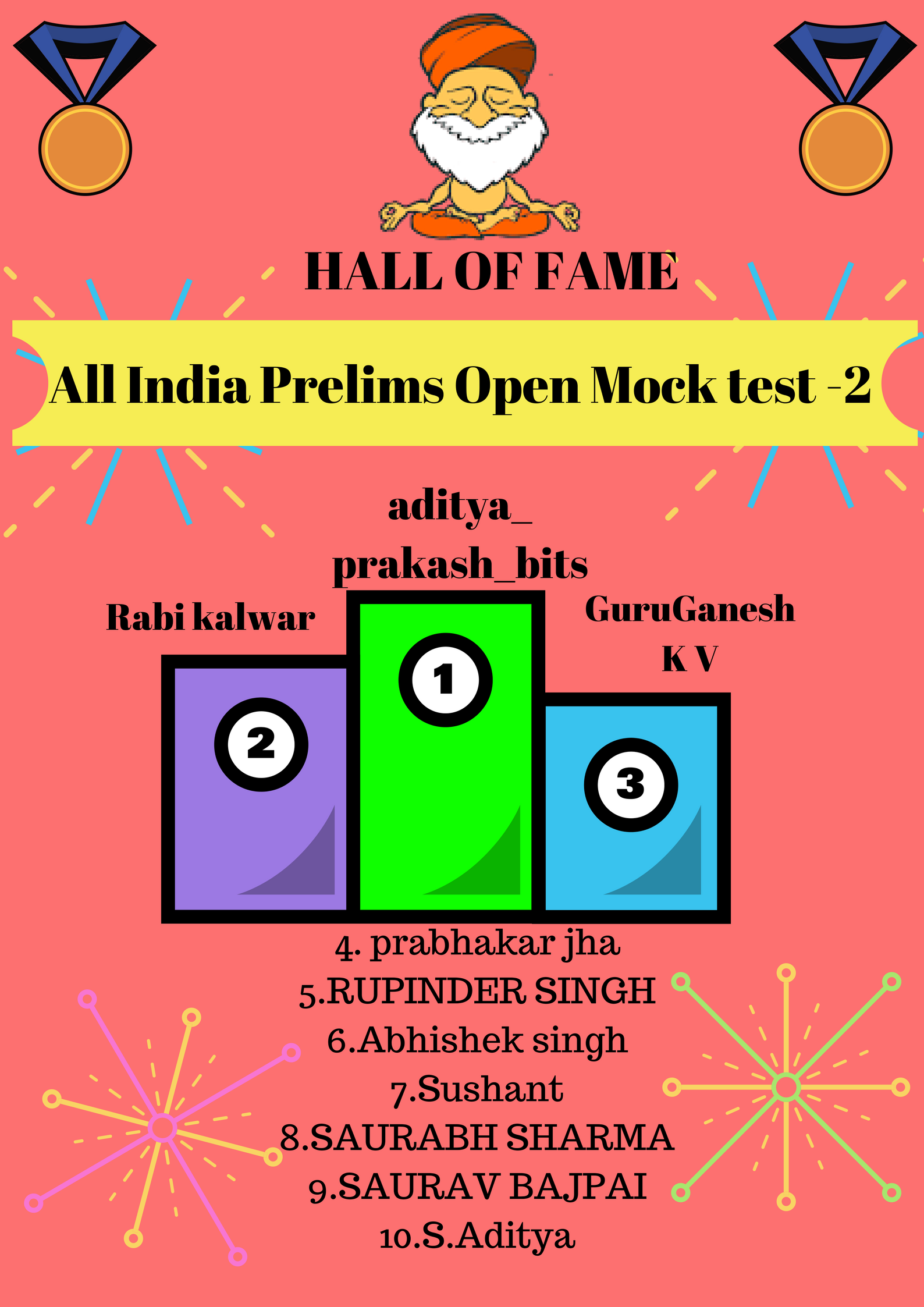 Performance Analysis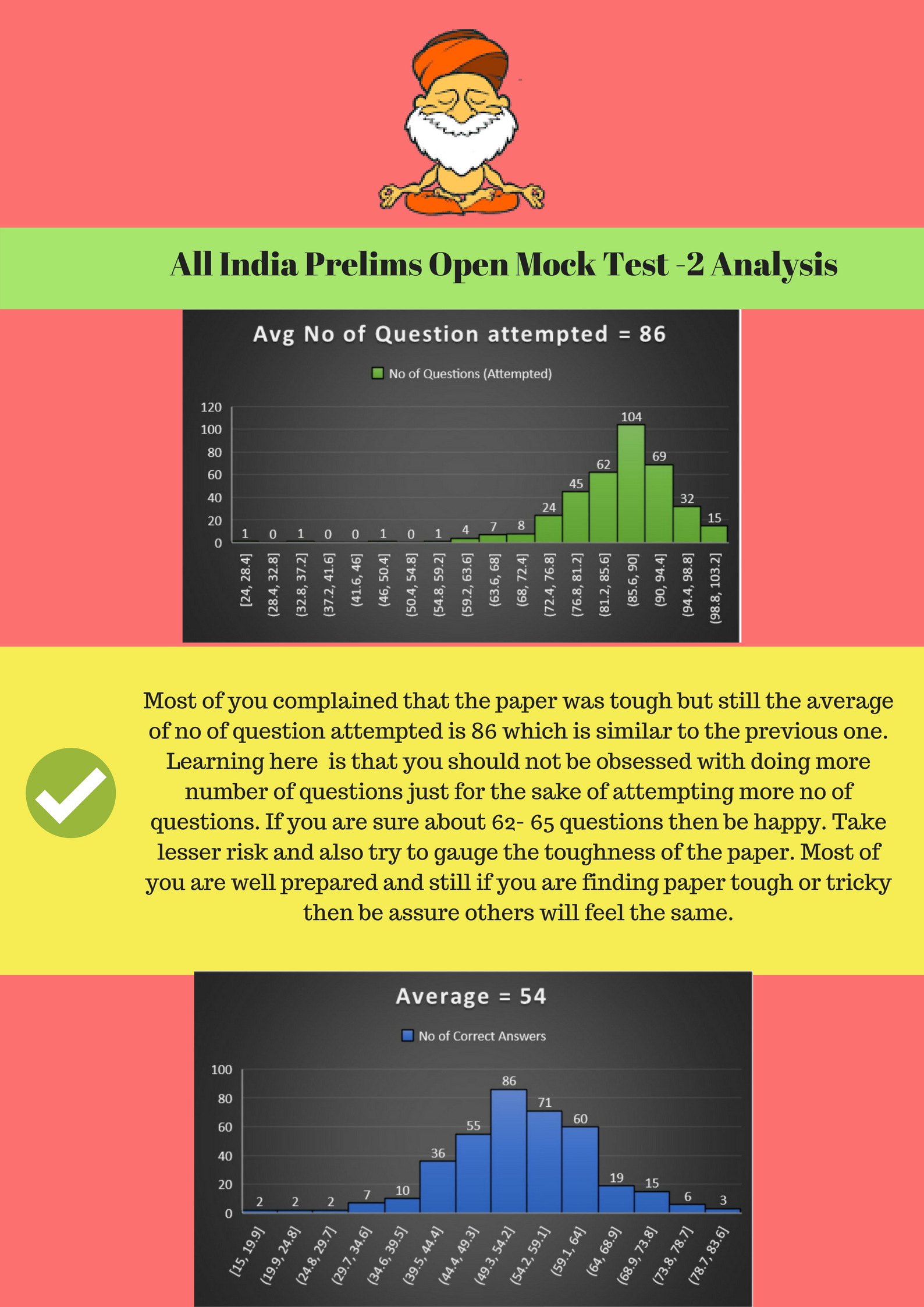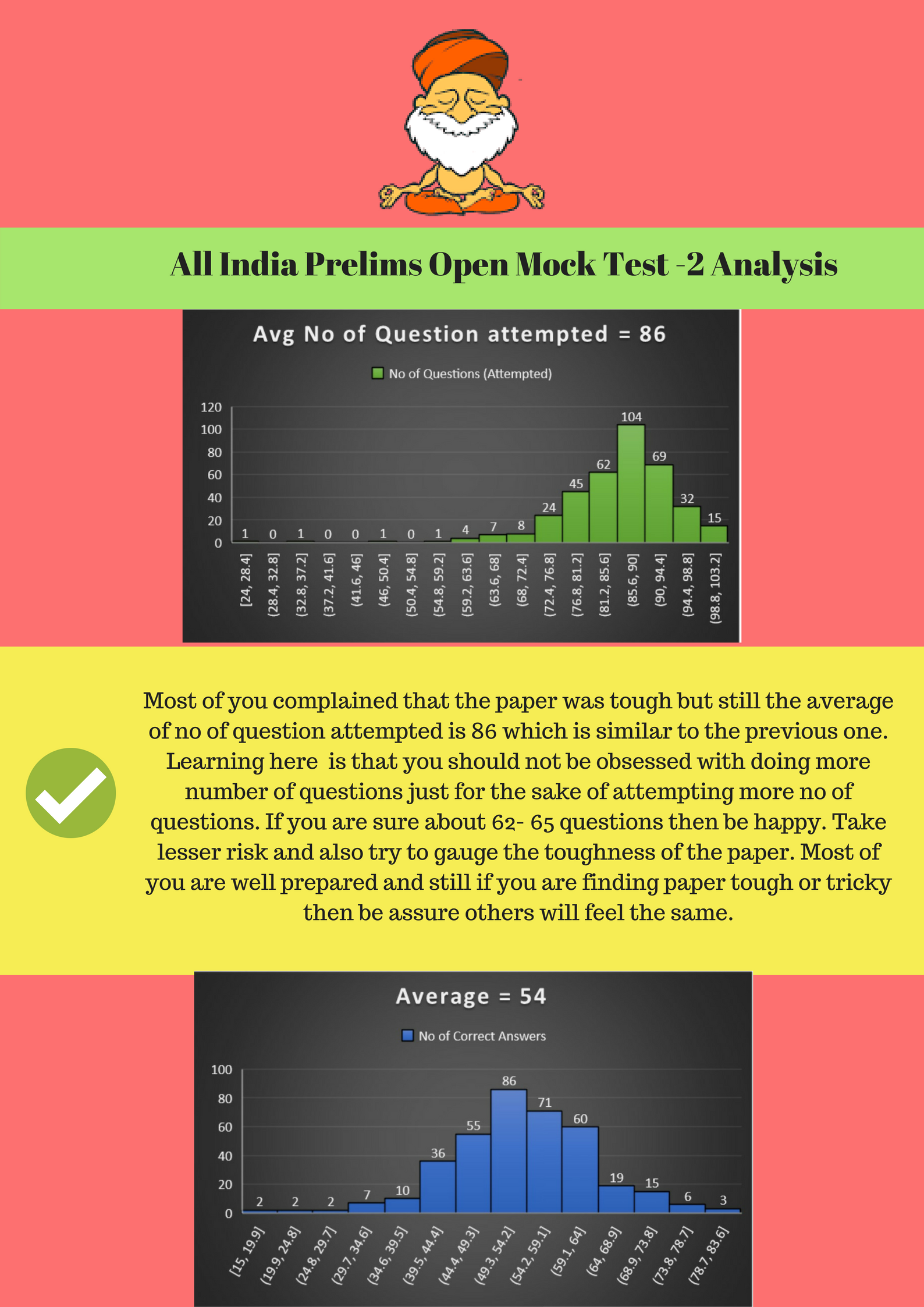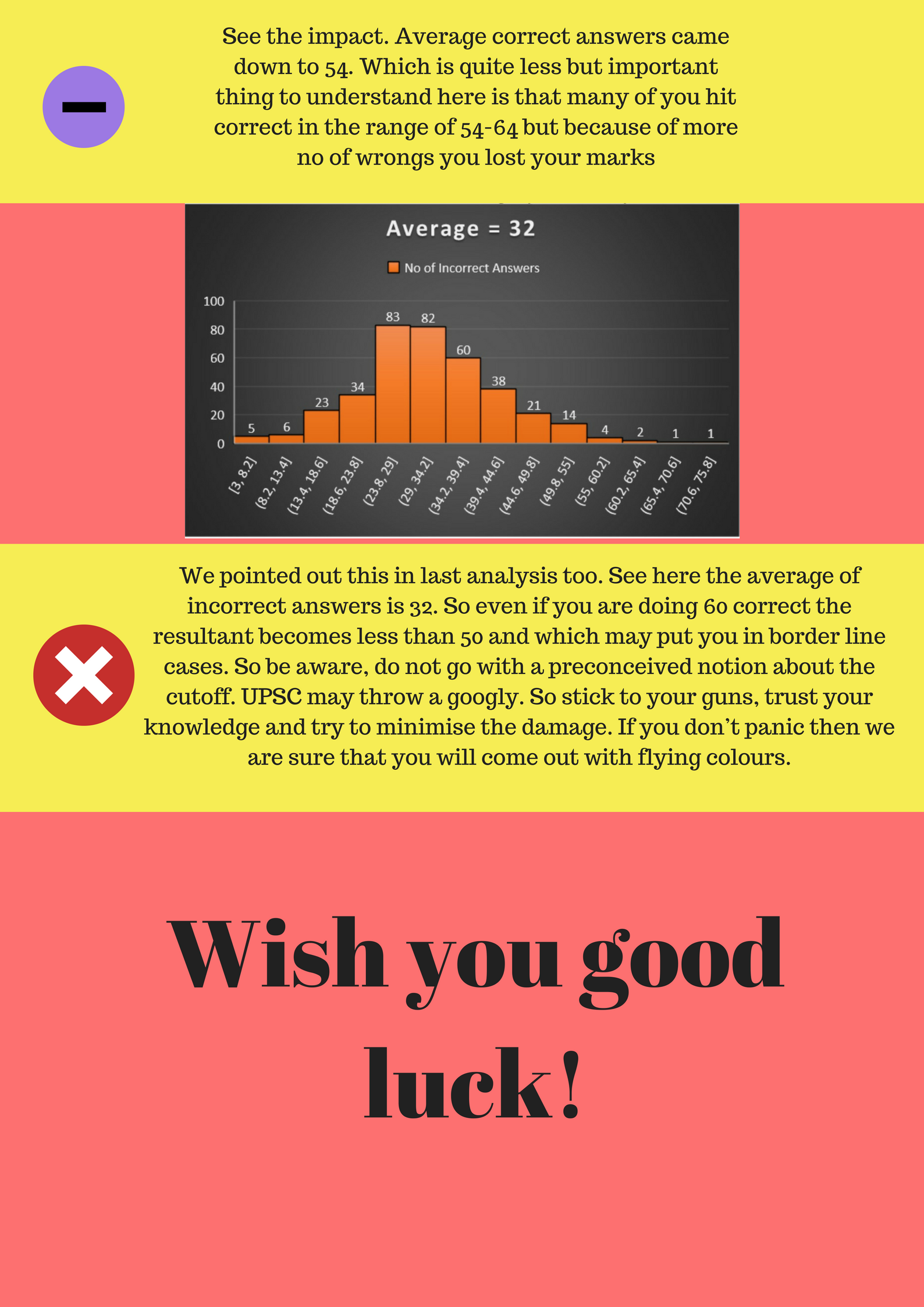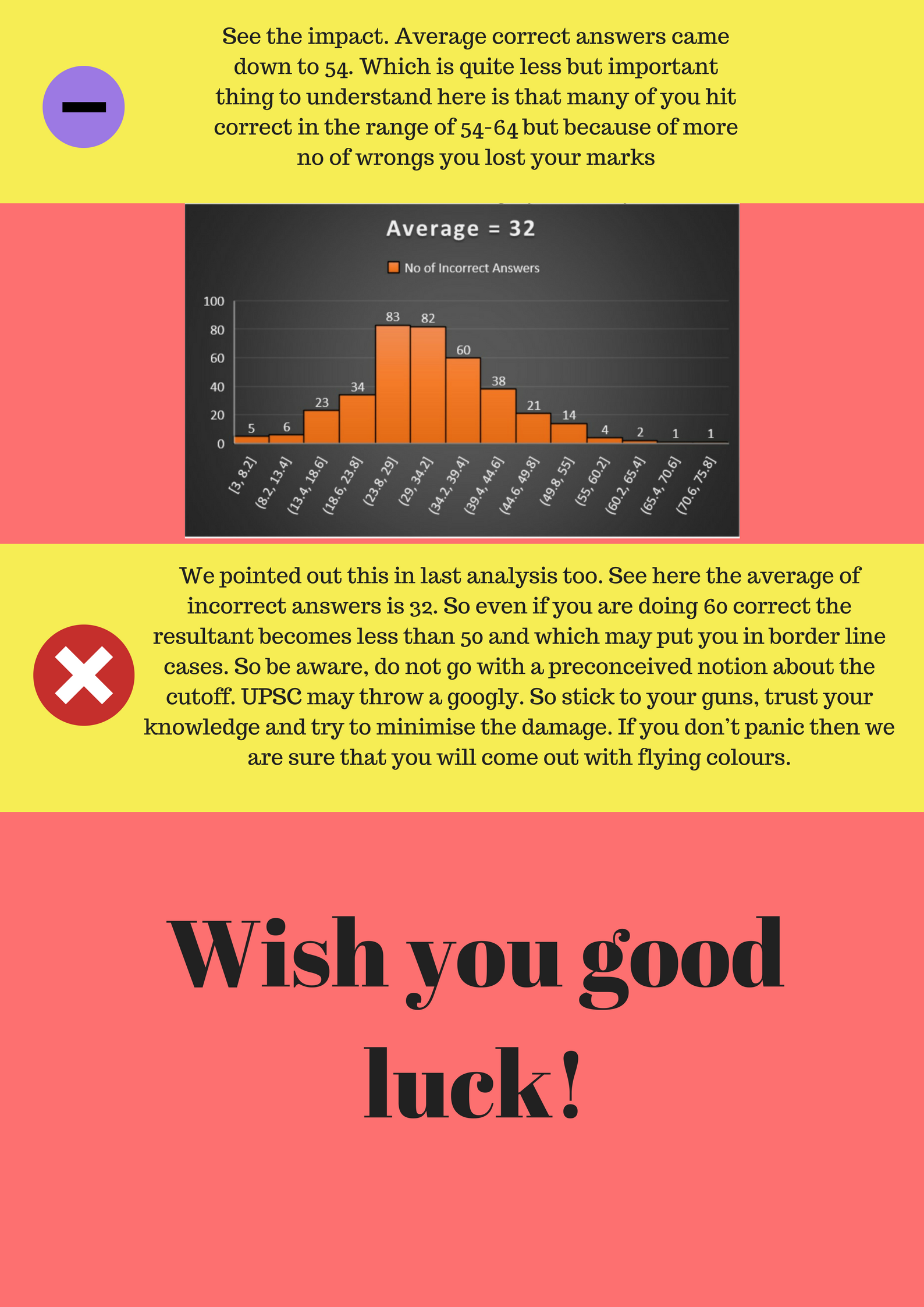 Ending Note
Do not get depressed by low marks. Spend more time in revision. Revision is the key here. Revise all the test concepts very well.
In the last few days, just focus on maximum revision and make sure you do not miss out on any concept that you learnt and practiced. Many a times, it is because of lack of revision, one misses out on right options.
Considering the requests from last time not to give full list showing name and marks, we are giving the list above the cut off only.
Rank List for TOP 150
| | |
| --- | --- |
| aditya_prakash_bits | 152 |
| Rabi kalwar | 149 |
| GuruGanesh K V | 144.66 |
| prabhakar jha | 144.14 |
| RUPINDER SINGH | 144 |
| Abhishek singh | 142 |
| Sushant | 138.67 |
| SAURABH SHARMA | 138 |
| SAURAV BAJPAI | 136.77 |
| S.Aditya | 136.67 |
| Gaurav Kumar | 136 |
| Kusum kumari | 132.67 |
| Vivek N | 132.66 |
| VINAY | 131.33 |
| Manas | 131.33 |
| Geeta Singla | 130 |
| Ankush Kothari | 129.33 |
| tarun gogoi | 129.33 |
| smit | 128.28 |
| Gaurav Satsangi | 126 |
| dhruv | 124 |
| Sumit K. | 122.67 |
| meet | 122.66 |
| jitendra singh yadav | 122.016 |
| Manish | 122 |
| Prashant | 120 |
| Kartik pant | 119.46 |
| SANKET SUNIL BAGADE | 119.44 |
| chinmay krovvidi | 119 |
| ARUN | 118 |
| Pavan Galiveeti | 117.52 |
| Simran Singh | 117.5 |
| Keep Humanity Alive | 117.34 |
| Preet | 116.67 |
| anwar hussain | 116.66 |
| vibhash kumar | 116.66 |
| Archit Chandak | 116 |
| Kamal jindal | 115.5 |
| Aniruddh Shrivastava | 115 |
| Gajenthirasiva | 114.82 |
| Shikhar | 114.76 |
| SNEHA GUPTA | 113.48 |
| Abhishek kumar | 113.4 |
| Oolong Slayer | 112.78 |
| Maurya Banda | 112 |
| Madhavi yadav | 112 |
| Om prakash meena | 112 |
| Aditya sonkar | 112 |
| Saurav | 111.34 |
| Akshay | 111.34 |
| Tarun | 111.33 |
| UMESH SARAO | 110.66 |
| Piyush Bhardwaj | 110.16 |
| sachin | 110 |
| Kantipudi Bala Annapurna | 109.46 |
| Sarkar | 109.33 |
| yogibear | 109.33 |
| Kushagra Pathak | 109.33 |
| Vikram Goyal | 108.67 |
| Blue | 108 |
| Omre | 108 |
| Asish bhalla | 108 |
| SUYASH YADAV | 108 |
| Vishwa | 108 |
| horizon | 107.33 |
| prudhvi raj | 107.33 |
| Rahul | 107.33 |
| Payal Gupta | 107.33 |
| Captain Vyom | 107.33 |
| Urshitha | 106.84 |
| Pradeep S | 106.67 |
| Komal Mishra | 106.66 |
| Azor ahai | 106.46 |
| gotudada | 106 |
| charan | 106 |
| CHITHRA S S | 106 |
| Uday Kiran | 106 |
| apangita | 106 |
| akash agarwal | 105.33 |
| Akash | 104.66 |
| vprokats | 104.66 |
| The Silent Guardian | 104.66 |
| Raj Krishna | 104 |
| Vikram Kumar goyal | 104 |
| Ankit | 104 |
| anmol garg | 104 |
| Abhijit Gupta | 103.33 |
| bhupesh | 103.33 |
| aws | 103.33 |
| Venky | 103.33 |
| yahoo | 103.33 |
| simranpreet singh | 102.88 |
| Bharat Mittal | 102.67 |
| raj | 102 |
| arun gupta | 102 |
| Àmit | 102 |
| DX | 102 |
| Baba ji | 101.56 |
| shreya mann | 101.52 |
| Urshitha | 101.5 |
| vishnu | 101.34 |
| sankeerth | 101.34 |
| Sandeep Chaudhary | 101.33 |
| EventHorizon | 101 |
| ravi | 101 |
| Kumar | 100.86 |
| Kayyum Khan | 100.67 |
| KUNAL KRISHNA | 100.667 |
| RAJIV | 100.33 |
| A man has no name | 100.18 |
| Saurabh trivedi | 100 |
| Vikas | 100 |
| sarwansingh rajpurohit | 99.54 |
| ramadheer | 99.33 |
| Rax Draggon | 99.33 |
| nikhil | 99.33 |
| V | 98.67 |
| Toad Sage | 98.67 |
| Shubh M | 98.659 |
| Jiyaur rahman | 98.16 |
| rahul kumar agrawal | 98 |
| Nairatmya | 98 |
| sarbajeet | 98 |
| garima | 98 |
| King Crimson | 98 |
| aditi rawat | 97.66 |
| MOHIT KUMAR | 97.52 |
| M Laxmikant | 97.33 |
| ajay | 97.33 |
| anand | 96.8 |
| Wheeler | 96.67 |
| Madelyn | 96.66 |
| ak | 96.66 |
| A.A. | 96 |
| MUTHU | 95.34 |
| RR | 95.33 |
| Mohamed Rameez | 95.33 |
| yash | 94.66 |
| ritesh | 94.6 |
| Pradeep Singh | 94 |
| pankaj bisht | 94 |
| Mj25 | 94 |
| MUKES H CHAVAN | 94 |
| Raghav | 94 |
| ArshdeepbSingh | 93.33 |
| Nik | 92.8 |
| Kabir Khan | 92.66 |
| Tavishi | 92.6 |
| Khagendra Kutare | 92.59 |
| Gurpreet | 92.16 |
| | |
| --- | --- |
| Rahul kumar | 92 |
| chandu | 92 |
| sedc | 92 |
| Sumit | 92 |
| PBN | 92 |
| Manender | 92 |
| ABHIT | 91.6 |
| Sai Trilochan Pappu | 91.52 |
| amolsri | 91.33 |
| Tito | 91.33 |
| subrat shukla | 90.66 |
| dracula | 90.66 |
| Anand Pratap Singh | 90 |
| jai prakash | 90 |
| khushboo | 89.6 |
| Saurabh Garg | 89.33 |
| Ashwin | 88.88 |
| suraj sharma | 88.68 |
| NOMADIC | 88 |
| Ritesh | 88 |
| Pranit | 88 |
| Raman yadav | 88 |
| ramnivas | 88 |
| Subhajeet Chakraborty | 88 |
| Kanupriya | 88 |
| TUSHAR | 87.33 |
| Pushkar Dwivedi | 87 |
| platypus | 86.84 |
| alok singh | 86.67 |
| SHRAWAN SINGH DEORA | 86.6666 |
| harshal gaikwad | 86.66 |
| Animesh (Simplex) | 86.37 |
| Prem | 86 |
| abhi | 86 |
| Roopam | 86 |
| Ravi Meshram | 86 |
| shitiz | 85.89 |
| Kunal | 85.66 |
| Anil Guretia | 85.35 |
| Shubhangi Jha | 85.34 |
| shailu | 85.33 |
| Abhijit kaut | 85.3 |
| Speddi | 85.3 |
| Ramsundar | 85 |
| vishwesh vivek | 85 |
| prem | 85 |
| ankur | 84.67 |
| swaroop m | 84.67 |
| HateBreed | 84.4 |
| sachin | 84 |
| sixdustbunnies | 84 |
| Rahul Garg | 84 |
| prachi | 84 |
| shreyas | 84 |
| Shashi | 84 |
| niraj kumar | 83.58 |
| Ankit Mishra | 83.54 |
| RISHAV KUMAR | 83.34 |
| kiran kumar | 83.33 |
| Nagsen M | 83.33 |
| The Great Indian Bustard | 82.9 |
| Abhinav Dube | 82.67 |
| amit | 82.67 |
| NAGINENI VENKATESWARLU | 82.667 |
| Arpit Srivastava | 82 |
| Maneesh Yadav | 82 |
| shg | 82 |
| Sujeet Kumar | 81.66 |
| Swapnil H Nagane | 81.33 |
| s sreevishakh | 81.33 |
| Baba Dash | 81.33 |
| vaishakh | 81.3 |
| A c madhu | 81 |
| rashmi | 80.3 |
| RRao | 80.2 |
| mayank | 80 |
| Vasu | 80 |
| saad | 80 |
| sudheer kumar chauhan | 80 |
| kips | 80 |
| naman goyal | 80 |
Thank You
IASbaba
For a dedicated peer group, Motivation & Quick updates, Join our official telegram channel – https://t.me/IASbabaOfficialAccount
Subscribe to our YouTube Channel HERE to watch Explainer Videos, Strategy Sessions, Toppers Talks & many more…