India Australia Bilateral Relations
Search 10th April 2017 http://www.newsonair.com/Main_Audio_Bulletins_Search.aspx
TOPIC: General Studies 2

Bilateral, regional and global groupings and agreements involving India and/or affecting India's interests
Effect of policies and politics of developed and developing countries on India's interests, Indian diaspora.
Australian PM Malcolm Turnbull held wide-ranging talks with Indian PM on lot of issues such as security, defence, civil nuclear energy, economic affair etc.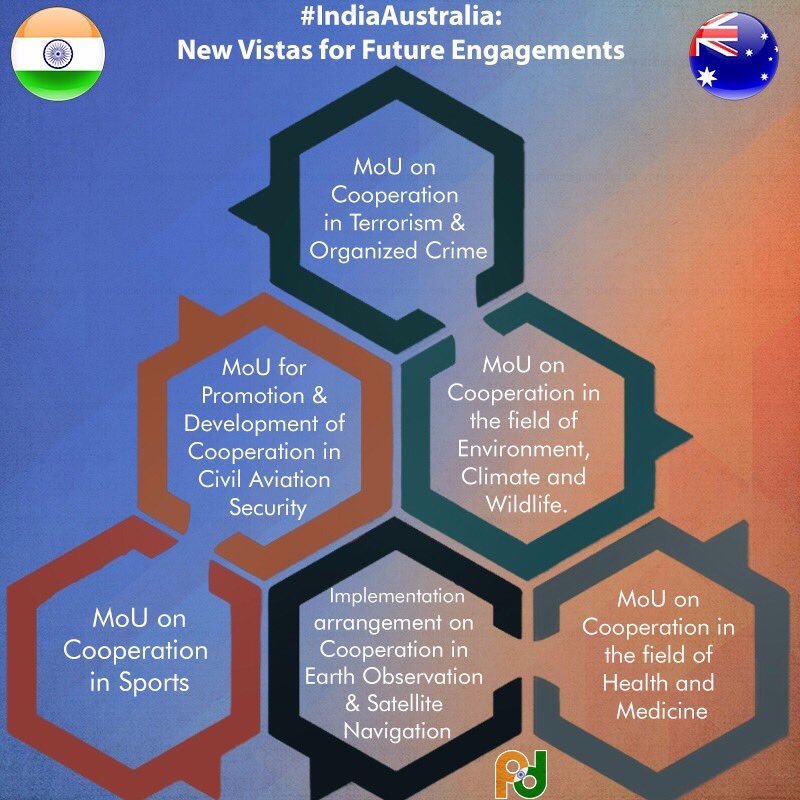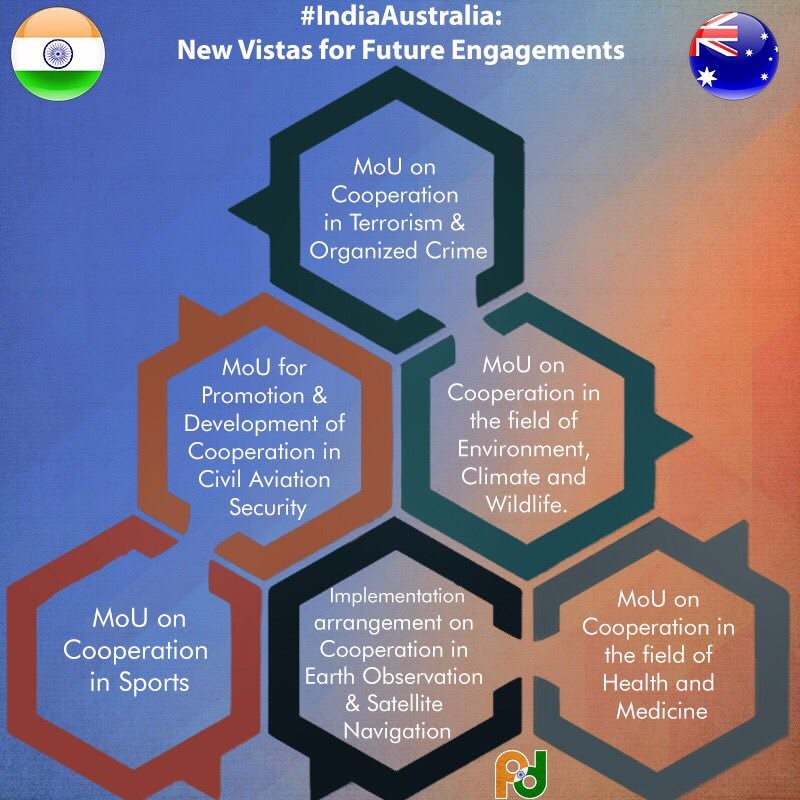 Australia is important country in Indo-Pacific region and a good friend as well as strategic partner of India. This visit is considered important for furthering the relationship between both the countries. The three main elements to this partnership is
Strategic partnership
Knowledge partnership
Economic partnership
Both the heads of state asserted that there will be progress in all these areas and six agreements were signed.
Strategic partnership- It has two main elements–
– Counter Terrorism- both countries are victim of this terrorism which emanates from other countries. The agreement on counter terrorism is very important. It includes sharing of information and other intelligence so that acts of terror can be eliminated before they are implemented.
– Defence partnership. One MoU has been signed for increased defence partnership. Australia at one point was part of Malabar exercise. There is regular training between armies of both countries and it is expected to be taken forward after the present meeting.
The Joint statement between two countries was about Indo Pacific issues- maritime safety; free passage and dispute should be resolved through international laws. This is in reference to South China Sea. Till now in Indo Pacific region had been peaceful fraught by small piracy issues only near Djibouti, Indonesia, Malacca strait but recently one element of dissonance has been introduced by china's unilateral actions in SCS. All countries of region are concerned about it. Countries surrounding SCS are small and are not able to confront china on their own strength. Ultimately one has to see that world governance is according to rules otherwise there will be chaos and lot of confrontation. So the principles have been well established both the countries.
This is a clear indication to china to not act unilaterally and follow international law.
Trilateral mechanism between India Australia and Japan for maritime security has to be developed as it is important for like minded countries to come together and go beyond simple bilateral mechanisms. There are mechanisms between India US japan as trilateral mechanism for naval exercise.
So in eastern India region, Japan and Australia have an active role in maritime security and thus India should be constantly with them in maintaining their security. They have to compare their capacities and see what are the challenges to freedom of seas, movement of traffic and piracy. Then the three countries can exchange info and meet those challenges. In 2007 Australia had also joined them. But china had objected because it seemed as it was encircling it and becoming a threat to itself. Thereafter Australia did not participate due to its internal politics. Now it is to see if Australia wishes to join such exercise again.
Civil nuclear capacity
Australian PM has said that he looks forward to early export of uranium. Australia has come a long way since 2000s when India was trying to convince Australia for civil nuclear cooperation and supply of uranium. It again began internal debate matter of Australia as India has not signed NPT, it will not be possible to supply uranium. Now it has been convinced and has agreed to supply uranium at the earliest.
Australian PM has supported India's entry to NSG and Australia Group. As china doesn't have veto in the group if all other members agree, then china will have difficulty in opposing it. Thus India has to gradually a momentum to get entry onto it.
Renewable energy
For India, solar energy is very important due to carbon emission norms and own commitment. In the context, solar mission is very important, as it requires lot of research, as the price of solar cell has to come down for its mass production and consumption. For this, if Australia cooperates and joins ISA, its huge land mass can be used for research. Eventually the world has to move away form conventional fossil fuels to more renewable fuels like nuclear, wind, solar.  Technology transfers will have to take place.
One of the important components of the partnership is the knowledge partnership. The Australia-India Strategic Research Fund of 10 million dollars has been established. The idea is to do joint research in cutting edge technologies- food security, energy security and health through nanotechnology and biotech.
People to people contact
Today there half a million people of Indian origin in Australia. Many of Australia's top officials have been PIO. So Indians have made good contribution in Australian society and economy. There are 60000 Indian students in Australia. This generates evenue for universities.
Tourism is also booming with 200000 tourists either way. Some years ago there were safety and security concerns of Indians in Australia due to attacks on students and other citizens. But now many issues were resolved. When the attacks happened, Australia tried to address all of them and changed laws so that Indians feel protected.
An MoU on Sports Cooperation has been a unique agreement between both nations. PM of Australia also invited teams of India to train in Australia for commonwealth games. Australians are known to be great achievers in sports. So India can certainly benefit.
On the whole the relationship is very strong not only between the government but also between people. Strong foundations for two countries to go forward have been laid.
Connecting the dots:
Can it be said that India and Australia are 'brothers from different waters'. Examine.
For a dedicated peer group, Motivation & Quick updates, Join our official telegram channel – https://t.me/IASbabaOfficialAccount
Subscribe to our YouTube Channel HERE to watch Explainer Videos, Strategy Sessions, Toppers Talks & many more…