Prevention of Drug Abuse and Trafficking
Search 28th June 2017 http://www.newsonair.com/Main_Audio_Bulletins_Search.aspx
TOPIC: General Studies 2

Government policies and interventions for development in various sectors and issues arising out of their design and implementation.
Structure, organization and functioning of the Executive
In news: International day for anti-drug abuse and illicit trafficking is observed on 26th June. The UNGA decided to observe this day, in 1987, as an expression of its determination to strengthen action and cooperation to achieve the goal of an international society free of drug abuse. Theme of 2017 is 'Listen First.'
Drugs in India
Drug menace is a global problem. Over the years, level has gone down in terms of publicity against drug proliferation. The drug consumption has gone up which is proved by empirical evidence.
India is situated between two important drug supply centers: Golden crescent and golden triangle.  Because of this, India has always been in transit as well as gradually a consumption point. So it is difficult to say that drug abuse has come down.
The seizures have increased by different agencies. So when more amount of drugs are seized, it means there is a tendency for bringing more drugs.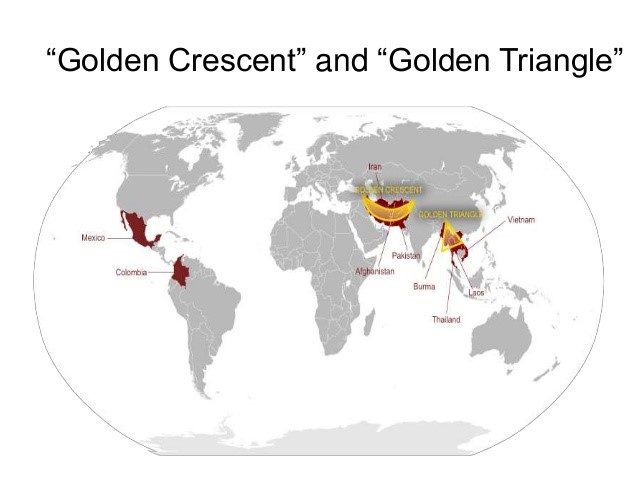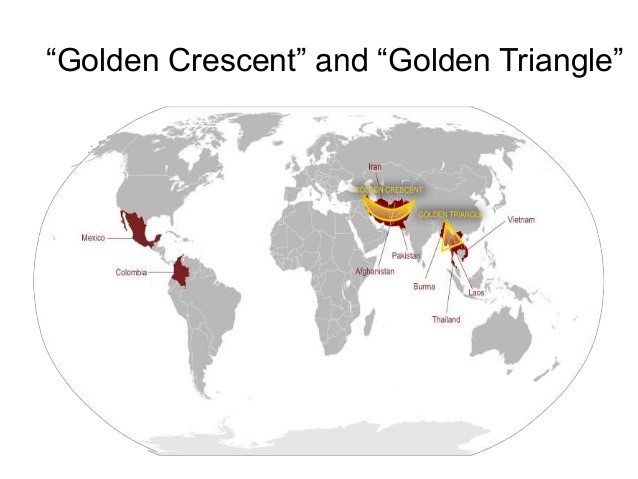 Picture credit: https://image.slidesharecdn.com/deaddictionproginindia-140723022827-phpapp01/95/deaddiction-programme-in-india-14-638.jpg?cb=1406082774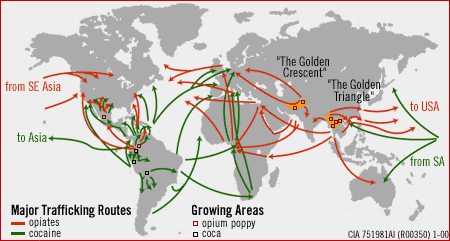 Picture credit: https://qph.ec.quoracdn.net/main-qimg-88ab01486c64a51ea3ad321b13961d8f
There is basically seizure of heroine which comes from South West Asia, mainly Afghanistan and Myanmar. Other source is from illicit production of opium from illicit cultivation like Cannabis is sourced from Nepal. Another is internal production in India at high altitude area and some north east area. There are some African drug traffickers who get cocaine from Latin American companies.
Besides this, there is a demand of synthetic drugs, party drugs. Drugs like amphetamine are synthetic drugs that are diverted from chemical factories. Some of them are medicinal drugs also which are consumed without prescription.
Steps by narcotics to curb the menace
NCB has small presence number wise. Not all state HQs are covered in their location. However, it broadly keeps an eye on big supplies.
There is a responsibility of sharing information with international organization.
There is collaboration and bilateral agreements with foreign countries.
It also functions as a bureau- data collection and trend analysis is done.
As per Narcotic Drugs and Psychotropic Substances Act, 1985, the state police can conduct arrests and searches under this law. Some of the state organizations have anti-narcotics unit eg. Punjab.
As NCB's presence is less, it does coordination with state police and go after drug suppliers and traffickers. Ganja grows wild in some places. Some people also grow poppy. So NCB also coordinates with state agencies to destroy the illegal illicit poppy cultivation and commercial quality cannabis cultivation.
Not only them, but certain types of authorized government officers (officials of customs, excise departments) also have the powers to conduct and arrest or search.
Provisions of law to deter routine consumer and petty suppliers. The NDPS law covers commercial quantity and non-commercial quantity. There is schedule in that in which quantity of drugs is fixed and commercial quantity is defined. The punishment for possession of commercial quantity of narcotics drugs are very high and for peddlers and consumers is less.
Ill effects of drugs
It breaks the body
Spoils the person emotionally, physically and socially.
The drugs are addictive. Once addicted, the person cant live without it. This destroys the whole person and family.
Way forward
NCB in collaboration with state agencies and concerned ministries, organizes awareness campaigns. Awareness campaign is also a continuous process. Other agencies such as social welfare or health department have to also contribute in this fight against drug menace.
De-addiction and demand reduction is important. Demand reduction is also a job that the government agencies will have to ensure. For demand reduction, there are addition centres. The ministry of social justice and empowerment gives money to some NGOs to work in this field.
There should be rehabilitation in society. It is difficult to get the addicted people back to creative level so government has to make necessary and sufficient rehabilitation centres with required resources to bring people back to mainstream society.
If a common man has information about drug supply chain or peddlers or wants to inform about someone suffering from this menace, they can contact NCB. For supply reduction, they can contact state director.
Public campaign- anti-drug consumption campaign could be launched with more vigour, starting from school children particularly of higher grades. There are marathons, walkathons on this issue. There are advertisement placed in railways and metros.
Collaborate at international and multilateral forums so as to ensure that those foreign jurisdictions also act to stop the supply into India. There are various bilateral agreements and treaties with countries in which sharing of information and facilitating investment is also important.
Border guarding forces see that drugs don't enter India.
As a society, "say no to drugs". Make efforts to take action against them who are involved in supplying drug to drug traffickers. At least the youngsters do not fall prey to this menace in the times to come should be the aim. It is not a cool thing to do which can be done once for trial and get out of it quickly. Also, they should be made aware to not get into peer pressure.
Connecting the dots:
Drug menace has the capacity to ruin India's demographic dividend. Explain how India as a society and sovereign country tackle this issue.
For a dedicated peer group, Motivation & Quick updates, Join our official telegram channel – https://t.me/IASbabaOfficialAccount
Subscribe to our YouTube Channel HERE to watch Explainer Videos, Strategy Sessions, Toppers Talks & many more…