SYNOPSIS : IASbaba's Current Affairs Focus (CAF) Mains 2017: Day 15
---
1. What is International Solar Alliance? Describe its objectives. Why is it significant for India? Examine.
Introduction:
International Solar alliance is an international partnership between 121 countries lying between tropic of cancer to tropic of Capricorn who have access to sunlight all-round the year to harness solar energy to produce electricity. It was founded by India and France in 2015 at Paris climate summit.
Body:
Objectives:
promote solar technologies, new business models and investment in the solar sector to enhance prosperity
formulate projects and programs to promote solar applications
develop innovative financial mechanisms to reduce cost of capital
build a common knowledge e-Portal
Facilitate capacity building for promotion and absorption of solar technologies and R&D among member countries.
Significance:
Energy security: will provide energy security for India.
Renewable energy: Can achieve its target of renewable energy.
Emission: its commitment to reduce carbon emission at climate change summit.
Employment: opportunity for youths.
Technology: high level technology in solar energy can be accessed.
Innovation: More opportunity for innovation in renewable energy.
FDI: More investments from other countries in solar energy field.
Conclusion:
With increasing global warming and US pulling out of Paris climate pact, India can utilize this opportunity to lead the world with example for climate change and also take up leadership role in solar energy field in terms of production and innovation.
---
2. What is Carbon Tax? Examine its feasibility in India.
Introduction:
A carbon tax is a penalty imposed on users of fossil fuels like coal, to pay for the damages they cause for climate and environment in form of carbon emission which will motivate them to switch for cleaner fuels. It was introduced in 2010 and now stands at Rs. 400 per tonne.
Body:
Feasibility of Carbon Tax in India:
Negatives:
Price Increase: It will eventually lead to increase in prices of products and commodities as fuel is directly linked to all of them.
Poverty: It will hit people in lower economic ladder like BPL families harder as they have to shell out more portion of their income in basic items.
Growth: It might affect the growth of country as India depends much on fossil fuels as of now.
Revenue: The corporates revenues and profits might take hit.
Employment: It might lead to loss of employment as companies will look to cut down on man power expenses to raise profits.
Strikes and lock downs: Due to increase in prices of general commodities, opposition political parties and people might hit streets to reduce the same.
Positives:
Renewable Energy: Might come a competitive segment and due to more switches the prices might come down.
Innovation in renewables: Many new innovations might take place.
Off grid: It might encourage urban population to invest in off grid energy technologies and reduce burden on government as providers.
Conclusion:
Carbon Tax is a very good initiative but in developing country like us it might hit hard on lower strata of population. Also it will take political colors and no party in power would like to increase the penalty as it might affect their chances of winning elections which is very important for any government.
---
3. Comment on climate change vulnerability of Indian agriculture. Also examine the need for climate smartness in agriculture in India.
Introduction:
Agriculture is extremely vulnerable to climate change. Indian agriculture faces the dual challenge of feeding a billion people in a changing climatic and economic scenario. The Agriculture Ministry recently informed the Parliamentary Standing Committee on Agriculture that India is losing $9 to 10 billion every year in extreme weather events and that agricultural productivity is likely to fall by 10 to 40 percent by 2100 due to climate change.
The impacts of climate change on agriculture will be severely felt in India.
It has been projected that under the scenario of a 2.5°C to 4.9°C temperature rise, rice yields will drop by 32%-40% and wheat yields by 41%-52%. This would cause GDP to fall by 1.8%-3.4%.
Instances of heat waves and cold waves risking both crop growth and lives of farmers.
Increasing intensity of droughts and water scarcity will result in large-scale crop loss and rural distress.
Climate-smart agriculture (CSA) in India:
CSA addresses the interlinked challenges of food security and climate change. It broadly works on three parameters-
Sustainably increasing agricultural productivity and farmers' incomes from crops, livestock and fish, without having a negative impact on the environment. This, in turn, will raise food and nutritional security.
Adapting to climate change. Reducing the exposure of farmers to short-term risks, while also strengthening their resilience by building their capacity to adapt and prosper in the face of shocks and longer-term stresses. Practices such as inter-cropping, multiple cropping and crop rotation are some of the practices farmers are using to fight climate change.
Reducing greenhouse gas emissions (GHG), wherever possible.
Avoiding deforestation from agriculture, managing soils and trees in ways that maximizes their potential to acts as carbon sinks etc.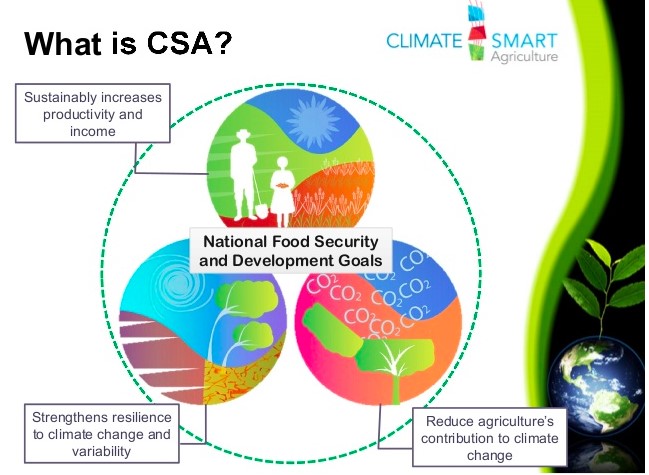 Pic credits: https://csa.guide/sites/default/files/images/WhatisCSAFig1.jpg
Initiatives taken: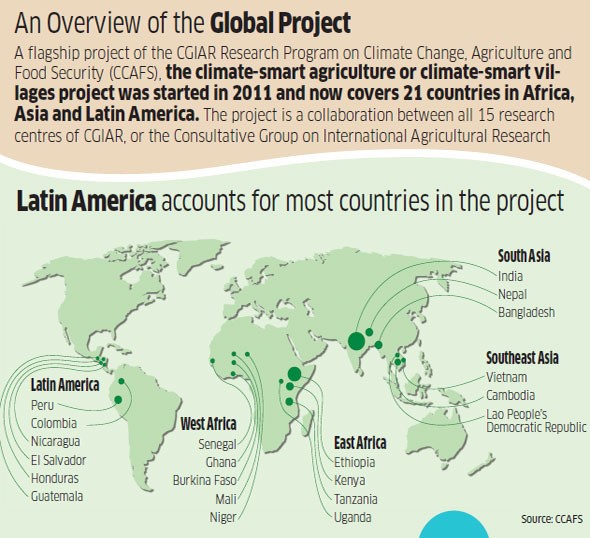 Pic credits: https://img.etimg.com/photo/52168767/untitled-1.jpg
The CCAFS project now includes 70 villages in Punjab, Odisha and Karnataka, besides Haryana and Bihar. Punjab and Haryana were among the states transformed by the Green Revolution in the 1960s. A similar project of the Indian Council of Agricultural Research, called National Innovations in Climate Resilient Agriculture, has now covered 151 villages across the country and plans to add another 100.
Conclusion:
Thus, climate smart agriculture is the way forward if the growing population of India is to have food security. It also will help in checking greenhouse gas emissions from the agriculture sector.
---
4. South Indian states are experiencing unprecedented drought. What are the factors for this drought? What can be done about it? Discuss.
SYNOPSIS:
A drought is a period of below-average precipitation in a given region; resulting in prolonged shortages in the water supply, whether atmospheric, surface water or ground water.
FACTORS CAUSING DROUGHT:
While the frequency of extreme weather events is rising because of climate change, experts say that the prevailing crisis is a combination of governance and policy failures
The Irrigation Commission of India has identified 67 districts in the country that are drought prone. Some of the states that have been identified as drought prone include Rajasthan, Odisha, Andhra Pradesh, Northern Karnataka and Tamil Nadu
Inadequate or failure of monsoons is a major reason for droughts in India. Shortage of North east monsoons in Tamil Nadu and AP and less than average monsoons in Karnataka,Telangana and Kerala as much as 37% as forecasted by IMD.
Deforestation, changes in the vegetation type and drainage issues are some of the changes in the landscape that have caused droughts for example increased urbanization in Kerala have reduced rubber and coconut plantations.
Hydrological Drought-This kind of drought is caused when water reservoirs, man-made and natural, experience depletion due to high temperatures.
Inadequate agricultural practices -Rainwater harvesting and creating storage and reservoirs for storing water is an important and essential step to prevent droughts. However, in many regions such practices are not followed and this results in severe losses in case of droughts.
MITIGATION MEASURES:
Farmers should be advised to adopt techniques such as in-situ moisture conservation, on farm water conservation, ridge furrow sowing, promoting suitable agronomic practices including mulching, inter cropping, mixed cropping, sowing of less water consuming crops etc.
States should be requested to construct water harvesting structures, restore irrigation infrastructure by desilting canals;energizing tube wells, replacing/repairing faulty pumps and arranging power to meet irrigation needs.
States should be advised to ensure availability of short duration and drought tolerant varieties of seeds so as to be in a position to supply them to farmers in case such a need arises.
States should be advised to keep asides 10% of funds available under PMKSY and other schemes for undertaking appropriate interventions to mitigate any situation arising out of deficient rainfall.
Livelihood diversification is an essential part of the drought response strategy. This involves risk mitigation through the development of multiple livelihoods and by formation and support of self-help groups.
States must create district level plans which address local issues of availability of drinking water and fodder as well as the establishment of cattle camps and provision of food for those in need. For example, the State of Maharashtra has launched the Jalyukt Shivar Abhiyan in which village level plans have been prepared to renovate and rejuvenate water bodies to improve water security.
Crop insurance schemes like PMFBY should be made unconditional and with universal coverage.
---
5. Why predicting monsoons in India is a tricky job? Explain. IMD has adopted new methodology to forecast monsoon in India. Examine its features and advantages.
Predicting monsoons in India is a tricky job. Since India falls in the tropical region, the fluctuations in the weather conditions are more frequent than anywhere else in the world. With changing weather predictions, the parameters also frequently change, thereby having an effect on the forecast. After factoring in the wild weather patterns in the region and the use of a novice forecasting model, India would have to wait and see to fully analyse the accuracy of the predictions.
Dynamic Weather Prediction Model
A dynamic weather prediction model involves 3D mathematical simulation of the atmosphere on computer. Dynamic models are especially useful for predicting rainfall over smaller spatial and temporal scale, which is not possible in the statistical forecasting system. With dynamic models, we will be able to provide monthly forecasts for every state. Dynamic models have several advantages.
The dynamic model, also known as the Coupled Forecast System, is based on faster computing to improve short-range forecasts. It provides the flexibility to upgrade forecasts for specific regions and enables collation of data on local as well as global weather patterns to simulate a forecast for a specific duration.
They can be used along with agriculture and hydrological models. They can be used for many more purposes than rainfall prediction. One can get real-time information on wind, temperature and humidity in digitised format. Earlier system and its limitations India earlier used statistical forecasting system. Statistical models require lengthy calculations to track the southwest monsoon. The model uses historical relationships between rainfall and six to eight predictors such as sea-surface temperatures and southeasterly winds over the Indian ocean.
Failure in prediction: For instance, IMD couldn't predict the oncoming droughts in the years 2002, 2004 and 2009. Also, from 1988 to 2010, the IMD has been able to successfully predict the monsoon only nine times which translates to a success rate of a mere 40 percent. · It gives forecasts for the country as a whole and five regions, though does not give separate ones for the country's 29 states. Because of India's size, one national forecast is of little help to farmers spread across diverse climatic zones.
Benefits
Weather forecast systems under the National Monsoon Mission (NMM) will be extended up to the block level across the country by 2019. It would help the farmers, policy makers, administrators and all concerned alike.
It will be possible to predict droughts. Fallout of droughts like those of 2004 and 2009 could be prevented if we're able to warn farmers in advance.
better forecasting could help India raise its farm output by nearly 15 percent, by helping farmers tweak the best time to sow, irrigate or apply fertilizer to crops and if rains fail plan state-wide measures.
Also, better forecasts resulting in better farm outputs can stabilise the inflation level and thereby provide for effectual transmission of monetary policies in the economy.
For a dedicated peer group, Motivation & Quick updates, Join our official telegram channel – https://t.me/IASbabaOfficialAccount
Subscribe to our YouTube Channel HERE to watch Explainer Videos, Strategy Sessions, Toppers Talks & many more…