PHASE 2 OF MAINS ANSWER WRITING C2C for 2018 MAINS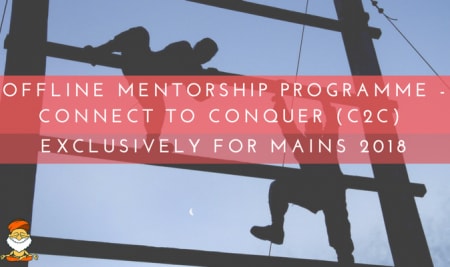 Hello Friends
While Prelims is round the corner and you are breaking your sweat to get a chance to write Mains this year, we will take 5 minutes of your time to draw your attention to the initiatives that are lined up post Prelims.
We wanted to announce the details only after Prelims. However, we have been receiving frantic mails from our followers regarding the Connect to Conquer (C2C) initiative- IASbaba's flagship offline Mains guidance programme. In fact, many rank holders and candidates having appeared in the interview have been pressing us to reveal the details of C2C soon. Surely, it has got to do with the tremendous success that IASbaba's followers have got in CSE 2017 (more than 75 selections with 12 in Top 100!) and also the popularity that C2C has received in the very first year of its announcement.      
C2C is a mentorship-based answer writing initiative that has been designed to make you capable of answering the questions asked in General Studies and Essay in the most effective (read scoring) way possible.
C2C gives you a chance to connect with the best mentors at IASbaba and get your skills monitored, honed and upgraded to let you secure a place in the final list. The USP of this initiative is the connect that you get to establish with your mentor. Believe us, it helps a lot. The mentor is your friend, philosopher and guide in this process. You will enjoy the process even as you devote your maximum energy and time to keep pace with the course plan.  
Hear from our students about C2C Phase 1
While we could have easily launched a test series inviting hundreds of candidates and formed a peer group for them without effort from our side, we decided to choose quality over quantity.
We know that individual strengths and weaknesses vary from person to person and in order to get through this examination one has to have personal attention and guidance. That is why we are here with C2C.
We have decided to keep the numbers limited to 100, which means that not all will get the opportunity to become a part of C2C. But we can't do much about that now as we know that taking too many candidates would dilute the very purpose of this programme.
---
The features of (C2C) are:
Small groups of 15 candidates each having their own mentors to connect with.
16 high quality and high order thinking tests (12 part tests and 4 full-length tests of GS excluding 4 Essay tests) to be conducted under strict supervisions and monitoring of the mentors. (Click here to download the sample test)
Approach paper (Click here

to download the sample) given in advance to streamline your preparation.

Same day high-quality synopsis (Click here

to download the sample) and individual feedback from the mentors.

Booklets of tests to be corrected by the mentors in a week's time.
Regular tracking of your progress through intensive one on one session with your mentors.
Provision of customised solutions for each candidate as per his/her needs and strengths.
8 highly specialised sessions under the Series of Interactive Lectures (SOIL) to help you grow your analytical ability in areas like Essay and General Strategy, Polity, Indian Society, International Relations, Internal Security, Economics and Ethics.
IASbaba provides uniques 5 day strategies for GS 1,2,3 and 4 papers.
Mentor moderated group discussions (GD) within and with the groups for helping you develop a critical perspective of the issues in hand.
---
The detailed schedule of the tests is given below. The tests would start from 23rd June as we feel that you need at least three weeks to rejuvenate and shift your gears from Prelims to Mains mode. You can use these days to warm up and get ready for highly intense and compact three months of Mains preparation.
---
---
After the completion of the programme, you would have:
Practised more than 300 subjective questions.

Gained in-depth perspective of 300 issues with the help of synopsis.

Improved yourself a lot with the help of critical inputs from your mentor.

Developed the ability to answer any type of question asked by UPSC.

Formed a highly energetic, compact and competitive group of sincere aspirants into a social capital.

Gained the wherewithals to conquer Mains 2018!!
Imperatives for C2C:
The candidates need to relocate to Bengaluru for C2C.

It's compulsory to attend all the tests in the C2C Building. If you take the tests home, it won't be evaluated.

Candidates must adhere to timings for discussion of tests and one on one slots.

C2C is an intensive mentorship programme, therefore, regularity and sincerity is a must.
Fee Structure:
Will be conveyed over the mail to selected candidates.
---
You will need to apply for this programme by filling up the form given below and submit to us at the earliest.
---
However, we recommend that you assess your chances in prelims and only then apply. Selected candidates will be sent an invite through e-mail. The admission process will be over by 16th June.  
We are also going to have a list of waitlisted candidates who might get a chance to be a part of C2C. The invites to such candidates shall be sent separately subject to availability of seats.
We are also getting many queries regarding the online version of C2C. Although we are planning to launch online C2C from next year onwards, this year it won't be there. However, candidates can get benefited from IASbaba's most popular online answer writing programme- Think Learn and Perform (TLP). It's free and may UPSC toppers have acknowledged the role of TLP in their success.
As for optionals, the details will be shared soon. We provide mentorship based answer writing guidance in Geography, Anthropology, Kannada, Public Administration and Sociology. Guidance for optionals will run parallel to C2C.
Finally, we extend our warmest wishes for Prelims. If you have been sincere and consistent in your preparation, no one can stop you from achieving your goal.
All the best and see you after Prelims!
IASbaba Team
Contact Email- support@iasbaba.com
For a dedicated peer group, Motivation & Quick updates, Join our official telegram channel – https://t.me/IASbabaOfficialAccount
Subscribe to our YouTube Channel HERE to watch Explainer Videos, Strategy Sessions, Toppers Talks & many more…