IASbaba's Daily Current Affairs (Prelims + Mains Focus)- 14th December 2017
---
(PRELIMS+MAINS FOCUS)
---
India-ASEAN Commemorative Summit 
Part of: Mains GS Paper 2- Global groupings affecting India's interests
Key pointers:
Marking India's 25 years of partnership with the ASEAN, the Modi government seeks to augment its ties with the 10-member regional grouping in the coming year.
An India-ASEAN Commemorative Summit that will be held on January 25.
The theme of the summit, 'Shared Values, Common Destiny'. It will have a special focus on 3 Cs – Commerce, Connectivity and Culture.
Commerce- The most contentious part of the relationship, is bilateral trade between India and ASEAN. While the free trade agreement on goods have been in place since 2010, the pact on services trade have not yet been ratified by Philippines, Laos and Cambodia. It was signed in 2014.
ASEAN is India's fourth largest trading partner. Bilateral trade between India and ASEAN reached $70 billion in 2016-17, up from $65 billion in 2015-16.
Connectivity- With connectivity at its core, the summit will also seek to discuss the progress achieved so far in some of the crucial projects such as the Kaladan multi-modal transit transport corridor and India-Thailand Trilateral Highway. Efforts will be made to expedite these projects.
On the trilateral highway, efforts are being taken to complete the project by 2019 and then extending it to the CLMV (Cambodia, Laos, Myanmar and Vietnam) countries.
Article link: Click here
---
Controlling organised crime: Uttar Pradesh
Part of: Mains GS Paper 2-
Key pointers:
The Uttar Pradesh Cabinet recently cleared Control of Organised Crime Bill, 2017, it will allow the government to attach "illegal" property of those booked under it.
Those found involved in extortion, kidnapping for ransom, illegal mining, manufacturing or sale of fake drugs, and encroachment or trespassing in an organised manner will come under the ambit of the proposed law.
An Organised Crime Control Authority, chaired by the state's Principal Secretary (Home) at the state-level and district magistrate at the district-level, will monitor cases under the proposed law. This authority will also hear appeals against registering cases under it.
Another appelate body, headed by a retired judge, will hear appeals against the authority's order, the Bill says.
Once passed, those booked under it will be unable to get any government security.
Article link: Click here
---
Future of jobs in India 
Part of: Mains GS Paper III- Inclusive development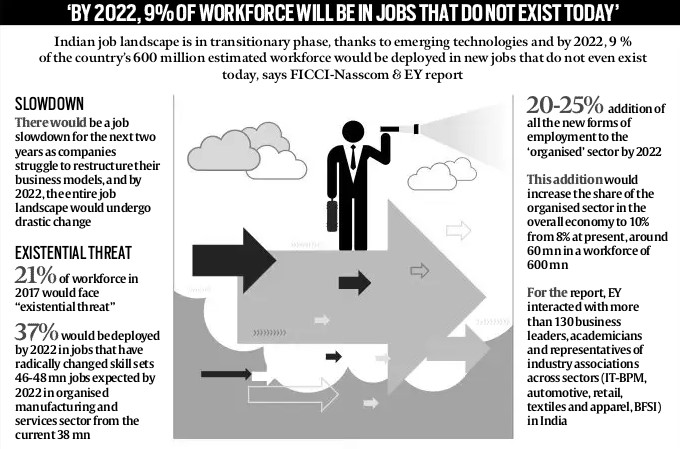 Pic credits: Indian Express
Akshara Sagaram: Kerala literacy program
Part of: Mains GS Paper 2-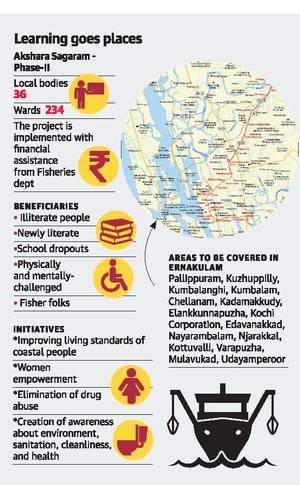 Pic credits: http://www.thehindu.com/todays-paper/article21617664.ece/alternates/FREE_300/KSLMA-to-roll-oGC631S9E91jpgjpg
Key pointers:
Akshara Sagaram is an ambitious literacy programme for coastal areas. by rolling it out in three more districts, including Ernakulam.
The project is being implemented by the Kerala State Literacy Mission Authority.
Illiterate people, newly literate, school dropouts, physically and mentally-challenged people, and all fisherfolks who have not cleared fourth standard have been identified as potential beneficiaries.
Improving the living standards of coastal people and coastal area protection measures, women empowerment, elimination of drug abuse, creating awareness about environment, sanitation, cleanliness, health, and various welfare programmes and services provided by the State government have been identified as the other immediate benefits of the project.
Article link: Click here 
---
(MAINS FOCUS) 
---
NATIONAL
TOPIC:
General Studies 2:
Government policies and interventions for development in various sectors and issues arising out of their design and implementation.
General Studies 3:
Indian Economy and issues relating to planning, mobilization of resources, growth, development and employment.
Encouraging entrepreneurship in India
Introduction:
Demographic trends in India, the second most populous country in the world, suggest that a million people join the labour force every month. This amounts to 12 million Indians joining the labour force every year, which is more than the entire population of Sweden.
The question arises- Are there enough jobs?
More important question is- Who creates jobs?
Issues with Indian entrepreneurship:
Slow pace of entrepreneurship-
India produces too few entrepreneurs for its stage of development. The pace of creation of new businesses and new start-ups in India is low compared to the rest of the world ("Entrepreneurship, Growth And Job Creation, In Reshaping Tomorrow", World Bank).
A slow pace of entrepreneurship is associated with a slow pace of job creation.
A detailed examination of enterprise in 600 districts in India confirms the strong relationship between new start-ups and subsequent job growth. Districts in India that embraced entrepreneurship have experienced faster job growth.
Lopsided entrepreneurship-
There is huge heterogeneity in entrepreneurship within India, with new establishments concentrated in a few places.
There is extensive evidence of agglomeration economies. For a city, start-ups are more frequent in industries that share common labour needs or have customer-supplier relationships with the city's incumbent businesses.
Which district traits encourage local entrepreneurship?
The two most consistent policy factors that predict overall entrepreneurship in a district are:
Its local education levels.
The link between education and entrepreneurship has strong roots. Education improves skill and spreads ideas more quickly.
The quality of local physical infrastructure.
Good physical infrastructure is essential to supporting entrepreneurship, economic growth and job creation. Goods and services cannot be produced, or jobs created, without access to roads, electricity, telecommunication, water, education and health.
Way forward:
Narrowing the knowledge gap and strengthening infrastructure-
Programmes that promote education in poorer districts can increase the supply of potential entrepreneurs, provide broader benefits to the communities, and enhance equity.
There are limits to the pace at which India can accumulate physical capital and invest in physical infrastructure, but there is no limit to the speed with which India can close the gap in knowledge.
Policymakers have the responsibility of providing infrastructure.
Districts become more competitive when they are livable, have good infrastructure, are well-governed, invest more in urban knowledge generation and capacity- building and work through strengthened public and private partnerships at the local, national, and international levels. They will attract more entrepreneurs and create more jobs
Focusing on areas where future of jobs lies:
The jobs challenge faced by India will be shaped not just by how India invests in physical and human infrastructure, but by global trends towards increasing use of digital technologies. Many more new jobs will be created in modern services.
The future of jobs will be driven more by education and skills than in the past. Policymakers will need to introduce innovations in the content and delivery of education.
The potential of technology-enabled solutions, supported by a stronger foundation of digital literacy, will go a long way in putting the future of jobs on a stronger footing.
India's strength in entrepreneurship lies in its small enterprises. They are now well integrated in global supply chains. Thus, there is a need to promote small enterprises.
Women-headed entrepreneurship will become the new driver of job growth in the future. The schemes like Standup India needs to be implemented in an effective manner.
Conclusion:
The policy message on entrepreneurship and job growth is simple. Local governments wanting to promote pro-entrepreneurial growth should focus less on firm-casing —attracting large mature firms from somewhere else—and focus more on encouraging entrepreneurship in their community. Districts that have a higher level of local education and better quality of local infrastructure will attract many more entrepreneurs and create many more jobs.
Connecting the dots:
Local governments wanting to promote job growth should focus on encouraging entrepreneurship in their community and this can be done by ensuring better education and better quality of local infrastructure. Discuss.
---
NATIONAL
TOPIC:
General Studies 1:
General Studies 2:
Government policies and interventions for development in various sectors and issues arising out of their design and implementation.
Welfare schemes for vulnerable sections of the population by the Centre and States and the performance of these schemes
Workplace Equality
Background:
#metoo campaign-
A blog post chronicling Susan Fowler's experiences as a female engineer at Uber set in motion events that led to the chief executive officer's dismissal. From that lone voice almost a year back, the conversation around workplace harassment has now become mainstream.
With the #metoo campaign bringing to the surface a new name every week, thousands of women all over the world are openly sharing experiences of the harassment they have faced in society and in the workplace.
Fallouts of harassment at workplace:
The careers of many women gets stunted or destroyed by such behaviour.
The loss of talent is real.
According to one data, about 80% of women who experience harassment leave their jobs within two years.
Their research also indicates that a woman's career stagnates after she experiences harassment at the workplace.
These women often choose to work in an environment perceived to be safer, but perhaps disconnected from their field of interest.
There is also a long-term cost on a woman's well-being.
Successive studies have documented the mental health impacts of being a victim, from depression to loss in confidence.
More importantly, scientists have found evidence that harassment early in the career has long-term effects on depressive symptoms.
It's not just the employee that suffers.
In the US, employers paid about $125 million in the past two years to settle claims through the equal employment opportunity commission (EEOC).
In Indian context:
Unlike the US, India doesn't have a body overseeing workplace equality. The sexual harassment law, while welcome, is fairly recent, with little or no oversight. It's not easy to bring class-action suits to hold powerful men accountable.
The burden of reporting harassment at work or in society lies on the individual facing it.
Faced with the prospect of a long and frequently insensitive legal recourse, most women choose to move on. In the process, their careers suffer.
Policymakers frequently lament the dismal number of women students in science, technology, engineering and mathematics (STEM) fields. Girls formed only 8% of the total students enrolled in the Indian Institutes of Technology in 2016.
A recent study of over 4,000 students from the University of Delhi showed that women are more likely to choose a college that is perceived to have a safer commute, even if it isn't the top choice academically.
Way ahead- Increasing the diversity:
Women, not men, are the solution for solving the issue of sexual harassment. The increasing number of women in leadership positions has a direct effect in preventing harassment.
In male-dominated industries such as mining or construction, far more women report sexual harassment than in other fields. In comparison, female-dominated and gender-balanced fields, such as education, shows less tolerance of hostile behaviour.
The correlation is more pronounced with underrepresented groups. Male-dominated management teams are more likely to tolerate, sanction or even expect, aggressive behaviour from peers. This leads to what we often call the 'bro-culture'—a culture of complicity where complaints are not taken seriously.
Companies with a diverse leadership are more sensitive to such complaints.
Conclusion:
If the #metoo movement is to be a watershed in workplace equality, the harasser, not the harassed, should suffer the consequences. Perhaps it's time to consider safety along with social and economic variables to explain the skewed gender ratio.
Connecting the dots:
Safety is an important variable that explains skewed gender ratio in India. Analyze.
For ensuring workplace equality an important step would be ensuring diversity. Discuss.
The #metoocampaign showed how thousands of women all over the world have faced harassment in society and in the workplace. Discuss the negative effects of harassment on those harassed. Also suggest way forward.
---
MUST READ
A tale of two metro rails
The outsider
Health tips
Who is a Hindu?
Regarding the verdicts
Why India needs a green manifesto?