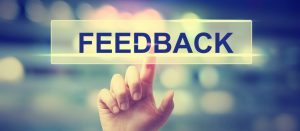 Feedback:
As the word itself suggests, feedback is a returning of information, ideas and concepts once they hit the intended target and return back. Ya I know, it sounds like a physics experiment. But feedback is quite literally a physical experiment. Feedback is the most scientific form of measuring progress.
Without feedback there cannot be any scientific exploration. Feedback forms the bulk of all experimentation. Just imagine if Edison decided to create an electric bulb and each time he received a feedback that it is not working, he simply ignored the message. Without feedback it would have been impossible for him to make the necessary course corrections to reach his target.
Your life is nothing but a scientific experimentation of different ideas, concepts and pathways. The whole objective is to get the formula right. If life is a scientific exploration, then feedback comprises of almost 90% of it. Without understanding the importance of feedback all your efforts will be in vain.
It is very easy to be prejudiced while analyzing a feedback. This is the reason why most people are afraid of honest feedback. It takes a little bit of courage to look at feedback objectively to try and learn from them. This is why it is important to understand the obstacles for honest feedback.
The first and the most important obstacle is reluctance to change. Change is a difficult concept for the mind to grasp. The mind simply wants to travel along already set thought patterns; it refuses to change. This is reason change is a painful process. You cannot change without going through certain discomfort. In order to avoid this discomfort, the mind ignores honest feedback.
The second important obstacle for feedback is preconceived notions and ideas. It takes a little bit of practice to look at feedback objectively without subjecting it to cultural, religious, social, economic, individual and other prejudices. It is very easy to through a concept or an idea heavily loaded with personal prejudices to block an honest feedback.
Even simple progress becomes enormously difficult when you block honest feedback. Another reason for prejudiced feedback is unknown fear. There is a general tendency for the mind to be afraid of something that it isn't familiar with. More often than not feedback can open up doors for new possibilities. A mind that is filled with fear usually refuses to see those opportunities.
A keen scientific eye is required to observe, watch and learn from the feedback of life. Analyzing feedback with a prejudiced mind is like conducting a scientific experiment drunk; you will obviously get the data wrong. The greatest art is learning how to see things just the way they are, not the way you want to see them. Pure objective observation solves most issues of accepting honest feedback.
"The articles are a copyright of The Ahamo Movement and IASBABA."
For a dedicated peer group, Motivation & Quick updates, Join our official telegram channel – https://t.me/IASbabaOfficialAccount
Subscribe to our YouTube Channel HERE to watch Explainer Videos, Strategy Sessions, Toppers Talks & many more…