IASbaba's Daily Current Affairs (Prelims + Mains Focus)- 9th May 2018
---
(PRELIMS+MAINS FOCUS)
---
Animal-free testing for drugs
Part of: GS Prelims and Mains II and III – Role of CSO/NGOs; Environment and Biodiversity
In News:
Indian Pharmacopoeia Commission (IPC) approves modern animal-free testing for drugs.

IPC replaces the

pyrogen test

and the

abnormal toxicity test

carried out on animals

with tests that can be done in test tubes

.

New testing methodology – IPC suggests bacterial endotoxin test or a monocyte activation test which can be carried out in test tubes. (Animal-free testing)
Why this decision?
IPC's decision is a step towards animal safety – it would spare animals from suffering due to drug experiments.

Role of NGO/CSO – People for the Ethical Treatment of Animals (PETA) has been pushing for doing away with the cruel methods of testing on animals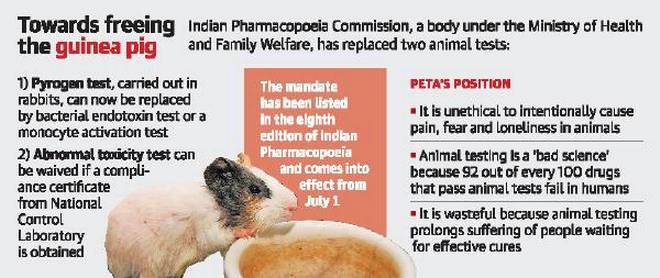 Pic link: http://www.thehindu.com/news/national/article23815683.ece/alternates/FREE_660/guinea%20pigcol
About:
Pyrogen test
The pyrogen test is carried out to check impurity or substance that can cause adverse side-effects. For the test, the drug is injected into a rabbit and the animal is closely observed for feverish symptoms.
Abnormal toxicity test
The abnormal toxicity test is carried out to check potential hazardous biological contamination in vaccine formulations.
Important Value Additions:
About Indian Pharmacopoeia Commission (IPC)
IPC is an Autonomous Institution of the Ministry of Health and Family Welfare.

IPC is created to set standards of drugs in the country. Its basic function is to update regularly the standards of drugs commonly required for treatment of diseases prevailing in this region.

It further promotes rational use of generic medicines by publishing National Formulary of India.
Article link: Commission approves modern animal-free testing for drugs – The Hindu
---
UN Economic and Social Survey of Asia and the Pacific 2018
Part of: GS Prelims and Mains III – Economy and World Affairs; International Organizations
In News:
Economic and Social Survey of Asia and the Pacific 2018 – is the latest flagship publication of the United Nations Economic and Social Commission for Asia and the Pacific (ESCAP).
UN report on the Asia-Pacific region has urged –
regional powers to invest in inclusive and sustainable growth

regional countries to take advantage of high growth rate and share the benefits with the national society

The report described South and Southwest Asia as the fastest growing sub-region of the Asia-Pacific region and urged the countries to increase social spending.

For less developed countries, the role of external sources of finance, such as official development assistance, South-South cooperation, and global development partnerships… remains critical.
The report was launched at the Indian Council for Research in International Economic Relations (ICRIER)
Important Value Additions:
The Economic and Social Survey of Asia and the Pacific 2018 contains an examination of how Governments of countries in the Asia-Pacific region could increase domestic public financial resources and leverage private capital to strengthen their long-term economic prospects.
Article link: UN report for social inclusion
---
Cyclone Mora and Cyclone Ockhi
Part of: GS Prelims and Mains III – Disaster and disaster management.
In News:
Defence Minister Nirmala Sitharaman highlighted the Navy's responses to numerous crisis situations around the IOR in the last year (esp. during Cyclone Mora and Ockhi).
Important Value Additions:
Cyclone Mora
Mora was a strong tropical cyclone that caused widespread impacts by devastation and severe flooding across Sri Lanka, Andaman and Nicobar Islands, Bangladesh, Myanmar and Northeast India in May 2017.
Mora developed from an area of low pressure over the southeastern Bay of Bengal.
Cyclone Ockhi
Cyclone Ockhi was named by Bangladesh after the Bengali word for "eye" and is considered to be the most intense cyclone to transverse the Arabian Sea since 2015's Cyclone Megh that affected Oman, Somalia and Yemen, killing 18 people. Originating near Sri Lanka over the Bay of Bengal on November 29, Cyclone Ockhi moved over the Arabian Sea via Kanyakumari, triggering heavy rains and high speed wind.
Do you know?
According to weather reports and experts, the coastal region of Bangladesh is prone to storm surges and that the topography along with high population density has earlier resulted in eight out of the top ten 'deadliest' cyclones to originate in the Bay of Bengal.
Frequency of the cyclones is lower in Arabian sea when compared to Bay of Bengal
Bay of Bengal being a closed and a smaller water body, it has higher surface temperature compared to Arabian sea.
North Western region of Pacific ocean has the highest proportion of global tropical cyclones. These cyclones which originate in the Pacific ocean start moving towards south western direction and finally reach Bay of Bengal. But by the time they reach, they almost lose their energy and only remnants of cyclones reach Bay of Bengal. Similarly the cyclones originated in Bay of Bengal reach Arabian sea but only remnants of cyclones after shedding their energy while traversing over the peninsular landmass.
---
(MAINS FOCUS)
---
NATIONAL/SECURITY
TOPIC:General Studies 3:

North East Issues – Nagaland Issue
Role of external state and non-state actors in creating challenges to internal security.
Challenges to internal security through communication networks
Security challenges and their management in border areas; linkages of organized crime with terrorism.
Forging peace in Nagaland
Important Note:
For those who are not aware of Nagaland issue, IASbaba recommends you to read our old article – NAGALAND ISSUE: FULL STORY
After reading above article, one should be aware of the following –
Why Nagaland issue originated?

Basic idea of Naga National Council (NNC), Naga Federal Government (NFG) and Naga Federal Army (NFA)

Failure of 1967 Peace Mission

1975 Shillong Accord

Thuingaleng Muivah and group refuses to accept Shillong Accord – Formation of National Socialist Council of Nagaland in 1980

1988 Split – National Socialist Council of Nagaland split into NSCN (IM) and NSCN (K)

NSCN (IM) and NSCN (K)

1997 ceasefire agreement with NSCN (IM)

Naga Framework Agreement, 2015
Key Pointers from Editorial:
We know that, on Aug 3, 2015, Framework Agreement was signed between Union government and the National Socialist Council of Nagalim (Isak-Muivah), or NSCN-IM.
Idea of a pan-Naga Hoho (a proposed statutory body as part of the Framework Agreement) that will enjoy independent executive and budgetary powers to look after the welfare of Naga inhabited areas outside Nagaland – has raised expectations among the Naga people but also apprehension in neighbouring Assam, Arunachal Pradesh and Manipur.
Neighbouring states that have been created after due consideration of a number of factors and their geographical boundaries clearly mapped out can hardly be expected to take kindly to any attempt at rearranging those boundaries.
The editorial deals with few questions –
Why should National Socialist Council of Nagalim (Isak-Muivah) headed by a Tangkhul Naga decide the future of the Nagas of Nagaland vide the Framework Agreement?

Why large sections of the population have no say? So what democracy are they talking about?
Why NSCN-IM?
NSCN-IM had, for several decades, used the gun to silence its detractors, and indulged in large-scale extortion and imposed its diktat on the Nagas.
It has also tried to sabotage platforms such as the Forum for Naga Reconciliation for alternative discourses on the peace process.
But to be fair to the NSCN-IM, its leaders have remained steadfast to the goal of wresting an "honourable settlement" for the Naga people from the Government of India.
Moreover, even today the tribes of this region are not influenced by the "Indian" culture. They are proud inheritors of a unique culture.
The Nagas contend that they never signed the Instrument of Accession to India (which the Khasi chieftains of present-day Meghalaya and the Maharajahs of Manipur and Tripura did) and hence cannot be made prisoners to a Constitution they never had a hand in crafting.
Today it is those in Naga civil society and political leaders who make visits to Delhi to prevail upon the 'Indian' establishment to take a more pragmatic view of the peace deal.
The way ahead:
Nagas must admit that they have journeyed a long way with the rest of India. Both have developed a comfort level with each other. Therefore, it is time to shed political egos and move on keeping in mind the best interests of the next generation of aspirational Nagas.
A comprehensive plan with flexibility that is prepared on the ground in broad consultation with stakeholders for development of the region is the need of the hour.
It is understandable that without significantly developing all the states in the Northeast, realising the vision of the Act East policy from all dimensions remain to be a difficult proposition.
There is a need to comprehensively engage India's Northeast with the strategic community based in New Delhi and to transform the NER as a gateway for trade and commerce with ASEAN countries.
For any meaningful outcome, all factions of the undergrounds even including overgrounds, shall have to be involved, otherwise piecemeal peace/dialogue will not bring a satisfactory political solution.
A lasting solution lies in more autonomy to the state, genuine economic development, accelerated infrastructural development, new trade routes, less Central funds and a little bit of pressure on militant groups to accept the peace proposal. Sincerity on the part of political and insurgent leadership alone can bring 'peace to the land of the exhilarating Nagas'.
Connecting the dots:
The North East states require economic freedom along with political freedom to truly explore their development options. Comment.

Discuss the reasons behind the ongoing crisis in Nagaland. Why does North East India remain a theatre of political crisis even after 70 years of independence? Analyse.
---
NATIONAL
TOPIC:General Studies 3:

Infrastructure: Energy
Indian Economy and issues relating to planning, mobilization of resources, growth, development and employment.
Rural Electrification: Gap between accessibility and adoption
Introduction:
The government has recently announced the electrification of all inhabited census villages.
A village is considered electrified if it possesses basic electrical infrastructure and 10% of its homes have access to power.
However, nearly one-fifth of India's rural households (around 31 million) still remain in acute darkness.
The government is committed to reaching these households through the Saubhagya scheme by 31 December 2018—a deadline that has been moved up from 31 March 2019. The project's ambition is praiseworthy.
Electrification schemes:
Like the previous Rajiv Gandhi Grameen Vidyutikaran Yojana (RGGVY), and the ongoing Deen Dayal Upadhyaya Gram Jyoti Yojana (DDUGJY) and Saubhagya schemes have focused on establishing village electricity infrastructure.
DDUGJY provided electricity access to the remaining 18,452 inhabited villages.
There are issues with these schemes-
Confusion over data regarding the number of households in the country.

Inconsistencies in the data put out by state electricity discoms.

Lack of focus on supply-side barriers.
Gap between electricity accessibility and adoption:
The rapid pace of rural electrification has clearly not been matched by adoption at the household level.
According to a 2015 World Bank study, Power For All: Electricity Access Challenge In India, "even where electricity service has been locally available, many village households choose not to adopt a connection".
For instance, states like Tripura and Sikkim, despite almost universal access, have among the lowest consumption rates.
Reasons behind:
Poor power reliability:
India faces a terrible power reliability situation.
Load shedding and power outages are frequent enough to make the term a mere technicality. A study shows that only six states had, on average, 24-hour power supply in rural areas as of December 2017.
This lack of reliability often discourages households from adopting electricity, which disincentivises discoms, thus undermining investment in rural electrification.
This makes power supply even more unreliable, perpetuating a vicious cycle.
Challenges faced by Discoms:
Discoms face multiple challenges, ranging from-
Revenue losses due to high costs of power procurement

Power theft and Irregularity

Delay in disbursement of state subsidies assured to domestic and agriculture consumers.

The lack of political will across governments to rationalize tariffs and slash these subsidies is a long-running problem.
UDAY Yojana:
The government's attempt to address discoms' financial stress via the Ujwal Discom Assurance Yojana (Uday), rolled out in 2015, is the latest in a long line of government bailouts.
It hasn't been more successful than previous attempts.
The continued stress has negative consequences on the demand side in the form of reduced investment in network modernization, upgradation of transformers and unreliable power supply.
Summary:
The economic logic suggests that the rural households in areas with poor power reliability adopting grid electricity connection will not adopt electricity in first place.
They have to pay a monthly fixed minimum charge irrespective of brownouts and blackouts.
Meanwhile, poor reliability forces them to also use traditional fuels, like kerosene and fuelwood, for lighting and cooking purposes.
In effect, these households end up paying for two power sources.
This affects rural households' decision making when it comes to electricity adoption.
Conclusion:
While India has made remarkable progress in bringing electricity to every village, the achievement on this front still faces challenges.
There's still a long way to go for lowering barriers to adoption, easing discoms' financial stress and incentivising rural adoption.
Connecting the dots:
India has made remarkable progress in bringing electricity to every village. Still much remains to be done. The biggest challenge in this regard is lack of adoption of electricity at household level in rural areas. Analyse.
Also read: Saubhagya Scheme: Critical analysis
---
(TEST YOUR KNOWLEDGE)
Model questions: (You can now post your answers in comment section)
Q.1) Which among the following institution recently approved modern animal-free testing for drugs replacing the pyrogen test and the abnormal toxicity test carried out on animals?
Indian Drugs Manufacturers' Association (IDMA)

Indian Pharmacopoeia Commission (IPC)

Federation of Indian Chambers of Commerce & Industry (FICCI)

Central Drugs Standard Control Organization
---
Q.2) Economic and Social Survey of Asia and the Pacific 2018 is a flagship report published by
WB

IMF

WEF

UN
---
Q.3) What is the name of the tropical cyclone that made landfall in Bangladesh recently?
Cyclone Mora

Cyclone Phaline

Cyclone Tora

Cyclone Humsa
---
Q.4) The frequency of the cyclones is lower in Arabian sea when compared to Bay of Bengal. This is because
Arabian sea surface temperature is higher compared to that of Bay of Bengal.

Bay of Bengal receives the remnants of the typhoons originated in Northwestern Pacific ocean.

Arabian sea receives the remnants of cyclones from Bay of Bengal.
Choose the correct code from the following
1 and 2 only

1 and 3 only

2 and 3 only

1, 2 and 3
---
MUST READ
Reviving neighborhood
There is a counting threat from Islamist terrorists
When code is law
The bane of patronage-based governance
For a dedicated peer group, Motivation & Quick updates, Join our official telegram channel – https://t.me/IASbabaOfficialAccount
Subscribe to our YouTube Channel HERE to watch Explainer Videos, Strategy Sessions, Toppers Talks & many more…