IASbaba's Daily Current Affairs [Prelims + Mains Focus] – 25th June 2018

IASbaba's Daily Current Affairs (Prelims + Mains Focus)- 25th June 2018
---
(PRELIMS+MAINS FOCUS)
---
India-Maldives: India cuts supply of essential commodities to Maldives
Part of: GS Mains Paper II – India and its neighbours; International Relations
Key points:
Based on the 1981 trade agreement, India exports certain essential commodities to Maldives, whose quantities are notified every year.

These items are exempt from any restrictions or prohibitions on Indian exports during the period of notification.

Till last year, India had allocated largely whatever amount the Maldives government had proposed.

However, in the latest notification,

India has lowered the limits on the export of certain essential commodities

such as potatoes, onions, and eggs.

The notification with a sharply reduced amount of exports of essential commodities has been issued in a

backdrop in the downturn of relations

.
Do you know?
According to Article 9 of the bilateral trade agreement, quota allocations shall be finalised by the Indian government "with due regard to the supply availability and the overall need of the Government of the Republic of Maldives".
Fast recap:
Relations between India and Maldives have soured somewhat in recent times. The following are key concerns –
Turbulent Maldivian politics:

Maldives under the authoritarian regime of President Abdulla Yameen.

Maldives growing "closeness" with China:

Both China and Pakistan stepping up their strategic inroads into the Maldives

Religious radicalization:

Maldives is being radicalized by the Saudi funds and influence

ISIS threat:

Growing Islamic radicalisation in the tiny island-nation of about four lakh people once known for its tolerant practices has many foreign governments, including India, deeply concerned.

No FTA with India:

Maldives and India do not have a Free Trade Agreement. However Maldives and China entered into Free Trade Agreement.

Yameen government asked India to remove its Dhruv advanced light helicopters

from Maldives (which India had gifted in 2013). Yameen government has alleged that tensions over the presence of the two Indian helicopters in two strategically important locations in the Laamu and Addu atolls have been growing.

Work permits are not currently being issued to Indian Nationals

.
Article link: India cuts export quotas for Maldives – The Hindu
---
Aerodrome in Chilika Lake
Part of: GS Prelims and Mains III – Environment and Ecology; Conservation of Biodiversity
In news:
Airports Authority of India has proposed to set up a water aerodrome in Chilika Lake for starting amphibious aircraft operations in Odisha.

Project will most likely face a green hurdle due to possible ecological consequences.

Chilika turns into a temporary habitat for lakhs of migratory and residential birds. If an aircraft flies at low height, there is every chance of the birds getting hit.

Noise pollution generated by close to 10,000 boats has already taken a toll on the endangered Irrawaddy dolphins in the lake. The amphibious aircraft operation would add to the woes.
Important Value Additions
About Chilika Lake
A brackish water lagoon; largest coastal lagoon in India and the second largest lagoon in the world.

Spread: Puri, Khurda and Ganjam districts of Odisha

Where: At the mouth of R. Daya—flowing into the Bay of Bengal

Birds: Hosts over 160 species of birds

Home to the only known population of Irrawaddy dolphins in India (IUCN Status: Endangered)
Irrawaddy dolphin @Chilika
Irrawaddy dolphin (Orcaella brevirostris) is a highly endangered species.

Total population of these animals in the world is estimated to be less than 7,500 with highest being little over 6,000 reported from Bangladesh.

The population of Irrawaddy dolphins in Chilika is considered to be the highest single lagoon population with recorded head count of 155 this year.

Chilika is the single largest habitat of this species in the world.

The Irrawaddy Dolphin is listed in Appendix I of the Convention on International Trade in Endangered Species (CITES) as well as the Convention on Migratory Species (CMS).
Article link: Proposed water aerodrome in Chilika Lake likely to face green hurdle
---
Operation Sagar Rani
Part of: GS prelims – Health and social issue; Science and Technology
Key Pointers:
Operation Sagar Rani was launched by the Food Safety department last year.

It ensures the safety of fish sold in the market and ensures that it was handled hygienically at the handling and distribution centres.

Recently, contaminated fish preserved using formalin (formaldehyde) were seized in Kerala.

Toxic preservatives are being used by people/traders in Kerala who are importing fish from neighbouring States.

Unscrupulous fish wholesalers are using formalin, a toxic and carcinogenic chemical commonly used to preserve dead bodies in mortuaries, to prevent fish from deteriorating during transportation.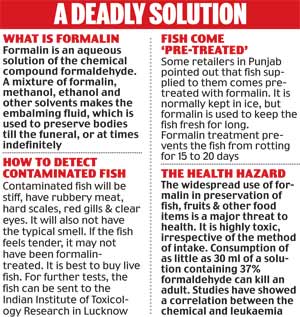 Pic: http://media2.intoday.in/indiatoday/images/stories/2011September/fish-300_092611100319.jpg
Article link: Contaminated fish seized at Walayar – TAMIL NADU
---
Coordinated Patrol (CORPAT)
Part of: Prelims and Mains GS Paper II and III – International relations; India and the World; Defence and Security
Key points:
We had read earlier that –
Navies of India and Indonesia to hold their first bilateral exercise in the Java Sea

India will stage a new trilateral exercise with Thailand and Singapore soon.

Navy recently conducted maiden bilateral exercises with Myanmar, Thailand and Vietnam
Coordinated Patrol (CORPAT)
Naval exercise between India and Indonesia

India has deployed INS Kulish, a Kora class missile corvette, and one Dornier maritime patrol aircraft in recent CORPAT exercise.
In news:
India and Bangladesh have also agreed to institute a Coordinated Patrol (CORPAT) as an annual feature between the two navies.

The Navy regularly conducts CORPATs with Indonesia, Myanmar and Thailand. It also conducts EEZ surveillance of Maldives, Mauritius and Seychelles on their request.
---
Person in news: Pragg
Part of: GS Prelims (Sports)
In news:
India's R. Praggnanandhaa became the world's second youngest chess Grandmaster. (12 years, 10 months and 13 days)

Ukraine's Sergey Karjakin remains the youngest-ever GM (12 years and seven months).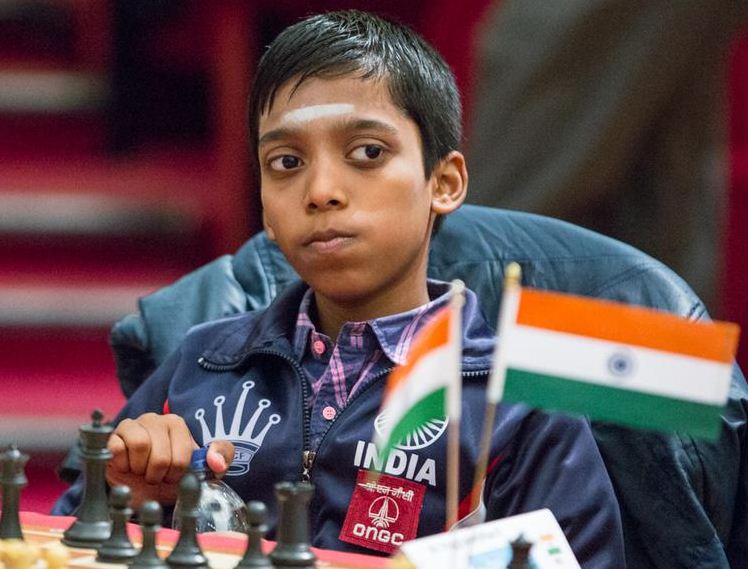 Pic: http://www.orissapost.com/wp-content/uploads/2018/06/R-Praggnanandhaa.jpg
---
(MAINS FOCUS)
---
SOCIAL ISSUE/ECONOMY
TOPIC:
General Studies 2:
Issues relating to development and management of Social Sector/Services relating to Health, Education, Human Resources.
Government policies and interventions for development in various sectors and issues arising out of their design and implementation.
General Studies 3:
Indian Economy and issues relating to planning, mobilization of resources, growth, development and employment.
Inclusive growth.
SECC: Need for effective tool for counting
About:
Inclusion of Caste information in our Census
As the 2011 Census approached, demands for inclusion of data on caste in Census increased.

The then Union Home Minister, P. Chidambaram, opposed to collect caste data and blocked it by claiming that it was logistically impossible for the Census. But, suggested caste information could be collected via the planned Below Poverty Line (BPL) Census, later renamed the Socio-Economic and Caste Census (SECC).

However, hasty inclusion of the caste question in the SECC has resulted in largely unusable data.

The government tasked former NITI Aayog chairman Arvind Panagariya to look into this, but the effort has stalled.
Can 2021 Census provide effective data on caste?
There will be demand again for the inclusion of data on caste in 2021 Census.

It also seems likely that once again India will be unprepared for a full caste census.

If India really want to collect data on caste and not let the discourse about Indian society be shaped by the political exigencies of colonial India, the time to plan is now.

Consequently, if we want information regarding the size and characteristics of various castes in India, we must continue to look to the Census of 1931.
Big question: Should India collect data on caste?
Arguments opposing Caste Census
Some argue that simple act of asking about caste creates a chasm or rift within society.

Part of this resistance comes from reaction to the preoccupation of colonial administrators-turned-arm-chair anthropologists who saw caste as the defining feature of Indian society.
We know that, the first Census began in 1871 under Colonial Rule.
Colonial censuses included questions about caste and used these data to divide and conquer India by first privileging Brahmins as interpreters of Indian culture and then targeting them as the roots of caste-based oppression and inequality.
Do you know?
G.S. Ghurye

, the early 20th century

Indian sociologist

, reacted sharply by identifying this passion for caste classification as the

source of anti-Brahmin movements

.

Veena Das

,

Indian anthropologist

, also notes that the colonial Censuses via the process of recording caste generated a conception of community as a homogeneous and classifiable community and thereby

influenced the processes of political representation

. Consequently, post-Independence Censuses have shied away from including questions about caste.

Critics argue that – On one hand we say that India is growing and becoming a developed nation while on the other we are agreeing to the caste based census.

Are we really trying to show to the world that we are still tied in the ropes of a caste based society? In a secular and independent country like India, is there still any scope for the old caste based census that used to be followed during the British rule?

The policy of the government to give quotas and reservation on the basis of caste rather than on the basis of economic status is discriminatory towards people of other caste and is often condemned by the common people.
Arguments in favour for Caste Census –
If caste information is not collected, we will have denied ourselves an opportunity to make quotas function in an equitable manner, says Prof. Indira Rajaraman (who was member of the Thirteenth Finance Commission)

Our political systems, civil society and courts continue to assume that broad caste-based social categories — Dalits, Adivasis, Other Backward Classes (OBCs) and upper castes — defined largely using data from 1931 Census and a few special purpose surveys continue to shape economic conditions in 21st century India.

Without accurate data at a granular level for each of these categories consisting of thousands of jatis (castes) and upjatis (subcastes), we have no way of knowing whether this is correct.
Indian society has undergone a tremendous transformation since 1931.
Land ownership that bolstered the power of upper castes has lost its hold.

Land fragmentation and decades of agricultural stagnation have turned many upper caste landowners into marginal farmers barely eking out a subsistence.

While landlessness, once the bane of Dalit existence, has left the landless better poised to take advantage of rising rural wages, particularly construction wages.

Consequently, the National Sample Survey (NSS) shows that mean consumption expenditure of forward castes is higher than that of Dalits, clusters of poverty persist among forward castes.

According to NSS data, the bottom fourth of forward castes are poorer than the top half of Dalits.

India Human Development Survey shows that 56% of Dalit children ages 8-11 cannot read but neither can 32% of forward caste and 47% of OBC children.
Economic growth of the past century, combined with strong affirmation action undertaken by successive governments of the independent nation, may have changed relative fortunes of various groups.
Some jatis may have managed to pull themselves out poverty and marginalisation, while others may have sunk into it. Hence, it is time to collect data that reflects the current situation.
Drawbacks of SECC
Even though SECC was conducted in both urban and rural areas, government has released only SECC data of rural India.

SECC collates data regarding the caste of the people. This caste related information faces the danger of being misused by political parties for their ulterior motives.

SECC data must be regularly updated in order to remove beneficiaries who have overcome their deprivations. This will put a huge burden on the part of the government.

Sometimes the same caste is spelt in different ways, at other times some individuals report their jati and others upjati making it difficult to create mutually exclusive categories.
Way ahead:
India has nearly three years before the Census of 2021 and also has data from the SECC and technologies rooted in machine learning at its disposal.

It would be possible to set up an expert group that uses the SECC data in conjunction with other data sources such as matrimonial advertisements and State-specific Scheduled Castes/OBC lists to make a comprehensive list of castes and condense them into meaningful categories via machine learning tools.

These categories could then be validated by domain experts from the Indian Council of Social Science Research (ICSSR) institutions in various States to come up with a district specific list of castes that would cover more than 90% of individuals in any given district.

Interviewers could use this precoded list to allow respondents to self-classify with a small residual group's responses being recorded verbatim and categorised later.
It will take courage for a future government to collect data on caste and to use it to rationalise reservation policies. However, without better and more current data, our discourse on caste and affirmative action remains dominated by decisions made by the colonial administration.
Connecting the dots:
Census in India doesn't reveal the quality of its people – it only reveals the quantity. Critically comment.

On one hand we say that India is growing and becoming a developed nation while on the other we are agreeing to the caste based census. Critically examine the need for caste based census for India.

If caste information is not collected, we will have denied ourselves an opportunity to make quotas function in an equitable manner. Do you agree? Elucidate.
---
(TEST YOUR KNOWLEDGE)
Model questions: (You can now post your answers in comment section)
Q.1) Identify the wetland based on the following statements:
The Irrawaddy dolphin (Orcaella brevirostris) is the flagship species here.

It was the first Indian wetland of international importance under the Ramsar Convention.

Nalbana Island is the core area of this wetland.
Select the wetland that is best suited to the above description—
East Calcutta Wetlands

Deepor Beel

Chilika Lake

Bhoj Wetland
---
Q.2) Irrawaddy dolphin is generally found near the coasts of
Maharashtra

Odisha

Kerala

Gujarat
---
Q.3) The International Union for Conservation of Nature (IUCN) recently released an updated red list classifying the different species. It has changed the status of Irrawaddy Dolphins from
Endangered to Vulnerable

Vulnerable to Endangered

Vulnerable to Critically Endangered

Vulnerable to Extinct
---
Q.4) Where are the Krushnaprasad, Nalaban, Kalijai, Mangalajodi, Somolo and Birds' Islands located?
Godavari river

Chilika lake

Brahmaputra river

Lakshadweep
---
Q.5) The 8 degree channel separate which one the following?
Lakshdweep and Minicoy Islands

Maldives and Minicoy Islands

Andaman and Nicobar Islands

Indira point and Indonesia
---
Q.6) Consider the following statements with reference to Maldives
The country has a tropical monsoon climate.

It is entirely made up of atolls and associated coral structures.

Equator passes through the country.
Which of the statements given above are correct?
1 and 2

1 and 3

2 and 3

1, 2 and 3
---
MUST READ
For nutrition security: On undernourishment
Change perceptions in J&K
Smoke and mirrors
Lessons from dark times
No zero sum game