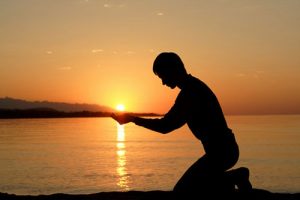 Present Moment:
It is so easy to get distracted and be lost in some unwanted thought process. If only we can clearly understand how easy it is to get lost in some random and useless thought process, most of what we do will change immediately. Just at the very moment of realizing that most of our thinking is simply unwanted and repetitive, a new way of looking at things will emerge.
We all can without any doubt agree that our minds simply have no definite purpose of their own. The purpose of our mind changes moment to moment depending on our moods, emotions and physical condition. If only our minds had some definite purpose in life, we didn't have to struggle so much finding our true identity in this chaotic world.
Relying on our mind to show us the right way is like relying on a blind man to find our way out of the confusion of life. The more we become simply attached to our thought process and desires, the lesser we will be certain about who we are and what our real purpose is.
There is another dimension of intelligence apart from thinking. We have totally ignored this dimension. There is tremendous intelligence in being in the present moment. Present moment is filled with intuition, awareness and some kind of cosmic intelligence that has the ability to point our lives in the right direction.
No need to get all spiritual and other worldly to understand the importance of being in the present moment. Just a pure scientific way of looking at things will help us to understand the importance of being in the present moment. Everything in existence is in the present moment except for man. This is why he is so much in pain and suffering.
When we move away from the present moment and begin to drift into the past and future of our thought process, we are stepping away from our home. How can there be any comfort to the one who has travelled very far away from home and has lost his way. There is no respite for us till we find our way back to the present moment.
Our thinking has to be only one part of our life. There has to be a nurturing of intuitive intelligence through which we can understand emotions, effects of time and space around us, effects of people and places and so much more which can never be grasped by our thoughts. Without finding our way to this intuitive intelligence we will always be lost, constantly searching for meaning and purpose.
Each one of us is born with this intuitive intelligence. Each one of us has the ability to access this dimension within us; all we have to do is give more importance to being in the present moment than to being lost in some random thought process. Life is a beautiful experience only in the present moment. Everywhere else, it is a pure torture.
"This article is a part of the creative endeavor of The Ahamo Movement and IASBABA."
For a dedicated peer group, Motivation & Quick updates, Join our official telegram channel – https://t.me/IASbabaOfficialAccount
Subscribe to our YouTube Channel HERE to watch Explainer Videos, Strategy Sessions, Toppers Talks & many more…