IASbaba's Daily Current Affairs (Prelims + Mains
Focus)- 27th September 2018
---
(PRELIMS+MAINS FOCUS)
---
New telecom policy aims to provide broadband access to all citizens by 2022
Part of Prelims and mains II & III – Governance and Technology  
In news
Union Cabinet approved the new telecom policy
The new policy aims to provide broadband access to every citizen at 50 Mbps speed by the year 2022.
The last telecom policy was announced in 2012.
The National Digital Communications Policy 2018
The policy envisions attracting $100 billion investments into the country's digital communications sector.
Aims at creating at least 40 lakh new jobs in the sector in the next four years and train one million manpower for building New Age Skill.
The policy aims at expanding the IoT ecosystem to five billion connected devices, create globally recognised IPRs in India and create a fund for R&D in new technologies.
It also pitches for leveraging Artificial Intelligence and Big Data to enhance the quality of services offered, spectrum management and network security while also establishing India as a global hub for cloud computing.
The policy has called for a review of levies and fees — including licence fee, universal service obligation fund levy and spectrum usage charges, on the sector. This is expected to help the debt-laden telecom sector.
Establish a comprehensive data protection regime for digital communications that safeguards the privacy, autonomy and choice of individuals.
---
Punjab plan to eliminate malaria
Part of Prelims and mains II – Health  
In news
The Punjab government in collaboration with the World Health Organization launched a "'micro strategic plan" to eliminate malaria from the State by 2020.
Punjab is the first State in the country where the WHO will collaborate for elimination of malaria. It would provide technical support to the State to achieve the set target.
State is committed to micro – level surveillance under which each and every reported case of malaria would be investigated and remedial measures undertaken to prevent its further spread.
---
Boost to SC/ST quota in promotions
Part of Prelims and mains II – Polity & Governance, Empowerment of vulnerable sections of the society
In news
A Constitution Bench of the Supreme Court on Wednesday modified a 2006 judgment requiring the State to show quantifiable data to prove the "backwardness" of a Scheduled Caste/Scheduled Tribe community in order to provide quota in promotion in public employment.
It gives a huge fillip for the government's efforts to provide "accelerated promotion with consequential seniority" for Scheduled Castes/ Scheduled Tribes (SC/ST) members in government services.
Directly contrary
The portion of the Nagaraj judgment of another five-judge Constitution Bench in 2006 was directly contrary to the nine-judge Bench verdict in the Indira Sawhney case.
In the Indira Sawhney case, the Supreme Court had held that the "test or requirement of social and educational backwardness cannot be applied to Scheduled Castes and Scheduled Tribes, who indubitably fall within the expression 'backward class of citizens'."
The Presidential List for Scheduled Castes contains only those castes or groups or parts as "untouchables."
Similarly, the Presidential List of Scheduled Tribes only refers to those tribes in remote backward areas who are socially extremely backward.
March ahead
The whole object of reservation is to see that backward classes of citizens move forward so that they may march hand in hand with other citizens of India on an equal basis.
This will not be possible if only the creamy layer within that class bag all the coveted jobs in the public sector and perpetuate themselves, leaving the rest of the class as backward as they always were.
Judgment upheld Nagaraj's direction that creamy layer applied to SC/ST in promotions.
It said that when a court applies the creamy layer principle to Scheduled Castes and Scheduled Tribes, it does not in any manner tinker with the Presidential List under Articles 341 or 342 of the Constitution of India.
The caste or group or sub-group named in the said List continues exactly as before.
---
Package for sugar mills cleared
Part of Prelims and mains III – Agriculture economy and related issues
In news
For the fourth time in the last five months, the Centre has approved incentives to help the cash-starved sugar mills clear thousands of crore in arrears of payment to cane farmers.
The Cabinet Committee on Economic Affairs cleared a ₹5,538-crore package which includes higher production assistance to farmers, as well as transport subsidies for mills trying to export sugar.
Record harvests over the last two years have led to sugar production levels far above domestic consumption, resulting in a crash in prices and a liquidity crisis in the industry.
Currently, the mills owe farmers more than ₹13,000 crore in arrears, down from a peak of more than ₹22,000 crore in May 2018.
Production subsidy
This package included a production subsidy that is 2.5 times higher, at ₹13.88 per quintal for each quintal of cane crushed in the 2018-19 season, at an estimated cost of ₹4,163 crore, according to the statement. The transport subsidies for exports amount to ₹1,375 crore.
So far, none of the previous subsidy announced in May has been claimed by mills or paid to farmers, as several government conditions — including export quotas — had not been met.
---
Enact 'strong law' to cleanse politics: SC
Part of Prelims and mains II – Elections, RPA acts  
In news
The Supreme Court on Tuesday directed political parties to publish online the pending criminal cases of their candidates and urged Parliament to bring a "strong law" to cleanse political parties of leaders facing trial for serious crimes.
Rapid criminalisation of politics cannot be arrested by merely disqualifying tainted legislators but should begin by "cleansing" political parties, a five-judge Constitution Bench observed.
Onus on Parliament
The court said Parliament should frame a law that makes it obligatory for political parties to remove leaders charged with "heinous and grievous" crimes, such as rape, murder and kidnapping, to name only a few, and refuse ticket to offenders in both parliamentary and Assembly polls.
"The nation eagerly awaits such a legislation," the court told Parliament.
The Bench made it clear that the court cannot legislate for Parliament by introducing disqualification to ban candidates facing trial for heinous crimes from contesting elections.
Full disclosures
The court directed that candidates should divulge their criminal past to the Election Commission in "block letters."
Candidates should make a full disclosure of the criminal cases pending against them to the political parties under whose banner they intend to contest the polls.
The parties, in turn, should put up the complete details of their candidates on their websites for public consumption.
---
Cry for decriminalisation of politics
Part of Prelims and mains II – Governance and Election, Polity
In news
The N.N. Vohra Committee, which was set up following a public outcry after the blasts, submitted its report in October 1993 after its study of the problem of criminalisation of politics and the nexus among criminals, politicians and bureaucrats in India.
The committee had concluded that agencies, including the CBI, IB, RAW, had unanimously expressed their opinion that the criminal network was virtually running a parallel government.
The committee report mentioned how money power was first acquired through real estate and then used for building up contacts with bureaucrats and politicians.
The voices within Parliament also felt the need to end the bane of criminal politics.
The 18th Report presented by a parliamentary committee to the Rajya Sabha in March 2007 expressed a strong "feeling that politics should be cleansed of persons with established criminal background".
It said "criminalisation of politics is the bane of society and negation of democracy".
The Law Commission of India, in its 244th report, succinctly put it that "instead of politicians having suspected links to criminal networks, as was the case earlier, it was persons with extensive criminal backgrounds who began entering politics."
The Law Commission said that in the 10 years since 2004, 18% of the candidates contesting either national or State elections had criminal cases against them (11,063 out of 62,847).
The Goswami Committee on Electoral Reforms, as early as in 1990, highlighted the crippling effect of money and muscle power in elections.
---
Peppered with wise words
Part of Prelims and mains II & III – Governance and Election, Polity  
In news
On the rapid rise of criminalisation in politics, the Supreme Court on Tuesday reproduced the words of the freedom fighter and last Governor-General of India, C. Rajagopalachari, R. Prasad and Dr. Ambedkar.
Rajagopalachari had said as back as in 1922 that, "elections and their corruption, injustice and tyranny of wealth, and inefficiency of administration, will make a hell of life as soon as freedom is given to us…"
Similarly, the judgment quotes Rajendra Prasad, who said, "A Constitution like a machine is a lifeless thing. It acquires life because of the men who control it and operate it, and India needs today nothing more than a set of honest men who will have the interest of the country before them."
Finally, it talks about the limitations of a Constitution through the words of R. Ambedkar. "A Constitution can provide only the organs of State… The factors on which the working of those organs of the State depend are the people and the political parties they will set up as their instruments to carry out their wishes and their politics. Who can say how the people of India and their parties will behave?"
---
(MAINS FOCUS)
---
INTERNATIONAL
TOPIC: General Studies 2

India and its neighbourhood- relations

Effect of policies and politics of developed and developing countries on India's interests, Indian diaspora.

A change in the Maldives
Introduction
Voters in the Maldives delivered a stunning defeat for President Abdulla Yameen in a contentious presidential election, an outcome regarded as a victory for democracy over authoritarianism in the Indian Ocean island nation.
The people of the small archipelago in the Indian Ocean voted for change and brought to power the Opposition candidate, Ibrahim Mohamed Solih. They came out in huge numbers with the turnout being 89.2%.
Importance of Maldives: (10 reasons: IMAGE)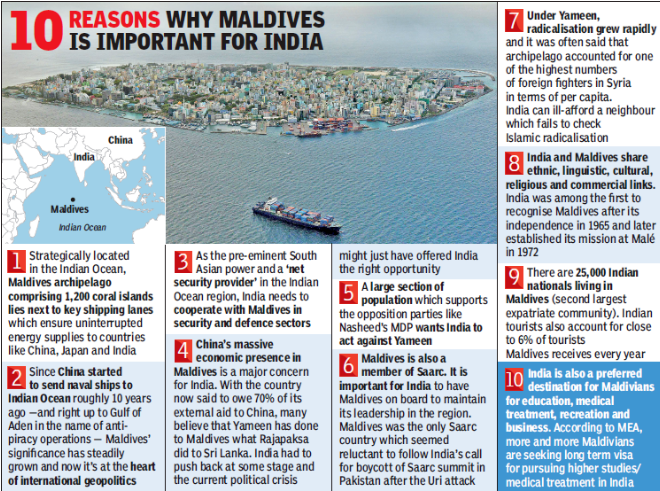 How is China engaging with the Maldives?
Beijing has made large investments in infrastructure projects in the Maldives during Yameen's time in office.
They include a US$830 million investment to upgrade the Maldives airport and build a 2km bridge to link the airport island with the capital Male, according to the Centre for Global Development.
Chinese are also building a 25-storey apartment complex and hospital in the Maldives.
Meanwhile, some 306,000 Chinese tourists visited the Maldives last year accounting for 21 per cent of the country's total number of visitors. When three Chinese naval ships docked in Male in August last year, it only amplified India's concerns.
Tilt towards China:
Yameen's China visit last year, the two nations signed 12 pacts, including a free trade agreement (FTA).
Yameen not only fully endorsed China's ambitious Maritime Silk Road initiative but also made the Maldives the second country in South Asia, after Pakistan, to enter into an FTA with China.
The Yameen government pushed the FTA through the nation's Parliament, the Majlis, stealthily, with the opposition not attending the parliamentary session.
Chinese Investments: Massive Debt trap, according to opposition:
The opposition accused the Yameen government of allowing a Chinese 'land grab' of Maldivian islands, key infrastructure, and even essential utilities.
This 'land grab' has raised the concerns of Maldives being increasingly falling into an economic neo-colonial influence of China.
How have the Maldives ties with India fared under Yameen?
Bilateral ties between India and the Maldives have deteriorated during Yameen's time in power.
In March 2015, Indian Prime Minister Narendra Modi cancelled his state visit to the island nation over the treatment of Mohamed Nasheed, the former pro-India Maldivian president who had been jailed.
The Maldives also declined India's invitation to take part in its biennial eight-day naval exercise, Milan, this year.
Yameen's government has also rejected visa renewals for Indians who were legally working in the Maldives.
Concern areas that need to be improved between India and Maldives –
No FTA with India; Maldives and India do not have a Free Trade Agreement. However Maldives and China entered into Free Trade Agreement.
Maldives growing "closeness" with China; Both China and Pakistan stepping up their strategic inroads into the Maldives
Religious radicalization; The Maldives is being radicalized by the Saudi funds and influence
ISIS threat; Growing Islamic radicalisation in the tiny island-nation of about four lakh people once known for its tolerant practices has many foreign governments, including India, deeply concerned.
Yameen government had asked India to remove its Dhruv advanced light helicopters from Maldives (which India had gifted in 2013).
Yameen government has alleged that tensions over the presence of the two Indian helicopters in two strategically important locations in the Laamu and Addu atolls have been growing.
Work permits are not currently being issued to Indian Nationals.
By changing to more democratic form of government in Maldives, India can engage with Maldives to establish much more friendly relations than previous government era to protect the safety and security of entire Indian Ocean region.
Way Forward:
For New Delhi, the results are especially heartening as they present a chance to reset ties with Male, which have been on a downward spiral for several years.
India can also now renew talks over the fate of Indian Coast Guard and Air Force personnel stationed in the Maldives as well as other Indians in Maldives, whose visas have been pending.
Going forward, New Delhi must stay clear of partisan positioning on the internal politics of the Maldives.
The larger agenda must be to partner the Maldives in its stability and development rather than engaging in a tug of war with China.
Connecting the dots:
Discuss the political developments in Maldives in the last two years. Should they be of any cause of concern to India? (UPSC mains 2013)
---
DISASTER
TOPIC: General Studies 3

Disaster-management
Environment and Climate change

Rethinking disaster management
Introduction
It is time to stop thinking of the extreme weather events hitting us with increasing frequency as unexpected events.
Kerala bravely endured the monsoon storms, but it would be a mistake to think that disasters of this magnitude are "once in a hundred year" events.
Disaster management: Proactive, not just reactive
Weather disasters are being affected by climate change that is caused by humans.
The devastation is worsened by the collective failure of governments and businesses to invest in building resilience despite the evidence on runaway climate change.
The lesson from the Kerala floods, Hurricane Harvey (Houston, U.S., 2017) and Typhoon Haiyan (the Philippines, 2013) is that responses to disasters must be proactive, not just reactive.
Reconstruction
First, reconstruction efforts must involve rebuilding in a better way.
Climate proofing in Kerala calls for structures to be built with wind- and water-resistant materials.
The higher cost will be more than offset by avoided repairs.
Relocation
Second, people need to relocate out of harm's way.
After Haiyan's storm surges, distances from coastlines that were considered safe for settling were extended.
During the 2015 floods, Chennai illustrated the price of unrestricted urban development.
Early warning system
Third, early warning is vital.
Because of investments in these systems, Cyclone Phailin (2013) claimed less than 40 lives in Odisha, whereas a superclyclone in 1999 in the State had killed 10,000 people.
In Kerala, there was no timely forecast from national weather services. The State needs a reliable flood forecasting capability.
Tougher implementation of regulations
Fourth, there needs to be tougher implementation of logging and mining regulations in fragile ecologies.
Deforestation worsened the effects of Kerala's floods and mudslides, as the report of the Western Ghats ecology expert panel 2011 had warned.
Reduction in global footprint
Lastly, there is the climate conundrum: Wayanad, which just saw record rainfall, is expecting a severe drought.
Kerala by itself has a small carbon footprint, but it can have a voice in helping one of the world's largest carbon emitters reduce its carbon footprint.
Conclusion
The economic damage from global warming has global ramifications.
The 2011 floods in Thailand's economic heartland disrupted not just national, but global manufacturing value chains.
The Kerala floods are estimated to have shaved off about 2.2% of the State's GDP.
Multilateral agencies including the World Bank and Asian Development Bank may be well-positioned to provide financing, which is vital when budgets are stretched, and, crucially, knowledge solutions to tackle climate disasters.
Kerala gets high marks for its participatory approach to relief and rehabilitation.
Invaluable as this is, the new climate reality is raising the bar on disaster resilience. Bolstering resilience must be central to recovery.
Connecting the dots:
With reference to National Disaster Management Authority (NDMA) guidelines, discuss the measures to be adopted to mitigate the impact of the recent incidents of cloudbursts in many places of Uttarakhand. (UPSC mains 2016)
With reference to National Disaster Management Authority (NDMA) guidelines, discuss the measures to be adopted to mitigate the impact of the recent incidents of floods in many places of Kerala and Karnataka.
---
(TEST YOUR KNOWLEDGE)
Model questions: (You can now post your answers in comment section)
Note:
Featured Comments and comments Up-voted by IASbaba are the "correct answers".

IASbaba App users – Team IASbaba will provide correct answers in comment section. Kindly refer to it and update your answers.
Q.1) Which among the following is the first State in the country where the WHO will collaborate for elimination of malaria?
Bihar
Uttar Pradesh
Punjab
West Bengal
---
Q.2) Consider the following statements with reference to the special provisions given to certain classes
The constitution does not specify the castes and tribes which are to be called the Scheduled castes (SCs) or Scheduled tribes (STs).
The expression Other Backward Classes (OBCs) was inserted and defined in the constitution through Sixty-ninth Amendment Act, 1991.
Which of the statements given above is/are correct?
Only 1
Only 2
1 and 2
None
---
Q.3) Article 341 and 342 of the Constitution of India deals with –
Election Commission of India powers, direction and control of conducting the elections to the offices of the President and Vice-President of India respectively.
Who would be Scheduled castes (SCs) and Scheduled tribes (STs) with respect to any State or Union Territory.
Appointment and term of office of UPSC members.
Appointment of a Commission to investigate the conditions of backward classes.
---
Q.4) Which among the following committee was set up to study the problem of criminalisation of politics and the nexus among criminals, politicians and bureaucrats in India?
N. Vohra Committee
Nagaraj Committee
Indira Sawhney Committee
Sri Krishna Committee
---
MUST READ
Cutting through the white noise
Opacity in the name of privacy
Aadhaar survives
 Explained: You and your Aadhaar
 Course correction
 Trusting Aadhaar
Biofuels are a sensible option for India
Why economic freedom is important in India
For a dedicated peer group, Motivation & Quick updates, Join our official telegram channel – https://t.me/IASbabaOfficialAccount
Subscribe to our YouTube Channel HERE to watch Explainer Videos, Strategy Sessions, Toppers Talks & many more…