Global Menstrual Hygiene Day
TOPIC: General Studies 1

Role of women and women's organization, women related issues, Social empowerment
Menstrual Hygiene Day is an annual awareness day on May 28 to help break the silence and build awareness about the fundamental role that good menstrual hygiene management (MHM) plays in enabling women and girls to reach their full potential.
Initiated by the German-based NGO WASH United in 2014
Theme of 2018 Menstrual Hygiene Day: #NoMoreLimits – Empowering Women and Girls through Good Menstrual Hygiene"
Aims and Objectives:
Will help to break the silence and build awareness about the fundamental role that good menstrual hygiene plays in enabling women and girls to reach their full potential.

It will catalyse a growing, global movement for MHM and support partnerships at global, regional, national and local level.

MH Day also creates opportunities for advocacy for the integration of MHM into global, national and local policies, programmes and projects.
Why do women have period?
Every month, the womb prepares for a possible pregnancy when it sheds the lining of the womb, resulting in period or menses. This usually happens once a month and a woman bleeds on an average for five days. The normal cycle varies from 21 to 35 days and the bleeding can last from two to seven days. Having a regular period indicates that a woman is ovulating every month. It is like a monthly reminder that women are capable of having a baby.
The Challenge
Lack of safe sanitation facilities: At least 500 million women and girls globally lack adequate facilities for menstrual hygiene management (MHM). Inadequate WASH (water, sanitation and hygiene) facilities, particularly in public places, such as in schools, workplaces or health centers, can pose a major obstacle to women and girls. The lack of separate toilets with doors that can be safely closed, or the unavailability of means to dispose of used sanitary pads and water to wash hands, means that women and girls face challenges in maintaining their menstrual hygiene in a private, safe and dignified manner. A growing body of evidence shows that girls' inability to manage their menstrual hygiene in schools, results in school absenteeism, which in turn, has severe economic costs on their lives and on the country.
Cultural beliefs hampering lives: The challenge menstruating girls and women face is often less tangible than simply the availability of infrastructure, and is rooted in social norms and beliefs. In many cultures, menstruating women are considered impure and are systematically excluded from participating in every-day activities, such as education, employment, and cultural and religious practices. Moreover, the taboos and stigmas attached to menstruation lead to an overall culture of silence around the topic, resulting in limited information on menstruation and menstrual hygiene. Such misinformation can have ramifications on the health and dignity of girls and women.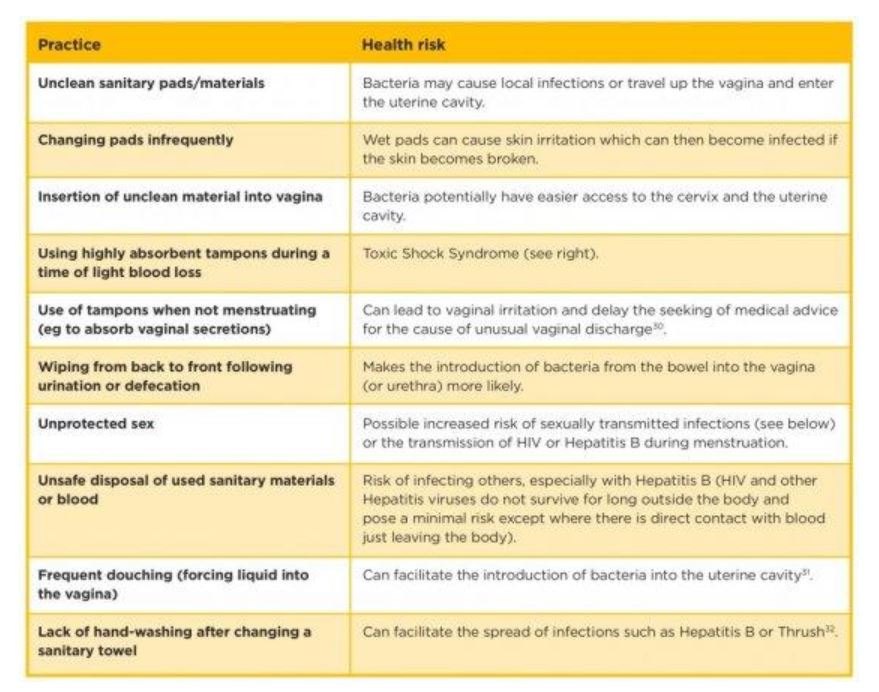 Potential risks to health of poor menstrual hygiene. Source: HOUSE et al. (2012) 
The Need
Given the multiple challenges women and adolescent girls face, it is evident that promoting menstrual hygiene management (MHM) is not only a sanitation matter; it is also an important step towards safeguarding the dignity, bodily integrity and overall life opportunities of women and girls.
A flagship sanitation operation in India, the Swachh Bharat Mission, includes measures on constructing facilities that cater to the needs of menstruating girls, and on raising awareness among the community, including among boys and men, with the objective of breaking the taboo around menstruation.
Firstly, we must educate girls and their families about puberty and menstruation.
Access to information to understand the menstrual cycle and how to manage menstruation hygienically

Promote better awareness amongst men and boys (father, husband, teachers, brothers and peers) to overcome the embarrassment, cultural practices and taboos around menstruation that impact negatively on women and girls' lives
Secondly, we must improve their access to
Access to hygienic clothes or disposable sanitary pads

Facilities to hygienically dispose off used clothes and pads

Adaptation of existing water, sanitation and hygiene services, to ensure their appropriateness to include water for washing clothes used to absorb menstrual blood and having a place to dry them and having a private space to change

We must also assure girls of empathy and support when they have their periods, and access to a competent and caring health worker when they have menstrual health problems.
Thirdly, we must change the narrative of menstruation from shameful, dirty and polluting to normal, healthy and positive.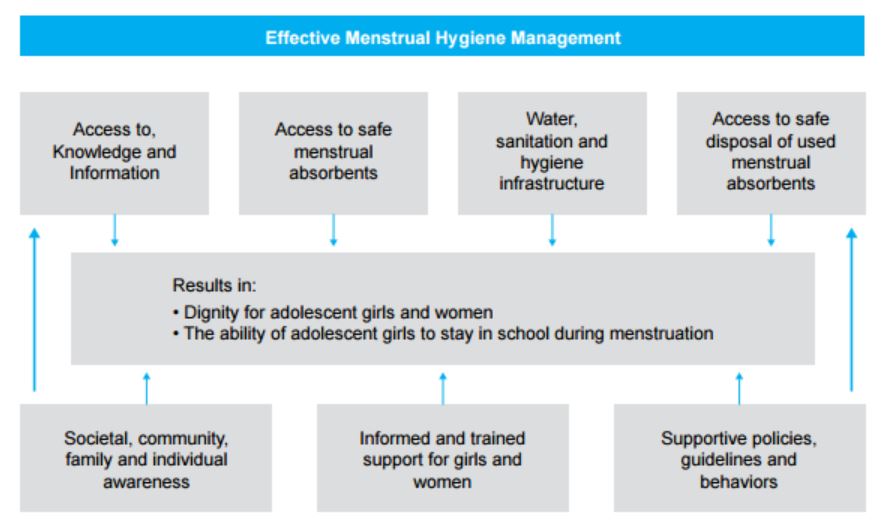 Conclusion
Good menstrual health and management is a human right. Menstrual health and management is directly linked to the fulfilment of human rights; while menstrual health and management is excluded from the Sustainable Development Goals (SDGs), it is key to achieving six of the current goals.

Menstrual health and management needs to be widely integrated into national education and health systems, curricula and materials, in humanitarian responses and in research on product acceptability and impact. Many countries are introducing a wider range of menstrual health and management products, including locally manufactured reusable and disposable pads and menstrual cups. New distribution channels are being established.

Efforts need not just be taken to assure survival but to move beyond survival to enable individuals to thrive, and to transform communities and societies. Overcoming menstrual stigma and enabling girls to deal with their periods and take greater charge of their lives should be a key area of its focus.
It is time we together create a world in which every woman and girl can manage her menstruation in a hygienic way – wherever she is – in privacy, safety and with dignity!
For a dedicated peer group, Motivation & Quick updates, Join our official telegram channel – https://t.me/IASbabaOfficialAccount
Subscribe to our YouTube Channel HERE to watch Explainer Videos, Strategy Sessions, Toppers Talks & many more…