IAS UPSC Prelims and Mains Exam – 15th March 2019
---
(PRELIMS + MAINS FOCUS)
---
India wants visa-free travel to Kartarpur
Part of: GS Prelims and Mains II – India and its neighbours; International Relations; Bilateral ties
In news:
India has urged Pakistan to grant visa-free travel rights to Indian pilgrims visiting the Kartarpur shrine.  
Do you know?
November 2019 marks 550th birth anniversary of Guru Nanak Dev.

India had first proposed the Kartarpur Sahib corridor in 1999 when the then Prime Minister Atal Bihari Vajpayee took a bus ride to Lahore.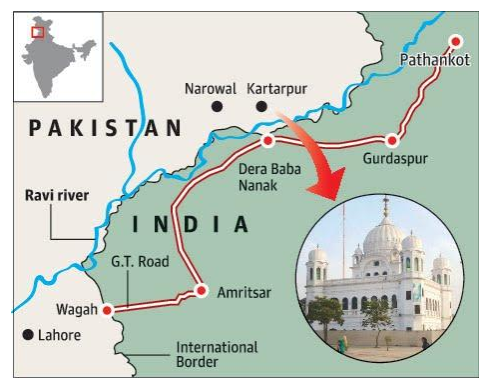 https://d39gegkjaqduz9.cloudfront.net/TH/2018/11/23/DEL/Delhi/TH/5_01/88722918_2544650_101_mr.jpg
Gurdwara in Kartarpur
The gurdwara in Kartarpur is located on the bank of river Ravi in Pakistan

It is about four km from the Dera Baba Nanak shrine, and about 120 km northeast of Lahore

It was here that Guru Nanak assembled a Sikh community and lived for 18 years until his death in 1539

The shrine is visible from the Indian side, as Pakistani authorities generally trim the elephant grass that would otherwise obstruct the view

Indian Sikhs gather in large numbers for darshan from the Indian side, and binoculars are installed at Gurdwara Dera Baba Nanak

The gurdwara was opened to pilgrims after repairs and restoration in 1999, and Sikh jathas have been visiting the shrine regularly ever since

Sikh jathas from India travel to Pakistan on four occasions every year- for Baishakhi, the martyrdom day of Guru Arjan Dev, the death anniversary of Maharaja Ranjit Singh, and the birthday of Guru Nanak Dev.
---
Bannerghatta eco-sensitive zone curtailed
Part of: GS Prelims and Mains III – Environment and Biodiversity; Protected areas
In news:
The Bannerghatta National Park's Eco-Sensitive Zone (ESZ), which provides a regulated buffer zone around protected areas, will remain at 168.84 sqkm despite thousands of citizens objecting to the reduction of nearly 100 sqkm as compared to the original proposal.

Earlier in 2016, an ESZ Expert Committee had marked an ESZ area of 268.9 sqkm. However, now the committee is set to declare an ESZ area of 168.84 sqkm around the BNP. (a 37% reduction from the first draft notification)
About Bannerghatta National Park:
It is near Bangalore, Karnataka, was founded in 1970 and declared as a national park in 1974.

In 2002 a portion of the park, became a biological reserve, the Bannerghatta Biological Park.

It is a popular tourist destination with a zoo, a pet corner, an animal rescue centre, a butterfly enclosure, an aquarium, a snake house and a safari park.
Important Value Additions:
Eco-Sensitive Zones
Eco-Sensitive Zones (ESZs) or Ecologically Fragile Areas (EFAs) are areas notified by the Ministry of Environment, Forests and Climate Change (MoEFCC), Government of India around Protected Areas , National Parks and Wildlife Sanctuaries.

The purpose of declaring ESZs is to create some kind of "shock absorbers" to the protected areas by regulating and managing the activities around such areas.

They also act as a transition zone from areas of high protection to areas involving lesser protection.
Do you know?
The Environment (Protection) Act, 1986 does not mention the word "Eco-Sensitive Zones".

However, Section 3(2)(v) of the Act, says that Central Government can restrict areas in which any industries, operations or processes or class of industries, operations or processes shall not be carried out or shall be carried out subject to certain safeguards.

Besides Rule 5(1) of the Environment (Protection) Rules, 1986 states that central government can prohibit or restrict the location of industries and carrying on certain operations or processes on the basis of considerations like the biological diversity of an area, maximum allowable limits of concentration of pollutants for an area, environmentally compatible land use, and proximity to protected areas.

The above two clauses have been effectively used by the government to declare ESZs or EFAs.
No Development Zones
The same criteria have been used by the government to declare No Development Zones.

Time to time, the Ministry of Environment, Forests and Climate Change (MoEFCC) approves a comprehensive set of guidelines laying down parameters and criteria for declaring ESZs. A committee constituted by MoEF puts this together.

The guidelines lay out the criteria based on which areas can be declared as ESZs.

These include Species Based (Endemism, Rarity etc), Ecosystem Based (sacred groves, frontier forests etc) and Geo-morphologic feature based (uninhabited islands, origins of rivers etc).
---
Climate vulnerability index for India
Part of: GS Prelims and Mains III – Environment and Bidoversity
In news:
Department of Science and Technology (DST) will be commissioning a study to assess the climate risks faced by States in India.

The assessment to include global warming risks faced by 12 Himalayan States – especially States such as Assam, Arunachal Pradesh and Uttarakhand – which are vulnerable to climate change.

IITs and IISc are coordinating to evolve a common methodology, and determine how districts are to be equipped to deal with the vagaries of climate change.
Do you know?
The scientists conducted workshops with the States and culled eight key parameters on the basis of which a vulnerability score could be generated. They included:
percentage of area in districts under forests

yield variability of food grain

population density

female literacy rate

infant mortality rate

percentage of population below poverty line

average man-days under MGNREGA (Mahatma Gandhi National Rural Employment Guarantee Act), and

The area under slope > 30%.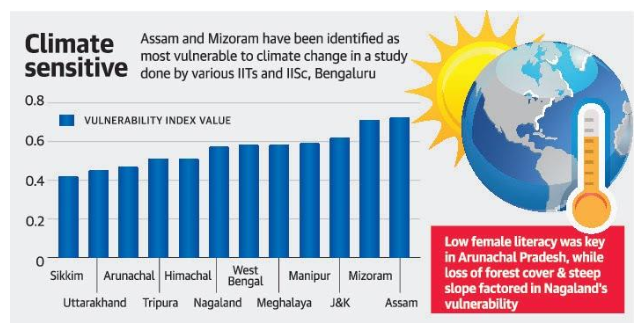 https://d39gegkjaqduz9.cloudfront.net/TH/2019/03/15/DEL/Delhi/TH/5_07/e41fd69a_2800499_101_mr.jpg
---
(MAINS FOCUS)
---
NATIONAL/ETHICS
TOPIC: General studies 2, 4 and Essay

Constitution, Fundamental Rights and Justice delivery system in India
Ethical aspects of capital punishment
Essay
Key cases dealing with death penalty and its application
In

1980 verdict

(

Bachhan Singh v State of Punjab

) – the Supreme Court said that death penalty is constitutional but should be given only in the rarest of rare cases.

In

1996 verdict

(

Ravji v. State of Rajasthan

) – the Supreme Court had ruled that while determining whether to award the death penalty "it is the nature and gravity of the crime" alone that demand consideration.

In 2009 verdict

, the Supreme Court, however, declared its earlier ruling in Ravji incorrect. The court held that even in those cases where the crime is brutal and heinous the criminal's antecedents, including his economic and social background, must have a bearing on the award of the death sentence.  
In recent verdicts (while dealing with three different death penalty cases)
In two of those cases, the court entirely absolved the accused from wrongdoing.

While in the third the court not only found the accused guilty of murder, but also deserving of capital punishment.
Collectively, from the above cases, we can draw the following –
How arbitrary the death penalty is?

How its application is mired by a belief in conflicting values? and

How the fundamental requirement of precision in criminal law has been replaced by a rhetorical cry for avenging crime by invoking the "collective conscience" of society?
Why retention of the death penalty utterly undermines India's moral foundations?
India's broken criminal justice system cannot support the death penalty:
In many instances, the courts found several innocent men guilty of a heinous crime, brought them to the brink of execution. However, were later found to be innocent and acquitted. (Example – Ankush Maruti Shinde case)

Such grave errors must trigger the moral honesty to accept that we are playing with fire by keeping the death penalty in such a system.
There's almost

no empirical evidence available showing that the death penalty actually deters crime

.

The

decision-making process of a Judge

:
Life of the person depends on the reasons articulated by such honorable Justices.

In this aspect, concerns over judge-centric variations of arguments have been raised in the past.

There are several instances of "extremely uneven application" of the norms.
Public outrage and capital punishment
In recent times, public outrage, the need for deterrence, and the clamor for a befitting punishment to render substantial justice have dominated the general discourse.
Disproportionate application of the sentence
In India, the most economically and socially marginalized are the ones who suffer the most.  

According to Death Penalty India Report (DPIR) 74% of prisoners on death row, at the time of the study, were economically vulnerable, and 63% were either the primary or sole earners in their families.

76% of those sentenced to death belonged to backward classes and religious minorities, including all 12 female prisoners.
Conclusion
Thus, the question of capital punishment needs to be debated away from the general public discourse and on a higher moral plane where there shall be no death penalty in law, regardless of the nature, circumstances and consequences of an offence.
Connecting the dots:
It is not the just the execution but the method that questions capital punishment. Comment.

Irreversible miscarriage of justice in cases involving death penalty is one of the principal arguments put forward against capital punishment in India. Keeping in mind the dismal record of the judiciary in maintaining consistency in death penalty jurisprudence, do you think the time is ripe to abolish capital punishment in India? Examine.
---
ENVIRONMENT
TOPIC: General studies 3:

Conservation, environmental pollution and degradation
Infrastructure: Energy
Indigenization of technology and developing new technology.
Need of the hour: Diversifying India's energy sources
Introduction:
The effects of global warming are already visible.
Average temperatures today are only 0.8 degree Celsius higher than in 1880.

Yet there is already an increasing frequency of extreme weather events, rising ocean temperatures and disappearing corals, melting glaciers and shrinking polar ice caps, and rising sea levels.

Public actions have been too small and poor to cope with such looming disaster.
The Paris accord has been signed and containing global warming is now on the policy agenda. Still, it is mostly business as usual both in private industry and in public policy.
According to an estimate by the Inter-governmental Panel on Climate Change (IPCC) –
Containing the earth's temperature increase over the 1880 benchmark to under 1.5 degrees Celsius will require a 20% reduction in oil and gas production by 2030.

But several oil companies have plans to produce 25% more oil and gas by 2025, and other oil majors are headed in the same direction.

Irony is that the same oil majors support the Paris accord. They are also among the largest investors in solar power and other renewables.

The roughly $300 billion of annual investment in renewables is just a fraction of the investment being made in extracting more fossil fuels.

Fossil fuels like coal, oil and gas are more profitable than renewables and account for 85% of the total energy supply. That is what drives the current shareholder value of oil companies.
According to BP Energy Outlook (BPEO) –
Renewables will account for just about 16% of total energy supply in 2040, up from around 3% today

Hydro and nuclear power will account for another 11%

Fossil fuels will still account for over 70% of total energy supply.

BPEO also envisages that there will be a shift from coal to oil and further to gas, not from fossil fuels to renewables.
Therefore, market incentives fall well short of what it will take to contain global warming within the limits necessary for global survival. It is this market failure that requires muscular policy intervention by governments.
The way ahead:
Requires muscular policy intervention by governments

Effective fiscal policies to radically shift market incentives and profitability in favour of renewables.
Conclusion:
Energy demand is projected to grow annually, considering the growing population and rising incomes in the developing countries.  

India remains heavily dependent on vast reserves of coal, which is also the dirtiest fuel. But switching from coal to cleaner oil or gas poses a security risk since India is heavily dependent on imports for these fuels. Hence, India's long-term strategic interest requires a radical shift from fossil fuels to renewables, including hydropower.

Over the medium term, India requires a strategic energy policy. India should move towards maximum dependence on renewable.

Instead of subsidizing power prices and distorting energy markets to achieve this goal, tax incentives should be used to maximize investment in renewables. They can turn India's barren deserts and other non-cultivable land into vast energy generation fields.
Connecting the dots:
Heavy dependence on coal will continue for years, but it should be gradually reduced. Comment.

What do you understand by the term 'energy mix'? Elucidate it's importance for India in fighting out the ensuing energy crisis.
---
(TEST YOUR KNOWLEDGE)
---
Model questions: (You can now post your answers in comment section)
Note:
Featured Comments and comments Up-voted by IASbaba are the "correct answers".

IASbaba App users – Team IASbaba will provide correct answers in comment section. Kindly refer to it and update your answers.
Q.1) Which of the following statements are correct regarding Eco – Sensitive Zones in India?
Eco-Sensitive Zones (ESZs) are notified by the Ministry of Environment, Forests and Climate Change (MoEFCC).

They act as a transition zone from areas of high protection to areas involving lesser protection.

The Environment (Protection) Act, 1986 does not mention the word "Eco-Sensitive Zones".
Select the code from following:
1 and 2

2 and 3

1 and 3

All of the above
---
Q.2) With reference to 'Eco-Sensitive Zones', which of the following statements is/are correct?
Eco-Sensitive Zones are the areas that are declared under the Wildlife (Protection) Act, 1972.

The purpose of the declaration of Eco-Sensitive Zones is to prohibit all kinds of human activities in those zones except agriculture.
Select the correct answer using the code given below.
1 only

2 only

Both 1 and 2

Neither 1 nor 2
---
Q.3) Consider the following pairs:
(National Park) (State)
Betla

Jharkhand

Orang

Nagaland

Bannerghatta

Telangana
Which of the above pairs is/are correctly matched?
1 and 2 only

1 only

2 and 3

None
---
MUST READ
From revolutions to roses: on Women's Day
A vote on national security
After China's veto
What happened to poverty estimation in the country?
For a dedicated peer group, Motivation & Quick updates, Join our official telegram channel – https://t.me/IASbabaOfficialAccount
Subscribe to our YouTube Channel HERE to watch Explainer Videos, Strategy Sessions, Toppers Talks & many more…