PRELIMS TIPS: TOPPER'S STRATEGY-Shivashish Kumar Rank 368, UPSC CSE 2018 who has scored 129.34 and 126.66 in his 2 attempts shares his PRELIMS EXCLUSIVE Strategy!!
My two cents on Prelims.
Hello all, this is Shivashish Kumar, AIR 368 in UPSC CSE -2018. In my previous attempts, i got 125+ score in prelims (2017, 2018), that too at a time when "prelims is becoming more and more tedious and extensive", and so would like to share my 2 cent on it.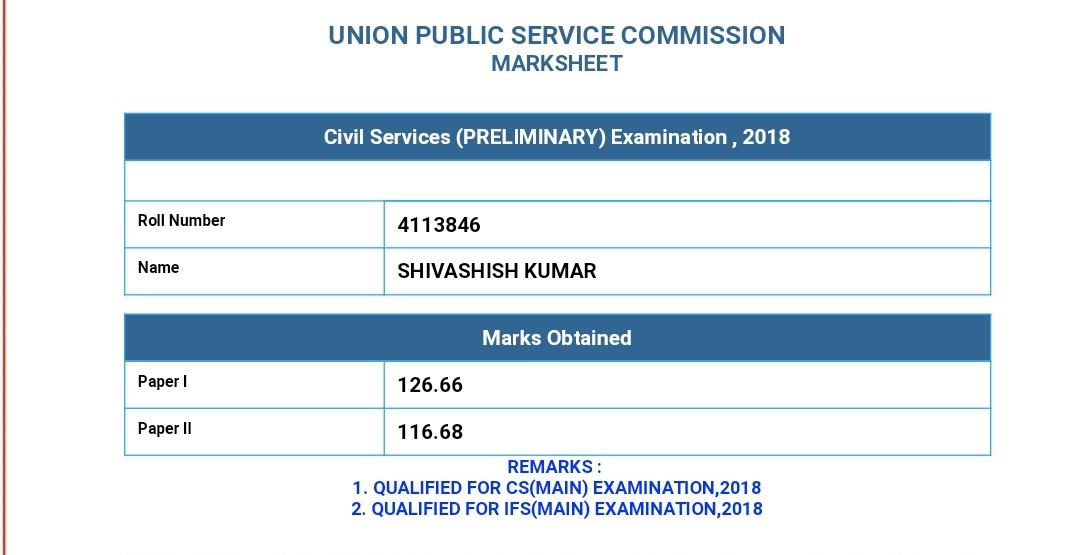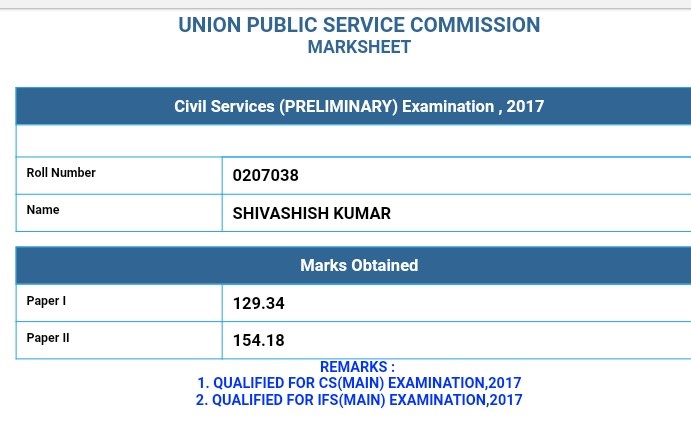 Newspapers are irreplaceable
Choice of newspaper can be different, time of the day when one want to read it can be different, time one want to devote to it can also vary but one should not ignore it. To give an example the explained section in Indian express last week about the recent black hole image is amazing. So lucid and so easy to comprehend which we cannot expect from current affair magazines. It pays back by helping you eliminate options in a few questions.
Current affair from more than 1 source
I used to read monthly current affair magazine, and then re-read it a few times once we switch to prelims mode(mostly 3 month before exam) so that the information get settled easily in brain and any possibility of confusion in examination hall can be minimized. However, considering the growing expand of the paper and lesser margin for error, supplement it with prelims revision module from some other source, which will help one revise the known information as well as add some more in the repository
Test series
I can proudly call myself one of the biggest fan of IASBaba 60 days prelims programme. The way it covers the entire course exhaustively and the huge database of question it provides alongwith the detailed explanations and related information is a bliss in itself. To add to it, daily cut-offs, full tests, words of praise from babaji, a sense of competition with your peers and yourself and healthy discussions provides an ideal mix of knowledge and comfort.
Along with it, one can solve 1-2 test series available in the market especially as a mean to revise the static portions.
Static portions are extremely important
Current affairs are limitless. One can reach a comfortable position but cannot rely on it totally. Based on the level of difficulty, current affair can even be surprising. And herein static part can act a saviour. Portions like modern history, polity and economy are relatively easy to command over. There are limited resources for them and barring a few,questions are mostly straightforward and from these standard sources. The more one is comfortable with static portions, the more one can be sure about their chances. And as an added benefit, it will also help in mains and interview.
For me, the best way to achieve confidence in these was through solving test series papers. Once done with any part of syllabus try to solve the Prelims test series papers and IASBABA 60 day test for that portion. Learn from the mistakes, comprehend the explanation thoroughly and re read the book/chapter if one find that they are making several mistakes in any part or it was difficult to recall while giving test
The art of guessing
To be honest,its not possible to know all the questions and all the right options every single time. At a time when even 0.67 marks can be detrimental, one cannot afford to leave a question which they know partially, neither can one afford to loose marks due to negative answers. And herein the art of smart guessing can help. One has to learn it. Different people can have different style of elimination and picking options, and that develop only when we solve lots of test series and try to practice this art in mocks and exam like situation. Open tests can be a good way to experiment with it. Smart guessing though require knowledge and understanding which we gain by adopting the earlier discussed steps.
Coming from an engineering background, Paper 2 of prelims did not pose much difficulty to me but still I used to solve a few practice paper before the exam to avoid catastrophic damage.I will suggest the same to everyone.
Trust me, I have done nothing special except these. But I have done it very sincerely and religiously. Revision is the key in prelims and sooner or later,we will all realise that!
Some Basic Thumb Rules ( These would help when solving Prelims Mcq's)
First few questions may be difficult, last few may be easy, it doesn't matter. Find out all the easy questions in the first iteration and circle it. Go for a bit tedious one (wherein confused between 2 options) and take calculated risks in second iteration. In the last iteration, try to decode questions based on common sense, option based elimination, splitting the word etc.
Give a few mocks in exam like conditions, at UPSC exam timings, with OMR sheets and in full 2 hours. It will prepare you for resisting the temptation of over attempting or mistakes in filling bubbles.
A few questions can be solved by elimination techniques or applying common sense. Finding out such questions is a skill needed in prelims. Refer to Abhijeet Sinha Sir (has beautifully explained  it) -IASbaba's ILP Student, who has scored 163 (2016) and 152.6 (2017) in his 2 attempts!!
Don't give any mocks in the final week. Rather concentrate fully on revising the already given mocks, static notes, current affairs etc
At times, we become complacent once we start scoring 120 around in mocks. This can be disastrous especially in the last few weeks. One need to self assess the quality of tests and if the test appears to be easy, push the horizon. Aim for 150 then. This will keep one at their toes till the final day.
Usually it is advised to attempt more than 90 questions in general as this is a safe position. However, if you are someone who looses significant marks in negative, this is not for you. Practice mocks and find a optimum  range for you. However, don't be rigid on that. Change it to an extent based on the quality of paper.
What to study at this juncture?
Now that only a month is left, prime focus should be on solving mock papers(1 Test Paper (AIPTS) + Iasbaba's 60 days questions)
Daily revision of current affair(one module /day) and static notes
Use Google extensively whenever you come across some new science  term, or global organisation, Flora fauna etc and update them in your notebook (can refer to gktodayfor this)
In the last 2 weeks, make sure to revise all your mocks and daily questions, as well as the organisations and other facts collected
Last week must be left completely for revision with no new tests, and daily time allocation for maps and rivers.
Prelims is not a exam of selection, but only a test of elimination. Don't panic and give your best. You just need 55-60% marks, which is not that difficult. You will sail through.
All the best to all of you. I wish we all come out with flying colour and make everyone proud.
You can reach out to me at shivashishkr1@gmail.com for any feedback or doubt.
Thank You
Shivashish Kumar
For a dedicated peer group, Motivation & Quick updates, Join our official telegram channel – https://t.me/IASbabaOfficialAccount
Subscribe to our YouTube Channel HERE to watch Explainer Videos, Strategy Sessions, Toppers Talks & many more…