Global Economic Growth – Projection by IMF
Search 10th April, 2019 Spotlight here: http://www.newsonair.com/Main_Audio_Bulletins_Search.aspx
TOPIC: General studies 2 & 3

Important International institutions, agencies and forums, their structure, mandate.
Indian Growth & Economy
Economic Developments
In News: A year ago, economic activity was accelerating in almost all regions of the world. One year later, much has changed. 
What has changed?
The escalation of US–China trade tensions, needed credit tightening in China
Macroeconomic stress in Argentina and Turkey

Disruptions to the auto sector in Germany

Financial tightening alongside the normalization of monetary policy in the larger advanced economies
The above have all contributed to a significantly weakened global expansion, especially in the second half of 2018.
The Forecast
The International Monetary Fund cut its outlook for global growth to the lowest since the financial crisis amid a bleaker outlook in most major advanced economies and signs that higher tariffs are weighing on trade.
The world economy will be less vibrant this year than had been expected three months ago, according to the International Monetary Fund's new World Economic Outlook report, which projects global 2019 gross domestic product will grow 3.3 percent, 0.2 percentage point lower than in forecasts in January.

For the world's two biggest economies, the revisions moved in opposite directions of each other, with the U.S. growth forecast lowered 0.2 percentage point to 2.3 percent while China's rose 0.1 percentage point to 6.3 percent.

The global volume of trade in goods and services will increase 3.4 percent this year, weaker than the 3.8 percent gain in 2018 but reduced from the IMF's January estimate of 4 percent.

IMF is warning that risks are skewed to the downside, with a range of threats menacing the global economy, including the possible collapse of negotiations between the U.S. and China to end their trade war, and the departure of Britain from the European Union without a transition agreement, known as the "no-deal" Brexit scenario.
IMF scales down India's growth projection for current fiscal to 7.3%
Reasons:
Continued recovery of investment

Robust consumption amid a more expansionary stance of monetary policy and some expected impetus from fiscal policy

Higher trade policy uncertainty and concerns of escalation and retaliation would reduce business investment, disrupt supply chains, and slow productivity growth,
Suggestion by IMF:
Prescribed continued fiscal consolidation in the near term to trim the country's elevated public debt.

This should be "supported by strengthening goods and services tax compliance and further reducing subsidies"

Governance of Indian public sector banks needs to be enhanced and reforms to hiring and dismissal regulations would help incentivise job creation

The policy response this time cannot be in the form of a fiscal easing or another stimulus.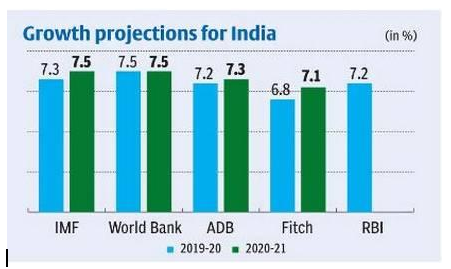 Pic: https://www.thehindubusinessline.com/incoming/xepon0/article26785348.ece/alternates/FREE_435/Growth-chart
IMF said India's growth is projected to pick up to 7.5 per cent in FY21, aided by the "continued recovery of investment and robust consumption amid a more expansionary stance of monetary policy and some expected impetus from fiscal policy".
Global growth beyond 2020
According to IMF, global growth is expected to level out at 3.6% over the medium term, driven by a moderation in expansion in advanced countries (caused by a weak productivity growth and a slow labour force growth) and the stabilisation of emerging market expansion at 2020 levels.

Advanced economies are expected to slow down to 1.6% growth by 2022 and remain at that rate thereafter.

For emerging markets and developing countries, growth is expected to steady at 4.8% over the medium term and given that these groups are growing faster than advanced economies, their contribution to global growth is expected to increase from 76% to 85% over the next five years.

China is expected to slow down to 5.5% by 2024 as it moves towards increasing private consumption and services and regulatory tightening.

India's growth is expected to stabilise at 7.75% over the medium term, driven by structural reforms and the easing of infrastructure bottlenecks.
Risks to global growth
Tensions in trade policy could flare up again and play out in other areas (such as the auto industry), with large disruptions to global supply chains.

Growth in systemic economies such as the euro area and China may surprise on the downside, and the risks surrounding Brexit remain heightened.

Deterioration in market sentiment could rapidly tighten financing conditions in an environment of large private and public sector debt in many countries, including sovereign-bank doom loop risks.
The Way Forward by IMF
Policy front: Policymakers need to work cooperatively to help ensure that policy uncertainty doesn't weaken investment.
Fiscal policy

will need to manage trade-offs between supporting demand, protecting social spending, and ensuring that public debt remains on a sustainable path, with the optimal mix depending on country-specific circumstances.

Financial sector policies

must address vulnerabilities proactively by deploying macroprudential tools (such as counter-cyclical capital buffers)—a task made more urgent by the possibility that interest rates will remain low for longer.

Monetary policy

should remain data dependent, be well communicated, and ensure that inflation expectations remain anchored.
Need for increased Collaboration at a global level: Across all economies, the imperative is to take actions that boost potential output, improve inclusiveness, and strengthen resilience. There is a need for greater multilateral cooperation to resolve trade conflicts, to address climate change and risks from cybersecurity, and to improve the effectiveness of international taxation.
Be Prelims Ready:
World Economic Outlook (WEO)
Publication by the International Monetary Fund (IMF)

Published biannually – April and October
IMF
Headquartered in Washington, D.C

Working to foster global monetary cooperation, secure financial stability, facilitate international trade, promote high employment and sustainable economic growth, and reduce poverty around the world

Acts as an international lender of last resort:

Formed in 1944 at the

Bretton Woods Conference

primarily by the ideas of Harry Dexter White and John Maynard Keynes, it came into formal existence in 1945 with 29 member countries and the goal of reconstructing the international payment system. It now plays a central role in the

management of balance of payments difficulties and international financial crises

.

Follows weighted voting and the members with higher quota get a higher voice.

Gita Gopinath

was appointed as Chief Economist of IMF from October 1, 2018. She received her Ph.D. in economics from Princeton University.
Bretton Wood institutions: World Bank and IMF are called Bretton Wood institutions; they were established at Bretton Wood Conference in 1944
Connecting the Dots:
Critically examine the reasons for slowdown in the global economy with special reference to US and China.
For a dedicated peer group, Motivation & Quick updates, Join our official telegram channel – https://t.me/IASbabaOfficialAccount
Subscribe to our YouTube Channel HERE to watch Explainer Videos, Strategy Sessions, Toppers Talks & many more…