IAS UPSC Prelims and Mains Exam – 15th August 2019
---
(PRELIMS + MAINS FOCUS)
---
Swachh Survekshan Grameen
Part of: GS Prelims and Mains GS-II – Government policies and interventions for development in various sectors and issues arising out of their design and implementation.
In News
Government launched the 'Swachh Survekshan Grameen 2019', which will be three times bigger in scale than the previous edition of the

rural sanitation survey.

It's not just a survey but an opportunity to encourage behavioural change and take sanitation to the secondary level, beyond the concept of ODF villages

In the first edition in 2018, the survey covered over 6,000 villages across the country.

This year the survey aims to cover 18,000 sample villages — approximately 30 per rural district — and take feedback from over 2.5 crore villagers. 

The effort is to look beyond toilets and to

kick off the Open Defecation Free Plus 

(

ODF+) phase

— focussing on solid and liquid waste management

The ODF-Plus programme has

four verticals

— biodegradable waste management, plastic waste management, greywater (household waste water) management and faecal sludge management.

For Swachh Survekshan Grameen 2019, Citizen feedback will account for 35% of the ranking of districts. 

Another 30% weightage is being given to direct observations by surveyors from third party Ipsos, who will look at the

prevalence of plastic litter and water-logging

as well as the availability and usage of toilets. 

The remaining 35% will be drawn from service-level progress measuring the final activities of the original Swachh Bharat mission.
Do You know?
Ever since the Swachh Bharat Abhiyan was launched on Gandhi Jayanti in 2014, its main focus has been on eliminating open defecation by constructing toilets and promoting their usage through widespread behaviour change programmes. 

With the October 2, 2019 deadline looming near, and the original goal is almost achieved and the mission is moving on to its next phase (ODF+)
---
Register of Indigenous Inhabitants of Nagaland (RIIN).
Part of: GS Prelims and Mains GS III – Issues in Indian Federalism
In News
A joint committee of Naga civil society groups has warned the Nagaland government against changing the cut-off date for including people in the RIIN

The Nagaland government had, through a notification on June 29, 2019, decided to undertake the exercise to update the RIIN with

December 1, 1963, as the cut-off date

for inclusion of people in the register.

RIIN is a master list of all indigenous inhabitants of the State of Nagaland with the aim of preventing fake indigenous inhabitants' certificates.

Based on detailed survey, it will have records of indigenous residents from rural and urban areas

The process will be done as part of the

online system of Inner Line Permit (ILP),

which is already in force in Nagaland.

This provisional list will then be collated and published on the government websites by September 11, 2019

Unique Identity:

All indigenous inhabitants of Nagaland would be issued a barcoded indigenous inhabitant certificate
Do You know?
Nagaland was carved out of Assam as a State on December 1, 1963. 

The State government had in April 1977 issued a notification that laid down the criteria for issuing indigenous inhabitant certificates to the residents when the State was formed
Inner Line Permit (ILP)

is an official travel document required by Indian citizens residing outside certain "protected" states while entering them. 

ILP's origin dates back to the Bengal Eastern Frontier Regulations, 1873, which protected the British Crown's interest in tea, oil and elephant trade. It prohibited "British subjects" or Indians from entering into these protected areas. 
After Independence, in 1950, the word "British subjects" was replaced by Citizens of India and the focus of the ban on free movement was explained as a

bid to protect tribal cultures in north-eastern India.
---
India's water scarcity challenge
Part of: Mains GS III- Environmental Conservation
In News
India, the world's largest groundwater user

, is seeing levels declining across the country with farmers in Punjab, Haryana and Rajasthan facing the prospect of having no groundwater left for irrigation by 2025.

More than 90% of the rice-wheat areas in north-west India are irrigated using groundwater.

Groundwater, the source of 40% of India's water needs

, is depleting at an unsustainable rate, according to Niti Aayog,

India accounts for 12% of global groundwater extraction, pumping some 230 billion cubic metres each year. At this rate, by 2030, nearly 60% of the aquifers will be in a critical state.

Consecutive years of weak monsoons, massive deforestation, poor rainwater harvesting and pollution of rivers and lakes have led the country to depend on groundwater.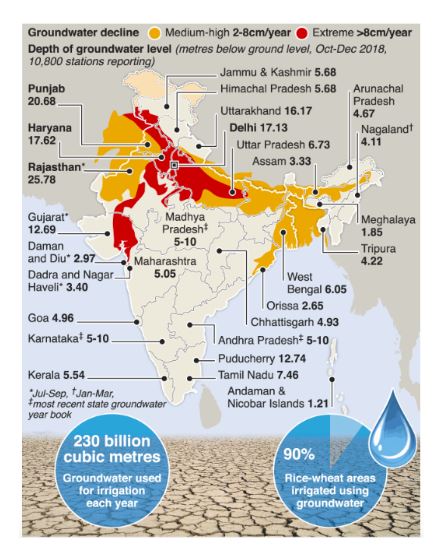 https://www.graphicnews.com/en/pages/39416/ENVIRONMENT_India_groundwater_stress
---
Paddy stubble burning
Part of: GS Prelims and Mains GS-III – Environment
In News
Burning of paddy crop residue, one of the major causes of air pollution,

declined by 41% last year over 2016-level

in Punjab, Haryana, Uttar Pradesh and Delhi-NCR with the help of a ₹1,151 crore central scheme.

23 million tonnes of rice residue were being burnt in rice-wheat cropping system (around 4.1 million ha) in this region to clear the field for conventional wheat sowing because of the narrow window (about 10-20 days) between rice harvesting and wheat sowing.

Crop residue burning in north-west India contributes to air pollution, health hazards, disruption of transportation, school closures and soil degradation.
To tackle this issue, government launched Central Sector Scheme – '

Promotion of Agricultural Mechanization for In-Situ Management of Crop Residue in the State of Punjab, Haryana, Uttar Pradesh and NCT of Delhi'
The scheme involved 

Distribution of in-situ crop residue management machinery to the farmers on subsidy

Establishment of Custom Hiring Centres (CHCs) of in-situ crop residue management machinery

Undertaking Information, Education and Communication (IEC) activities for creating awareness among farmer

 

ICAR is implementing the scheme through 60 Krishi Vigyan Kendras (KVKs) of Punjab (22), Haryana (14), Delhi (1) and UP (23).

More than

4500 villages

in Punjab and Haryana were declared as

Zero Stubble Burning Villages

during 2018 as not a single crop burning incident was reported from these villages during the year.
In addition to the above Scheme, separate funds are being allocated to the States for crop residue management under

Sub-Mission on Agriculture Mechanization by the Department of Agriculture Cooperation and Farmers Welfare
---
(MAINS FOCUS)
---
HEALTH
TOPIC: General studies 2 and 3

Public Health issues
Science and technology: medical research
Notifiable disease 
Context:
A month after Union Health Minister Dr HarshVardhan asked the Delhi government to make malaria and dengue notifiable diseases, the South Delhi Municipal Corporation (SDMC) has initiated the work to notify malaria in the capital.
What is a Notifiable disease?
A Notifiable disease is any disease that is required by law to be reported to government authorities. The collation of information allows the authorities to monitor the disease, and provides early warning of possible outbreaks.

The World Health Organization's International Health Regulations, 1969 require disease reporting to the WHO in order to help with its global surveillance and advisory role.

Making a disease legally notifiable by doctors and health professionals allows for intervention to control the spread of highly infectious diseases. 

Registered medical practitioners need to notify such diseases in a proper form within three days, or notify verbally via phone within 24 hours depending on the urgency of the situation.
Advantages:
This means every government hospital, private hospital, laboratories, and clinics will have to report cases of the disease to the government.

The process helps the government keep track and formulate a plan for elimination and control.

In less infectious conditions, it improves information about the burden and distribution of disease.

The Centre has notified several diseases such as cholera, diphtheria, encephalitis, leprosy, meningitis, pertussis (whooping cough), plague, tuberculosis, AIDS, hepatitis, measles, yellow fever, malaria dengue, etc. The onus of notifying any disease and the implementation lies with the state government.

Any failure to report a notifiable disease is a criminal offence and the state government can take necessary actions against defaulters.
Key notes:
According to Indian Council of Medical Research (ICMR) report titled "India: Health of the Nation's States", contribution of Non-Communicable Diseases (NCDs) to total death in the Country was 61.8% in 2016, as compared to 37.9% in 1990.

Some examples of common NCDs, i.e. diabetes, hypertension and cancers (Oral, Breast and Cervical cancer) are on the rise in India.

Risk factors for NCDs inter alia include ageing, unhealthy diet, lack of physical activity, high blood pressure, high blood sugar, high cholesterol and overweight

Also In the States of Kerala, Goa and Tamil Nadu, due to epidemiological transition, fewer deaths are recorded for communicable, maternal, neonatal and nutritional diseases, thereby raising the share of NCDs in total deaths
Epidemiologic Transition
The epidemiologic transition is that process by which the pattern of mortality and disease is transformed from one of high mortality among infants and children to one of degenerative and man-made diseases (such as those attributed to smoking) affecting principally the elderly.
Though public health is a State subject, Central Government supplements the efforts of the State Governments. 
For example:
National Programme for Prevention and Control of Cancer, Diabetes, Cardiovascular Diseases and Stroke (NPCDCS) is being implemented under the National Health Mission (NHM)

The objectives of the programme include health promotion activities and opportunistic screening for common Non-Communicable Diseases (NCDs) including cancer

Key components of population-based screening include community-based risk assessment, screening, referral, and follow up of all individuals of 30 years and above for common NCDs

The initiative will help in early diagnosis and will generate awareness on risk factors of NCDs.

Citing growing occurrence of cancer in India, the Union government sought to enhance the facilities for tertiary care of cancer.




The Central Government is implementing Strengthening of Tertiary Care Cancer facilities scheme to support setting up of State Cancer Institutes (SCI) and Tertiary Care Centres (TCCC) in different parts of the country.

Oncology in its various aspects has a focus in case of new AIIMS and many upgraded institutions under Pradhan Mantri Swasthya Suraksha Yojana (PMSSY).

Affordable Medicines and Reliable Implants for Treatment (AMRIT) Deendayal outlets have been opened at 159 Institutions/Hospitals with an objective to make available Cancer and Cardiovascular Diseases drugs and implants at discounted prices to the patients.

Jan Aushadhi stores are set up by the Department of Pharmaceuticals to provide generic medicines at affordable prices.
Conclusion:
There is a greater need to tailoring strategies not just State by State but in some cases district by district to end the disease. It is also high time that a collective demand for timely provision of amenities is made at the community level and a sense of shared responsibility by the citizenry to ensure that the gains from government's efforts to reduce the incidence of vector-borne diseases bear fruit.
Connecting the dots:
Diseases like Dengue and Chikungunya claim many lives every year. The panic generated and the scales of response there on give these diseases the essential characteristics of a disaster. Discuss. Also examine the areas that require immediate attention to address such medical disasters.
---
RIVER/POLLUTION
TOPIC: General Studies 3:

Conservation, environmental pollution and degradation, environmental impact assessment
Legal rights to water bodies
Context:
Giving legal rights to water bodies a great leap forward
 There are many more than seven rivers in India.Since there is no proper definition of a river, it is impossible to answer this question. One way to list is in terms of river basins, so that the main river and its tributaries are both included. For Himalayan Rivers, one will then list Indus basin, Ganga basin, Brahmaputra basin, Barak basin and so on.
Similarly, in the south, one will list basins of rivers flowing east (Godavari, Krishna, Kaveri, Mahanadi) and those flowing west (Narmada, Tapti). This still leaves some loose ends, minor rivers along the coast and rivers that don't drain into oceans.
Depending on what is included, there can be more than 100 river basins and more than 600 rivers in the listing.
Rivers now have legal rights.
Background:
In a way, it started with some rivers in Victoria. Then, in 2017, we had the Whanganui river in New Zealand and Ganga and Yamuna. 

Because of news reports, most people know what the Uttarakhand High Court said in March 2017, though there is now a stay because of an appeal before the Supreme Court. 

All the Hindus have deep Astha in rivers Ganga and Yamuna, and they collectively connect with these rivers

Accordingly, while exercising the parens patrie jurisdiction, the Rivers Ganga and Yamuna, all their tributaries, streams, every natural water flowing with flow continuously or intermittently of these rivers, are declared as juristic/legal persons/living entities having the status of a legal person with all corresponding rights, duties and liabilities of a living person in order to preserve and conserve river Ganga and Yamuna

The Director NAMAMI Gange, the Chief Secretary of the State of Uttarakhand and the Advocate General of the State of Uttarakhand are hereby declared persons in loco parentis as the human face to protect, conserve and preserve Rivers Ganga and Yamuna and their tributaries. 

These Officers are bound to uphold the status of Rivers Ganges and Yamuna and also to promote the health and well-being of these rivers." Ganga and Yamuna obtained legal rights, but as minors. They needed guardians. Granting legal rights to rivers (and water bodies) opens up a new area of environmental jurisprudence.
Why did Ganga and Yamuna need legal rights?
The core issue is pollution. 

Central Pollution Control Board (CPCB) brings out reports on water quality in our rivers. Strictly speaking, these are measures of water quality along stretches of rivers.

There is actually a hierarchy of pollution, based on levels of biochemical oxygen demand (BOD). One can legitimately argue BOD is at best a partial indicator. T

There are other measures of a river's well-being. If BOD values exceed 8 milligrams per litre, the river will be regarded as severely polluted. Between Wazirabad and Okhla, Yamuna has a BOD level of 32, 55 and 70, at three different places. Between Kala Amb and Narayan Garh, Markanda river in Haryana has a BOD value of 590. 

Similarly, there are also lists of most polluted rivers in India and these lists will typically include Ganga, Yamuna, Sabarmati, Oshiwara and Damodar. More often than not, these lists are based on CPCB findings and therefore mean stretches of rivers, not entire rivers. 

Somewhat more rarely, there are also lists of cleanest rivers in the world and cleanest rivers in India. For instance, stretches of Chambal, Narmada, Brahmaputra, Umngot, Teesta and Tuipui are remarkably clean.
What is the reason of Ill-being of rivers?
Ill-being of rivers is primarily due to raw sewage and industrial waste. Neither problem is new. In Britain, a Royal Commission on Sewage Disposal was established in 1898. Between 1901 and 1915, this produced ten reports

Kashi Ganga Prasadini Sabha, established by concerned citizens of Varanasi in 1886. The Sabha's objective was to introduce drainage and clean up the river. 

The Royal Commission and Namami Gange are primarily about what government does. (Namami Gange does have a public awareness component.) The Sabha was about what citizens did and in addition to the government bit, the citizen bit is also needed.
Connecting the dots:
Why haven't the efforts to clean the polluted rivers in India succeeded so far? Examine by taking the case study of the river Ganga?

Do you think according the status of 'living entity' to rivers would help in their rejuvenation? Critically analyse.
---
(TEST YOUR KNOWLEDGE)
---
Model questions: (You can now post your answers in comment section)
Note: 
Featured Comments and comments Up-voted by IASbaba are the "correct answers".

IASbaba App users – Team IASbaba will provide correct answers in comment section. Kindly refer to it and update your answers.
Q.1) Inner Line Permit is operational in which of the following states
Mizoram

Nagaland

Manipur

Arunachal Pradesh

Tripura
Select the correct answer from the codes given below
1,2 and 3 only

1,2,4 and 5 only

1,2 and 4 only

1,2,3,4 and 5
---
Q.2) Consider the following statements about Register of Indigenous Inhabitants of Nagaland (RIIN)
RIIN is a master list of all indigenous inhabitants of the State of Nagaland with the aim of preventing fake indigenous inhabitants' certificates.

The list was published when the state of Nagaland was carved out of Assam in 1963 
Which of the statement(s) given above is / are correct?
1 only

2 only

Both 1 and 2

Neither 1 nor 2
---
Q.3) Consider the following statements
Groundwater is the source of 40% of India's water needs 

More than 90% of the rice-wheat areas in north-west India are irrigated using groundwater.

Consecutive years of weak monsoons, massive deforestation, poor rainwater harvesting and pollution of rivers and lakes have led the country to depend on groundwater.
Which of the statement(s) given above is / are correct?
1 and 2 only

2 and 3 only

1 and 3 only

1,2 and 3
---
Must Read:
Whether we will survive ought to be our foremost concern
A reality check on India's renewable energy capacity
How does negative rate policy work?
Let's draw lines in water
For a dedicated peer group, Motivation & Quick updates, Join our official telegram channel – https://t.me/IASbabaOfficialAccount
Subscribe to our YouTube Channel HERE to watch Explainer Videos, Strategy Sessions, Toppers Talks & many more…