Details of Economic Package announced
Search 17th May, 2020 Spotlight here: http://www.newsonair.com/Main_Audio_Bulletins_Search.aspx 
Topic: 
General Studies 2:
Issues relating to development and management of Social Sector/Services relating to Health
General Studies 3
Economic crisis during COVID-19
In News: PM Modi announced Lockdown 4.0 but with a promise of a substantial reduction in restrictions and a whopping Rs 20 lakh crore fiscal package to be announced in a phased manner. The Atmanirbhar Bharat Abhiyan economic package is worth Rs 20 lakh crore, which is around 10% of India's GDP in the 2019-20 financial year.
The uncertainty
With a nationwide lockdown for the better part of April and May, the total quantum of economic activity in the country — measured by the monetary value of all goods and services produced — has sharply curtailed.
Given an uncertain future for the rest of the year, most observers estimate that the Indian economy will contract. That is, it will produce less in 2020-21 than it did in 2019-20. This means the Gross Value Added (GVA is a proxy for the income earned) across sectors — agriculture, industry and services — will fall.
As incomes fall, three things will happen.
Individuals (like you and me) will cut down their expenditure. In particular, all discretionary expenditure — be it an additional pack of cigarettes or a new car or a house — will come down sharply.

Seeing overall demand fall, businesses, which were already not investing, will likely postpone their investments further.

The government revenues will take a massive hit. This means that if the government wants to maintain its level of fiscal deficit (the gap between what it earns as revenues and what it spends), it will have to cut its overall expenditure this year.
These three types of "expenditures" — by individuals, businesses and government — essentially make up the GDP of India. There is a fourth component called net exports (that is, the net of exports and imports), but with the global demand plummeting as well, this too is unlikely to help matters.
Why is there discontent?
The government doesn't seem to be raising its total expenditure — at least not by the quantum required to arrest the sharp decline in GDP.
According to an assessment by Prof N R Bhanumurthy of the National Institute of Public Finance and Policy (NIPFP) and published by National Council of Applied Economic Research (NCAER), the way things are going, India's GVA will contract by a whopping 13% this year under the Base case scenario (see Table 1). The Base case scenario refers to a scenario where governments (both Centre and states) bring down their expenditure in line with their falling revenues to maintain their fiscal deficit target.
To lift growth, the governments would have to spend more and counteract the natural downward spiral of the economy. But only if the government spends 3% of the GDP over and above what it promised to do in the Union Budget 2020-21, will the economic growth stay in the positive territory. Short of that, the Indian economy will contract. Of course, higher public spend will come at the cost of higher levels of fiscal deficits and higher inflation, but a growth contraction will come at the cost of widespread economic ruin, job losses and even deaths.
Coronavirus changed all the calculations
In Budget 2020-21, the Central government planned to spend Rs 30,42,230 crore in the current year. The shortfall on the revenue side would be financed by borrowing Rs 7,96,337 crore. This was the budgeted fiscal deficit, equivalent to 3.5 per cent of GDP. 
It was evident that the Government had to borrow more. The government accepted that it will borrow an additional amount of Rs 4.2 lakh crore taking the total borrowing to about Rs 12 lakh crore. The fiscal deficit (assuming no change in the estimate of GDP) would be 5.3 per cent.
Cuts that is required:

There is no clarity whether the government will make cuts in other items of expenditure. The cuts announced so far will save the government Rs 41,490 crore and will be available for Covid-19-related expenditure. That expenditure will only restore the original level of expenditure and, therefore, will not amount to a fiscal stimulus.

Gap-filling:

Additional borrowing would be a fiscal stimulus only if it was used to provide cash and other forms of support to the poorest families at the bottom half of the population and to re-start the completely stalled economy. The additional amount of Rs 4.2 lakh crore will be used for 'gap filling'. The government expects to take a big hit on estimated tax revenues and proceeds of disinvestment. If the 'gap' has been estimated at about Rs 4.2 lakh crore, the additional borrowing will fill that 'gap'. This is unavoidable, but the amount of Rs 4.2 lakh crore certainly cannot be counted as a fiscal stimulus.
Details – Special economic and comprehensive package of Rs 20 lakh Crore
A clarion call for आत्मनिर्भर भारत अभियान or Self-Reliant India Movement was given; Outlined five pillars of Aatmanirbhar Bharat – 
Economy

Infrastructure

System

Vibrant Demography

Demand
Free food grains supply to migrants for 2 months
For the migrant labour, additional food grain to all the States/UTs at the rate of 5 kg per migrant labourer and 1 kg Chana per family per month for two months i.e. May and June, 2020 free of cost shall be allocated. 

Migrant labourers not covered under National Food Security Act or without a ration card in the State/UT in which they are stranded at present will be eligible. States/UTs shall be advised to put a mechanism for targeted distribution as envisaged in the scheme. 

8 Lakh MT of food-grain and 50,000 MT of Chana shall be allocated. The entire outlay of Rs. 3500 crore will be borne by Government of India.
Technology system to be used enabling Migrants to access PDS (Ration) from any Fair Price Shops in India by March, 2021-One Nation one Ration Card
Pilot scheme for portability of ration cards will be extended to 23 states. By that, 67 crore beneficiaries covering 83% of PDS population will be covered by National portability of Ration cards by August, 2020. 100% National portability will be achieved by March, 2021. 

This is part of PM's Technology Driven System Reforms This scheme will enable a migrant worker and their family members to access PDS benefits from any Fair Price Shop in the country. This will ensure that the people in transit, especially migrant workers can also get the benefit of PDS benefit across the country.
Scheme for Affordable Rental Housing Complexes for Migrant Workers and Urban Poor to be launched
Central Government will launch a scheme for migrant workers and urban poor to provide ease of living at affordable rent. 

Affordable Rental Housing Complexes

 will provide social security and quality life to migrant labour, urban poor, and students etc. This will be done through converting government funded houses in the cities into Affordable Rental Housing Complexes (ARHC) under PPP mode through concessionaire; manufacturing units, industries, institutions, associations to develop Affordable Rental Housing Complexes (ARHC) on their private land and operate; and Incentivizing  State Govt agencies/Central Government Organizations on similar lines to develop Affordable Rental Housing Complexes (ARHC) and operate. 
2% Interest Subvention for 12 months for Shishu MUDRA loanees- Relief of Rs. 1,500 crore
The current portfolio of MUDRA Shishu loans is around Rs 1.62 Lakh crore. This will provide relief of about 

Rs 1,500 crore

 to Shishu MUDRA loanee.
Rs 5,000 crore Credit facility for Street Vendors
A special scheme will be launched within a month to facilitate easy access to credit to Street vendors, who are amongst the most adversely impacted by the present situation for enabling them to restart their businesses. 

Under this scheme, bank credit facility

 for initial working capital up to Rs. 10,000 for each enterprise

 will be extended. This scheme will cover urban as well as rural vendors doing business in the adjoining urban areas. Use of digital payments and timely repayments will be incentivized through monetary rewards. 

It is expected that 

50 lakh street vendors

 will be benefitted under this scheme and credit of Rs. 5,000 crore would flow to them. 
Rs 70,000 crore boost to housing sector and middle income group through extension of  Credit Linked Subsidy Scheme for MIG under PMAY(Urban)
The Credit Linked Subsidy Scheme for Middle Income Group (annual Income between Rs 6 and 18 lakhs) will be extended up to March 2021. This will benefit 2.5 lakhs middle income families during 2020-21 and will lead to investment of over 

Rs 70,000 crore

 in housing sector. 

This will create significant number of jobs by giving boost to Housing sector and will stimulate demand for steel, cement, transport and other construction materials.
Rs 6,000 crore for Creating employment using CAMPA funds
Approximately Rs 6,000 crore of funds under Compensatory Afforestation Management & Planning Authority (CAMPA) will be used for 

Afforestation and Plantation works, including in urban areas

, Artificial regeneration, assisted natural regeneration, Forest management, soil & moisture conservation works, Forest protection, forest and wildlife related infrastructure development, wildlife protection and management etc. 

Government of India will grant immediate approval to these plans amounting to Rs 6000 crore. This will create job opportunities in urban, semi-urban and rural areas and also for Tribals (Adivashis).
Rs 30,000 crore Additional Emergency Working Capital for farmers through NABARD
NABARD will extend additional re-finance support of 

Rs 30,000 crore

 for meeting crop loan requirement of 

Rural Cooperative Banks and RRBs

. This refinance will be front-loaded and available on tap. 

This is over and above Rs 90,000 crore that will be provided by NABARD to this sector in the normal course. This will benefit around 

3 crore farmers

, mostly small and marginal and it will meet their 

post-harvest Rabi and current Kharif requirements.
Rs 2 lakh crore credit boost to 2.5 crore farmers  under Kisan Credit Card Scheme
A special drive to provide concessional credit to PM-KISAN beneficiaries through Kisan Credit Cards. Fisherman and Animal Husbandy Farmers will also be included in this drive.

This will inject a

dditional liquidity of  Rs 2 lakh crore 

in the farm sector. 2.5 crore farmers will be covered.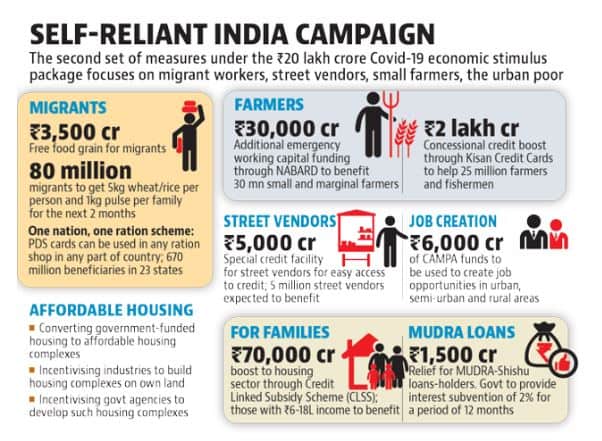 Source: Click here 
Connecting the Dots:
Additional borrowing is the key to fiscal stimulus. Explain.

The key to the dramatic turnaround in the global financial crisis of 2008 was the fiscal risk. Discuss. 

Essay:

COVID-19 is the acid test for our political leadership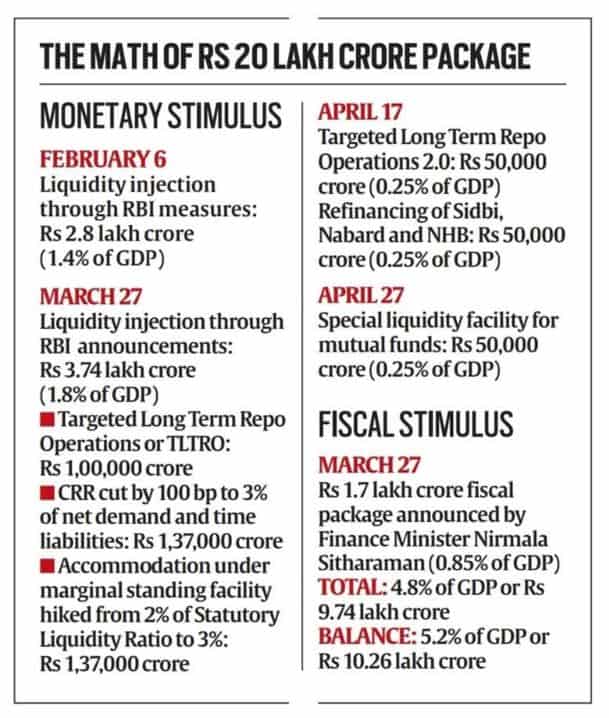 For a dedicated peer group, Motivation & Quick updates, Join our official telegram channel – https://t.me/IASbabaOfficialAccount
Subscribe to our YouTube Channel HERE to watch Explainer Videos, Strategy Sessions, Toppers Talks & many more…