IAS UPSC Prelims and Mains Exam – 3rd June 2020
---
(PRELIMS + MAINS FOCUS)
---
Part of: GS-Prelims and GS-II – Statutory Bodies
In News:
Recently, The

National Human Rights Commission

(NHRC) issued notices to the Union Home Ministry, the Railway Board and the Bihar and Gujarat governments. 

The notices were in connection with the

reported deaths

of some migrant workers on

Shramik Special trains

and the lack of food and water for the passengers on these trains.

NHRC took

suo motu (on its own) cognisance

of media reports about the trains starting late and taking many days to reach destinations.
Important value additions 
National Human Rights Commission (NHRC) 
It is a statutory body.

NHRC was established on 12th October, 1993 under the

Protection of Human Rights Act

(PHRA), 1993. 

The Act also provides for the creation of the State Human Rights Commission as well.

The NHRC is an embodiment of India's concern for the promotion and protection of human rights. 

The commission is a

multi-member

body consisting of a

chairman

and

five members

. 

The chairperson is a retired chief justice of India or a judge of the Supreme Court.

They are appointed by the President on the recommendations of a six-member committee consisting of: 

Prime Minister (head) 

Speaker of the Lok Sabha

Deputy Chairman of the Rajya Sabha

Leaders of the Opposition in both the Houses of Parliament  

Union Home Minister.

They hold office for a term of three years or until they attain the age of 70 years, whichever is earlier.

The President can remove them from the office under specific circumstances.
---
Part of: GS-Prelims and GS-II – Global Groupings & GS-III – Infrastructure (Roads)
In News:
The

Asian Development Bank

(ADB) and the Indian Government recently signed a

$177 million loan

to upgrade state highways and major district roads in the state of Maharashtra.
Key takeaways 
The project will

improve connectivity

between rural areas and urban centers in the state. 

It will enable rural communities to

better access

markets, employment opportunities and services. 

Mobility

will improve. 

It will expand

development and livelihood opportunities

to second-tier cities and towns which will lead to reduction in income disparities. 

It will also

strengthen

road safety measures by developing a

road safety audit framework

that will protect vulnerable groups such as the elderly, women, and children. 

Another feature is to update

road maintenance system

by encouraging 5-year performance-based maintenance obligations to contractors. 
Important value additions 
Asian Development Bank (ADB)
It is a

regional development bank

. 

It was

established

on 19 December 1966. 

Headquarters: Mandaluyong, Philippines. 

It was established to promote

social and economic development in Asia

. 

Motto: ADB is committed to achieving a

prosperous

,

inclusive

,

resilient

and

sustainable Asia & the Pacific

, while sustaining its efforts to eradicate extreme poverty.

It

offers hard loans

(currency) on commercial terms primarily to middle income countries in Asia and 

It provides

soft loans

(loan with a below-market rate of interest) to poorer countries in the region. 

Both types of loans are sourced from the bank's

ordinary capital resources

(OCR).

Five largest borrowing countries are China, India, Pakistan, Indonesia and Bangladesh. 
---
Part of: GS-Prelims and GS-III – Biotechnology
In News:
Bodoland University has said that it has developed a

fungal powder

to help people

boost

their

immunity

to disease.
The powder is from a

parasitic

but

rare "super mushroom"

called

Cordyceps militaris.
A potent pinch of C. militaris was powdered through

lyophilisation

or freeze-drying

at – 80°C. 
Important value additions 
Cordyceps
The earth has more than 400 species of Cordyceps. 

It is a fungus parasitic on insects as well as other fungi. 

It is often referred to as a super mushroom.

It is known for its anti-ageing, anti-viral, energy and immunity-boosting effect.

Cordyceps militaris

is spread throughout the northern hemisphere.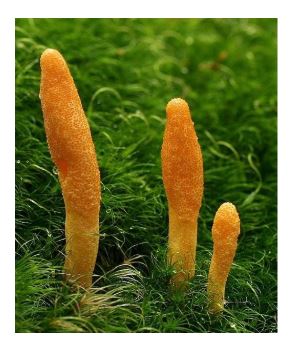 Image source: Click here 
---
Miscellaneous 
A3i coronavirus type
Scientists at multiple CSIR laboratories have identified a coronavirus type – A3i – that may be the

second most prevalent

in India and may comprise 3.5% of the genomes globally.

The

most dominant

coronavirus type in India is the

A2a

. 

There are 11 SARS-CoV-2 types identified globally with at least 6 of them identified in India.
Cyclone Nisarga
It is headed towards the coastline of north Maharashtra and south Gujarat on the western coast of India. 

In strength and intensity, it would be much weaker than Cyclone Amphan that struck recently and passed through West Bengal on its way to Bangladesh.

Cyclones

formed in the Bay of Bengal side more frequent and stronger than those on the Arabian Sea side.

The relatively cold waters of the Arabian Sea are main cause of less cyclones in the sea.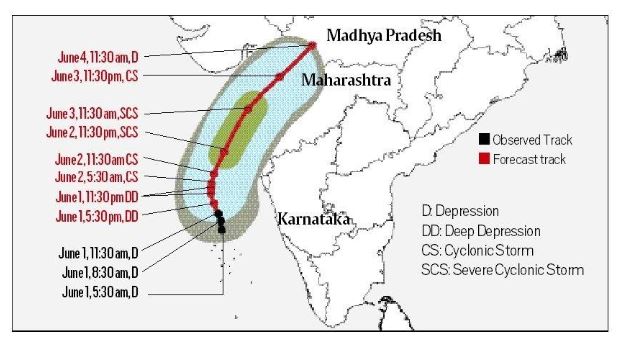 Image source: Click here 
---
(MAINS FOCUS)
---
GOVERNANCE/ SECURITY
Topic: General Studies 2:

Government policies and interventions for development in various sectors and issues arising out of their design and implementation. 
Important aspects of governance (Law & order) 
Context: The COVID-19 has impacted the Policing and has given new challenges in short term
Law Enforcement during Pandemic times
Essential

: In a society struck by a deadly virus, strict maintenance of public order is most essential. Police ensured strict observance of guidelines, including physical distancing norms which reduced the disease spread.

Criticality

: Law enforcement was considered next only to healthcare in its critical function of preventing disease spread.

Public cooperation

during the pandemic helped the police to overcome the challenges of manpower and mobility.

Use of Social Media

: Police skilfully used social media to disseminate all relevant information to a majority of the population, both in urban and rural areas.

Overall drop in crime:

Zero Traffic on major highways lead to sharp reduction in traffic accidents & fatalities. Delhi Police reported a 70% fall in heinous crimes (murders and rapes) between April 1 and 15 compared to the same period last year. 
Uptick in domestic violence:

The Tamil Nadu Police, for instance, reportedly received 2,963 calls on domestic violence in April 2020 alone
What are the possible reasons for increase in domestic violence?
There are two major factors for this rise. 
Most men were at home, either without work on in fear of losing their jobs. Data show that domestic violence increases when there is greater unemployment. 

The second reason is the non-availability of liquor during the lockdown period, which caused frustration among those men who are habituated to drinking. 

There was a similar increase in sexual and gender-based violence in West Africa during the 2013-16 Ebola outbreak
What will be the challenges for Police in Post-COVID time?
New dangers of Organised Crime:

Due to restrictions across borders, crime gangs innovate to adapt to changing nature of illicit market. They may infiltrate health services and make profits through the sale of tightly regulated drugs 
Rise in Cyber Crime:

Various fake portals have been launched to get people to donate money for the cause of combating COVID-19
Low quality Products:

Police will also have the responsibility to curb large-scale manufacture of ineffective masks and hand sanitizers.
Issue of Prisoners:

One of the major challenge will be keeping prisons free of the virus given the scenario of overcrowded prisons in India.
Way Ahead
Government has to draft a comprehensive Standard Operating Procedure by keeping COVID-19 in perspective since the virus is here to stay for atleast a year.

Supreme Court has directed the States to constitute high-powered committees to consider releasing convicts who have been jailed up to seven years on parole, in order to decongest prisons.

Public Cooperation experienced during the pandemic has to become the building block for future police-public relations
Connecting the dots:
Police reforms – Prakash Singh Case

2

nd

ARC
---
FEDERALISM / GOVERNANCE/ ECONOMY
Topic: General Studies 2,3:

Issues and challenges pertaining to the federal structure, devolution of powers 
Government policies and interventions for development in various sectors
Indian Economy and issues relating to planning, mobilization, of resources 
Context: SpaceX's The Centre increased the borrowing limit of states to 5% of gross state domestic product (GSDP) in 2020-21 from 3%. However, incremental borrowing beyond 3.5% of GSDP will be linked to reforms undertaken by the states.
Did You Know?
States borrowing relaxation was the fifth and final tranche of the Centre's Rs 20 lakh crore economic stimulus package.

The Centre has already hiked its planned borrowing for 2020-21 by 54% to Rs 12 lakh crore from Rs 7.8 lakh crore estimated earlier for Covid-19-related emergencies

Total net borrowing by states for 2020-21 stood at Rs 6.41 lakh crore, based on 3% of GSDP



What are the conditions insisted by Centre to avail the increased borrowing limit?
Of the additional borrowing, the first 0.5% will be unconditional, 

The next 1% will be in four equal tranches, each linked to clearly specified, measurable and feasible reform action. 

The remaining 0.5% will be given if milestones are achieved in at least three out of four reform areas which are

Universalisation of 'One Nation, One Ration card'(ONOR) Scheme 

Improvements in Ease of doing business 

Power distribution reforms: States to bring down the aggregate technical and commercial (AT&C) losses and narrow the gap between average cost and average revenues. 

Urban Local Bodies – Empowering them with more resources



How does the enhanced borrowing limit help States?
Availability of Additional Capital:

This move that will make an additional Rs 4.28 lakh crore available to States

Addresses Revenue Shortfall

: Enhancement of borrowing limit will help to absorb the expected plunge in States' revenue receipts. 

Avoid Cut in Capital Expenditure

: Due to fixed expenditure on salaries & pensions and on politically sensitive issues like subsidies, a reduction in revenue will eventually lead to cut in infrastructure creation that is not good in long term

Helps plug the shortfall in Centre's Devolution

: The budgeted Rs 7.8 lakh crore of devolution for FY21 could end up closer to Rs 5 lakh crore, since the Centre's Rs 24.2 lakh crore target will not be met
Conditions being insisted upon are more in the nature of reforms
Power Sector

: Despite UDAY scheme, States did not reform. As a result, currently state electricity boards (SEBs/discoms) owe power-generating firms about Rs 90,000 crore. 

Local Governance

: Conditions like those on property tax will only help urban local bodies function better since their finances will improve as a result.

Migrants

: ONOR Scheme and installing PoS machines at Fair Price Shops will ultimately benefit the local population as well as migrants

Investment

: Condition on ease of doing business norms and the business environment will help attract investment.
Criticism of the measure
States have alleged that it is unfair for the Centre to set conditions on them in these difficult times.

The central government penchant to levy 'cesses' instead of straightforward taxes in many areas means less has to be shared with the states under the finance commission formula. This has also partly led to inadequate resources with States.

Hence, going forward Centre should reduce its focus on cesses
Connecting the dots:
Devolution of powers (legislative, executive, financial)

Sarkaria Commission and Punchhi Commission
---
(TEST YOUR KNOWLEDGE)
---
Model questions: (You can now post your answers in comment section)
Note: 
Correct answers of today's questions will be provided in next day's DNA section. Kindly refer to it and update your answers. 

Comments Up-voted by IASbaba are also the "correct answers".
Q.1 Consider the following statements regarding National Human Rights Commission: 
It is a statutory body formed under the Protection of Human Rights Act, 1993.

The chairperson of the commission should be a retired Chief Justice of India or a judge of the supreme court
Which of the above is/are correct? 
1 only 

2 only 

Both 1 and 2 

Neither 1 nor 2 
---
Q.2 Where is the headquarter of Asian Development Bank located? 
Philippines 

China 

Singapore 

Malaysia
---
Q.3 Recently, Bodoland University has developed a fungal powder to boost immunity using super mushroom of the genus Cordyceps. Consider the following regarding Cordyceps: 
It is a fungus which parasitizes bacteria.

It is known for its ant-aging and anti-viral effects also
Which of the above is/are correct? 
1 only 

2 only 

Both 1 and 2 

Neither 1 nor 2 
---
Q.4 Cyclone Nisarga is headed towards the coastline of which of the following state of India?
Maharashtra 

Gujarat 

Both a and b 

Andhra Pradesh
---
ANSWERS FOR 2nd June 2020 TEST YOUR KNOWLEDGE (TYK)
---
Must Read
About George Floyd incident and Civil protest happening in USA:
About Central Vista Project:
About Monsoons and IMD's Weather forecast:
For a dedicated peer group, Motivation & Quick updates, Join our official telegram channel – https://t.me/IASbabaOfficialAccount
Subscribe to our YouTube Channel HERE to watch Explainer Videos, Strategy Sessions, Toppers Talks & many more…