IAS UPSC Prelims and Mains Exam – 23rd July 2020
---
(PRELIMS + MAINS FOCUS)
---
Part of: GS Mains II – Governance issues; Role of Judiciary; Constitution 
Context: 
We already have learnt about – Tenth Schedule and Kihoto Hollohan case 
Tenth Schedule

 lays down the process by which legislators may be disqualified on grounds of defection 

by the Presiding Officer

 of a legislature based on a petition by any other member of the House.

 
Any question regarding disqualification arising out of defection is to be decided by the presiding officer of the House. 

 

Originally, the decision of the presiding officer was final and could not be questioned in any court. However, in 

1993 

Kihoto

 

Hollohan

 case

, the Supreme Court declared this provision as unconstitutional on the ground that it seeks to take away the jurisdiction of the Supreme Court and the high courts.

 

It held that the presiding officer, while deciding a question under the Tenth Schedule, function as a tribunal. Hence, his decision like that of any other tribunal, is subject to judicial review on the grounds of mala fides, perversity, etc.

 
Additional information: 
SC in the 

Kihoto

 

Hollohan

 case specifically barred any judicial intervention prior to the decision-making stage.

 
SC had held that no interference is permissible at interim stage of proceedings and judicial review of final decision is available only on limited grounds.

 

Courts cannot interfere to decide questions of disqualification under the anti-defection law.

 

Judicial Review cannot cover proceedings of the legislature under Article 212 of the Constitution.

 
Article 212 of the Constitution provides for Courts not to inquire into proceedings of the Legislature – 
The validity of any proceedings in the Legislature of a State shall not be called in question on the ground of any alleged irregularity of procedure

 

No officer or member of the Legislature of a State in whom powers are vested by or under this Constitution for regulating procedure or the conduct of business, or for maintaining order, in the Legislature shall be subject to the jurisdiction of any court in respect of the exercise by him of those powers

 
---
Part of: GS Prelims and Mains III – Protected areas; Conservation; Environment Impact Assessment issues 
In news: 
The National Green Tribunal (NGT) has directed the Environment Ministry, Oil India Limited (OIL) and two other entities to explain how the proposed drilling of seven oil wells in an 

eastern Assam national park (

Dibru­Saikhowa

) 

was permitted.

 

Earlier, the NGT had ordered the formation of a committee to probe allegations of large­scale illegal coal mining by the North Eastern Coalfields inside 

Dehing

 

Patkai

 Elephant Reserve

 in Assam.

 
---
Part of: GS Prelims – Geography; Science 
In news: 
Recent study revealed that the colour of water in 

Lonar

 lake in Maharashtra

 is due to a large presence of the salt-loving Haloarchaea microbes.

 

Haloarchaea or halophilic archaea

 is a bacteria culture, which produces pink pigment, and found in water saturated with salt.

 

Absence of rain, less human interference and high temperature could have resulted in the evaporation of water, increasing salinity and pH levels in the lake.

 
Pic: Lonar Lake
About Lonar Lake 
The 56,000-year-old 

Lonar

 crater sanctuary lake in 

Buldhana

 district, Maharashtra has turned red/pink, most probably due to salinity and presence of halophilic archaea bacteria in the water body.  

 

Lonar

 Lake was 

created by a meteor impact

 during the 

Pleistocene Epoch

. 

 

It is the only known hyper velocity meteorite crater in basaltic rock anywhere on Earth.

 

It was notified as a 

National Geo-heritage Monument in 1979 

by Geological Survey of India (GSI).

 
---
Part of: GS Prelims and Mains III – Endangered species; Conservation 
About  
IUCN category: 

Least concern

 

It is one of the most familiar and abundant frogs of South and South-East Asia, and also the 

largest frog found in the Indian Subcontinent

.

 

Their opportunistic feeding behaviour, prolific breeding (with large egg clutches) and adaptability makes them invasive in nature, where they tend to overpower other native species, a problem frogs native to Andamans are facing at present.

 

The species was also introduced in Madagascar and the situation follows the same course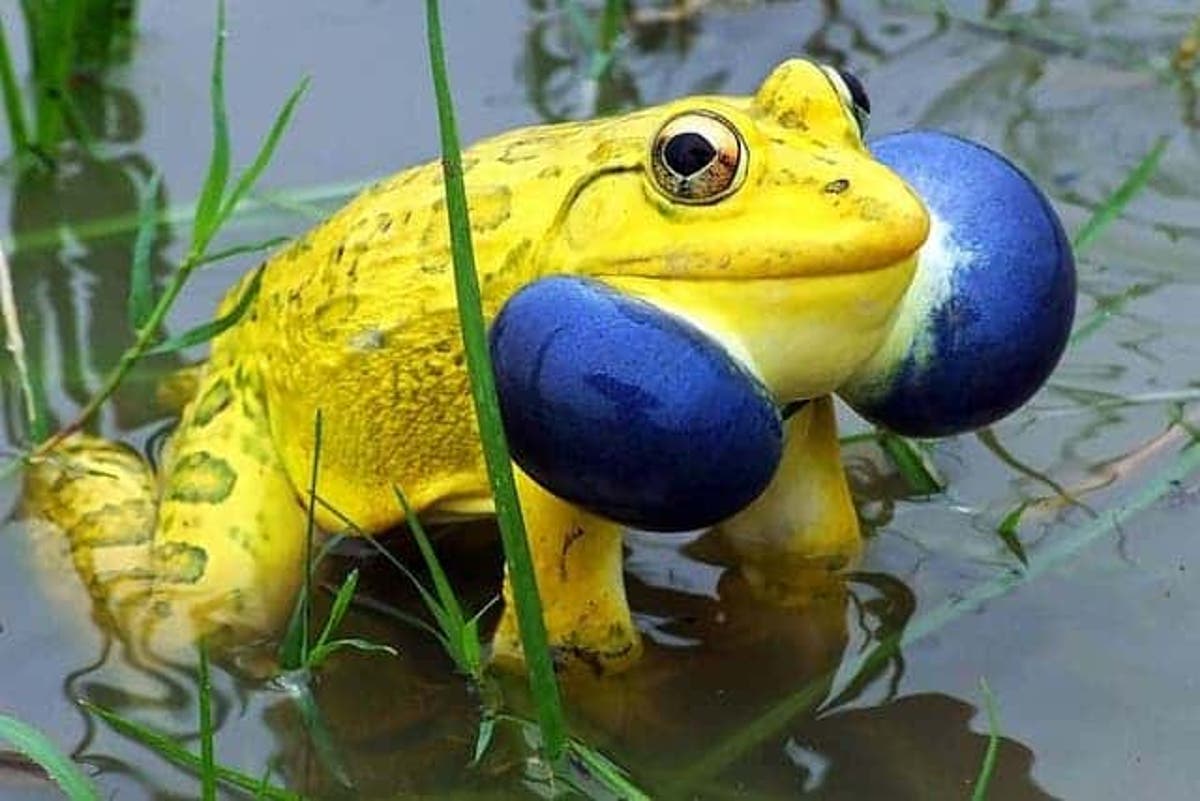 Do you know? 
Bullfrog legs are considered a delicacy and they are illegally hunted and served in several places across the country even though the species is 

protected under Schedule IV of the Wildlife Protection Act of India, 1971.

 

 

It is the most hunted frog across the country and the forest department works diligently towards any leads to try and curb its consumption.

 
---
Part of: GS Prelims and Mains I – Art and Culture; Paintings 
Key pointers and features: 
Madhubani

 literally means "forests of honey". It is a traditional Indian painting.

 

Madhubani

 belongs to Mithila region in the areas of Indo-Nepal border across Bihar.

 

Madhubani

 paintings include both mythology and natural objects like sun, moon, plants etc. Mostly done by women.

 

In 

Madhubani

 paintings, a cotton wrapped around bamboo stick is used as brush.

 

In 

Madhubani

 paintings, the work is done on freshly plastered mud walls. Now a days, for commercial purposes, it is done on cloth and paper also.

 

In 

Madhubani

, different colours are obtained in different ways. For e.g. black from mixture of soot and cow dung, white from mixture of rice powder etc.

 

It has got GI tag.

 
---
Miscellaneous 
Outcomes of India Ideas Summit 
In news: 
US position 
U.S. Secretary of State Mike Pompeo said – 
India and US should work together to face the 'challenge' of the Chinese Communist Party (CPC). 

 

Examples of India and the U.S. working together including 

the Quad

 and the 

World Intellectual Property Organisation elections 

earlier this year (in which a Singaporean candidate for director won against a Chinese candidate).

 
India's position 
Prime Minister invited U.S. companies to invest in India's healthcare, infrastructure, defence, energy, farm and insurance sectors, saying the country offers openness and opportunities.

 

India and US should work together in areas such as – maritime security, counter­terrorism, connectivity, innovation and technology, how to respond in the case of corona to pandemics etc.

 
---
Fiscal push after vaccine 
In news: 
According to Chief Economic Adviser (CEA) Krishnamurthy Subramanian – 
The Centre will wait for the development of a COVID­19 vaccine before committing to any further "

fiscal

 push" to revive the economy.

 

Higher balance data from Jan 

Dhan

 accounts reveal that people were more inclined to save than spend during the pandemic and lead to flattening of demand. 

 
Do you know? 
Currently, monetary and credit-­based measures have so far dominated the Centre's response to the crisis.

 

Industry groups have been demanding immediate 

fiscal

 measures as a necessary step to boost demand and support vulnerable small businesses.

 
---
Criminalisation of Politics 
Key facts: 
According to Association for Democratic Reforms (ADR) report and an analysis of self-sworn affidavit by MPs – 
24% RS members face criminal cases

 

Out of the 229 

MPs, 28

 or 12% had declared serious criminal cases

 

203 of the 229 MPs, or 89% of those analysed, had declared assets over ₹1crore

 
---
(MAINS FOCUS)
---
INTERNATIONAL / SECURITY 
Topic: General Studies 2 and 3

India and its neighborhood- relations.
Security challenges and their management in border areas
Context: For the third time since early June 2020, China has repeated its territorial claims in the eastern sector of Bhutan's Trashigang district.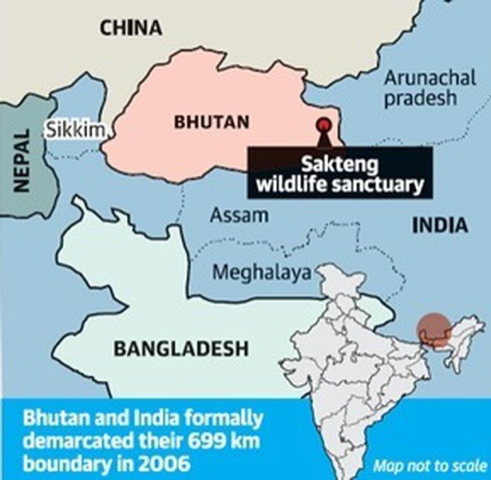 What is China's Territorial claim? 
According to China, the 

Sakteng Wildlife Sanctuary

 is located in the China-Bhutan disputed areas which is on the agenda of China-Bhutan boundary talk.

 

China's first claim was at a 

UNDP-led Global Environment Facility (GEF)

 conference on June 2-3, when the Chinese representative tried to stop funding for the Sakteng forest reserve in Bhutan's eastern district of Trashigang.

 

China claims that the boundary between China and Bhutan has never been delimited and that it has had disputes over the eastern, central and western sectors of Bhutan.

 
Why is the claim by China surprising? 
China has not objected earlier to funding provided to the sanctuary at the GEF. 

 

The Trashigang area, where Sakteng is based, does not share a boundary with China. 

 

Chinese officials have 

not raised the eastern boundary

 in 24 rounds of talks with Bhutan, that began in 1984. Thus far, talks have been only about the 

 
Bhutan's north – Pasamlung and Jakarlung valleys

 

Bhutan's West: Doklam and other pasturelands that come up to the trijunction point with India. 

 
What is Bhutan's position? 
Bhutan totally rejected the claim made by China and was able to secure the funding from GEP

 

Bhutan said that Sakteng Wildlife Sanctuary is an integral and sovereign territory of Bhutan.

 

Bhutan has conveyed its position to China through its embassy in New Delhi, as Bhutan and China

 

do not have any formal diplomatic relation

 

After repeated claims by China in past two months, Bhutan has now appeared to take a sober view of China's claims by saying that all disputes would be taken up in the next round of China-Bhutan talks.

 
Concerns for India 
Sakteng is situated along the border with Arunachal Pradesh, some part of which is also claimed by China.

 

Even after the India-Bhutan Friendship Treaty of 2007, Indian military is virtually responsible for protecting Bhutan from the kind of external threat that the Chinese military poses.

 
What is the Strategy behind Chinese claims? 
For Bhutan 
Pressure tactic:

 It is an attempt by China to hurry the scheduling of the next meeting, or to gain leverage in the boundary talks.

 
Boundary talks between China & Bhutan — the last round was in 2016 — have been put off due to the Doklam stand-off in 2017, elections in 2018, and pandemic in 2020

 
Reiteration of a "package solution"

 by China during these period as a solution for China-Bhutan boundary dispute

. 

 
It refers to a deal offered by Chinese in 1990s whereby China was ready to give up its claims on 495 km

2

 in the norther region in exchange for control of 269 km

2

 in the western region (Doklam & Chumbi Valley)

 
For India 
Wedge between India & Bhutan:

 China's new territorial claim is a part of the larger Chinese tactics of putting pressure on India's smaller neighbours, to punish them for any closeness to India.

 

Diversionary Tactic:

 India which is already dealing with Chinese aggression across the Line of Actual Control, the Sakteng claim could be a diversionary tactic

 

Extend Claims on Arunachal Pradesh:

 By claiming Bhutan's eastern boundary, China is attempting to double down on its claims over Arunachal Pradesh, neither of which it has lien on or control of. 

 

To gain Control of Doklam region

 located near Strategically important Siliguiri corridor of India

 
The repetition of its "package" offer is worrying as it implies that Beijing is not giving up its push for the Doklam plateau, located near trijunction of China,India & Bhutan

 

China has consolidated its military infrastructure in Doklam Plateau -and would like to inch towards India's Chumbi valley

,

 a strategically sensitive location. 

 
Conclusion 
No matter what Beijing's designs are behind its new claims, India & Bhutan must stay the course, with the close cooperation and complete understanding they have shared for decades, in order to respond to them purposively. 
Did You Know? 
India has proposed to build a Guwahati- Trashigang-Tawang link road

 

The road, which has strategic significance, will reduce the distance between Guwahati and Tawang by 150 kilometre

 

This will enable India to deploy troops faster to respond to any military moves by China, not only across Tawang, but also towards the eastern region of Bhutan

 
Connecting the dots:
India-Bhutan Friendship Treaty of 2007

 

Doklam Crisis of 2017

 
---
ECONOMY/ 

GOVERNANCE
Topic: General Studies 2 and 3:

Indian Economy and issues relating to planning, mobilization, of resources, growth, development and employment.
Government policies and interventions for development in various sectors and issues arising out of their design and implementation
Context:  A large number of workers both in the informal and formal sectors will either lose their jobs or encounter a significant change in how jobs are done post-Covid-19.  
Did You Know? 
The travel & tourism sector accounted for 12.2% of employment opportunities generated in the country in 2017. 

 

80% of travel & tourism industry is composed of SMEs

 

As per initial estimates by the Federation of Associations in Indian Tourism & Hospitality (FAITH), losses could be in the range of Rs 5 lakh crore. 

 
What are the adversely impacted sectors due to COVID-19 pandemic? 
Adversely impacted sectors are tourism & hospitality, restaurants, organised retail, media & entertainment, logistics and real estate, among others. 

 

Consequences

: Workers in these sectors could seek redeployment into other sectors or alternative livelihood opportunities.

 

Way Ahead

: Reskilling of such workers can make the churn smoother and less disruptive for these vulnerable categories. 

 
What steps need to be taken for reskilling? 
Reskilling can be taken up in a 

phased manner

 

 
Initially target of reskilling should be a section of migrant workers who have returned to their source states

 

It should also be done to those who were in sectors where jobs are not likely to come back soon due to social distancing.

 

At least 25% of the at-risk workforce needs to be targeted, which is seeking redeployment and can be made relatively productive through reskilling.

 
This reskilling will be a 

short-term mission

 because most of this workforce would hopefully get back to their first occupation/location once the situation improves in the medium term.

 
Which sectors can take up more jobs? 
As in the supply equation, the demand situation can be divided into three areas.  
1. Domestic consumption-facing sectors 
This includes the gig economy that could temporarily support lost livelihoods in the most impacted sectors. 

 

As healthcare resources are under stress in the management of Covid-19, there is a huge demand for not only related healthcare personnel, but also workers in general patient care, diagnostics, health-tech and counsellors. 

 

Also, e-commerce, telecom, financial services, etc, are relatively resilient sectors that can absorb manpower.

 
2. Self-Employment
For reverse migrants who will not return in the short term, training can be provided for entrepreneurship and self-employment

 

Opportunities are also likely to come up due to economic revival and focused on rural economy (rural roads, houses and light manufacturing)

 

Since agriculture remains the mainstay for rural India, a section of migrant labourers could be reskilled in high-value agriculture (horticulture, livestock, sericulture, aquaculture and plantations).

 
Way Ahead  
Remodelling skill value chain

:

 

Candidates have to be motivated to undergo remote counselling and a predominant digital delivery of learning.

 

Leveraging of Technology:

 Since vocational training is more hands-on, technologies like AR/VR-powered simulating training has to be integrated with video-based teaching.

 

Capabilities and Mindset:

 Trainer capacity has to be enhanced to provide more online training. Importantly, a mindset change at all levels of skill delivery, administration and governance has to be enabled.

 

Bridging Digital Divide:

 Digital infrastructure for a time-bound reskilling effort needs to be seamlessly integrated into the long-term plan of 'digital-first skilling'. This requires addressing issues like digital illiteracy & digital accessibility

 
 Conclusion 
A reskilling programme run in a mission mode will not only strengthen the vocational education ecosystem, but also improve its aspiration value and linkages with employment and livelihood. 
Connecting the dots:
Skill India Mission

 

Make in India program

 
---
(TEST YOUR KNOWLEDGE)
---
Model questions: (You can now post your answers in comment section)
Note: 
Correct answers of today's questions will be provided in next day's DNA section. Kindly refer to it and update your answers. 

Comments Up-voted by IASbaba are also the "correct answers".
Q.1) 'Kihoto Hollohan case' is associated with which of the following schedules of the Indian Constitution?
Tenth Schedule

 

Fourth Schedule

 

Eighth Schedule

 

Sixth Schedule

 
---
Q.2) Consider the following statements about 'Madhubani Paintings' 
It is 

practised

 by people in Bihar and is done using twigs, fingers, brushes and even matchsticks.

 

It was given the coveted GI (Geographical Indication) status in 2006

 
Which of the statements given above is/are correct?
1 only

 

2 only

 

Both 1 and 2

 

Neither 1 nor 2

 
---
Q.3) Consider the following statements: 
It is a national park in Assam.

 

It is the largest 

salix

 swamp forest in north-eastern India, with a tropical monsoon climate with a hot and wet summer and cool and usually dry winter.

 
The above statements are associated with – 
Nameri

 National Park

 

Kaziranga National Park

 

Manas National Park

 

Dibru

 

Saikhowa

 National Park

 
---
Q.4) Consider the following statements about 'Lonar Lake'
It is a caldera lake

 

It is a saline lake created during the Pleistocene.
Select the correct statements 
1 only
2 only
Both 1 and 2
Neither 1 nor 2
---
ANSWERS FOR 22nd July 2020 TEST YOUR KNOWLEDGE (TYK)
---
Must Read
About setting up High Court for Puducherry
About transforming higher education
About India, China and Iran
For a dedicated peer group, Motivation & Quick updates, Join our official telegram channel – https://t.me/IASbabaOfficialAccount
Subscribe to our YouTube Channel HERE to watch Explainer Videos, Strategy Sessions, Toppers Talks & many more…