INTERNATIONAL/ SECURITY/ ECONOMY 
Topic: General Studies 2 and 3

India and its neighborhood- relations
Effect of policies and politics of developed and developing countries on India's interests 
Iran ties need quiet diplomacy
Context: Recently Iran's Transport and Urban Development Minister had launched the track laying programme for the 628 km long rail link between Chabahar and Zahidan  
The event sparked concerns that India was being excluded from the project especially in the backdrop of Iran finalising a 25-year strategic partnership deal with China worth $400 billion, negotiated in secrecy. 
Later Developments 
Iran has since clarified that 

India has not been excluded

 and it could join the project at a later stage. 

 

This keeps the door open for Ircon International Limited (IRCON) which has been associated with the project even as India continues with the development of Chabahar port.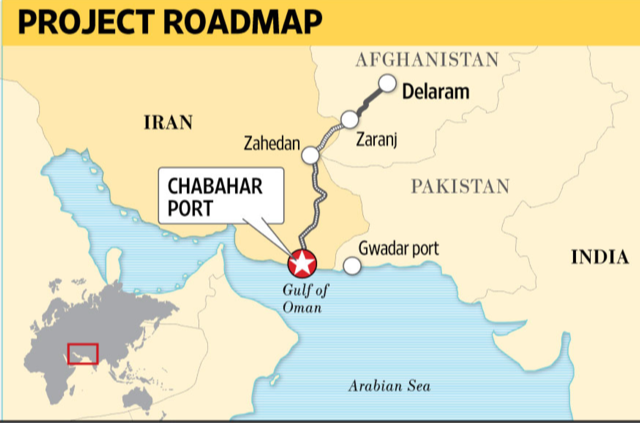 Need for Chabahar Port & Rail Project- Connectivity for Afghanistan 
The Chabahar port project, signed in 2003, has been jointly developed by India, Iran, and Afghanistan. 

 

The Chabahar port actually contains two separate ports called Shahid Kalantari and 

Shahid Beheshti

 

Chabahar port on 

Iran's Makran coast

, just 1,000 km from Kandla(Guajarat), is well situated but road and rail links from Chabahar to Zahidan and then 200 km further on to 

Zaranj in Afghanistan

, need to be built. 

 

Indian PSU IRCON had prepared engineering studies estimating that the 800 km long railway project would need an outlay of $1.6 billion. 

 

With Iran under sanctions during 2005-13, there was little progress in Iran.

 

Meanwhile, India concentrated on the 220 km road to connect Zaranj to Delaram in Afghanistan that was completed in 2008 at a cost of $150 million.

 
Developments post 2015 
Things moved forward after 2015 when sanctions on Iran eased with the signing of the Joint Comprehensive Plan of Action, or the 

Iran nuclear deal

 

In 2016, MoU was signed to equip and operate two terminals at the Shahid Beheshti port (part of Chabahar port) as part of Phase I of the project. This was 

operational in 2018

 and India's wheat shipments to Afghanistan have been using this route.

 

Another milestone was the signing of the Trilateral Agreement on Establishment of International Transport and Transit Corridor between Afghanistan, Iran and India. 

 

A special economic zone (SEZ) at Chabahar was planned but 

re-imposition of U.S. sanctions

 has slowed investments into the SEZ.

 
Did India face hurdles due to US re-imposing Sanction on Iran? 
India was given a waiver from U.S. sanctions to continue cooperation on Chabahar as it contributed to Afghanistan's development

 

Despite the waiver, the project has suffered delays because of the time taken by the U.S. Treasury to actually clear the import of heavy equipment such as rail mounted gantry cranes, mobile harbour cranes, etc.

 
Why Iran needs China? 
Investments

: Chinese promises investment (much needed in sanctions era) in Iranian infrastructure in return for assured supplies of Iranian oil and gas at concessional rates.

 

Rising tensions in the region:

 There has been missile strikes in Saudi Arabia claimed by the Houthis and a U.S. drone strike killed

 Gen. Qassim Soleimani

, the head of Iran's elite Quds Force. Iran thus finds a strategic partner in China

 

Provocation by USA:

 During June-July 2020, there have been more than half-a-dozen mysterious explosions in Iran. Reports attribute these to U.S. and Israeli agencies in an attempt to provoke Iran before the U.S. elections. 

 

Closer relations with China sends a signal to US that Iran will not take lightly of such provocations

 

Friend at UNSC:

 Russia and China are the only countries to veto the U.S.'s moves in the UNSC. Hence, Iran's closeness with China will help in UNSC Diplomacy

 
Does that mean that Strategic space for India in Iran has been closed? 
China's aggressiveness

: Iran may well be considering a long-term partnership with China, but Iranian negotiators are wary of growing Chinese mercantilist tendencies. 

 

Waiver for India

: Iran realises the advantage of working with India- its only partner that enjoys a sanctions waiver from U.S. for Chabahar since it provides connectivity for land-locked Afghanistan.

 

Common Enemy:

 Iran and India also share an antipathy to a Taliban takeover in Afghanistan. This is why Iran would like to keep the door open for India

 
Way Ahead 
India needs to improve its implementation record of infrastructure projects that it has taken up in its neighbourhood. 

 

The key is to continue to remain politically engaged with Iran so that there is a better appreciation of each other's sensitivities and compulsions.

 
Did You Know? 
Iran has ambitious plans to extend the railway line from Zahidan to Mashad (about 1,000 km) and then another 150 km onwards to Sarakhs on the border with Turkmenistan. 

 

Another plan is to link it with the International North-South Transport Corridor towards Bandar Anzali on the Caspian Sea. 

 

In 2011, a consortium of seven Indian companies led by Steel Authority of India Limited had also successfully bid for mining rights at 

Hajigak mines in Afghanistan that contain large reserves of iron ore. 

 

However, developments at Hajigak remain stalled because of the precarious security situation in Afghanistan continues.

 
For a dedicated peer group, Motivation & Quick updates, Join our official telegram channel – https://t.me/IASbabaOfficialAccount
Subscribe to our YouTube Channel HERE to watch Explainer Videos, Strategy Sessions, Toppers Talks & many more…