Gilgit-Baltistan an Integral Part of India
TOPIC: Genral Studies 2
In News: On November 1, observed every year in Gilgit-Baltistan as "Independence Day", Pakistan Prime Minister Imran Khan announced that his government would give the region "provisional provincial status". When that happens, G-B will become the fifth province of Pakistan, although the region is claimed by India as part of the erstwhile princely state of Jammu & Kashmir as it existed in 1947 at its accession to India.
Gilgit-Baltistan is the northernmost territory administered by Pakistan, providing the country's only territorial frontier, and thus a land route, with China, where it meets the Xinjiang Autonomous Region. 

Currently, Pakistan has four provinces – Balochistan, Khyber Pakhtunkhwa, Punjab, and Sindh.This elevation will lead to adequate representation from the province on all constitutional bodies, including the National Assembly and the Senate.

From the beginning Gilgit-Baltistan was governed as a separate entity by Pakistan and not as a part of Pakistan occupied Kashmir (PoK). Islamabad had hesitated to declare it a province of Pakistan because of its claim that J&K is disputed territory and its future must be decided by a plebiscite among all its inhabitants.

One of the most mountainous regions in the world that is rich with mines of gold, emerald and strategically important minerals, and is known for its extraordinary scenic beauty, diversity and ancient communities and languages, Gilgit-Baltistan is largely an underdeveloped region.

It's home to K-2, the second tallest mountain in the world. Tourism remains restricted by many factors, including military hostility, though the region has some of the ancient Buddhist sculptures and rock edicts. It is also home to an old Shia community, which often finds itself subjected to persecution in Pakistan's urban centres. 

The water-rich region's biggest hydroelectricity project is the Diamer-Bhasha dam, which was launched in July 2020.
Why change the status now?
First, the revocation of Article 370 by India and the bifurcation of the State into two Union Territories have sent a clear message that the Kashmir dispute is not only dead but also buried as far as New Delhi is concerned. Pakistan's imminent move, transforming Gilgit-Baltistan's de facto status into a de jure one, is a clear riposte to the Indian decision.

Second, public opinion in Gilgit-Baltistan has long been in favour of full integration into Pakistan as a province as the predominantly Shia and ethnically distinct population of the region has very little in common with PoK. Islamabad feels that by declaring it a province will assuage domestic dissatisfaction on this score.

Third, let us come to China –

China has been encouraging Islamabad to turn Gilgit-Baltistan into a province. The China-Pakistan Economic Corridor (CPEC) runs through Gilgit-Baltistan and China has invested heavily in the region. In view of India's continuing claim to the area, Beijing is interested in delinking Gilgit-Baltistan formally from Kashmir so that its investment does not remain hostage to the possibility of another round of India-Pakistan hostilities over Kashmir.

China also wants to repay India in its own coin following New Delhi's decision to separate Ladakh from J&K. Beijing views the Indian move as the first step towards India attempting to enforce its claim on Aksai Chin, currently under Chinese occupation.

In addition to CPEC, China considers Gilgit-Baltistan very important because of its strategic location. It is contiguous to Ladakh as well as Xinjiang and could act as a staging post against India if a major conflict erupts in Ladakh. Beijing possibly presumes that Pakistan will agree to a Chinese military presence in Gilgit-Baltistan because Islamabad would like to see India embroiled simultaneously in a two-front war — in Ladakh and Gilgit — with China.

The Government will also start working on the Moqpondass Special Economic Zone (SEZ) under the

China Pakistan Economic Corridor

(CPEC).
There is already substantial Chinese civilian presence in Gilgit-Baltistan related to CPEC projects. China is interested in stationing military personnel as well. Delinking the region from the Kashmir dispute would make it easier for the international community to accept Chinese presence in Gilgit-Baltistan. It would also serve Pakistan's purpose of getting back at India for abrogating Article 370 as well as complicating India's strategic environment by the implicit threat of turning it into a Chinese staging ground.
India's Response
India had slammed Pakistan for its attempt to accord provincial status to "so-called Gilgit-Baltistan", saying it is intended to camouflage the "illegal" occupation of the region by Islamabad.  
Spokesperson in the Ministry of External Affairs Anurag Srivastava said India "firmly rejects" the attempt by Pakistan to bring material changes to a part of Indian territory which is under Islamabad's "illegal and forcible occupation" and asked the neighbouring country to immediately vacate such areas.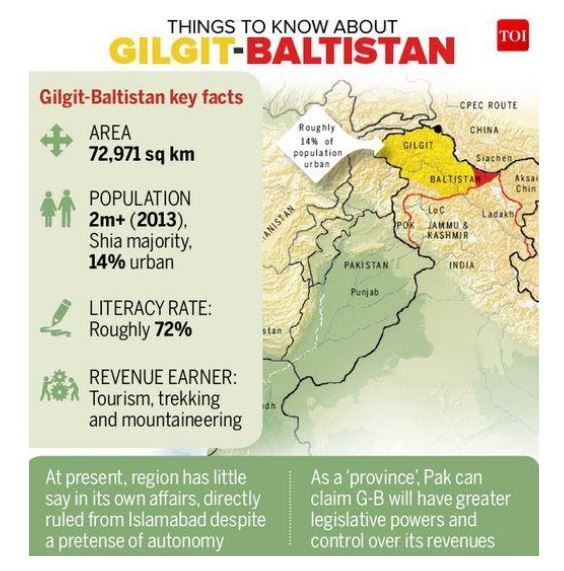 What is the region's current status?
Though Pakistan, like India, links G-B's fate to that of Kashmir, its administrative arrangements are different from those in PoK. While PoK has its own Constitution that sets out its powers and their limits vis-à-vis Pakistan, G-B has been ruled mostly by executive fiat. Until 2009, the region was simply called Northern Areas.
It got its present name only with the Gilgit-Baltistan (Empowerment and Self-Governance) Order, 2009, which replaced the Northern Areas Legislative Council with the Legislative Assembly. The NALC was an elected body, but had no more than an advisory role to the Minister for Kashmir Affairs and Northern Areas, who ruled from Islamabad. The Legislative Assembly has 24 directly elected members and nine nominated ones.
In 2018, the then PML(N) government passed an order centralising even the limited powers granted to the Assembly, a move linked to the need for greater control over land and other resources for the infrastructure projects then being planned under CPEC. The order was challenged, and in 2019, the Pakistan Supreme Court repealed it and asked the Imran Khan government to replace it with governance reforms. This was not done. Meanwhile, the Supreme Court extended it jurisdiction to G-B, and made arrangements for a caretaker government until the next Legislative Assembly elections.
The last polls were held in July 2015, and the Assembly's five-term ended in July this year. Fresh elections could not be held because of the pandemic. It is not clear if the provincial status will come before or after the polls.
Conclusion
A quick glance at a map of the region will display Gilgit-Baltistan's incredible potential and geostrategic importance. No wonder this was the heart of the Great Game a hundred years ago.
India must calibrate its response carefully because merely by turning up the rhetorical heat, it may play into Chinese and Pakistani hands and escalate the situation. Rhetoric must always be determined by a meticulous assessment of capability.
Connecting the dots:
Discuss the critical phases on India-Pakistan relations.

Map-making in the subcontinent must come to an end. Comment.
For a dedicated peer group, Motivation & Quick updates, Join our official telegram channel – https://t.me/IASbabaOfficialAccount
Subscribe to our YouTube Channel HERE to watch Explainer Videos, Strategy Sessions, Toppers Talks & many more…