For Previous TLP (ARCHIVES) –

CLICK HERE
SYNOPSIS [9th JUNE,2021] Day 108: IASbaba's TLP (Phase 1): UPSC Mains Answer Writing (General Studies)
1. What do you understand by 'structural reforms' in the economic context? Elaborate. Does Indian economy need structural reforms? Discuss.
Approach
The question is straightforward.First the candidate needs to define what is meant by structural reforms.In next part elaborate what are the elements of structural reforms.Then contextualise to India and why there is need for structural reforms in present context.
Introduction
Structural reforms are essentially measures that change the fabric of an economy, the institutional and regulatory framework in which businesses and people operate. They are designed to ensure the economy is fit and better able to realise its growth potential in a balanced way.Economies which brought structural reform are more resilient to economic shocks, achieve greater macroeconomic stability and increased productivity; and experience higher living standards over time.
Body:
Elements of Structural reforms:
Good regulatory reforms: Reduction in the redtapism and strengthening the implementation of good regulatory practices through ensuring internal coordination, assessing the impact of regulations, conducting public consultations, and encouraging single online window for information and other tools for which maintenance of autonomy in independent institution is critical.

Fiscal consolidation and Transparency: Continued fiscal consolidation through revenue measure like implementation of GST but there is need of reforms in direct taxes, formalisation of economy for efficient tax collection, reducing non-merit subsidies, removing exemptions, increasing tax base and shifting from revenue to capital expenditures. Transparency aligns government activities with citizen needs, helps minimise corruption and ensures public accountability.

Banking sector: Addressing the banking sector weaknesses by accelerating the resolution of nonperforming loans, rebuilding the capital buffers for the public sector banks, and enhancing bank debt recovery mechanisms. The government cannot fully fix the problems of public sector banks with capital if it is not accompanied by governance reforms. 

Disinvestment of government from doing business and privatisation of public sector entities as soon as possible with right intent of asset monetisation is necessary from the perspective of structural reform.

Land and Labour reforms: Improving the efficiency of labour is the major structural reform in case of India. As there are redundant, archaic, obsolete labour laws which hinder the growth of manufacturing industry. Land acquisition remains major challenge for the start of business. On both front states are making progress in right direction. 

Employment: Moving resources from traditional low-productivity activities into modern, more productive industries or activities and development of human capital. The two major foundational pillars for job growth for the medium and long term are an industrial-strength apprentice and vocational training system in India along with a quantum jump in the quality of our school education.

Competition policy: Need to enhance the effectiveness of competition policy, including implementation or improvement of competition law.This will avoid monopoly and incentivise competition to benefit consumers .

Strengthening economic and legal infrastructure: Economic and legal infrastructure, including bankruptcy law need to upgrade further. Reforms in judiciary are vital as large scale pendency hurts the growth of economy.  
Need of structural reform in India:
India has adopted path of structural reforms since the new economic policy of 1991 with liberalisation, privatisation and globalisation which was mainly an response to the Balance of payment (BOP) crises. 
Further Government has taken various steps in recent time to revive Indian economy such as  reducing the corporate tax significantly and withdrew capital gains tax imposed through budget.It has formulated Bank Board Bureau for appointing professional executive in banking sector, brought new labour codes to formalise the labour and compete in international market, New farm laws to liberalise the agricultural sector.However:
The Indian economy was already slowing down before the advent of pandemic and the pandemic has caused a demand shock in the economy which has led to negative growth(-7.3%)  after 40 years and worst since Independence.

Households have slowed down on their consumption due to their discomfort with regards to general economic conditions.The majority are holding cash for nay untoward outcome in the pandemic and also savings rate has collapsed due to expenditure on health and low income due to lockdowns.

The Gross NPA which was on path of recovery will get worsen as the loan defaults is bound to increase especially in the msme sector.

The unemployment rate is at record high of 12 percent as per the Centre for monitoring Indian economy.This is visible not only in urban but rural area as well.
Therefore there needs to be new set of reforms to make Indian economy resilient in future from such catastrophic events.This will include capacity building of youth to switch between different job profiles, readying the msme sector to formalise, reducing the digital divide to avoid inequity, enabling banks and insurance sector to cater to losses arising from such events, allowing easy moratorium and restructuring of loans in future.
Conclusion:
India had started its structural reforms in 1991 which catered to the early 2000's period.But with the change in global dynamics after the 2008 subprime crises and the current pandemic event there is need to launch new set of reforms in each sector of Indian economy to bring it back of growth trajectory and make it resilient for future disruptions for a economically and socially stronger nation.
---
2. What measures have been taken to formalise the economy? What benefits would accrue if this transition becomes successful? Discuss.
Approach 
The candidate needs to first define informal economy and contextualise to India.Next address the measures taken by India in this aspect and lastly write what benefits would accrue with formalisation.
Introduction:
Informal sector consists of units engaged in the production of goods or services with the primary objective of generating employment and income to the persons concerned. These units typically operate at a low level of organisation, with little or no division between labour and capital as factors of production and on a small scale.Majority of Indian economy is based on informal sector and therefore there is need to formalise the economy.
Body:
Status of Informal economy in India:
The informal sector in India represents an important part of the economy, and certainly of the labour market, plays a major role in employment creation, production and income generation. Close to 81% of all employed persons in India make a living by working in the informal sector, with only 6.5% in the formal sector and 0.8% in the household sector as per report of International Labour Organisation.

Labour relations are based mostly on casual employment, kinship or personal and social relations rather than contractual arrangements with formal guarantees. The informal sector forms part of the household sector as household enterprises or, equivalently, unincorporated enterprises owned by households.

In country like India with high rates of population growth(1%) or urbanisation(34%), the informal sector tends to absorb most of the expanding labour force in the urban areas. In India, NSSO consider informal sector as manufacturing unit outside the Annual survey of Industries and all service units except government run and corporate ones. 
Measures taken for formalisation of economy:
India has undertaken a number of initiatives to address informality, including targeted schemes for promotion of micro, small and medium enterprises and legislative measures such as the Unorganised Workers Social Security Act, Contract Labour (Abolition & Regulation) Act, and Workers Welfare Boards.

Demonetisation and GST made many msme to adopt digital technology and register their firms to get the benefits of GST.

Reform initiatives in Employees Provident Fund (EPF) and Employee's State Insurance (ESI) contributed the most in the formalisation of jobs at 1.28 million and 1.25 million, respectively, during 2015-2018.

Initiatives like Pradhan Mantri Rojgar Protsahan Yojana (PMRPY), under which the government shouldered employer's burden for mandatory EPF contribution.

Skill India Initiatives of government of India played important role in formalisation.  

Schemes like MUDRA loans and Start-up India are helping the youth carve a niche in the organised sector.

Investing in social security schemes like Atal Pension Yojna, PM Jeevan Jyoti Yojana, Rashtriya Swasthya Bima Yojana, Aam Aadmi Bima Yojana has helped improve the condition of workers.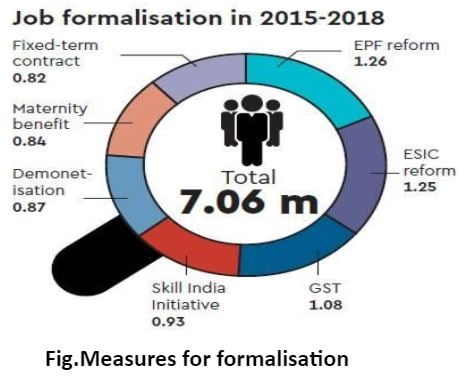 Fig.Measures for formalisation 
Benefits of formalisation of economy: 
Long term and cheaper loans with Formal Credit Facility will help enterprises to outgrow limited capacity and compete in international market.

Government benefits in form of Subsidies, Tax credit, Cheap Electricity and other supports will be seamless.

There will proper regulation and strict implementation of rules for welfare of workers, Environment protection etc.

Increased employment opportunity and attraction of Talent.

Increased tax collection as more revenue for Exchequer, with increased revenue government can invest more in Social infrastructure like Education, Skill Development etc.

Better security to poor, health benifits,pension which will decrease uncertainty and provide stability to workers.
Conclusion:
The informal sector employs the majority of the uneducated and unskilled labour force which, otherwise, may not find a place in the formal sector. Therefore, it is important to ensure that the transition to formal economy is a smooth, encouraging process and not a process of vitiating or punishing the informal sector. Formalisation will lead India to achieve both social and economic goals set in Sustainable development goals of 2030.
---
3. Has India been able to truly leverage its islands? Critically examine? What is the recent controversy surrounding the regulation of of Lakshadweep Island? Discuss
Approach 
The candidate need to first introduce Indian islands.Further analyse its historical development and  potential which remains unutilised.Then address the part on recent controversy and write a balanced conclusion 
Introduction 
India has 615 islands/islets. The majority of them, around 572 islands/islets are located in the Bay of Bengal and remaining 43 islands/islets are located in the Arabian Sea. Apart from these, there are some coral islands in the Gulf of Mannar and Khambat regions and there are some offshore islands along the mouth of the Ganga river.These islands posses potential for security, energy, tourism and strategic aspects.Recently India have constituted Islands development agency in 2017 for focused development of these islands
Body
Status of Islands development since independence:
India has historically neglected the strategic aspect of the islands.Due to  their remote location, they remained at the periphery of Delhi's gaze for decades, often overseen in favour of a fixation with the mainland. 

The Indian Ocean itself declined in maritime importance in the post-war period and with it, the islands too. Yet, this obscurity gradually reversed in the latter half of the 20th century. 

China's unprecedented economic growth engendered its stakes in the Indian Ocean and the littorals. India abandoned its insular outlook in the 1990s and began to 'look east' for partners across the seas. 

The eastern Indian Ocean and its subzones, connecting South and Southeast Asia, correspondingly became critical in maritime strategy for India. The Andaman Sea in particular, at the mouth of the Malacca Straits, assumed tactical importance. Delhi, in turn, slowly picked up the slack in developing its capabilities in the region. 
Its strategic focus towards the islands peaked in 2001 with the establishment of the first tri-service command, the Andaman and Nicobar Command (ANC). 
Even after the change in perspective over the years the islands true potential have not been utilised when compared to the neighbouring nations such as Maldives ,Singapore, and Malaysia.
Potential of Islands to Indian context:
Maritime Strategic Importance
Given the strategic location of Andaman & Nicobar (A&N Islands) and the Lakshadweep Islands and China's assertive expansionist policy in the Indian Ocean Region (IOR) there is a need to develop critical infrastructure and upgrade the military base in these regions.

India's only tri-service command is established at the A&N Islands at the entrance of the Malacca Strait, the 2.8 km long -world's most congested choke point, and the primary route for Chinese oil supply.

Illicit activities such as Pirates and territorial violations can be curbed if the Islands such as Lakshadweep are strategically developed.

Andaman & Nicobar Islands is centre-point for the development of Quad Group's maritime agenda in the Indo-Pacific Region.
Energy Potential
The Islands host an unexplored Exclusive Economic Zone (EEZ) with clearly demarcated boundaries that can be capitalised on in numerous ways.

The varied ecosystem can be exploited for its medicinal plants and exotic plant species, sustainable agriculture and horticulture practices conducive to the agro-climatic conditions of the regions can be propagated.

The IOR is home to large-scale hydrocarbon which can be explored. Recently India's exclusive rights to explore polymetallic nodules from seabed in Central Indian Ocean Basin (CIOB) have been extended by five years.

This can boost India's hunt for alternate renewable energy resources so as to meet the energy needs of the nation.
Economic Importance
Fisheries, the main occupation of the larger population of these regions, can be given a thrust so as to develop modernised and sustainable inland fisheries and aquaculture ecosystem integrated with the 'Blue Economy' vision. Ex. Fishing of Lakshadweep Tuna.

Most importantly, the Islands can be developed as prime Tourist Hotspots for not just the country, but also internationally.

The pristine beaches, coupled with rich tropical vegetation, can be turned into a more economical and attractive alternative to conventional destinations such as Bali and Maldives.

This help in creating many forward and backward linkages and boost the economy of the regions to a large extent.
Trade and Regional Connectivity
Indian Ocean Region handles most of the sea trade in the world.

The shallow coastline of mainland India has severe impact on trade capacity.

Deep water ports can be developed on these Islands thereby paving way for creation of additional service and refuelling stations.

Greater connectivity of these islands with South East Asia can be harnessed for India's Act East Policy.
Therefore the recent steps taken by Indian government to develop these islands is welcome and will ensure better integration of these islands and socioeconomic development.
Recent controversy in Lakshwadeep: 
Protests have erupted on the Lakshadweep Islands after the administrator, former BJP minister Praful Khoda Patel, issued Lakshadweep draft regulations.These include:
The creation of the Lakshadweep development authority is one. It empowers the administration to take over any land, without consultation with the stakeholders.
Second, is Anti-Social Activities Regulation Bill 2021, which is something of a Goondas Act, using which the State can detain anyone without disclosing it to the public for up to one year. This reeks of the usual tactics authoritarian laws use to brand as criminals and punish those who democratically protest.

The third is the Lakshadweep Animal Preservation and Regulation 2021, which is similar to anti-cow slaughtering rules implemented in BJP-ruled states. It effectively prohibits slaughtering cows, by mandating a license for killing animals, which most likely will not be given for cows. The islanders have a lifestyle of using cows for agriculture, breeding or giving milk, and for meat consumption. The new law subverts it.

Fourth, there is a provision to serve alcohol in tourist resorts,which has been previously banned due to majority of the community considers it against its culture.

Fifth the regulations also seek to ensure family planning measures by not allowing persons with more than two children to hold government posts.
Reasons for protests against the regulations:
The rule of ban on cow slaughter is viewed as direct infringement on their culture and eating habits. They allege the rule was decided without consultation with local bodies.The Administration has not provided an explanation on why the rule was brought in.

Local have alleged that the move to allow liquor will lead to a proliferation of liquor sales on the island, which had been observing near-prohibition until now.

There is a fear among locals regarding large infrastructure and tourism projects.It can destabilise the ecology, and that the notification gives powers to the Administration to remove small landholdings of ST residents.

Locals are sceptical of the need for such a stringent law in a UT with one of the lowest crime rates in the country. Residents have fear to arrest those opposed to the Administration.Crime in the union territory is nearly absent, rendering most of its small jails empty.
Therefore both the sides of administration and the local population have equal stakes.The administration wants to develop the island on the international level to spur growth and development but the haste without due consultation with the local population does against the subsidiarity principle of governance.Therefore the administration needs to reach out to locals and reach an amicable solution 
Conclusion
Therefore the development of islands which was historically neglected have taken new pace with formation of a new island development agency and proactiveness o the administration. This forward movement needs to be continued to achieve true economic, energy, social and strategic potential of the islands of India.This will make Indian Islands global tourist hub and also ensure strategic hold over the Indian ocean region in long run.
For a dedicated peer group, Motivation & Quick updates, Join our official telegram channel – https://t.me/IASbabaOfficialAccount
Subscribe to our YouTube Channel HERE to watch Explainer Videos, Strategy Sessions, Toppers Talks & many more…