The recipe of success has many ingredients. While all the ingredients are important, some are uncompromisable. They are like what salt is to a recipe. If you forget to add salt, there is a very little chance that anyone is going to like your recipe. Then we also have the 80-20 rule i.e. 80% of your success depends on 20% of your effort put in the right direction. You must have gotten the idea as to what discussion is all about. Yes, we are talking about answer writing.
Your success in the civil services examination depends on a lot of factors. However, writing skill is undoubtedly the most important of them. After all, you receive more than 80% of the final marks obtained in the examination by writing answers in the Mains exam. To say that answer writing is the bread and butter of a UPSC aspirant won't be an overstatement. Having said this, we also want to emphasise that one can master answer writing skills by following the 80-20 rule. You need to devote 20% of your daily time towards answer writing and that will contribute more than 80% towards your final success in the civil services examination. We have experienced this very closely. Having worked with thousands of students each year in their UPSC journey, we have developed a strong conviction that practicing answer writing is an uncompromisable element of UPSC preparation.
But why are we stating the obvious? Well, just because something is obvious doesn't mean everyone follows it. It is obviously a good idea to exercise after all! But on an average, how many people actually exercise? You know the answer. As mentors for the civil services examination, it is our obligation to keep reminding you of the obvious. The bottom line is – if you are failing to practice answer writing, you are essentially practicing to fail in the exam.
Our answer writing initiatives have always been the central focus for us since the inception of IASbaba. In terms of importance to aspirants, the Think, Learn and Perform (TLP) initiative is akin to what net practice is to a cricketer. Designed to build your skills incrementally over a period time, TLP has helped thousands of candidates in the past 6 years. Feedback of toppers regarding TLP's high standard questions and synopsis are testimony to its importance. With TLP, you are as close to the UPSC standard as one can get. What is more important is that TLP is designed to make answer writing an integral part of your preparation journey.
Again, why are we putting so much emphasis on answer writing? The answer is even the most sincere and devoted aspirants are prone to losing momentum, even if they have started well. We have witnessed this phenomenon all these years. Candidates start with a bang. For the initial few days, fired-up candidates put in a lot of effort to answer daily questions and appear in sectional tests. However, after a few weeks, the numbers start to dwindle and the sincerity wanes away. What remains is a handful of aspirants keeping their momentum intact, attempting all the papers. It is no surprise that they are the ones who find their names in the final list. We are telling this to you to demonstrate the strong positive correlation between participation in TLP and success in the civil services examination.
The very fact that only a handful of candidates are able to commit wholeheartedly to the process tells us that it is not easy. Doing the same exercise consistently, days after days, requires perseverance, a virtue not everyone possess. If you are one of those aspirants who is willing to commit to this process and devote time and energy with utmost honesty, then there is no way that success can elude you.
Are you ready to commit? If yes, we are here for you. We present to you the latest versions of TLP, The TLP+ 2021 and TLP+ Full-Length Mock test series programs for Mains 2021. The details of the programmes can be found below.
I am filled with gratitude for the intensive efforts in action and spirit put by you. I want to take this opportunity to thank Mohan Sir for his continuous support and guidance. In all the three stages of Prelims, Mains and PT, IASBABA delivers excellence. I am thankful for your contribution in my journey.
IAS Baba's celebrated 60 Days Program for Prelims inspired me to take up the Full Length Test series for Mains as well. The feedback from my mentors was so focused and precise that I never felt the handicap of not interacting with them physically. Mohan sir's DAF questionnaire also played a vital role in delving deep into my DAF, which helped me prepare for many questions that were asked in my actual personal personality test. I would sincerely recommend following the daily quizzes and enrolling in the TLP + program to every serious aspirant.
My association with IASBABA in this journey had two main components. First, I referred to their multiple free compilations - 60 days plan and TLP in particular - throughout the year for fodder material for prelims and mains. Second, I got interview guidance from them, which has been crucial in helping me achieve a decent score (201) in the personality test. The mock interview was rather enriching and I'd like to thank Mohan sir too, for his special tips, especially on questions that are considered tricky. I'm grateful to the entire team of IASBABA for all their help. Thank you!
I would like to thank IASBABA for their 60 days prelims plan and compilations which were very useful for me to revise holistically. I have even took Mains tests series from IAS BABA , the quality of questions and feedback was good. It gave me confidence that i am actually capable of scoring good marks in mains.
I would like to thank IASBABA for their guidance. I had used the current affairs material, 60 days prelims program as well as TLP for mains answer writing along with mock interview. I would like to thank the entire IASBABA team and Mohan sir for their guidance and support.
I have been associated with IASBaba via various programmes of IASBaba. I was part of ILP batch which helped me master command on core subjects of Prelims and Mains. I personally feel TLP is the best medium to learn and practice answer writing, it helped me to think in structured manner and complete paper in time. I would like to thank Mohan sir and whole team of IASBaba for their continued support and guidance throughout the journey, and I appreciate their free & Paid initiatives which are helping lakhs of students preparing from home.
I have been following various initiatives of IASBaba on a regular basis for all stages of the examination, especially the Daily Current Affairs Quiz, All India Open Mocks, TLP program and the Yojana gist, and they have all proved to be very helpful. Similarly, the interview guidance provided in the form of Mock Interviews, One to One guidance by Mohan Sir, Current affairs sessions by Dr Akash Sir also proved very fruitful. Thanks again for all your support and guidance in this journey.
I wanted to express my gratitude to the IASbaba team for such exceptional work. I did not join any classroom classes, as I was working. But I benefited a lot from the 60 days plan. I also wrote 8 Mocks before Mains, and gave two mock interviews which were immensely beneficial in calibrating my performance in the exam hall and interview-hall respectively. I wish that you continue to uphold high standards of quality in the preparation material, and help candidates in their journey.
Ias baba played a key role in my preparation. I was part of TLP plus programme of Iasbaba. It has immensely helped in improving my mains answers. Also mohan sirs interview session was highly helpful. Thank you Iasbaba for guiding my preparation.
I was part of ILP, TLP and interview guidance program which helped me in my preparation. All the mentors at IASBABA were very supportive in my journey with their knowledge and guidance.
1. THINK LEARN PERFORM (TLP+) 2021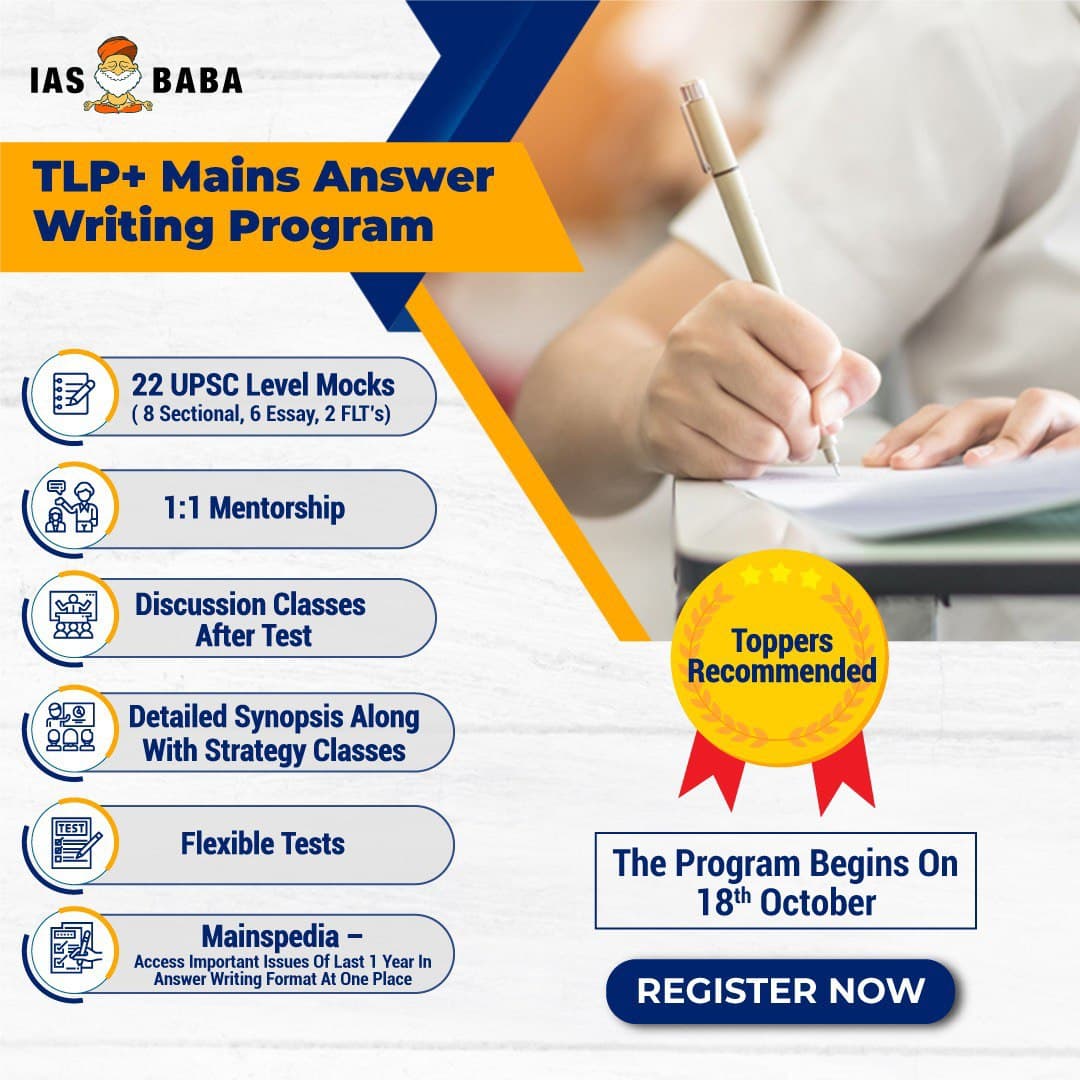 This is one of the Most Intensive and Comprehensive Answer Writing Program of IASbaba, designed with some unique features exclusively for UPSC Mains 2021 keeping the paucity of time between Prelims and Mains in mind.
MOST COMPREHENSIVE PROGRAM – is a MAINS Mentorship-Based Answer Writing Program for those appearing for UPSC Mains 2021. There are 22 Full-Length Tests (8 Full-Length Sectional Tests and 8 Full-Length Mock Tests and 6 Essay Tests). All the Tests are for 250 Marks, 3 hours Duration and these tests are flexible!
ONE-ON-ONE MENTORSHIP – One-to-One personal guidance and feedback. Each evaluated copy is discussed in detail by your mentor, who will help you in identifying your strengths and weakness and give you the right direction.
DETAILED EVALUATION OF ALL TESTS & RANKING – Detailed and Timely Evaluation and Ranking to be done and list to be published for both Online and Offline Combined. If Answer Copies are submitted on the same day or within 24 hours of the exam, it will be evaluated and given before the next test. For others, copies will be given within a maximum of 7 Days.
DETAILED SYNOPSIS – How to Approach the questions based on the demand of the question will be mentioned in the Synopsis. There will be a special emphasis on approach to analytical questions and alternative introductions one can come up with, to the same question. All the important pointers will be given along with value addition.
DISCUSSION SESSIONS/VIDEOS – Every Test will be followed by a discussion session/video where all the questions will be discussed.
MAINSPEDIA – Mainspedia is a  one of its kind initiatives where we declutter the most important editorials across national dailies to bring you relevant and ready 'Introductions', 'Conclusions', 'facts', 'data' in tabular form. The Mainspedia Articles in the Answer Writing Format (Introduction, Body, Conclusion).
SEPERATE PLATFORM (ONLINE STUDENTS) – A Separate platform has been designed for ONLINE students. Tests will be uploaded on this Platform on the day of the exam and you will be given a time domain to write and upload your answer sheets. Evaluated answer sheets will be uploaded back on your profile before the next scheduled test, provided you are submitting the Answer copies within 24 hours. This will help us in timely evaluation and publication of Offline + Online Ranking.
SPECIAL EMPHASIS ON ETHICS and ESSAY – A special focus will be given on ESSAY and ETHICS through discussion videos so that you are confident enough to tackle any question in the exam hall. More than 12 Essay Themes (Philosophical, Environment, Women etc.) will be discussed. A Total of 24 Essays will be discussed across all themes.
NOTE – The Program will start from 18th October, 2021 (Monday). This program is available in both ONLINE and OFFLINE (DELHI, BANGALORE, LUCKNOW) mode.
---
2. THINK LEARN PERFORM (TLP+) FULL LENGHT MOCKS (FLMs) 2021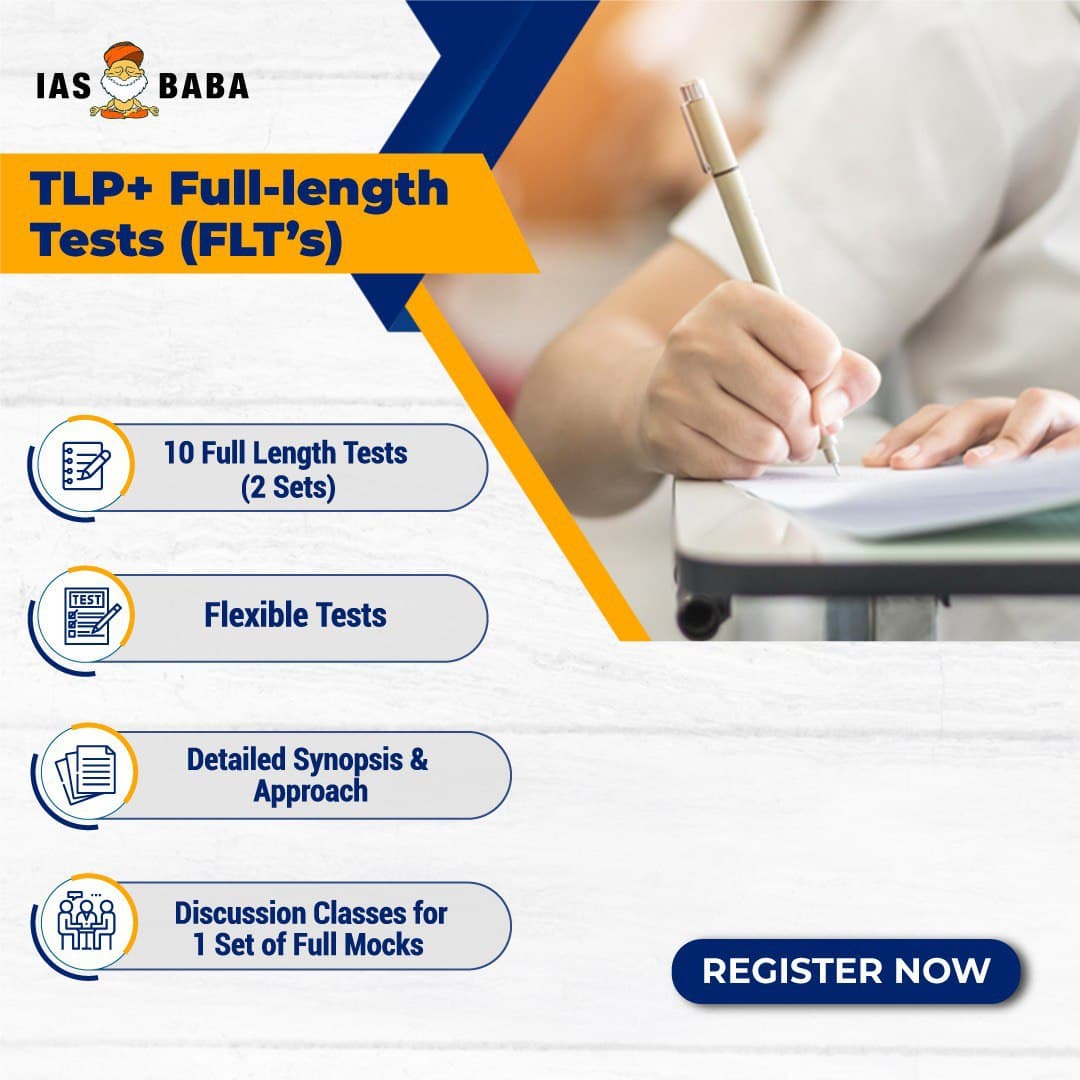 For those who are interested in taking ONLY Full-length Mock tests along with mentorship, we have an Exclusive Module, TLP+ Full-length Mocks.
FULL LENGHT TESTS (FLMs) – It will consist of 10 Full-length Mock Tests comprising of Essay, GS1, GS2, GS3, GS4 on similar lines of the UPSC Mains Exam.
ONE-ON-ONE MENTORSHIP – One-to-One personal guidance and feedback. Each evaluated copy is discussed in detail by your mentor, who will help you in identifying your strengths and weakness and give you the right direction.
These Tests are Flexible!
NOTE – The First Full-Length Mock will be held in the 1st Week of November and the Second Full-Length Mock will be held in the 1st Week of December. This program is available in both ONLINE and OFFLINE (DELHI, BANGALORE, LUCKNOW) mode.
FOR ANY QUERIES:
Email ID: tlp@iasbaba.com
Contact No.: 9169191888 (10 AM – 6 PM) Please do not make calls before or after the given timing.