Jute Mills of West Bengal
Part of: Prelims and GS III – Economy
Context: With over a dozen jute mills closed in West Bengal and thousands of workers out of job, the Indian Jute Mill Association (IJMA), an association of manufacturers, have approached the Centre seeking intervention so that prices of raw jute are revised and the mills resume operation. The crisis in the mills has caused a job loss for 60,000 workers.
Background
The distress was caused by the Jute Commissioner's Office, which imposed a "reasonable" price cap of Rs 6,500 per quintal of raw jute purchased in West Bengal.

Stock to user [SUR] has fallen by 84% and jute yield is stagnant for five years. 

There is 70% shortage of credible seeds needed for robust cultivation.

In November 2021, New Delhi made it mandatory to use jute bags to pack all foodgrains and 20 percent of sugar for the Jute Year 2021-22, ignoring the crisis that had been boiling in the jute industry. As a result, in November and December last year, the industry incurred

a loss of Rs 1,500 crores

. It failed to produce the 4.8 lakh bales of jute bags required by the government, due to the shortage of raw jute caused majorly by the Centre's own decision. The jute bags were then replaced by a non-biodegradable, fossil fuel substitute: plastic bags.

The central government has also alleged that farmers and traders are stocking raw jute to create a shortage of supply and increase the price of the fibre in the market. The Centre has, thus, made it mandatory to

sell raw jute within 45 days of harvesting

.
Jute
Jute requires a warm and humid climate with temperature between 24° C to 37° C.  

Jute is largely grown in the delta shared by West Bengal and southwest Bangladesh, and in parts of Assam, Meghalaya and Tripura in the period between February/March and May/June, before the monsoon.

West Bengal is considered the hub of India's jute industry, valued around Rs 10,000 crore, and in 2016 the state housed 70 of the 93 mills in India. The long, soft, shiny bast fibre is used to produce bags, hessians, twines, ropes, mats and several other textile blends.

Fully biodegradable and recyclable. A hectare of jute plants consumes about 15 tonnes of carbon dioxide and releases 11 tonnes of oxygen. 

Cultivating jute in crop rotations enriches the fertility of the soil for the next crop. Jute also does not generate toxic gases when burnt,

Constant rain or water-logging is harmful.  

The new gray alluvial soil of good depth, receiving salt from annual floods, is best for jute.

The jute plant's fibres lie beneath the bark and surrounded the woody central part of the stem. To extract the fibres from the stem, the process is carried out in the following stages :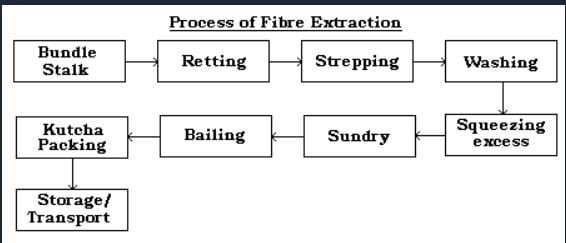 Jute and India
Known as the golden fibre, jute was once the most important industry in India after cotton.

By the 1910s, Calcutta Mills had become the world's largest jute producer, employing more than 300,000 people. 

Bengal soon established a monopoly on the jute industry, after the golen fibre found military use in the Crimean War, and later the First World War.

The jute industry in India received its first major blow when Bengal was divided into West Bengal and East Pakistan (now Bangladesh). After the partition, 75 percent of the jute-growing land went to East Pakistan, while all the mills remained in India, mostly in West Bengal
For a dedicated peer group, Motivation & Quick updates, Join our official telegram channel – https://t.me/IASbabaOfficialAccount
Subscribe to our YouTube Channel HERE to watch Explainer Videos, Strategy Sessions, Toppers Talks & many more…