Syllabus
GS-2: Effect of policies and politics of developed and developing countries on India's interests.
Why in News: A statement by USA that any attempt by China to invade Taiwan would attract American military intervention set off an angry response from the government in Beijing, which vowed "firm action to safeguard its sovereignty and security interests", and warned that "we will do what we say".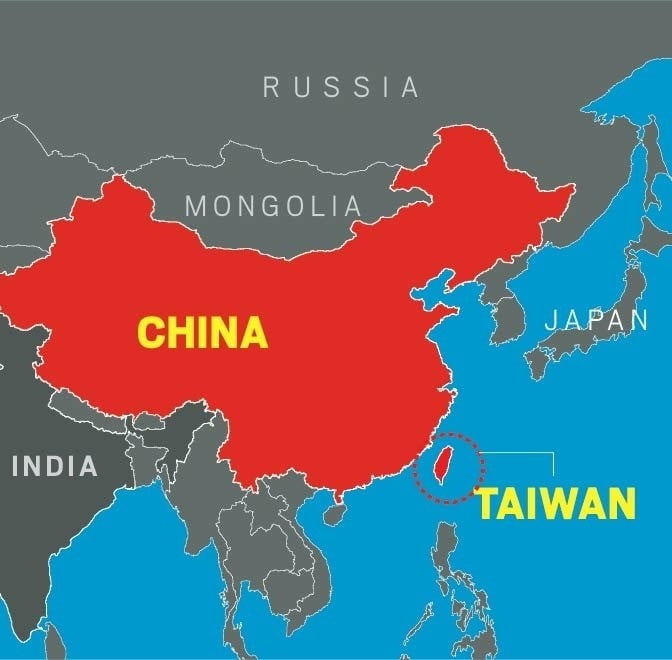 What is the origin of Taiwan-China Tussle?
Taiwan, earlier known as Formosa, a tiny island off the east coast of China.
The island is located in the East China Sea, to the northeast of Hong Kong, north of the Philippines and south of South Korea, and southwest of Japan.
Taiwan is the unfinished business of China's liberation under the Chinese Communist Party (CCP) in 1949.
The Guomindang (KMT) forces under Chiang Kai-shek lost the 1945-49 civil war to the Communitst forces under Mao Zedong.
Chiang Kai-shek retreated to the island of Taiwan and set up a regime that claimed authority over the whole of China and pledged to recover the mainland eventually.
The Communists in turn pledged to reclaim what it regarded as a "renegade" province and achieve the final reunification of China.
Taiwan (known as Republic of China – ROC) could not be occupied militarily by the newly established People's Republic of China (Communist's mainland China) as it became a military ally of the United States during the Korean War of 1950-53.
How did the China & Taiwan evolve in cold war era?
In 1954-55, and in 1958, the PRC bombed the Jinmen, Mazu, and Dachen islands under Taiwan's control, drawing in the US.
Congress passed the Formosa Resolution authorising President Dwight D Eisenhower to defend Taiwanese (Republic of China- ROC) territory.
In 1955, Premier Zhou En-lai declared at the Bandung Conference that he wanted negotiations with the US. But as civil war broke out in Lebanon in 1958, China resumed the bombing, provoking the US to supply Taiwanese outposts on the islands.
The People's Republic of China (PRC) i.e. mainland China and ROC (Taiwan) then arrived at an arrangement to bomb each other's garrisons on alternate days – this continued until 1971.
Taiwan became the non-communist frontier against China during the Cold War. It was described as an "unsinkable aircraft carrier" underscoring its strategic significance.
It was only in 1971 that the US inaugurated ties with the Mainland China through the secret diplomacy of Henry Kissinger, national security adviser to President Richard Nixon.
In 1975, Chiang Kai-shek died, martial law was lifted, and Taiwan got its first democratic reforms.
S. recognised the Communist Party ruled People's Republic of China (PRC) as the legitimate government of China in 1979, ending its official relationship with Taiwan and abrogating its mutual defence treaty with the island.
The US has a policy of "strategic ambiguity" towards Taiwan. This means that it maintains ties with Taipei, and sells weapons to it, but officially subscribes to the PRC's "One China Policy" in which Taiwan does not exist as a separate entity.
Just 14 countries around the world recognise Taiwan. Most are very small, many are remote island nations.
As the British prepared to exit Hong Kong in 1999, the "One China, Two Systems" solution was offered to Taiwan as well, but it was rejected by the Taiwanese.
What is One China Two Systems Policy?
This policy was originally proposed by Deng Xiaoping shortly after he took the reins of the country in the late 1970s. Deng's plan was to unify China and Taiwan under the One Country Two Systems policy which provided autonomy to Taiwan
Under this system, Taiwan could follow its capitalist economic system, run a separate administration and keep its own army but under Chinese sovereignty. Taiwan, however, rejected the Communist Party's offer.
The idea of two systems in one country was however adopted in Hong Kong and Macau when Britain and Portugal, who were running these territories under lease (since colonial times) returned it to China in 1997 & 1999 respectively. These territories were given autonomy in its functioning in return for recognition of China's Sovereignty over these areas.
How has Taiwan's recent political and economic history unfolded?
With China itself adopting market-oriented reforms since 1978 and becoming a significant economic and commercial opportunity globally, Taiwan business entities have invested heavily in mainland China and the two economies have become increasingly integrated. 
Taiwan has a thriving democracy and has held direct elections to choose its leaders since 1996.
Between 1991 and 2020, the stock of Taiwanese capital invested in China reached U.S. $188.5 billion and bilateral trade in 2019 was U.S. $150 billion, about 15% of Taiwan's GDP.
By contrast the stock of Chinese capital invested in Taiwan is barely U.S. $2.4 billion
China hopes that burgeoning economic relationship with Taiwan would weaken opposition to unification. 
At the same time, China is capable of inflicting severe economic pain on Taiwan through coercive economic policies if Taiwan is seen to move towards an independent status.
Taiwan now has massive economic interests, including investments in China, and pro-independence sections worry that this might come in the way of their goals.
Inversely, the pro-reunification sections of the polity (Taiwan's KMT Party), as well as China, hope that economic dependence and increasing people-to-people contacts will wear out the pro-independence lobbies (Democratic Progressive Party).
How did the current round of tensions come about?
The 2016 election of President Tsai (Democratic Progressive Party) marked the onset of a sharp pro-independence phase in Taiwan, and the current tensions with China coincided with her re-election in 2020.

As a result, Beijing has pushed with vigour an international strategy aimed at isolating Taiwan.
By the end of 2019, Taiwan was left with only 14 UN member states that maintain diplomatic relations, after losing the Solomon Islands and Kiribati which both shifted to recognising Beijing.
China believe that the country's "great rejuvenation", which President Mr. Xi has declared as the "China dream", will not be complete without Taiwan's return

In 2020, amid worsening US-China relations over Covid and trade, US sent its highest ranking delegation till then to Taipei, Taiwan. During the visit, the Chinese conducted a military exercise in the Taiwan Strait, which separates Taiwan from mainland China.
In October 2020, President Xi Jinping asked the PLA to prepare for war, triggering alarm in Taiwan, which read it as an open threat.
After assuming charge in January 2021, the US Administration under Presidentship of Joe Biden declared America's "rock solid" commitment to Taiwan.
In March 2021, the U.S. Pacific Commander, warned that China could invade Taiwan within the next six years as part of its strategy of displacing U.S. power in Asia. He suggested that Chinese military capabilities had been developed in order to achieve this objective.

The recent initiatives of the Quad and AUKUS may act as a deterrent against Chinese moves on Taiwan. But they may equally propel China to advance the unification agenda before the balance changes against it in the Indo-Pacific.

In April 2021, Taiwan reported Chinese jets in its air defence zone. In July 2021, Xi warned that he would "smash" any Taiwanese move towards independence.
In a speech on October 10, Xi appeared to allay fears of a forcible takeover, and spoke about "peaceful reunification". But he underlined that "the historical task of the complete reunification of the motherland. will definitely be fulfilled."

That same day, the Taiwanese president said that while her government would not "act rashly", the Taiwanese people would not "bow to pressure" either.
What is the challenge for China??
China believe the tide of history is on their side (with economic & military might), and that the island (Taiwan) of 23 million people (roughly the population of Beijing) will inevitably return to the fold.
However, China needs to offer more than the stability, security, and economic growth that its model promises, when issues of identity, suffrage and values are involved
With China aggressively pushing its mega infrastructure project Belt & Road initiative and aiming at superpower status, it has to show to the world that it is able to solve its own internal problems in a peaceful manner before embarking on taking up Global leader status.
What has the US been doing as tensions rise?
As tensions rise, the world is watching the US, whose status as the world's pre-eminent power has been dented by the messy exit from Afghanistan.
In East and Southeast Asia, several countries including Japan, South Korea, and the Philippines, which are sheltered under the protective umbrella of the US, are concerned about US security commitments in the Pacific region.
President Joe Biden has been seen as walking a thin line between pledging support for Taiwan, and keeping the lid on tensions with Beijing.
After speaking with Xi in October 2021, Joe Biden had said that they had agreed to abide by the "Taiwan Agreement", under which US support for the "One China Policy" is conditioned on China not invading Taiwan.
The AUKUS pact among the US, UK, and Australia, under which Australia will be supplied with nuclear submarines, imparted a new dimension to the security dynamics of the Indo-Pacific. Taiwan welcomed the pact, while China denounced it as seriously undermining regional peace.
What are the implications of the rising tensions for India?
With India facing its own problems with China on the LAC, there have been suggestions that it should review its One China Policy — it has in any case long stopped reiterating this officially.
Also, it is suggested that India use not just the Tibet card, but also develop more robust relations with Taiwan to send a message to Beijing.
India and Taiwan currently maintain "trade and cultural exchange" offices in each other's capitals.
In May 2020, the swearing-in of Tsai was attended virtually by BJP MPs Meenakshi Lekhi (now MoS External Affairs) and Rahul Kaswan.

In 2016, New Delhi had dropped plans to send two representatives for Tsai's first inaugural at the last minute.

India has been reported to be in talks with Taipei to bring a $7.5-billion semiconductor chip manufacturing plant to India.

Chips are used in a range of devices from computers to 5G smartphones, to electric cars and medical equipment.
The deal was reported on the heels of last year's Summit of the Quad, which discussed the need to build a "safe supply chain for semiconductors".

India also follows asymmetric Federalism where by many states enjoy greater autonomy in their functioning as compared to other states (Article 371, Schedule V & VI).
These special provision are also intended to deal with issues to identity & culture. India thus needs to handle these in a democratic manner so as to not see Taiwan/Hongkong type of protests happening in India
In International Politics: India can always use the leverage of Taiwan and Hongkong whenever China meddles in India's own internal issues like Kashmir/ Naga unrest.
---
Mains Practice Question –

The Taiwan flashpoint has the potential to reorient the geopolitics that can have serious implications for India. Discuss.
Note: Write answers to this question in the comment section.
---
Mind Map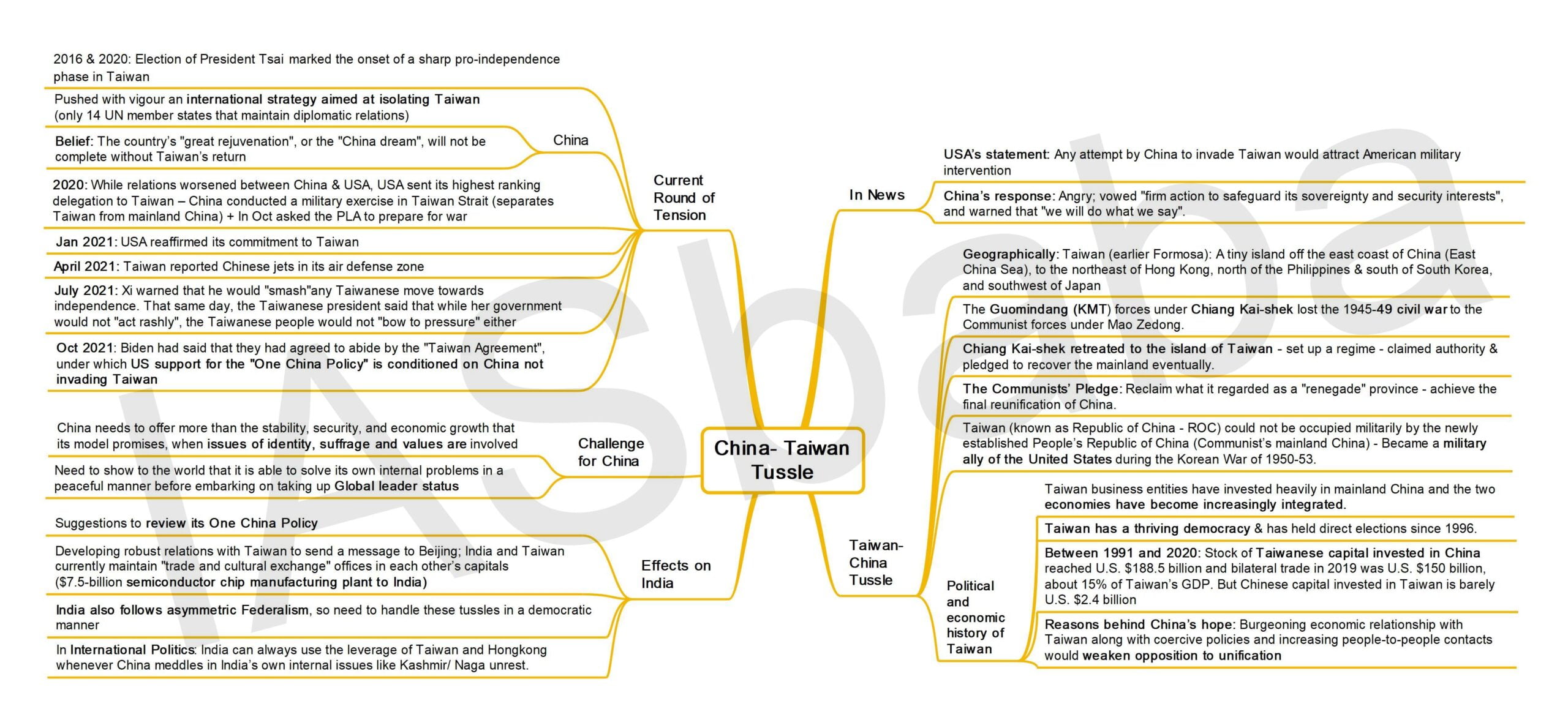 ---
DOWNLOAD MIND MAP – CLICK HERE
---
For a dedicated peer group, Motivation & Quick updates, Join our official telegram channel – https://t.me/IASbabaOfficialAccount
Subscribe to our YouTube Channel HERE to watch Explainer Videos, Strategy Sessions, Toppers Talks & many more…