Baba's Explainer – Sedition Law
Syllabus
GS-2: Indian Constitution- significant provisions
GS-2: Functions and responsibilities of the government
GS-2: Government policies and interventions for development in various sectors and issues arising out of their design and implementation.
Why in News: Recently, the Union government has sought more time to file a reply in a plea challenging the constitutional validity of the sedition charge under Section 124A of the Indian Penal Code.
The pleas filed by the Editors Guild of India and Major General (Retired) S.G. Vombatkere state that the law causes a 'chilling effect' on free speech and is an unreasonable restriction on free expression, a fundamental right.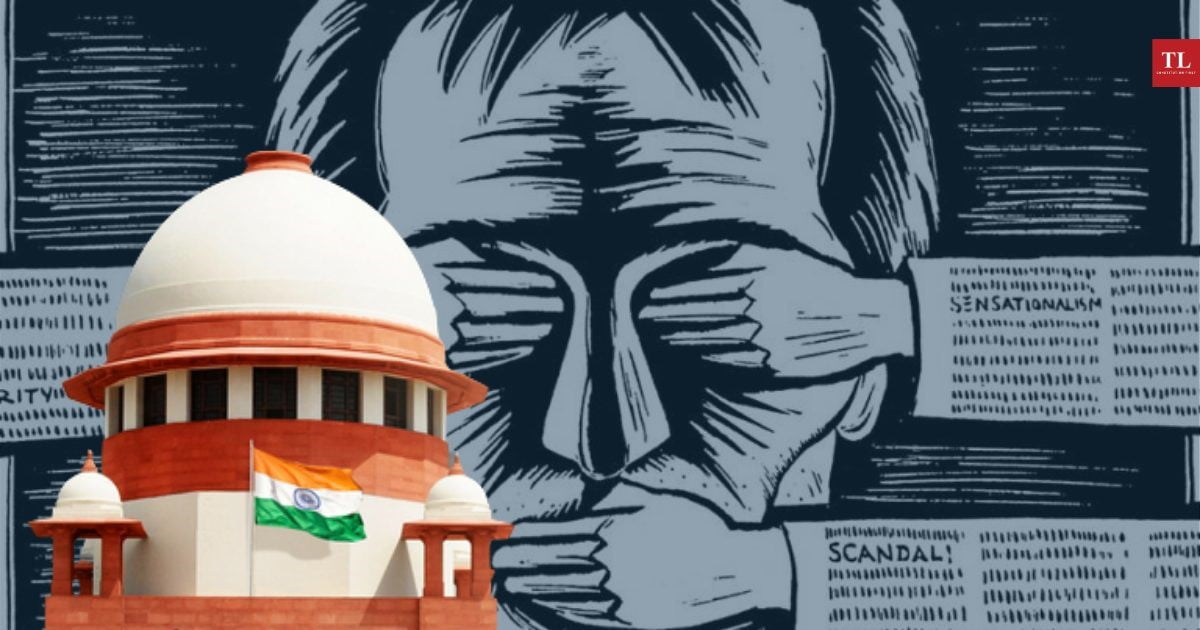 What is Sedition?
Drafted by British historian-politician Thomas Babington Macaulay in 1837, sedition was defined as an act by 'whoever, by words, either spoken or written, or by signs, or by visible representation, or otherwise, brings or attempts to bring into hatred or contempt, or excites or attempts to excite disaffection towards the Government'.

Disaffection includes disloyalty and all feelings of enmity.

The Sedition charge was included in Section 124 A of the Indian penal code in 1870
Punishment as per section 124A

Sedition is a non-bailable offence
Imprisonment from three years up to life, along with a fine.
The person charged under this law is also barred from a government job and their passport is seized by the government.

What does not constitute Sedition?: Comments without exciting or attempting to excite hatred, contempt or disaffection, will not constitute an offence under this section.
What was the intention behind British introducing this law?
It was imposed by the British Colonial government to primarily suppress the writings and speeches of prominent Indian freedom fighters.
Writings of leaders like Mahatma Gandhi, Lokmanya Tilak, and Jogendra Chandra Bose were suppressed and they were tried under sedition law for their comments on the British rule.
The first notable case for the offence of sedition was reported in 1891, in the case of Queen-Empress v. Jogendra Chunder Bose & Ors., (1892).

Here the editors of a Bengali magazine were charged for their criticism of the British Government's policies, specifically regarding the Age of Consent Act, 1891.
Publishers contended that penalising people for exercising their rights went against the original intention of the law.
Calcutta High Court had also emphasised upon the distinction between the terms 'disapprobation' (that is, legitimate criticism) and 'disaffection' (which refers to 'any feeling contrary to affection'. The court concluded that since only disaffection is penalised, the offence of sedition does not take people's rights away

Sedition Charges against Bal Gangadhar Tilak

He was charged twice under the law once in 1897 and again in 1908.
In 1897, Tilak had published the reports of annual celebration of the Shivaji Coronation as "Shivaji's Utterances" in his dailies – Kesari and Mahratta.
Sedition charges were filed against him and the case was presided by Justice Arthur Strachey.
This sedition trial is historically famous as in this case, an attempt to excite feelings of enmity against the government was also brought under the scope of Section 124A terming it is seditious. Hence, it widened the understanding of Section 124A.
Tilak was sentenced to 18 months of rigorous imprisonment.
In 1908, Tilak published two Kesari articles, titled "The Country's Misfortune" and "These Remedies Are Not Lasting". These were considered as seditious and Tilak sentenced to six years imprisonment from 1908 to 1914 at Mandalay (present-day Myanmar).

Sedition Trial of Mahatma Gandhi (1922)

Mahatma Gandhi was imprisoned for six years for his articles in his newspaper, 'Young India'.
The charges imposed on him were – "Bringing or attempting to excite disaffection towards His Majesty's Government established by law in British India"
Mahatma Gandhi termed Section 124A as "Prince among the political sections of the Indian Penal Code designed to suppress the liberty of the citizen."
What has been the Sedition jurisprudence in independent India?
After Independence, "sedition" was dropped from the Constitution in 1948 after discussions of the Constituent Assembly.
KM Munshi moved an amendment to remove the word "sedition" that was included in the draft Constitution as a ground to impose restrictions on constitutional freedom of speech and expression.
The word "sedition" thus disappeared from the Constitution when it was adopted on November 26, 1949, and Article 19(1)(a) gave absolute freedom of speech and expression. However, Section 124A continued to stay in the IPC.
In Tara Singh Gopi Chand v. The State (1951) case, the then-Punjab High Court, invalidated section 124A on the basis that it was in contravention of the fundamental right of freedom of speech and expression under Article 19 of the Indian constitution.
Soon after, independent India's first Parliament passed the Constitution (First Amendment) Act, 1951 which, among other things, sought to resolve the anomaly in the constitutionality of the sedition law as a result of the Tara Singh Gopi Chand judgment.
It did so by introducing new grounds on which the right to freedom of speech and expression could be reasonably restricted.
In the original Constitution, the only grounds for limiting free speech enumerated in Article 19(2) were the security of the State, defamation, contempt of courts, and decency and morality. The Amendment Act introduced the new grounds for restricting the freedom of speech and expression which are

public order
relations with foreign states
incitement to an offence

Such wide-meaning terms gave greater discretion to the State invoke the offence of sedition.
The amendment was put to test within two years in the case of Debi Soren & Ors. v. The State (1954) where Patna High Court confirmed the constitutionality of section 124A of the IPC, ruling that it does not violate Article 19.
The conundrum arising from various views of the high courts was finally settled by the Supreme Court by its judgment in Kedar Nath case in 1962, which is considered the most authoritative judgment of the Supreme Court on the interpretation of the sedition law (discussed later).
It was the Indira Gandhi government that made Section 124A a cognisable offence for the first time in India's history.

In the new Code of Criminal Procedure, 1973, which came into force in 1974 and repealed the colonial-era 1898 Code of Criminal Procedure, sedition was made a cognisable offence authorising the police to make arrests without a warrant.
What are the arguments in Support of Section 124A?
To safeguard Integrity of Nation: Section 124A of the IPC has its utility in combating anti-national, secessionist and terrorist elements.
Stability of the State: Itprotects the elected government from attempts to overthrow the government with violence and illegal means. The continued existence of the government established by law is an essential condition of the progress of society
Similar Powers with Judiciary: If contempt of court invites penal action, contempt of government should also attract punishment.
To combat Left Wing Extremism: Many districts in different states face a maoist insurgency and rebel groups virtually run a parallel administration. These groups openly advocate the overthrow of the state government by revolution.
Against this backdrop, the abolition of Section 124A would be ill-advised merely because it has been wrongly invoked in some highly publicized cases.
What was Kedarnath Singh Case of 1962 and why it is considered as landmark judgement?
In this matter, a five-judge Constitutional bench of the Supreme Court upheld the constitutional validity of section 124A and went on to clarify the correct position of the sedition law in India.
In this case, Kedar Nath Singh, who was a member of the Forward Communist Party of Bihar, was charged with sedition for making insulting speeches against the ruling Indian National Congress government.
It upheld the constitutionality of sedition, but limited its application to "acts involving intention or tendency to create disorder, or disturbance of law and order, or incitement to violence".
It clarified that section 124A could not be used to stifle free speech, and could only be invoked if it could be proven that the seditious speech in question led to the incitement to violence or would result in public disorder.
Liking a social media post or cheering a rival cricket team or creating cartoons or not standing up in a cinema theatre do not constitute sedition; nor does the media merely being critical of a Government. (do you know that on all these grounds government has filed sedition cases)
Balwant Singh vs State of Punjab Case, 1995
Balwant Singh who was the Director of Public Instructions (DPI) in Punjab, Chandigarh among other two, was alleged to have shouted pro-Khalistan slogans on the day of former PM Indira Gandhi's assassination.
The apex court held that unless there is public disorder merely sloganeering can't attract punishment under Section 124A.
By two judgments in 2011, the Supreme Court unambiguously stated yet again that only speech that amounts to "incitement to imminent lawless action" can be criminalised.
What are the concerns with Sedition provision?
Misused to curb dissent: Sedition has become the first refuge of a Government to still dissent. Criticism of a Government is not the same as exciting "disaffection towards the Government" or inciting rebellion against it.

Dissent and criticism of the government are essential ingredients of robust public debate in a vibrant democracy.

Chilling effect on freedoms: It is a constraint on the legitimate exercise of constitutionally guaranteed freedom of speech and expression.

The Law Commission of India, in its consultation paper on sedition, published in August 2018, also observed that while retaining the offence of sedition was essential to protect national integrity, it should not be used as a tool to curb free speech.

Alternate sections already exist in the IPC. Crimes covered under Section 124(A) are in any case mentioned in the Indian Penal Code under sections 141, 146, 152, 153, 153(A), 153(B) and 15
Low Convictions: Chargesheets are hardly filed in such cases. Very few come to trial. Negligible number of cases end in conviction (only 3%).
Vague & Liable to Political misuse: The terms used under Section 124A like 'disaffection' are vague and subject to different interpretations to the whims and fancies of the investigating officers. The nuances of sedition are lost in the political motive behind the charge.
Disproportionate Impact on Weaker Sections: Consistently, we have seen that a mere difference of opinion from the establishment lands people in jail on grounds of sedition. The targets usually include activists, Dalits, Muslims, tribals, and journalists.

As it is, courts are not easily accessible for many poor persons. Additionally, charges of sedition are usually clubbed with UAPA offences or with other special laws, complicating the matter.

Culture of Impunity: Despite Kedarnath Singh guidelines,it is amazing that not one police officer has been prosecuted or even departmentally proceeded against for gross misapplication of sedition nor has any victim ever been paid any compensation.

The Supreme Court seems to be under the impression that police falsely implicate individuals because of lack of adequate training or sensitization.

Colonial Relic: The British, who introduced sedition to oppress Indians, have themselves abolished the law in their country in 2009. There is no reason why India should not abolish this section.
International Image/Credibility: In 1979, India ratified the International Covenant on Civil and Political Rights (ICCPR), which sets forth internationally recognized standards for the protection of freedom of expression. However, misuse of sedition and arbitrary slapping of charges are inconsistent with India's international commitments.
There is no chain of command monitoring a sedition case.
Also, India has seen no "real" sedition charge in a long time.
What is the way forward?
All laws can be misused. An argument can be made that the law on sedition, if applied, as interpreted by the Supreme Court, with its recommended safeguards, does act as a bulwark around the integrity of the Indian nation and discourages elements which seek to incite violence to cause public disorder and overthrow elected governments.
The problem is, this is not how the law has been historically applied. The problem is the misuse of the law by an overly sensitive government and the illegal and arbitrary actions that often accompany its application.
The philosophy of dissent and democracy has also inspired our freedom movement and defines India's constitutional democracy, which is predicated on the people's right to call state power to account, albeit within the constitutional framework.
The problem of misuse of the section can be rectified by educating the law enforcement agencies and a probable suggestion is to impose penalties on the law enforcement officers who maliciously invoke sedition against journalists, members of opposition etc.
Instead of ad hoc attempts to put in place loose safeguards and guidelines, the government would do well to review such outdated penal provisions. Legislation exists to deal with unlawful activities and armed movements. There is no need to criminalise words spoken or written, however strong and provocative they are in their criticism of the state.
---
Mains Practice Question –

Acts of sedition can be serious internal security threat to the country. However, the very concept of sedition needs a closer review with respect to its interpretation, scope and misuse by the state. Discuss.

Note: Write answers to this question in the comment section
---
Mind Map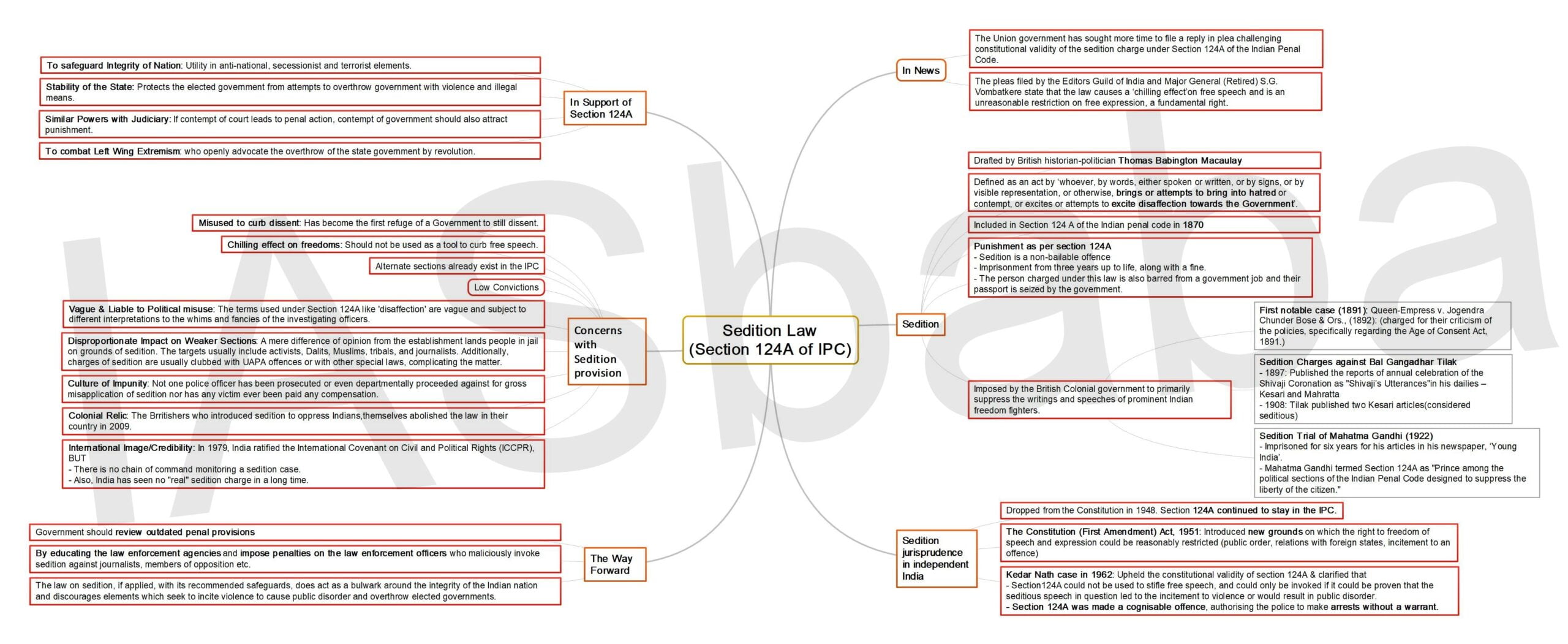 ---
DOWNLOAD MIND MAP – CLICK HERE
---
For a dedicated peer group, Motivation & Quick updates, Join our official telegram channel – https://t.me/IASbabaOfficialAccount
Subscribe to our YouTube Channel HERE to watch Explainer Videos, Strategy Sessions, Toppers Talks & many more…