Stubble Burning
Syllabus
GS-2: Government policies and interventions for development in various sectors and issues arising out of their design and implementation.
GS-3: Conservation, environmental pollution, and degradation
Why in News: With a large number of farmers continue to set their fields on fire, nearly 1000 wheat straw burning processes were recorded in one day taking the total figure to well over 3000 in the month of April 2022.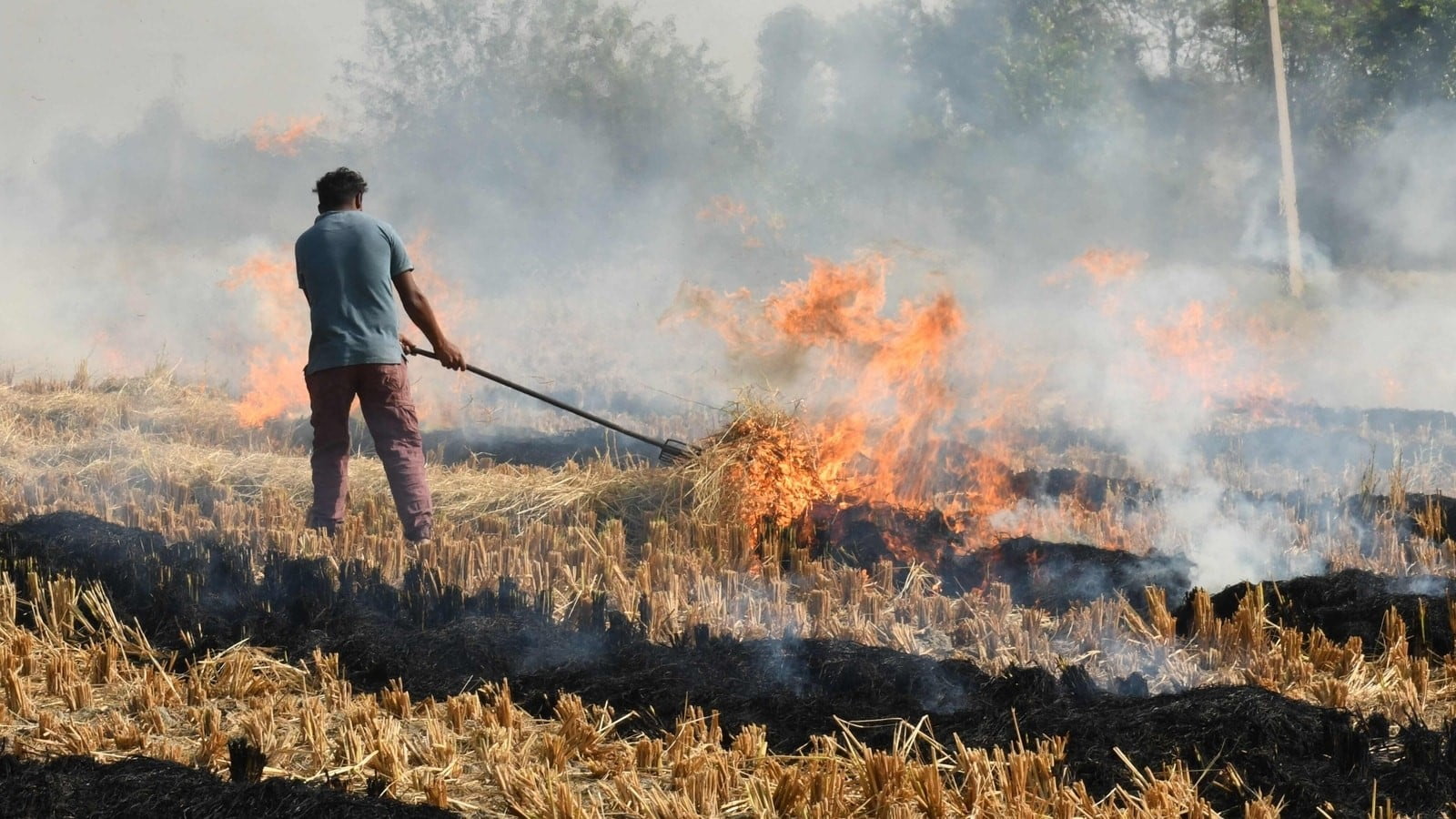 What is Stubble?
Stubble is called the remaining part of paddy, which has its roots in the earth.
After harvesting the paddy crop, the farmers cut off its valuable upper part, and the remaining is left in the field, which is not of any use to the farmer.
What is stubble burning?
Stubble burning is the act of intentionally setting fire to crop residue (stubble) to remove them from the field so as to prepare the field for the next crop.
Leaving stubble on the field will invite termites and other pests which can damage the subsequent crop.
It is usually required in areas that use the combined harvesting method which leaves crop residue behind.
What time of the year we witness stubble burning?
Stubble burning has been practiced by farmers from all over the world but in India it is practised mainly in the Indo-Gangetic plains of Punjab, Haryana, and UP.
The paddy crop is harvested between the first and last weeks of October in Punjab and Haryana. Then, farmers sow the wheat crop from the first week of November until the middle of December.
Therefore, we witness stubble burning during October after harvesting of Khariff crops (paddy) so as to prepare the fields for upcoming rabi crop(wheat).
Similarly, after harvesting rabi wheat crop in first week of April, stubble burning takes place usually in the months of April- May so as to prepare the fields for upcoming khariff crop (paddy).
What are the reasons for farmers going for stubble burning?
Mechanisation of Agriculture: Mechanised harvesting extracts the rice grains only leaving behind huge residue. Manual harvesting is not an option for farmers because of the huge labour charges and the increased time taken.
Lack of awareness: Farmers are not realising that they are burning the soil friendly insects, organic matter, and causing considerable loss of nitrogen, DAP, Potassium.

Farmers believe that that if they don't burn it then this left over will float over the flooded field prepared for transplanting paddy nursery and the left over will hit the delicate paddy nursery when windy air will blow and causes damage to the crop.

Alternatives are Expensive: Despite the Punjab government making available tractor-mounted 'happy seeders' to cut down the rice stubble and sow wheat seeds simultaneously, many farmers find the prices of these machines or their rents prohibitive. So, they continue to burn stubble.

To use a 'happy seeder' machine, farmers have to shell out Rs.1000 per acre of land as machine rent and a further Rs.2000 for diesel.

Reduced usage of Stubble: Earlier, the stubble used to be used by farmers as hay to keep animals or homes warm, and even for cooking. However, these uses of stubble have now become outdated. Also, rice straw is not considered suitable as fodder for animals because of its high silica content (this is true for the non-basmati variety of rice).
Government Policies: Some of the policies of government, for example Punjab Preservation of Subsoil Water Act of 2009, had unintentional effect of promoting stubble burning.
How government policy of conserving ground water unintentionally led to stubble burning?
In the 1960s, as part of the Green Revolution, farmers in Punjab and Haryana were encouraged to do wheat-paddy crop rotation to make India self-reliant in grains production.
From 1990s, Farmers in Punjab & Haryana started growing long-duration (160 days) water-guzzling paddy varieties like Pusa-44 during the Khariff season.
Long duration meant that nursery-raising happened in April last week and transplanting by mid-May. But being peak summer time, it also translated into very high water requirement.
Crops were then harvested from October leaving ample time for planting of the next wheat crop (by mid-November).
Punjab's groundwater table was declining by 0.5 m/annum on an average – largely due to Pusa-44 paddy cultivation and the state's policy of supplying free power for irrigation. 
Hence, there was pressure on the governments to come up with some policy so as to arrest the decline of ground water table and preserve water without adversely impact the agricultural output of the crops.
In 2009 Punjab government passed Punjab Preservation of Subsoil Water Act that made it mandatory for farmers to transplant paddy late during the Kharif season so to prevent loss of water.

The act that prohibited any nursery-sowing and transplanting of paddy before May 15 and June 15, respectively.
Therefore, transplanting of Pusa-44 was permitted only after the monsoon rainsarrived in mid-June. This was done to reduce the water requirements (make better use of rainwater & thus reduce dependence on groundwater)

As a result, harvesting was pushed to October-end, leaving a narrow time window for sowing wheat before the November 15 deadline.
Farmers, then, had no option other than burning the paddystubble left behind after harvesting.
Simply put, groundwater conservation in Punjab ended up farmers to burn their stubble as it was quick, cheap and easy way to clear the field of any rice chaff residue.
Before Pusa-44's release in 1993, Punjab farmers were mostly cultivating PR-106, which required less water and was short duration(145 days).
What are the effects of Stubble burning?
Air Pollution

The process of burning farm residue is one of the major causes of air pollution in parts of north India, deteriorating the air quality.
Stubble burning by farmers in Haryana, western Uttar Pradesh and Punjab in north India is considered a major cause of air pollution in Delhi and its adjoining regions.
According to a study, the burning of crop residue released about 149 million tonnes of carbon dioxide, more than 9 million tonnes of carbon monoxide, 0.25 million tonnes of oxides of sulphur (SOX), 1.28 million tonnes of particulate matter (PM) and 0.07 million tonnes of black carbon. As evident, it contributes to a lot of greenhouse gas emissions.
Stubble burning across Punjab and Haryana contributes to the winter haze in Delhi where about 40% of the near-surface PM can be attributed to the stubble burning.
It also contributes to the winter smog seen in these parts of the country.

Soil Fertility

The heat from burning paddy straw penetrates 1 centimetre into the soil, elevating the temperature to 33.8 to 42.2 degree Celsius. This kills the bacterial and fungal populations critical for a fertile soil.
The solubility capacity of the upper layers of soil has also been reduced.
Burning of crop residue causes damage to other micro-organisms present in the upper layer of the soil as well as its organic quality. Due to the loss of 'friendly' pests, the wrath of 'enemy' pests has increased and as a result, crops are more prone to disease.
What does the law say on stubble burning?
Section 188 of the Indian Penal Code (IPC) makes stubble burning a crime. Additionally, it was notified as an offence under the Air (Prevention and Control of Pollution) Act, 1981.
On December 10, 2015, the National Green Tribunal (NGT) had banned crop residue burning in the states of Rajasthan, Uttar Pradesh, Haryana and Punjab
The Supreme Court, in November 2019, had directed the governments of Punjab, Haryana and Uttar Pradesh to pay farmers a financial incentive to curb the practice.
Keeping the people's health in mind, the Supreme Court said it is imperative to have good health everywhere in Delhi, Punjab, or Haryana. The Supreme Court had asked the central government to form a task force to prevent farmers from burning stubble.
What measures have been taken by the government to address this issue?
Under a 100% centrally-funded scheme, in-situ residue management machines are given to individual farmers at 50% subsidy and to CHCs (custom hiring centres) at 80% subsidy.

The states of Punjab and Haryana are also providing such machines and setting up more CHCs.

More than 23,000 crop residue management machines are being given to farmers for on-site management of straw.
In 2020, the Government of Punjab appointed 8000 nodal officers in villages that grow paddy in order to put a check on stubble burning.
Already, penalties for stubble burning are imposed on farmers who break the law and resort to burning crop residue
The Commission on Air Quality Management in NCR and Adjoining Areas (CAQM) has developed a framework and action plan for effective prevention and control of Stubble Burning

In-situ Crop Residue Management: Crop Residue Management machines procurement, setting up of Custom Hiring Centers, extensive use of bio-decomposer (turns crop residue to manure in 15-20 days)
Ex-situ Crop Residue Management- Alternative usage of paddy straw viz. Biomass Power Projects, Co-firing in Thermal Power Plants, Feed stock for 2G Ethanol plants, Feed stock in Compressed Biogas plant, fuel in industrial boilers, WTE plants, packaging materials etc.
IEC (Information, education & Communication) activities for the plan of action
Standard protocol for recording and monitoring of fire counts.
What is the way ahead?
Dual Strategy: Both in-situ (in the field) and ex-situ (elsewhere) solutions, as mentioned in CAQM framework needs to be effectively implemented.
Short term Solution: Giving farmers easy and affordable access to the machines which allow them to do smart straw management. Use machinery like the Happy Seeder to remove the stubble. The government should make these machines available and economically viable for farmers.
Utilizing Crop Stubble: Instead of burning of the stubble, it can be used in different ways like cattle feed, compost manure, roofing in rural areas, biomass energy, mushroom cultivation, packing materials, fuel, paper, bio-ethanol and industrial production, etc.

Eminent agricultural scientist M.S. Swaminathan has suggested that the Delhi, Haryana and Uttar Pradesh governments could set up 'Rice Bio Parks', where farmers could convert stubble into products including paper, cardboard and animal feed.

Government Incentives: The government should also subsidise or incentivise the industries that are engaged in converting stubble into economically viable products. The government can also consider reinterpreting the MSP scheme to disallow the benefits of the scheme to farmers who practice crop residue burning.
Improving Agri-machines: Efforts should be made to improve the combine harvester that farmers use to harvest the crop. The current machine used leaves behind a huge residue. Improvement should be made in the technology used in such machines so that minimal residue is left behind.
Short Duration Paddy Varieties: One thing that scientists at the Punjab Agriculture University (PAU), Ludhiana have done is breed shorter-duration paddy varieties. These take between 13 and 37 days less time to mature than Pusa-44, while yielding almost the same. This ensures that farmers get adequate time to clear the fields for next crop.
The long-term solution has to be crop diversification, away from paddy. Encourage farmers to sow alternate crops and shift them away in the long run from paddy to maize, fruits, vegetables and cotton.
Farmer Education: Farmers have a difficult time unlearning the practice of stubble burning and they should be educated about its ill-effects and also offered attractive alternatives.
How an IAS Officer Reduced District's Stubble Burning by 80% in Just 1 Year?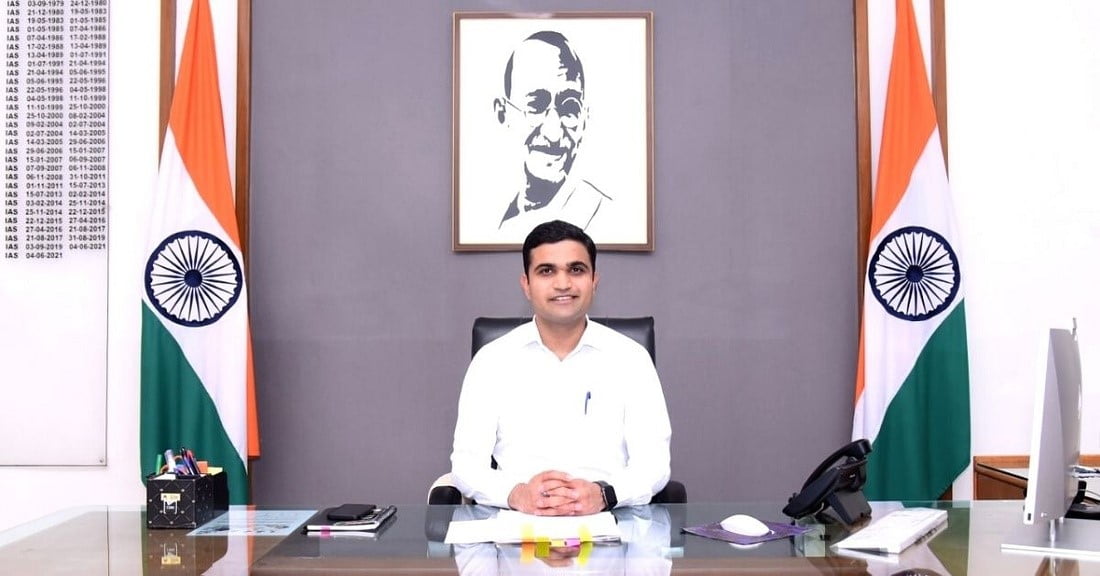 In June 2021, Vikram Yadav joined as a district collector in Ambala district of Haryana and, within months, mobilised government machinery to prevent stubble burning over hundreds of acres of land.
His actions led to an 80 per cent reduction in incidents reported, compared to the number of reports from 2020. Most importantly – he achieved this without the use of excessive force.
He demarcated areas into red and yellow zones. The red highlighted areas with more than six farm fires in a year, while yellow indicated up to five incident. The exercise narrowed down eight red zones and 89 yellow zones. Focus was to reduce cases of farm fires in the red zone down to zero
The district administration organised awareness campaigns and training across villages with the help of agriculture officers, deputy district collectors and other officers from various subdivisions.
Farmer events and rallies were held by school and college students to create awareness of the hazards of stubble burning. Besides, public places such as fuel stations, walls and hoardings were also used to send an effective message to the locals.
The district administration introduced smart seeder machines, shredders and other equipment with a government subsidy to mitigate farm waste. The farmers received the option to hire the equipment from Custom Hiring Centres (CHCs) facilitated by the government or to purchase them outright.
Besides addressing the waste at the source, the IAS officer says, "The farmers were offered other commercial alternatives such as selling stubble to power plants."
The farmers also chose these options as they received immediate cash payments or money transfers in the waste management process. It became a motivational factor for them.
Also, no police cases were registered against the violators, but 41 farmers received fines for burning farm waste.
---
Mains Practice Question –

Despite measures taken by the government to address the issue of stubble burning, it continues unabated. Discuss.

Note: Write answers to this question in the comment section
---
Mind Map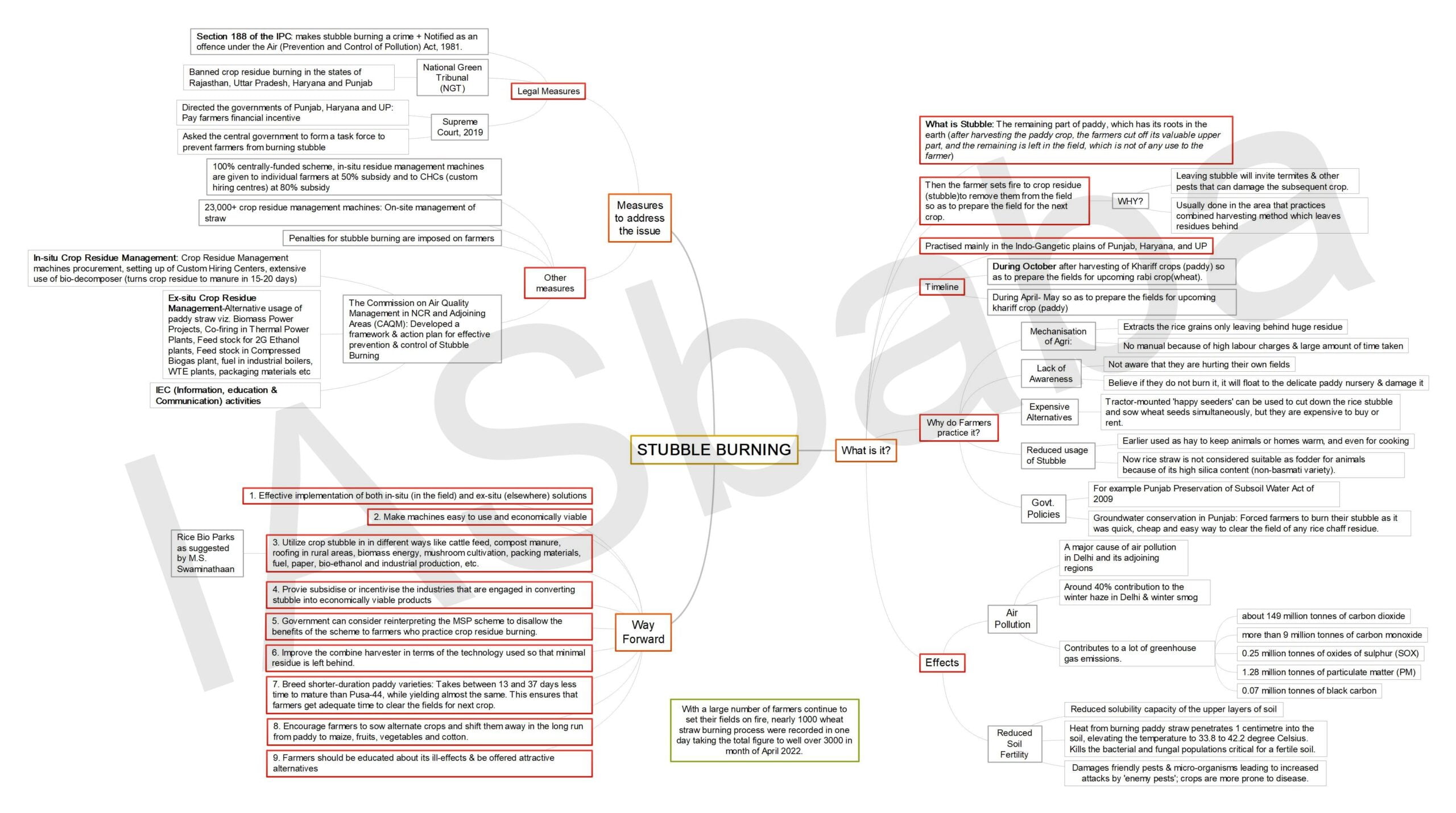 ---
DOWNLOAD MIND MAP – CLICK HERE
---
For a dedicated peer group, Motivation & Quick updates, Join our official telegram channel – https://t.me/IASbabaOfficialAccount
Subscribe to our YouTube Channel HERE to watch Explainer Videos, Strategy Sessions, Toppers Talks & many more…