Syllabus
GS-1: Women & their issues
GS-2: Governance & Policy Measures
GS-2: Equality & Equity
Why In News: After years of struggle by activists, the Surrogacy (Regulation) Act, 2021 was enacted last year by Parliament to regulate the process of surrogacy. The Act was made effective on January 25, 2022 after the notification in the Official Gazette by the Union Government.
The progressive legislation, which aims to make surrogacy available to people unable to have children, also has some concerns with it.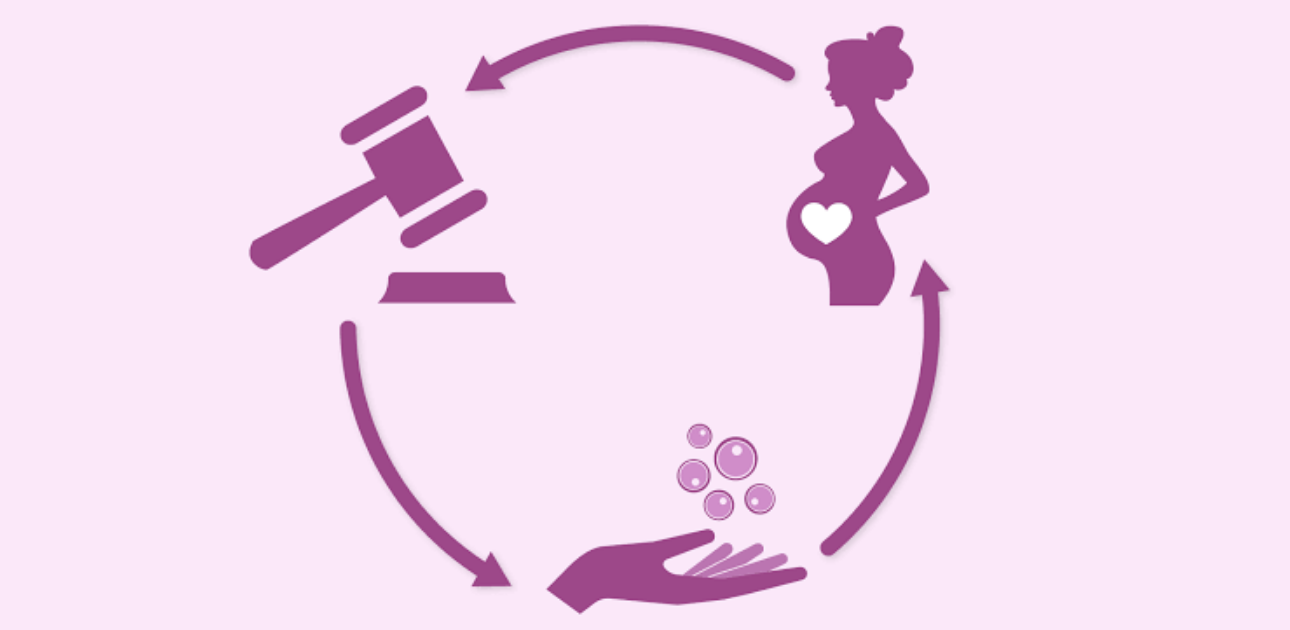 What is Surrogacy and what are the different types?
Surrogacy means the process of carrying and delivering a child for another person or couple (intending parents).
Thus, a surrogate mother is a woman who bears a child on behalf of another woman, either from her own egg (Traditional Surrogacy) or from the implantation in her womb of a fertilized egg from another woman (Gestational surrogates).
A traditional surrogate is the baby's biological mother. That's because it was their egg that was fertilized by the father's sperm.
A technique called "in vitro fertilization" (IVF) now makes it possible to gather eggs from the mother (or an egg donor), fertilize them with sperm from the father (or a sperm donor), and place the embryo into the uterus of a gestational surrogate. Gestational Surrogate don't have any genetic ties to the child because it wasn't their egg that was used.
There can be two arrangements involving surrogacy
Commercial surrogacy involves an agreement, which includes monetary compensation to the surrogate mother along with medical expenses associated with the pregnancy.
Altruistic surrogacy focuses on providing no monetary compensation to the surrogate mother
What are the advantages of Surrogacy?
Surrogacy allows infertile couples, single people and members of the LGBT community to become parents when they may not be able to have children otherwise.
It allows one or both parents to be biologically related to their child
Surrogacy gives hopeful parents the opportunity to raise a child from birth.
Intended parents may face fewer restrictions with surrogacy than with adoption; those who cannot adopt due to agency restrictions on factors like age can still pursue surrogacy.
What were the reasons for Increase of Surrogacy in India?
Low cost:Surrogacy cost in India is around 1/3rd of that in developed countries like the USA. This had made India a favourable destination for foreign couples who look for cost-effective treatment for infertility through Surrogacy in India
Availability of women who could rent their womb at low cost, primarily due to their own poor income levels
Grey Area: Surrogacy was not regulated by a specific legislation (till 2021) which allowed private sector to grow rapidly & offer the services
Availability of Technology at affordable cost also aided the growth of the sector
What was the need to have specific legislation to deal with Surrogacy?
Much Needed: By 2012, India had become the 'surrogacy capital' of the world with surrogacy tourism valued at approximately $500 million annually. Couples would arrive in India, and buy wombs and take children back. Thus, it has become more than imperative to regulate surrogacy in the country.
To Curb unethical practices: Lack of specific legislation had led to unregulated growth of Commercial Surrogacy services. Hence, to curb unethical practices related to issues of sex selection and exploitation of the surrogate, specific legislation was required.
To curb the exploitation of women: Commercial surrogacy was legalized in India back in 2002. Due to the absence of legal regulations and lack of implementation, surrogate mothers faced multiple challenges, including exploitation, unhygienic living conditions, and unfair treatment.

Surrogate mothers practice it as a way of earning livelihood and are often abused.
There had been many cases of death related to surrogacy which neither commissioning parents nor the doctors were ready to take responsibility of.
There were no strong laws for following issues such as rights of surrogate mother for fair compensation, maternal health care, right to abort etc.

Legal Issues: Sometimes, Indian adoption laws or citizenship laws of some other countries also create problems. For example, Germany gives citizenship by mother; this creates issues in determining the nationality of child.

In 2008, a Japanese couple began the process with a surrogate mother in Gujarat, but before the child was born they split and there were no takers for the child.
In 2012, an Australian couple commissioned a surrogate mother, and arbitrarily chose one of the twins that was born.

Ethical Issues: Surrogacy leads tocommoditization of the child. Renting of the womb breaks the bond between a mother and the child, interferes with nature

Ex – There has been a case in Andhra where a 74-year-old woman gave birth to twins. There were questions as to how will such an old person bring up their children.
What are the key feature of Surrogacy (Regulation) Act of 2021?
Definition of Surrogacy: The Bill defines surrogacy as a practice where a woman gives birth to a child for an intending couple with the intention to hand over the child after the birth to the intending couple.
Regulation of surrogacy: The Bill prohibits commercial surrogacy, but allows altruistic surrogacy.
Purposes for which surrogacy is permitted: Surrogacy is permitted when it is:

for intending couples who suffer from proven infertility;
altruistic;
not for commercial purposes;
not for producing children for sale, prostitution or other forms of exploitation;
for any condition or disease specified through regulations.

Eligibility criteria for intending couple: The intending couple should have a 'certificate of essentiality' and a 'certificate of eligibility' issued by the appropriate authority.

A certificate of essentiality will be issued upon fulfilment of the following conditions:

(i) a certificate of proven infertility of one or both members of the intending couple from a District Medical Board;
(ii) an order of parentage and custody of the surrogate child passed by a Magistrate's court; and
(iii) insurance coverage for a period of 16 months covering postpartum delivery complications for the surrogate.

The certificate of eligibility to the intending couple is issued upon fulfilment of the following conditions:

(i) the couple being Indian citizens and married for at least five years
(ii) between 23 to 50 years old (wife) and 26 to 55 years old (husband)
(iii) they do not have any surviving child (biological, adopted or surrogate); this would not include a child who is mentally or physically challenged or suffers from life threatening disorder or fatal illness.

Eligibility criteria for surrogate mother: To obtain a certificate of eligibility from the appropriate authority, the surrogate mother has to be:

(i) a close relative of the intending couple;
(ii) a married woman having a child of her own;
(iii) 25 to 35 years old;
(iv) a surrogate only once in her lifetime; and
(v) possess a certificate of medical and psychological fitness for surrogacy.
Further, the surrogate mother cannot provide her own gametes for surrogacy.

Appropriate authority: The central and state governments shall appoint one or more appropriate authorities within 90 days of the Bill becoming an Act.  The functions of the appropriate authority include;

(i) granting, suspending or cancelling registration of surrogacy clinics;
(ii) enforcing standards for surrogacy clinics;

Registration of surrogacy clinics: Surrogacy clinics cannot undertake surrogacy related procedures unless they are registered by the appropriate authority.
National and State Surrogacy Boards: The central and the state governments shall constitute the National Surrogacy Board (NSB) and the State Surrogacy Boards (SSB), respectively.  Functions of the NSB include,

(i) advising the central government on policy matters relating to surrogacy;
(ii) laying down the code of conduct of surrogacy clinics; and
(iii) supervising the functioning of SSBs.

Parentage and abortion of surrogate child: An abortion of the surrogate child requires the written consent of the surrogate mother and the authorisation of the appropriate authority.  This authorisation must be compliant with the Medical Termination of Pregnancy Act, 1971.  Further, the surrogate mother will have an option to withdraw from surrogacy before the embryo is implanted in her womb.
Offences and penalties: The offences under the Bill include:

(i) undertaking or advertising commercial surrogacy;
(ii) exploiting the surrogate mother;
(iii) abandoning, exploiting or disowning a surrogate child; and
(iv) selling or importing human embryo or gametes for surrogacy.
The penalty for such offences is imprisonment up to 10 years and a fine up to 10 lakh rupees.
What are the concerns raised with regard to the act?
Paternalistic: The altruistic model expects a woman to go through the physical and emotional tolls of surrogacy free of cost and only out of compassion. Such an expectation is paternalistic, unrealistic, and patriarchal in its approach.
Exclusion: The eligibility criteria for legally availing surrogacy excludes a chunk of society like unmarried females, LGBTQ+ persons, live-in couples, and single parents who wish to have surrogate child.

In the case of Baby Manji Yamada versus Union of India (2008), the Supreme Court, for the first time, had to deal with the question directly linked to surrogacy. The court therein recognized surrogacy as a medium of embracing parenthood, and accepted that the parent may be a single parent or a homosexual couple.

Autonomy of Woman: The banning of commercial surrogacy moves from the rights-based approach to a needs-based approach, thus removing the women's autonomy to make their own reproductive decisions and right to parenthood.

Complete ban of commercialization of surrogacy will only compromise the right of the women to earn livelihood by renting her womb.

Outright ban can be counter-productive: Banning commercial surrogacy also denies a legitimate source of income of the surrogates, further limiting the number of women to willingly surrogate. Complete ban will further push these activities underground where women are more vulnerable to exploitation.

Rather than penalising surrogacy, the person providing a womb for surrogacy must be secured with a contract, ensuring proper, insurance and medical checks.

Limitations of Altruistic Surrogacy: Having a relative as a surrogate mother may lead to emotional complications not only for the intending parents but also for the surrogate child post birth. Altruistic surrogacy also limits the option of the intending couple in choosing a surrogate mother as very limited relatives will be ready to undergo the process.
Children with Disability: The Act considers having children with physical and special needs as childless. It further encourages considering surrogacy if the couple has a child with a life-threatening disorder. This clause directly violates the right of the children with the disability, thus denying them treatment with dignity.
Review and appeal procedure for surrogacy applications: In order to initiate a surrogacy procedure, the surrogate mother and the intending couple are required to obtain certificates of eligibility and essentiality upon fulfilling various conditions from the relevant appropriate authorities.  However, the Bill does not specify a time limit by which the authority will grant these certificates.  Further, the Bill does not specify a review or appeal procedure in case the surrogacy applications are rejected.
---
Mains Practice Question –

Critically analyze the provisions of the Surrogacy regulation act of 2021.

Note: Write answers to this question in the comment section.
---
Mind Map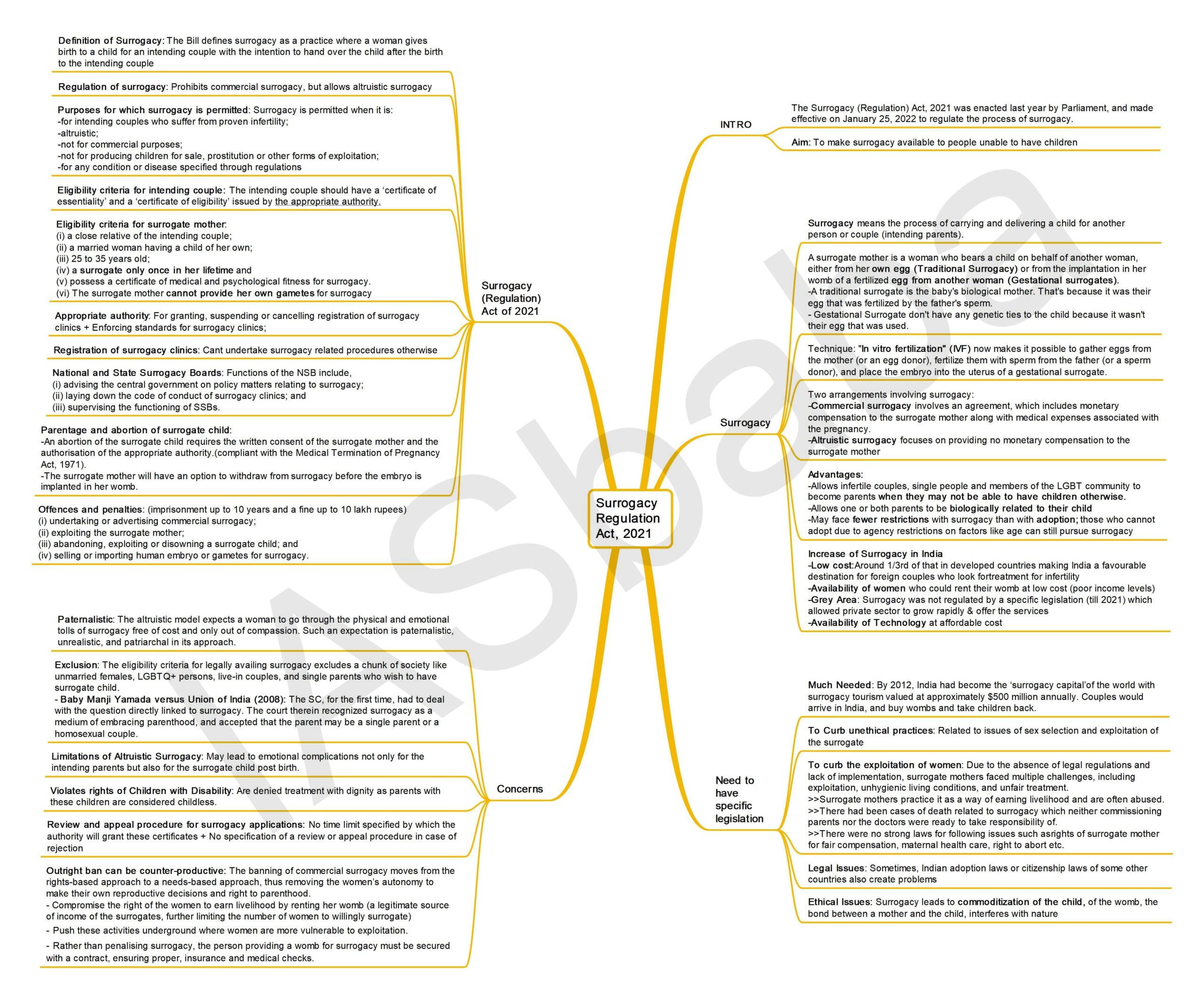 ---
DOWNLOAD MIND MAP – CLICK HERE
---
For a dedicated peer group, Motivation & Quick updates, Join our official telegram channel – https://t.me/IASbabaOfficialAccount
Subscribe to our YouTube Channel HERE to watch Explainer Videos, Strategy Sessions, Toppers Talks & many more…