Syllabus
GS-2: Government policies and interventions for development in various sectors and issues arising out of their design and implementation.
GS-3: Cyber Security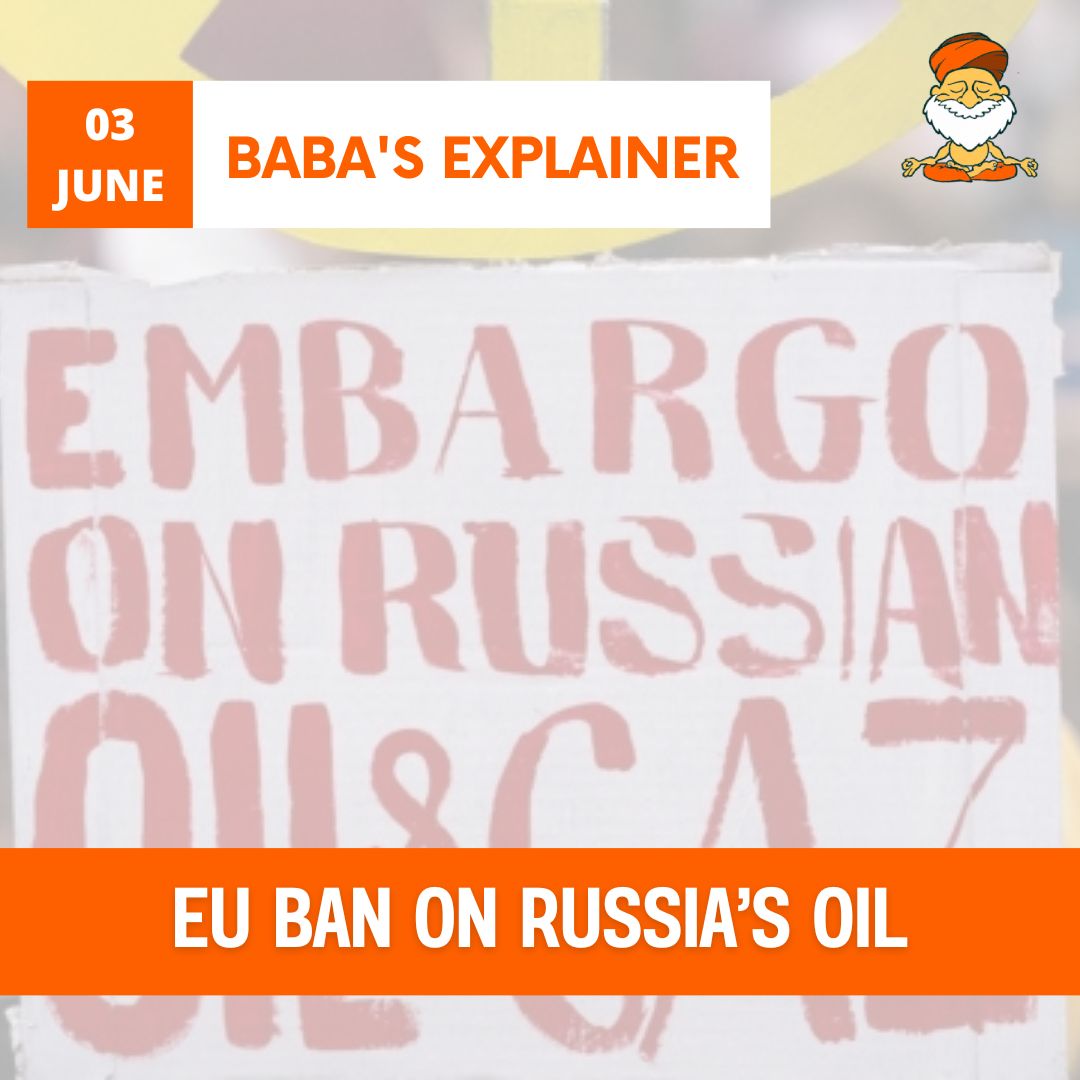 Context: As part of the sixth package of sanctions since Russia's invasion of Ukraine, the European Union member states on May 30 reached an agreement to ban 90% of Russian crude oil imports by the end of the year. The partial embargo, worked out following extended negotiations in Brussels, exempts pipeline oil in order to bypass Hungary's objections to the ban.
Why has Russia invaded Ukraine?
Ukraine was a member of the Soviet Union until 1991 when it disintegrated, and Russia has tried to maintain the country in its orbit since then.
The new Ukrainian government elected in 2014 favored Europe rather than Russia.
Russia worried that Ukraine would join a military alliance – NATO– with the U.S. and Europe that would be a threat to Russia's security interest.
In 2014, Russia took over an area in southern Ukraine called Crimea so as to protect its maritime interests in Black Sea.
Launching the invasion on 24 February, 2022 Russia President Putin told that his goal was to "demilitarise and de-Nazify Ukraine". His declared aim was to protect people subjected to what he called eight years of bullying and genocide by Ukraine's government.
Another objective was soon added: ensuring Ukraine's neutral status.
Ahead of the war, Russian President Putin demanded that NATO turn the clock back to 1997 and reverse its eastward expansion, removing its forces and military infrastructure from member states that joined the alliance from 1997 and not deploying "strike weapons near Russia's borders". That means Central Europe, Eastern Europe and the Baltics.
What has been the reaction of West to Russia's invasion?
The United States and much of Europe are on the side of Ukrainians. They believe Ukraine should be able to decide its own future.
Also, wide array of sanction are imposed by West that aims to contract Russia's economy.
Financial Sanctions:

Russia's central bank assets have been frozen to stop it using its $630bn (£470bn) of foreign currency reserves.
The United States has barred Russia from making debt payments using the $600m it holds in US banks, making it harder for Russia to repay its international loans.
Major banks are shut out of the international SWIFT payment transfer network.

Oil & Natural Gas: The US has banned imports of Russian oil and gas; the EU aims to cut gas imports by two-thirds within a year and has announced new package of sanctions that aims at a ban on oil imports; the UK aims to phase out Russian oil by the end of 2022.

Germany, Russia's main export destination for natural gas, has announced that it would suspend the new Nord Stream 2 gas pipeline.

Flights: Russian airlines have been barred from airspace over the EU, UK, US and Canada. he UK has also banned private jets chartered by Russians.
Military goods and mercenaries: A ban on the export of dual-use goods – items with both a civilian and military purpose, such as vehicle parts – has been imposed by the UK, EU and US.
Targeting individuals: The US, EU, UK and other countries have sanctioned more than 1,000 Russian individuals and businesses, including: wealthy business leaders, Russian government officials and family members.

The UK has also stopped the sale of "golden visas", which allowed wealthy Russians to get British residency rights.

Luxury goods: The UK and the EU have banned the export of luxury goods to Russia – including vehicles, high-end fashion and art. The UK has also imposed a 35% tax on some imports from Russia, including vodka.
What was the original proposal of the oil ban by EU?
The proposal to completely phase out Russian crude and refined products from EU territory within a time frame of six to eight months was first mooted by European Commission President in early May.
However, it needed the agreement of all the 27 EU member states in order to be implemented.
What was the rationale behind imposing oil embargo on Russia?
The Russian economy is heavily dependent on energy exports, with the EU paying billions of dollars every month to Russia for its crude and refined products.
The EU wants to block this massive revenue inflow which is akin to Europeans bankrolling Russia's war.
The EU has been attempting, ever since the Ukraine invasion, to build consensus on ways to hurt Russia economically so that it is forced to roll back its military offensive.
The most obvious route was to stop buying Russian energy, which isn't easy given European households' dependence on Russian oil and gas.
However, member states agreed to make a start by phasing out Russian oil in the context of two long term EU objectives —

reducing fossil fuel dependence in favour of renewables, and
eliminating dependence on Russian energy for greater strategic autonomy and energy security
What sanctions has the EU just introduced?
Up until now, EU states have been importing 2.2 million barrels per day (bpd) of crude oil from Russia and 1.2 million bpd of oil products. Given the rising price of oil, this has been earning Russia over $1m (£800,000) a day.
EU nations have agreed to stop importing any oil from Russia that comes in by sea, which rules out about two-thirds of the total.
However, on a temporary basis, they will continue to import Russian oil by pipeline. This is to benefit countries such as Hungary, the Czech Republic, Slovakia, and Bulgaria to continue imports via the Druzhba pipeline, the world's largest oil pipeline network.

Additionally, Hungary has obtained a guarantee that it could even import seaborne Russian oil in case of a disruption to their pipeline supplies as it passes through the war zone in Ukraine.

However, Germany and Poland, which also import Russian oil by pipeline, say they will stop doing so by the end of this year.
This will effectively reduce the EU's oil imports from Russia to 10 or 11% of its current level.
Why was exemption given for pipeline imports?
The exemption for pipeline imports — essentially at the behest of Hungarian Prime Minister Viktor Orban — was made on the logic that landlocked countries (Hungary, Czech Republic and Slovakia) that are heavily dependent on Russian pipeline oil do not have a ready option to switch to alternative sources in the absence of ports.
While Hungary imports 65% of its oil via pipeline from Russia, 50% of the Czech Republic's oil imports are Russian, while Slovakia gets 100% of its oil from Russia.
Bulgaria, which gets 60% of its oil from Russia, is not landlocked. But its refineries at present are only equipped to process Russian crude.

Until it invests in infrastructure to be able to process non-Russian crude delivered to its ports, it wants to be able to continue importing Russian oil via pipeline and has accordingly claimed the exemption.
Do the exemptions dilute the embargo?
EU leaders have countered this criticism by pointing out that even a partial (90%) embargo on Russian oil represents tremendous progress in terms of moving EU away from Russian oil — something that was unthinkable given the magnitude of Europe's dependence on Russian energy imports.
Secondly, EU has reiterated that even the exemption for pipeline imports is not permanent and will be revisited soon. However, no timeline has been specified for a total ban on pipeline imports.
Are there other elements in the sanctions?
Apart from the oil embargo, the package of sanctions also contains other tough measures against Russia. These include
cutting off Sberbank, Russia's largest bank that holds one-third of Russian banking assets, from the SWIFT messaging system;
a ban on three Russian-owned broadcasting networks from the EU;
sanctions on individuals responsible for war crimes in Ukraine; and
a ban on EU-based firms offering insurance, financing, brokering or any other technical services related to the transport of oil to Russian ships — a measure aimed at curbing Russia's ability to divert its oil to non-EU destinations.
How will the sanctions affect Russia?
Analysts calculate that a two-thirds cut in Europe's imports of Russian oil would mean a reduction of 1.2-1.5 million barrels a day in oil, and one million barrels in refined products, which might cause Russia an annual loss in revenue of $10 billion.
Given Russia's limited storage infrastructure, the cutback in demand would force Russia to find other markets. Since that won't be easy, Russia might have to cut production by 20-30%.
So far, Asian importers, especially India, have absorbed some of the excess inventory at discounted prices.
But it remains unclear if the embargo would have any impact on Russian military operations in Ukraine.
How will the sanctions affect Europe?
It is likely to further fuel inflation in Europe, where many countries are already facing a cost-of-living crisis.
EU leaders have tried to balance contradictory pressures — of having to take decisive action against a military aggressor on European soil, but without causing too much pain to its citizens.
But European lifestyles have tended to take cheap Russian energy for granted, and if inflation peaks further, the EU runs the risk of losing public support for harsh sanctions.
What about import of Russian gas?
Compared to Russian oil, Europe's dependence on Russian gas is much greater, and this embargo leaves the import of Russian gas — which accounts of 40% of Europe's natural gas imports — untouched.
In other words, Europe will continue to pay Russia for gas imports. But since crude is more expensive than natural gas, the oil ban is expected to hurt Russian revenues.
How has India responded to these developments?
India increased its purchases of Russian crude at discounted prices in the months following the Russian invasion, and this policy is expected to continue.
The announcement of the EU ban caused an immediate surge in oil prices, and as Europe seeks alternate sources – from West Asia, Africa and elsewhere — for its oil needs, prices are expected to stay high.
In this context, with Russia reportedly offering discounts of $30-35 per barrel, India has found it convenient to make the most of the cheap Russian crude on offer.
How has Russia reacted?
President Putin has said that Moscow will "redirect" its energy exports to "rapidly growing markets" elsewhere.
Russia has banned exports of more than 200 products until the end of 2022, including telecoms, medical, vehicle, agricultural, electrical equipment and timber.
In addition, it is blocking interest payments to foreign investors who hold government bonds, and banning Russian firms from paying overseas shareholders.
And it has stopped foreign investors who hold billions of dollars worth of Russian stocks and bonds from selling them.
What has been Chinese response and it is helping Russia as sanction begin to hurt??
China has sought to remain neutral on the conflict, calling for a peaceful solution. But it has yet to condemn the Russian invasion and has criticised western sanctions.
China accounted for around 18% of Russia's overall trade in 2021 – almost $147bn (£110bn). In 2021, total trade between EU and Russia was worth almost twice as much as China's trade with Russia
In March 2022, after Russia launched its invasion, overall trade between Russia and China rose over 12% from a year earlier.
China is one of the biggest markets for Russian oil, gas and coal.

Just a week before the Ukraine invasion, Russia & China agreed on a new Russian coal deal worth more than $20bn.
Russia also signed new oil and gas deals with China worth an estimated $117.5bn.
The two countries aim to build a new gas pipeline (the Power of Siberia 2). The existing one began operation in 2019, under a 30-year contract worth more than $400bn.
However, Russia's biggest energy market by far has been the EU, and it supplies 40% of the bloc's gas and about 26% of its oil.

Russian exports of oil and gas to China have been increasing at a rate of over 9% annually for the last five years.
Over the longer term, China may want to boost imports of Russian gas to try to reduce its dependence on coal in order to meet targets for cutting greenhouse gases.
China has also started expanding its food trade with Russia

Until very recently, China had placed restrictions on the importing of wheat and barley from Russia (one of the world's largest producers) because of disease concerns. But these were all lifted on the day the Russian assault on Ukraine began.
Could China support Russia militarily?
Moscow has asked China for military equipment in support of its invasion of Ukraine, according to US official quoted in media reports. China says this is untrue and has called the reports "disinformation".
In recent years, most of the movement in arms has been the other way.
China has relied heavily on Russian military hardware to modernise its armed forces, made increasingly necessary by the imposition of US and European arms embargoes in the wake of the 1989 Tiananmen Square crackdown.
About 80% of China's total arms imports were from Russia between 2017 and 2021, according to Stockholm International Peace Research Institute (SIPRI).
These Chinese purchases make up 21% of Russia's total arms exports – its second largest global customer.
But China has been gradually expanding its own military production capabilities. It's now the world's fourth largest arms exporter.
Could China help Russia financially?
Some Russian banks have been banned from the Swift international payment system.
This has forced companies in China, as elsewhere, to cut back purchases from Russia as traders struggle to arrange financing.
Both China and Russia have encouraged moves towards alternative payment methods in recent years.
Russia has its System for Transfer of Financial Messages (STFM) while China has the Cross-Border Interbank Payment System (CIPS), both of which operate in their own currencies.
But Swift has continued to dominate the financial transactions in the global trading network.
Currently, only about 17% of trade between Russia and China uses the Chinese yuan (up from 3.1% in 2014).
Energy trading between the two countries is still mostly done in US dollars. But it is noted that several Chinese firms used yuan to purchase Russian coal and oil in recent months.
---
Mains Practice Question –

What are the implications of western sanctions on Russia? Is it altering the geopolitical dynamics in the international order?
Note: Write answers to this question in the comment section.
---
MIND MAP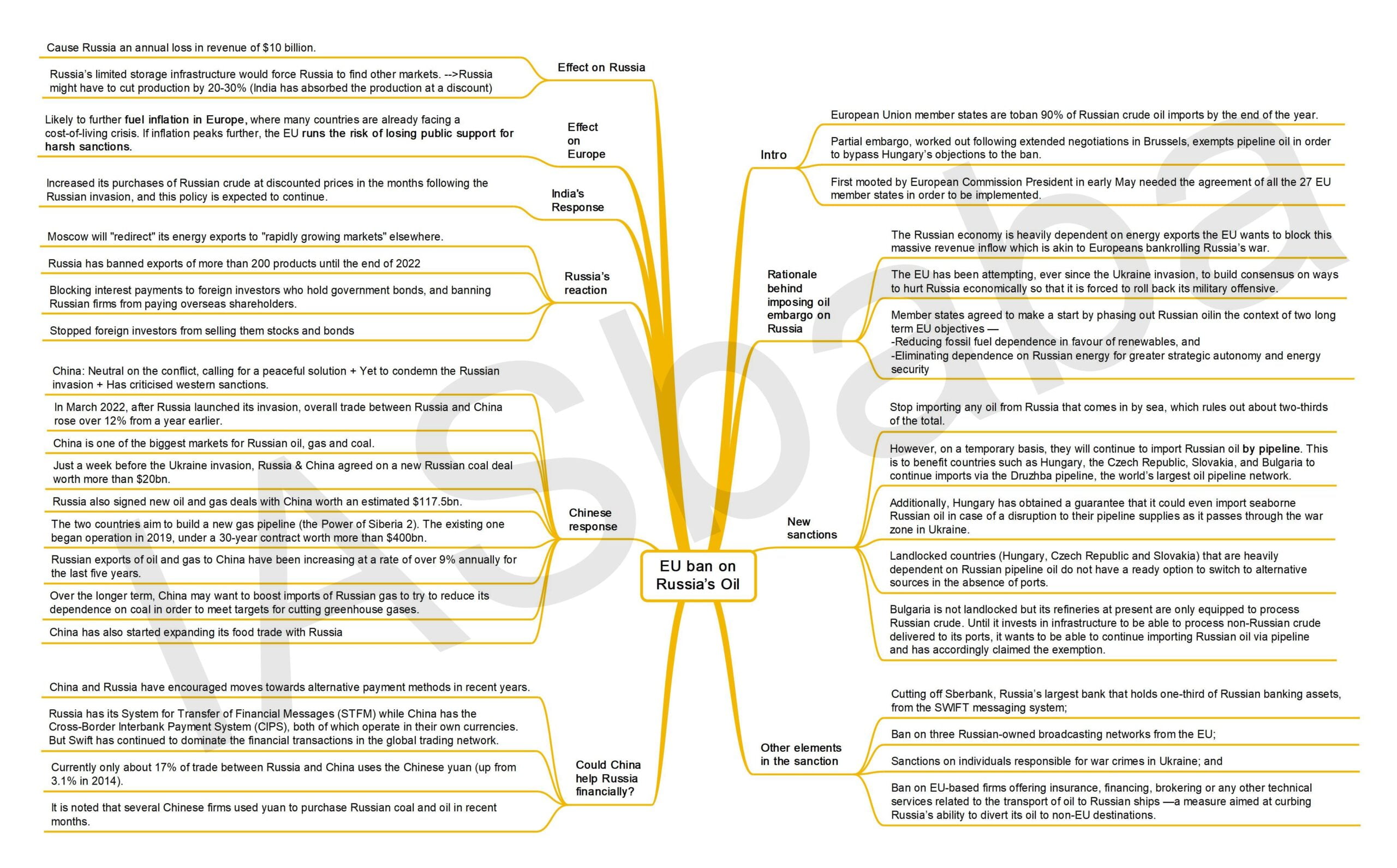 ---
---
For a dedicated peer group, Motivation & Quick updates, Join our official telegram channel – https://t.me/IASbabaOfficialAccount
Subscribe to our YouTube Channel HERE to watch Explainer Videos, Strategy Sessions, Toppers Talks & many more…