In News: The La Nina conditions prevailing over the equatorial Pacific Ocean since September 2020 has entered the third year. There are only six instances of La Nina lasting for more than two years since 1950s.
What is La Nina and El Nino?
They are two natural climate phenomena occurring across the tropical Pacific Ocean and influence the weather conditions all over the world.
Normal Conditions:
In a normal year, a surface low pressure develops in the region of northern Australia and Indonesia and a high-pressure system over the coast of Peru. As a result, the trade winds over the Pacific Ocean move strongly from east to west.
The easterly flow of the trade winds carries warm surface waters westward, bringing convective storms (thunderstorms) to Indonesia and coastal Australia. Along the coast of Peru, cold bottom cold nutrient rich water wells up to the surface to replace the warm water that is pulled to the west.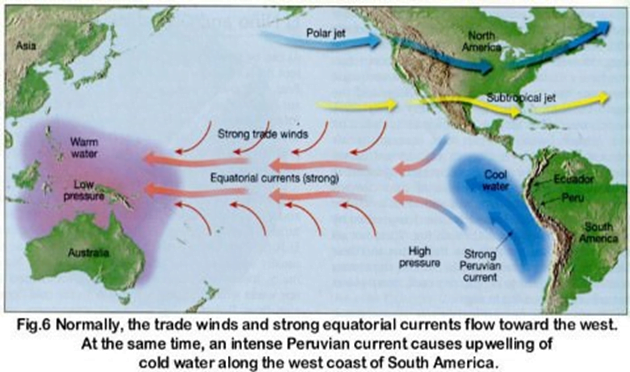 EL Nino:
The phrase "El Nino" refers to the Christ Child and was coined by fishermen along the coasts of Ecuador and Peru to describe the warming of the central and eastern pacific.
El Nino is the name given to the occasional development of warm ocean surface waters along the coast of Ecuador and Peru. El Niño events occur irregularly at intervals of 2–7 years, although the average is about once every 3-4 years.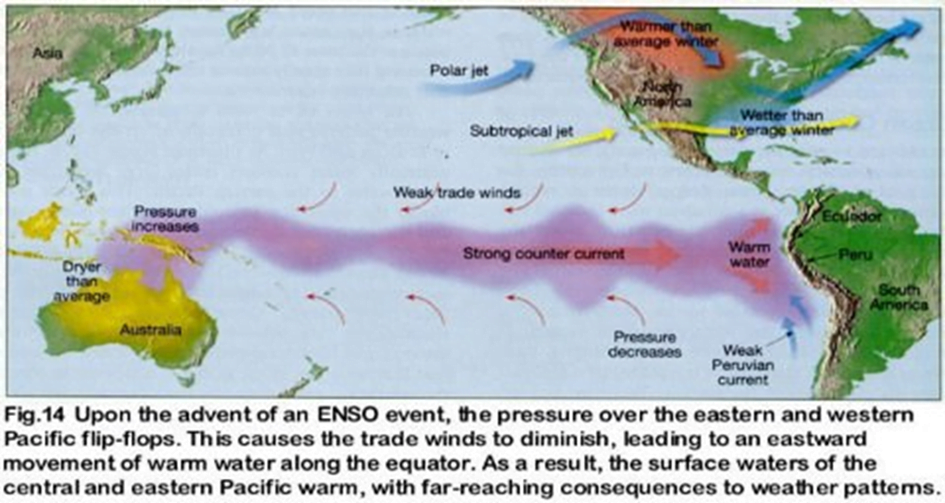 Impacts:
How El Nino impacts monsoon rainfall in across the globe:
El Nino impacts ocean temperatures, the speed and strength of ocean currents, the health of coastal fisheries, and local weather from Australia to South America and beyond.
Rainfall increases drastically in South America, contributing to coastal flooding and erosion.
How El Nino impacts monsoon rainfall in India:
El Nino and Indian monsoons are inversely related.
The most prominent droughts in India – six of them – since 1871 have been El Nino droughts, including the recent ones in 2002 and 2009
However, not all El Nino years led to a drought in India. For instance, 1997/98 was a strong El Nino year but there was no drought (Because of IOD).
On the other hand, a moderate El Nino in 2002 resulted in one of the worst droughts.
El Nino directly impacts India's agrarian economy as it tends to lower the production of summer crops such as rice, sugarcane, cotton, and oilseeds.
La Nina:
After El Nino event weather conditions usually return back to normal.
However, in some years the trade winds can become extremely strong and an abnormal accumulation of cold water can occur in the central and eastern Pacific. This event is called a La Niña.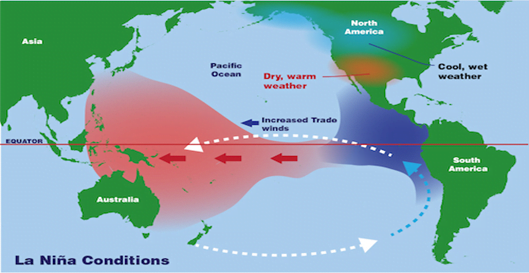 Impacts:
La Nina tends to lead to milder winters in Northern Europe and colder winters in southern/western Europe leading to snow in the Mediterranean region.
It is continental North America where most of these conditions are felt.
La Nina causes drought in the South American countries of Peru and Ecuador.
It usually has a positive impact on the fishing industry of western South America.
In the western Pacific, La Nina increases the potential for landfall in those areas most vulnerable to their effects, and especially into continental Asia and China.
It also leads to heavy floods in Australia and high temperatures in Western Pacific, Indian Ocean, off the Somalian coast and a comparatively better monsoon rains in India.
What will be the Impacts of Third Consecutive La Nina?
Impacts on India:
The India Meteorological India (IMD) has predicted that some parts of India may witness heavy rains.
The Western Ghats may receive average or below-average rain.
Winter rainfall is less than normal in North India.
Snowfall over Western Himalayas is less than normal.
Winter temperatures in the plains are less than normal.
Prolonged Winter Season over North India (extended winters).
More rain during the second half of the Northeast Monsoon.
Negative Impact on Agriculture:
Farmers will be at risk of losing their standing Kharif crops if it rains during this period.
As the harvesting of the Kharif crops begins in September-end or early October and any rain just before that would prove detrimental to the standing crops.
Source: Indian Express
Previous Year Question
Q.1) With reference to 'Indian Ocean Dipole (IOD)' sometimes mentioned in the news while forecasting Indian monsoon, which of the following statements is/are correct (2017)
IOD phenomenon is characterised by a difference in sea surface temperature between tropical Western Indian Ocean and tropical Eastern Pacific Ocean.
An IOD phenomenon can influence an El Nino's impact on the monsoon.
Select the correct answer using the code given below:
1 only
2 only
Both 1 and 2
Neither 1 nor 2
For a dedicated peer group, Motivation & Quick updates, Join our official telegram channel – https://t.me/IASbabaOfficialAccount
Subscribe to our YouTube Channel HERE to watch Explainer Videos, Strategy Sessions, Toppers Talks & many more…