In News:  Torrential rains have hit southern Karnataka and parts of Kerala.
What is causing intense rain spells?
In the absence of any synoptic systems, that is, low pressure systems or monsoon depression over the country, Kerala, Karnataka, Tamil Nadu, Nagaland, Manipur, Mizoram, Tripura, Jammu and Kashmir, and Himachal Pradesh have reported widespread rainfall.
At present, the monsoon currents are weak as the monsoon is in its break phase.
But the IMD said that the monsoon was vigorous over Kerala and active over Karnataka.
The position of monsoon trough — a major contributory factor for the rainfall — is favouring rainfall over these states.
Once the monsoon system gets established over the country by mid-July, the monsoon trough oscillates by 5 degrees, either to the north or south of its normal position.
This oscillation is normally observed during July and August, the peak monsoon months over India.
If this trough is located to the south of its normal position, strong monsoon conditions are observed over India.
Central and northern areas of the peninsular India benefit in such an instance.
When this trough shifts either to north of its normal position, runs to foothills of Himalayas or remains absent, then break-monsoon conditions are declared
During the break phase, rainfall is largely confined to the south peninsula, and east, northeast and north India — that is the ongoing spell.
The monsoon season thus comprises such wet and dry periods due to the active and break phases.
Besides the trough, there is a cyclonic circulation over south Tamil Nadu, from which runs a trough till southern Madhya Pradesh.
Monsoon Trough
A trough is a belt of low pressure extending to large area. This trough seen during monsoon period, hence known as Monsoon trough.
Monsoon trough is a part of the Inter Tropical Convergence Zone (ITCZ) where the northern hemisphere and southern hemisphere winds meet.
This is normally shown as a line connecting the location of monsoon low pressure areas. These troughs run across continents during peak monsoon periods.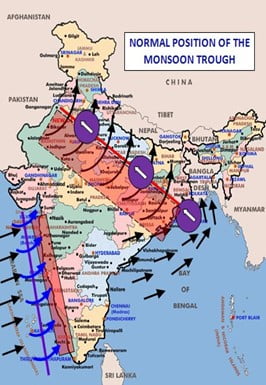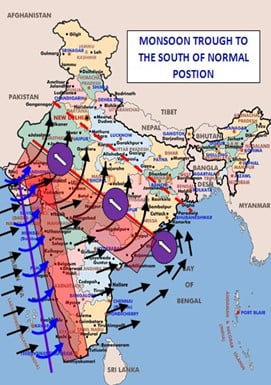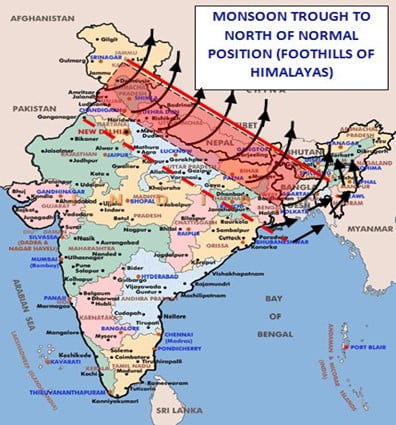 Source: Indian Express
Previous Year Question
Q.1) With reference to 'Indian Ocean Dipole (IOD)' sometimes mentioned in the news while forecasting Indian monsoon, which of the following statements is/are correct (2017)
IOD phenomenon is characterised by a difference in sea surface temperature between tropical Western Indian Ocean and tropical Eastern Pacific Ocean.
An IOD phenomenon can influence an El Nino's impact on the monsoon.
Select the correct answer using the code given below:
1 only
2 only
Both 1 and 2
Neither 1 nor 2
For a dedicated peer group, Motivation & Quick updates, Join our official telegram channel – https://t.me/IASbabaOfficialAccount
Subscribe to our YouTube Channel HERE to watch Explainer Videos, Strategy Sessions, Toppers Talks & many more…