In news: According to a report by the Satark Nagrik Sangathan, the backlog of appeals or complaints with regard to RTI Act is steadily increasing in commissions every year.
Over 32,000 RTI appeals pending with Central Information Commission(CIC).
About RTI Act:
The RTI Act came into force with effect from October 2005.
The Right to Information (RTI) is an act of the Parliament of India which sets out the principles and techniques in regards to citizens' right to information. It supplanted the previous Freedom of Information Act, 2002.
It is an initiative taken by Department of Personnel and Training, Ministry of Personnel, Public Grievances and Pensions.
The basic object of Act is to empower the citizens, promote transparency and accountability in the working of the Government, contain corruption, and make our democracy work for the people in real sense.
Provisions of RTI Act:
any citizen of India may request information from a "public authority" (a body of Government or "instrumentality of State") which is required to reply expeditiously or within thirty days.
In case of matter involving a petitioner's life and liberty, the information has to be provided within 48 hours.
The Act also requires every public authority to computerize their records for wide dissemination and to proactively publish certain categories of information so that the citizens need minimum recourse to request for information formally.
Section 13 of the original Act: It sets the term of the central Chief Information Commissioner and Information Commissioners at five years (or until the age of 65, whichever is earlier)
The Public Information Officer (PIO) or the First Appellate Authority in the public specialists performs semi-legal capacity of settling on the application and appeal individually.
To document the request, pay Rs. 10 in cash or through bank draft or cash request or court expense stamp.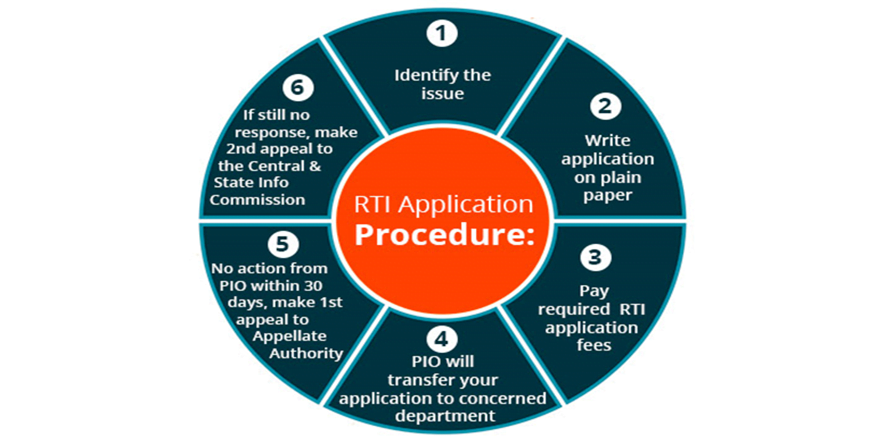 It protects the fundamental rights to Freedom of Expression and Speech under Article 19(1)(a) and Right to Life and Personal Liberty under Article 21 guaranteed by the Constitution.
The authorities under RTI Act 2005 are called public authorities. The Public Information Officer (PIO) or the First Appellate Authority in the public authorities perform quasi-judicial function of deciding on the application and appeal respectively.
Pendency of cases in RTI:
Every day on an average, over 4800 RTI applications are filed. In the first ten years of the commencement of the act, over 17,500,000 applications had been filed.
2019 – 2.18 lakh from data obtained from 26 information commissions.
2020 – 2.33 lakh with data obtained from 23 information commissions,
2021 – nearly 2. 86 lakh complaints or appeals pending with 26 commissions
2022 – Nearly 3.15 lakh complaints or appeals
In several commissions a large backlog of cases has built up, resulting in a long waiting time for disposal, as governments have failed to make appointments of information commissioners in a timely manner.
Tardy disposal rates in several commissions and the lack of transparency in their functioning.
Transparency International's report says that till now more than 4.2 crore RTIs have been filed and 26 lakh second appeals are there before the commissions.
States like Uttar Pradesh, Maharashtra and Tamil Nadu State information commissions are getting more appeals than the Central government CIC.
The top information commissions receiving maximum number of RTIs were Central government 1.19 crore, Maharashtra 86.06 lakh,  Tamil Nadu 36.99 lakh and Kerala 32.82 lakh.
The highest number of pending cases were in Maharashtra at 99,722 followed by Uttar Pradesh at 44,482, Karnataka at 30,358, the Central Information Commission at 26,724 and Bihar at 21,346
Other challenges of RTI:
Completely defunct: Two out of 29 information commissions across the country are completely defunct, four of them headless at the moment and only 5% of the positions being occupied by women.
Three information commissions were found to be non-functional for varying lengths of time for the period under review as all posts of commissioners were vacant while two commissions were found to be completely defunct.
Jharkhand and Tripura have been completely defunct for 29 months and 15 months respectively. Manipur, Telangana, West Bengal and Andhra Pradesh are without chiefs.
Also, several information commissions, including the Central Information Commission, are working at reduced capacity with less than the stipulated number of members being in office.
Imposing of penalties: The commissions did not impose penalties in 95% of the cases where penalties were potentially imposable.
The entire system was also in need of digitisation. Only 11 information commissions out of 29 provide e-filing facility for RTI applications or appeals, but only five are functional.
Currently, 41 out of 165 posts of Chief Information Commissioner and information commissioners are vacant as compared to 36 last year in 2021.
According to a separate report by the Transparency International, one-fourth information commissioner posts are vacant and there are only 5% (only 8) women information commissioners in the country. Out of total 165 posts of information commissioners, 42 are vacant, including two chief State information commissioners.
Commissions are becoming parking lots for retired bureaucrats and the casual attitude by PIO/First Appellate Authority
Way forward:
Proper functioning of information commissions is crucial for people to realise their right to information.
There is an urgent need for the transparency watchdogs to function in a more effective and transparent manner.
The digital RTI portal (website or mobile app) can deliver more efficient and citizen-friendly services which are not possible through conventional mode.
Source: The Hindu
For a dedicated peer group, Motivation & Quick updates, Join our official telegram channel – https://t.me/IASbabaOfficialAccount
Subscribe to our YouTube Channel HERE to watch Explainer Videos, Strategy Sessions, Toppers Talks & many more…