In News: The death toll from the earthquake in Indonesia has risen to 162 with hundreds injured and over 13,000 displaced.
About the disaster:
The US Geological Survey said the magnitude 5.6 quake was centered in the Cianjur region in West Java province at a depth of 10 kilometres (6.2 miles).
Indonesia's Meteorology, Climatology, and Geophysical Agency recorded at least 25 aftershocks.
Several landslides were reported around Cianjur.
Indonesia, the country of more than 270 million people is frequently struck by earthquakes, volcanic eruptions and tsunamis because of its location on the "Ring of Fire,"
It also caused panic in the greater Jakarta area, where high-rises swayed and some were evacuated. Earthquakes occur frequently across the sprawling archipelago nation, but it is uncommon for them to be felt in Jakarta.
Other earthquakes in Indonesia:
In February 2022, a magnitude 6.2 earthquake killed at least 25 people and injured more than 460 in West Sumatra
In January 2021, a magnitude 6.2 earthquake killed more than 100 people and injured nearly 6,500 in West Sulawesi
About Ring of Fire:
The Ring of Fire, also referred to as the Circum-Pacific Belt, is a path along the Pacific Ocean characterized by active volcanoes and frequent earthquakes.
It is a horseshoe-shaped belt about 40,000km long and about 500 km wide that contains two-thirds of the world's total volcanoes and 90% of Earth's earthquakes.
It traces boundaries between several tectonic plates—including the Pacific, Juan de Fuca, Cocos, Indian-Australian, Nazca, North American, and Philippine Plates.
The Ring of Fire is a direct result of plate tectonics:
Along much of the Ring of Fire, plates overlap at convergent boundaries called subduction zones. That is, the plate that is underneath is pushed down, or subducted, by the plate above. As rock is subducted, it melts and becomes magma. The abundance of magma so near to Earth's surface gives rise to conditions ripe for volcanic activity.
Transform boundary: The border between the Pacific and North American Plates is a transform boundary, where plates move sideways past one another and generates many earthquakes as tension in Earth's crust builds up and is released.
Consumption of oceanic lithosphere at these convergent plate boundaries has formed oceanic trenches, volcanic arcs, back-arc basins, and volcanic belts.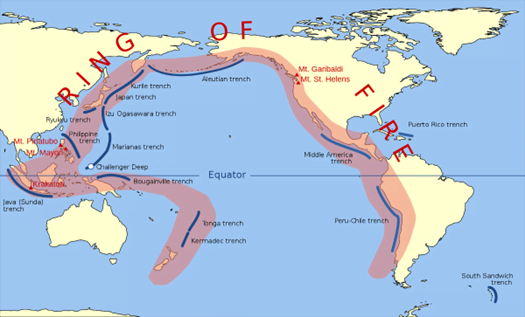 Source: Indian Express
Previous Year Question
Q.1) Consider the following statements: (2018)
The Barren Island volcano is an active volcano located in the Indian territory.
Barren Island lies about 140 km east of Great Nicobar.
The last time the Barren Island volcano erupted was in 1991 and it has remained inactive since then.
Which of the statements given above is/are correct?
1 only
2 and 3
3 only
1 and 3
For a dedicated peer group, Motivation & Quick updates, Join our official telegram channel – https://t.me/IASbabaOfficialAccount
Subscribe to our YouTube Channel HERE to watch Explainer Videos, Strategy Sessions, Toppers Talks & many more…